This easy Coconut Curry Shrimp is a delicious healthy dinner that can be on your table in under 30 minutes. It's an awesome lean and green meal that is loaded with lots of flavor.
It's true. Your tastebuds really do change over time. Over the years I have come to realize that I actually like foods that I previously did not like. I'm looking at you asparagus and brussels sprouts. Those little green sprouts still aren't my favorite, but now I can eat them chopped up fresh in salads. Baby steps.
The mushy cooked ones I was forced to eat as a child still haunt my dreams. And yes, I have tried them roasted, and I still can't do it. My mother-in-law swears cooking them in bacon makes them amazing. I would have to disagree with her. Maybe one day I will get there...
So, let's talk about curry. It's something that I thought I didn't like when in fact I have never tried it. My mom didn't (and still doesn't) like to cook, so we pretty much grew up eating the same thing week after week. Since we never expanded our horizon as children, I never ventured out much as an adult either.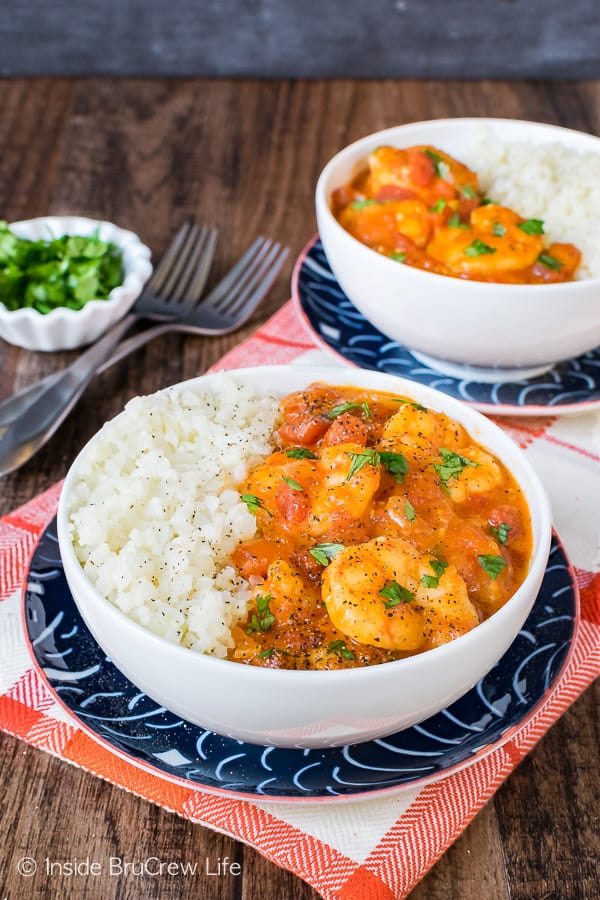 Last weekend we took our oldest to the airport, so he could head back to college. Since we were out near IKEA, I mentioned to my husband that I wanted to stop in and look for a new picture for our kitchen. Sadly they didn't have just what I had in mind, but I found some cute new dishes that came home with me.
We really weren't planning on eating there, but both of us were hungry and decided to get our free cup of coffee and a light lunch. Normally, I go with the Swedish meatballs. They are just so good there.
But that day I was feeling extra adventurous, and I went with the coconut curry veggie balls.
You guys! I like curry! I had no idea what I had been missing all these years. A whole new flavor came alive to me!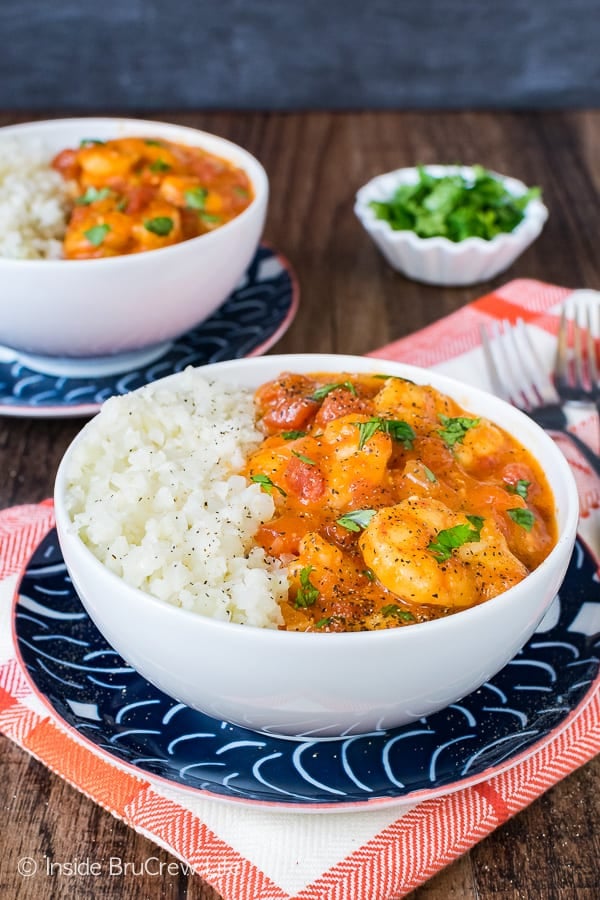 Of course, I came home and had to incorporate that yummy sauce into a healthy lean and green dinner for us. Our way of eating is that of a healthy lifestyle. We usually eat veggies and proteins, but we also like to splurge and have pizza or pasta.
It's all about balance. If you are eating healthy and maintaining your weight, there is no reason why you can't have carbs and sweets every once in a while. It's when that every once in a while becomes every day that it becomes a problem. Finding that healthy balance and moderation is key!
Since we are trying to incorporate lots more healthy veggies into our dinners, we have been using this Easy Cauliflower Rice in just about everything. It's been in these Healthy Stuffed Peppers, and I used it in this Spicy Rice and Chicken Soup a few weeks ago. Our kids couldn't even tell the difference!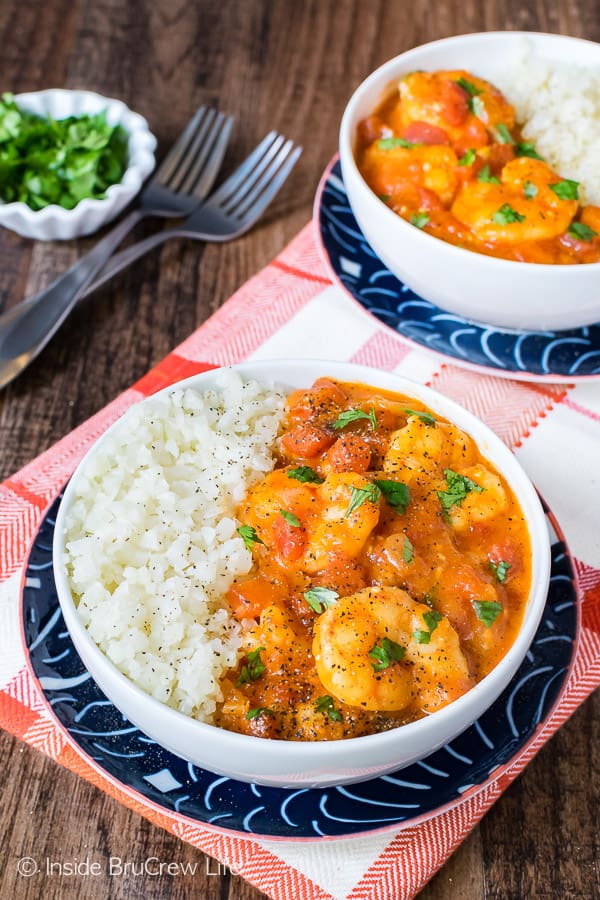 This easy coconut curry shrimp is made with a few ingredients and can be on the table in under 30 minutes.
How to make Coconut Curry Shrimp:
Gotta love a quick and easy dinner that is healthy too! Right? Here are a few tips to help you get this dinner on your table.
Pulse the cauliflower in a food processor and get it cooking in the microwave first.
Heat up the sauce pan before adding your veggies. Don't get it screaming hot. Just hot enough to start cooking the veggies right away.
Stir in the broth and curry paste and bring it to a low boil. You want it to simmer for about 5 minutes.
Add the thawed shrimp and coconut milk and bring it back to the low boil. Simmer it again for 4 more minutes.
Stir a little bit of the broth into some cornstarch. Whisk this into the saucepan and simmer for 1 more minute. This will help thick the broth up a little bit without adding too many carbs.
Season the dish with salt and pepper, if you like.
Serve it over cauliflower rice or stir it all together in the pan. Either way works and tastes delicious. It's also delicious reheated in the microwave if you want to make it ahead of time.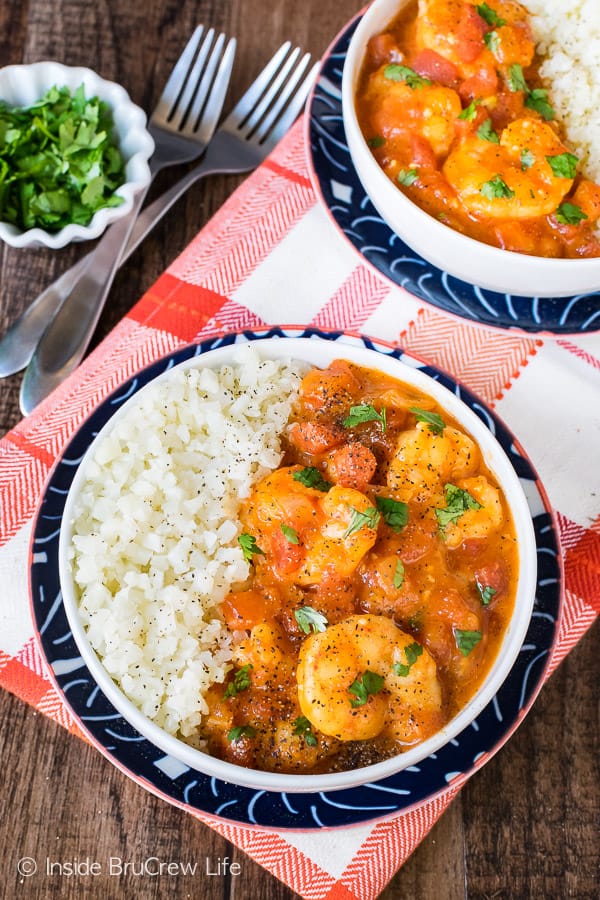 More easy healthy dinner recipes you may like: