100 Grand Rice Krispie Treats are the perfect snack food for a picnic, barbecue, or a fun blog meet up.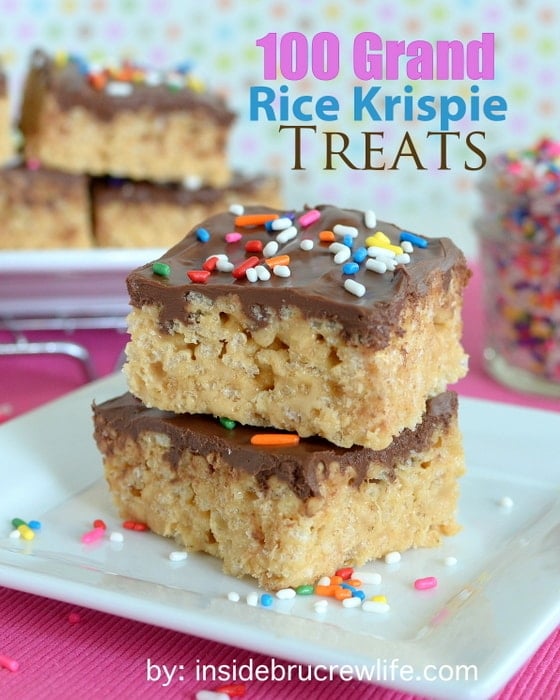 Ok, so I did something a little out of the ordinary...
for a shy person that is.
I know that most of you here would never have guessed that I am actually really a shy person.
It's true...I am really truly shy and find it hard to talk to people in real life.
Thank goodness I talk to most of you through my computer.
Otherwise I would be stuttering and turning red...
and then quite possibly it would all end in tears and embarrassment.
I am much better one on one...most of the time.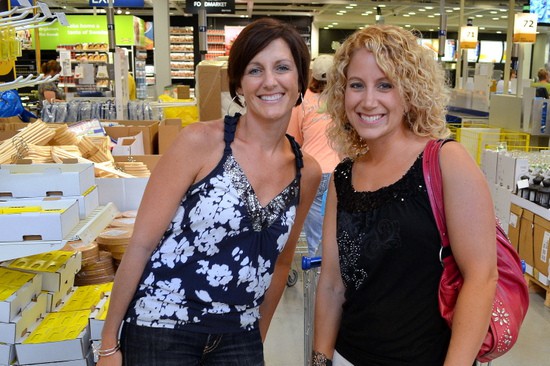 So, for the past 5-6 months Aimee (from Shugary Sweets) and I
have been scheming when and where we could meet up since we only live 3 hours apart.
Finally I offered to drive out there and visit...she lives near IKEA after all.
Duh, super no brainer. Meet up with the most awesome bloggy friend...and shop IKEA!
Now that puts me totally outside of my comfort zone...
going out on a branch and driving to meet someone you have never met before. Yikes!!!
I was a little bit nervous that morning.
But Aimee and I have been commenting on each others blogs and emailing
for about a year and a half...so I totally felt like I knew her.
We have so much in common we are practically twins:-)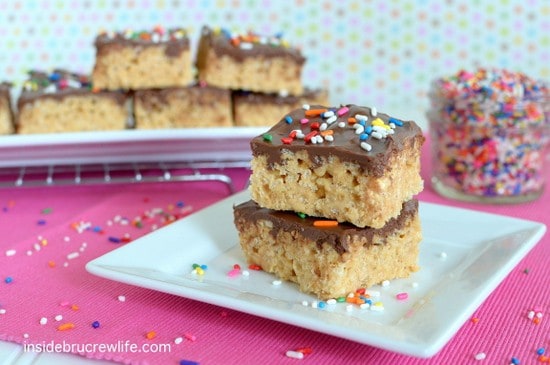 Let me tell you what...she is 100 times more awesome in person!
We had THE best time that day...going through IKEA first.
Then she took me to this huge grocery store thingy called Jungle Jim's...
such a way cool place. You could find anything and everything food related there.
And then we just went back to her house, so our kids could play while we chatted...
oh, and we ate yummy snacks:-) Boy! Were they yummy!
She had cupcakes, cake, and fudge...oh, the cinnabon fudge.
Totally to die for...seriously THE.BEST.FUDGE.EVER!!!
And I have had a lot of fudge in my life!!!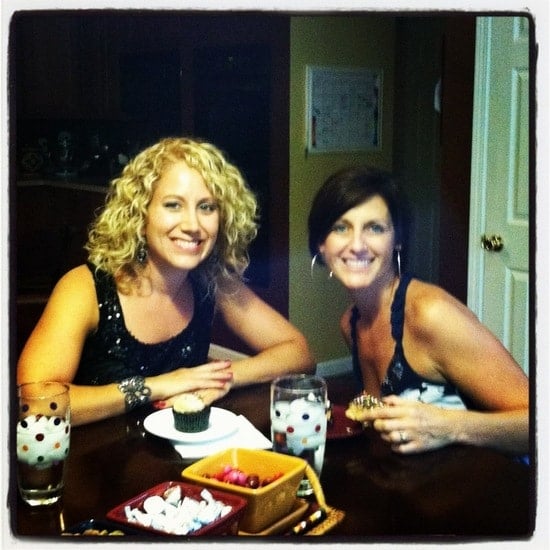 Now as a good foodie friend, I had to bring her some yummy treats too.
I had some of these Caramel Pretzel Brownie Cheesecakes still in my fridge,
so those came with me to get rid of them share.
But I also wanted to take something else too...
not just something that was in my fridge from the day before.
I knew that Aimee's favorite treat is the all mighty rice krispie treat...
so that was what was going along for the drive too.
And to top it all off I made the krispies based off her favorite candy bar too...the 100 Grand bar.
Loads of caramel, crisp rice, and all topped with a milk chocolate layer...
oh and sprinkles, because they just make it look so much cuter!
I had such a fun day hanging with Aimee and getting to know her even better.
Our kids had a blast hanging out...helps that they are all the same age.
And they can't wait for us to do "hang" again.
So, I definitely see us meeting up again very soon.
Next time though, the kids will be in school and we are headed on a bakery crawl.
Totally can't wait for that!!!
Yup, best blog buds for sure!!!!!