These easy Peanut Butter Balls are so simple to make! Get creative and dip them in white chocolate or dark chocolate for an awesome treat. This tasty chocolate peanut butter dessert always disappears ASAP at holiday parties - trust me on this.
Looking for more chocolate and peanut butter treats? Try these peanut butter cup cookies and these peanut butter truffle brownies.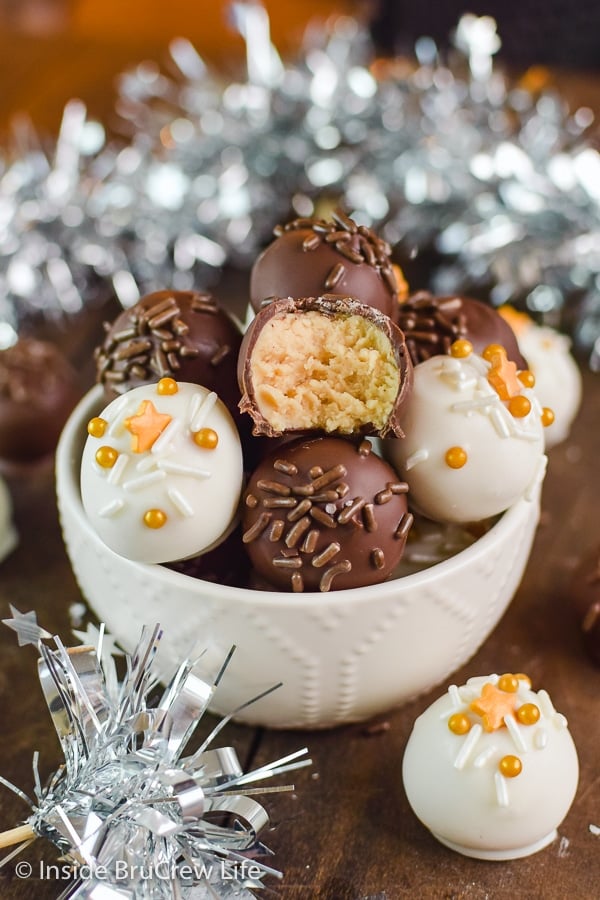 Jump to:
Chocolate and peanut butter is a classic combination, and I love creating chocolate and peanut butter desserts. These easy peanut butter balls are one of the treats I have been making for our kids for years. I have even turned them into cute Reese's Christmas trees for the holidays.
In fact, it is now a family tradition to make a fun variation for every holiday during the year. Everyone loves these sweet and fluffy Reese's treats.
Why Make Reese's Balls
This peanut butter balls recipe is so easy to make, and they taste great dipped in white chocolate or dark chocolate. We love adding sprinkles to make them fun and festive for parties.
The no bake dessert is the perfect thing to add to your holiday cookie trays. In fact, I recommend making a double batch because you (and everyone else) won't be able to eat just one!
These fun little chocolate covered treats are not just for the holidays. You can make them in any shape or color using candy molds or cookie cutters and different colored chocolate.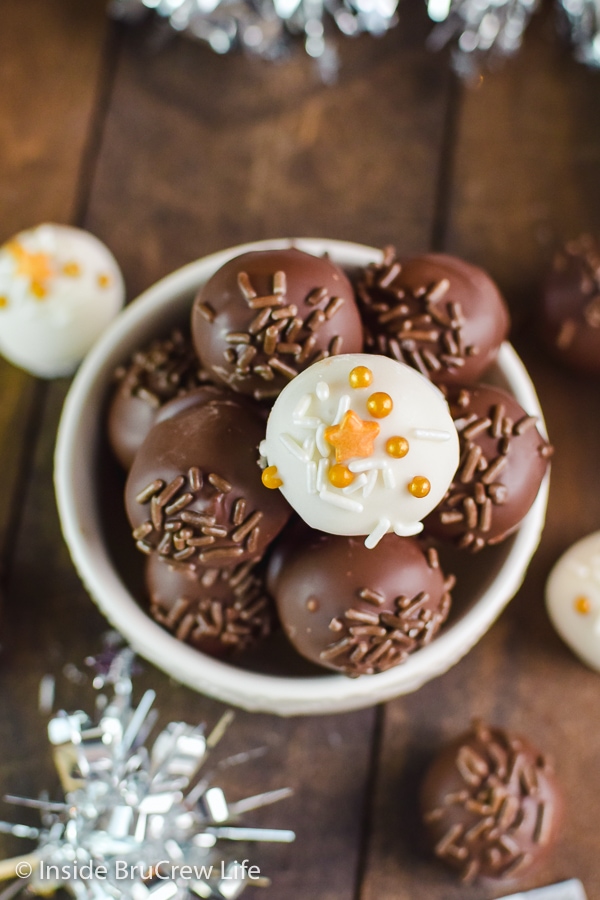 Peanut Butter Balls vs. Buckeyes
You may know these peanut butter balls as buckeyes. Buckeyes are a popular candy in Ohio because the Buckeye is the state tree.
Buckeye balls are only partially dipped in chocolate though. The tops of the candies are left uncovered to resemble the nuts from the tree. Peanut butter balls are completely dipped in chocolate.
Ingredients Needed
All you need are a few simple ingredients, plus your favorite dipping chocolate to make these classic holiday treats. Enjoy the plain peanut butter balls or get creative and turn them into Christmas peanut butter balls with red and green sprinkles.
Unsalted Butter - Set it out ahead of time, so it has time to soften.
Creamy Peanut Butter - I recommend using a no stir peanut butter, so the truffles set up right. Feel free to use crunchy peanut butter if you want a crunch in your truffles.
Marshmallow Cream - My secret ingredient to give the dough a fluffier consistency. It is also known as fluff and can be found in most grocery stores in the baking aisle.
Vanilla and Salt - Adds flavor.
Powdered Sugar - Provides the sweetness and thickness in the dough.
Chocolate Melting Wafers - Using a mixture of white chocolate and dark chocolate added a fun flair to the homemade candies. My favorite brand to use is Ghirardelli because it melts so well and tastes good.
BruCrew Tip: I dipped half of the peanut butter balls in white chocolate with white and gold sprinkles for New Years Eve and half of them in dark chocolate with chocolate sprinkles for Christmas. It made the bowl of peanut butter chocolate balls look so pretty.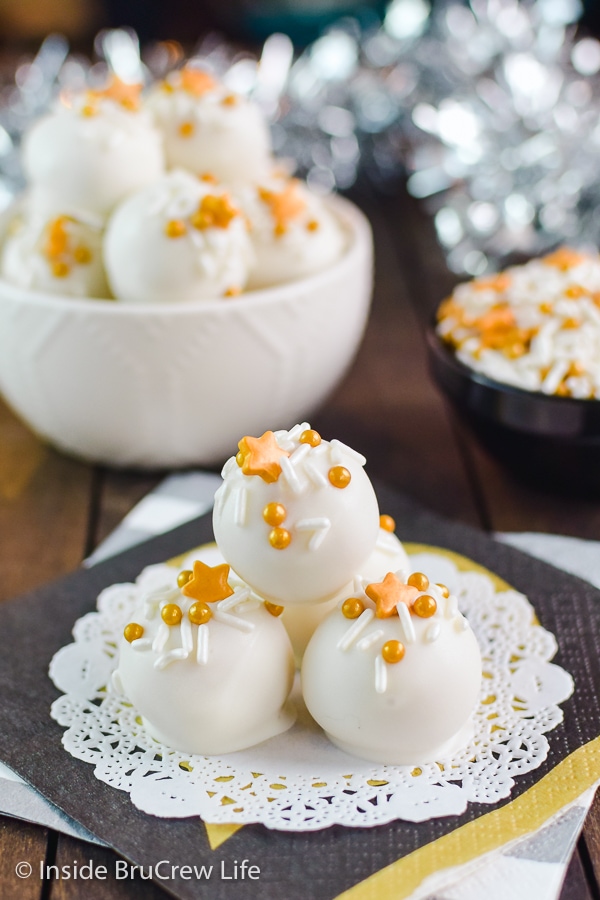 How to make Peanut Butter Balls
We have made it simple for you to make this peanut butter ball recipe with step-by-step instructions. You can have a batch of these no bake treats chilling on your counter in no time flat!
Make the Dough
Beat the softened butter, peanut butter, vanilla, salt, and marshmallow cream in a large mixing bowl until creamy. Slowly add the powdered sugar and mix until a soft dough forms. Scrape the sides of the bowl often.
Roll the mixture into 36 even balls and place on a pan lined with parchment or wax paper. Use a 1 tablespoon scoop to keep everything even. Refrigerate the balls for at least 30 minutes.
Dip in Chocolate
Melt the chocolate wafers to the package directions. If melting in the microwave, use 50% power to keep it from getting too hot too quickly and burning.
Use a toothpick to dip each candy into the chocolate. Tap the excess chocolate off and place them back on the parchment paper.
Twist the toothpick out and cover the hole with a little more melted chocolate.
Creative Options
Top the peanut butter balls with sprinkles before the chocolate can harden.
Let the truffles set, then reheat the excess chocolate and spoon it into a small baggie. Cut one corner off and drizzle over the tops of the truffles, then add sprinkles.
Holiday Versions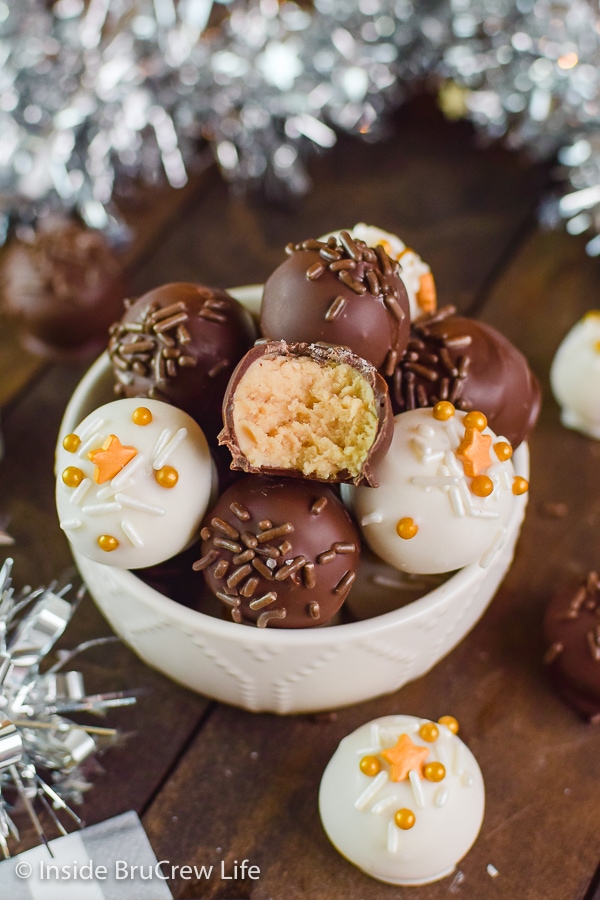 Tips

and Tricks
Getting the right texture for the dough is important for chocolate peanut butter balls. Every type of peanut butter is different, so it will make a difference in your dough. Depending on the brand you use, you may need to adjust the recipe slightly.
If the dough is too crumbly, add a little more peanut butter. If it is too sticky, add a little more powdered sugar until it resembles a dough. You should be able to roll the dough without it sticking to your hands or falling apart.
Use your favorite nut butter or Biscoff in place of the peanut butter if you are looking for a nut free dessert.
Refrigerate the peanut butter candies for at least 30 minutes or longer. Only remove a few at a time to dip. They stay on the toothpicks better when they are cold. I do NOT freeze them because the frozen ball and the warm chocolate react and cause cracks in the chocolate.
If you are making buckeyes, do not dip the entire truffle in chocolate.
Warm chocolate coats the truffles best. Keep the chocolate in microwave-safe bowls, so you can reheat for 20 seconds at a time when it starts to cools off.
Variations
Peanut Butter Balls with Rice Krispies - Add ½ cup cereal to give it some crunch.
Peanut Butter Balls with Graham Cracker Crumbs - Add ½ cup crumbs for a different flavor.
Peanut Butter Balls with Oats - ½ cup rolled or quick oats will change up the candies.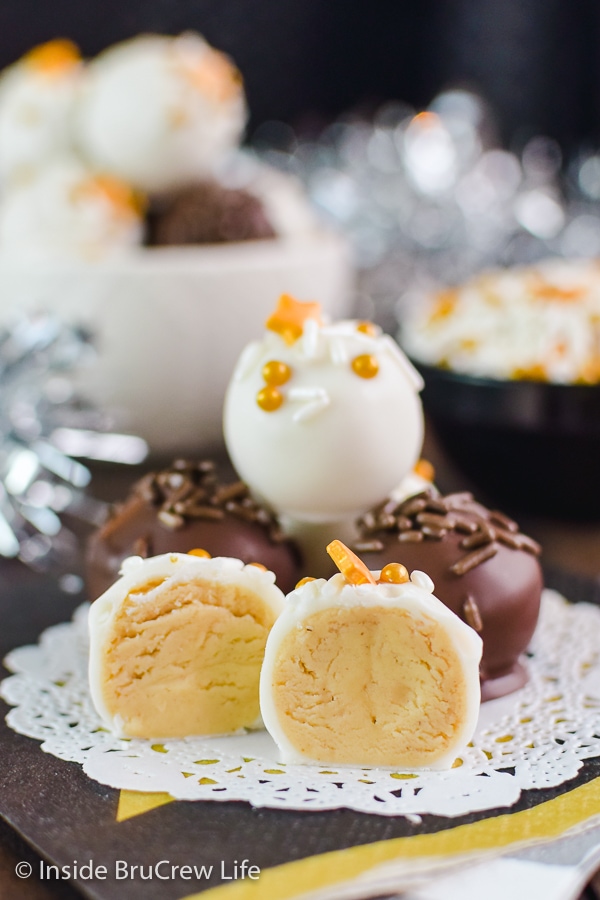 How to Melt Chocolate for Dipping
You can melt the chocolate in a double boiler over boiling water. Do not get water in the melted chocolate because it will seize and clump.
You can also melt the chocolate in a bowl in the microwave. Heat at 50% power for 45 seconds. Stir and repeat. Do not overheat the chocolate because it could burn.
Melted chocolate chips or almond bark can also be used to dip the candies in. You may need to add oil, butter, or shortening too thin out the chocolate for dipping.
Recipe
FAQS
How long do peanut butter balls last?
Store these homemade peanut butter balls in a container on the counter for 1-2 days.

Keep the treats in an air tight container in the refrigerator for 2 weeks. Of course, ours never last more than 24 hours, so good luck with that.
Can you freeze peanut butter balls?
You sure can. Place the chocolate-dipped candies in a single layer on a baking sheet or plate and freeze for at least 30 minutes.

Transfer the frozen candies to a freezer-safe bag or container and freeze for up to 3 months. Thaw overnight in the refrigerator before serving.
What chocolate is best for homemade candies?
High quality chocolate is best for dipping candies. It will melt smoother and creamier and will dip better. I like Ghirardelli because they taste great and melt smooth.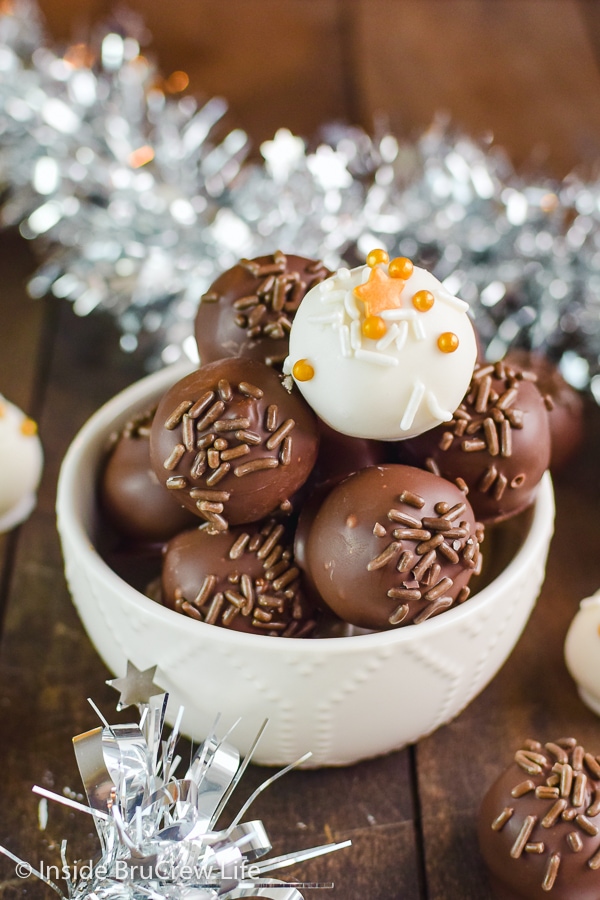 Other Easy Homemade Candies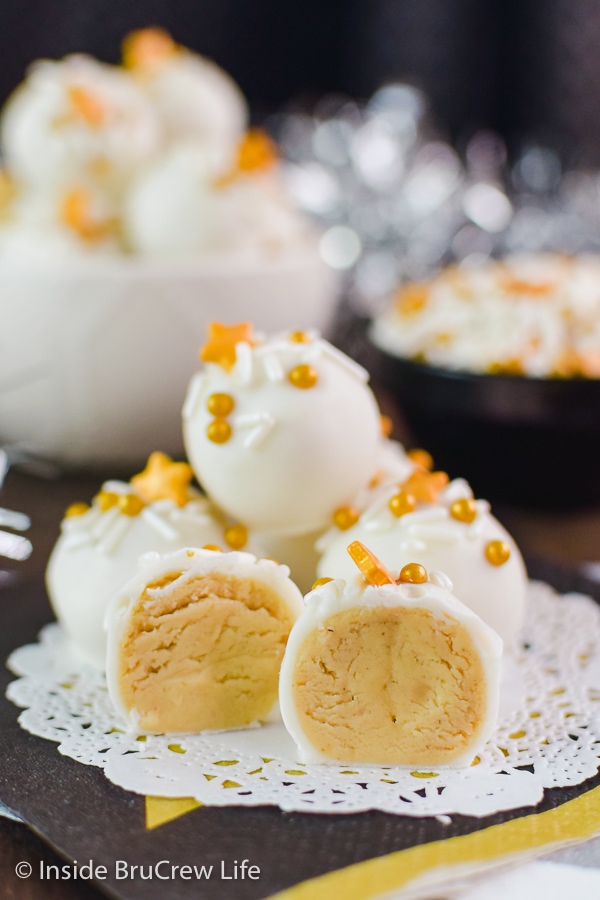 Do you love a recipe you tried from Inside BruCrew Life?
Please leave a 5-star ⭐️ rating and a review in the comments section below.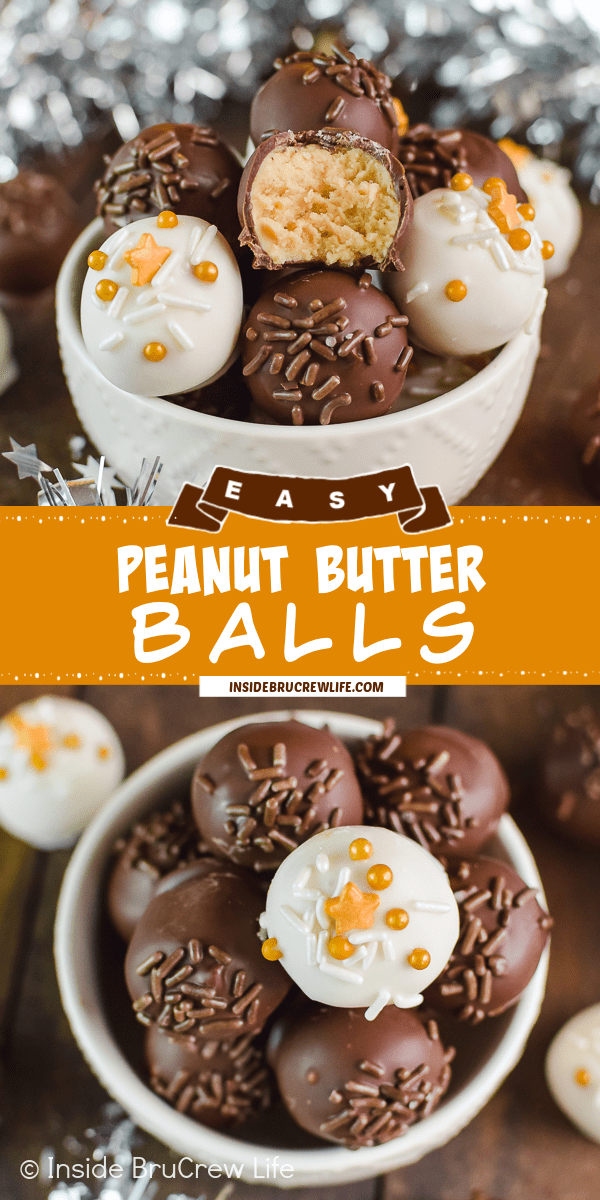 *The post for Peanut Butter Balls was first published on December 27, 2014. The post and photos have been updated and republished on November 18, 2019.