A batch of these easy Peanut Butter Balls are a family tradition that we make for every holidays. Homemade candies are a fun treat that are easy to customize with different colored sprinkles.
*Be sure to sign up for the BruCrew email to get these delicious recipes in your inbox each day.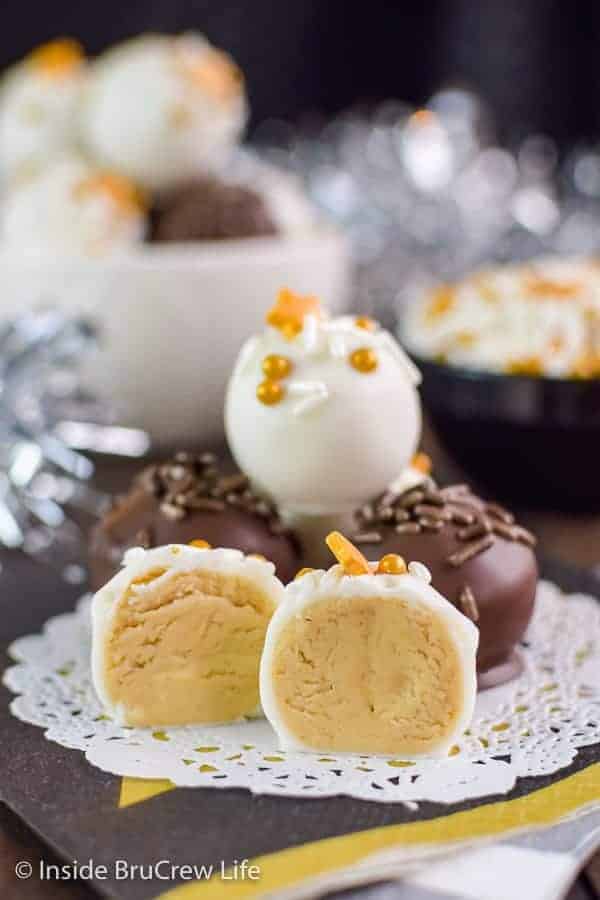 CLICK HERE TO PIN THIS RECIPE FOR LATER!
I realized this week that I have never shared one of our all time favorite recipes with you. I have been making this easy no bake candy recipe for years.
Well, actually it has been shared, just in different holiday forms like Decorated Peanut Butter Eggs, Peanut Butter Pumpkins, and Peanut Butter Reindeer.
My brain is extremely visual which means I have to see things to really understand them. So, I got thinking that maybe some of you are like that.
Sure I could say use this recipe to make a batch of Peanut Butter Balls, but if you are staring at bunnies and pumpkins, it could be difficult to see past the holiday treat.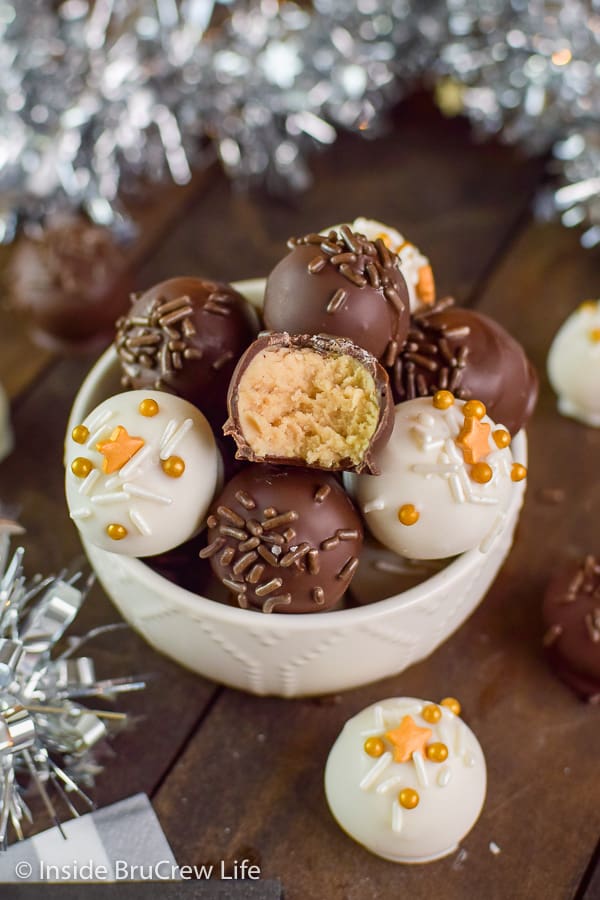 So, when I made a batch of these Peanut Butter Balls for Christmas last year, I had to add some pizzaz to a few of them and photographed them, so I could share the plain recipe with you.
Ingredients for Peanut Butter Balls:
Butter
Creamy Peanut Butter
Marshmallow Cream
Vanilla
Salt
Powdered Sugar
Chocolate Wafers – white and dark chocolate
I couldn't resist dipping half of them in white chocolate with white and gold sprinkles for New Years Eve and half of them in dark chocolate with chocolate sprinkles for Christmas. It made the bowl of easy Peanut Butter Balls look so pretty.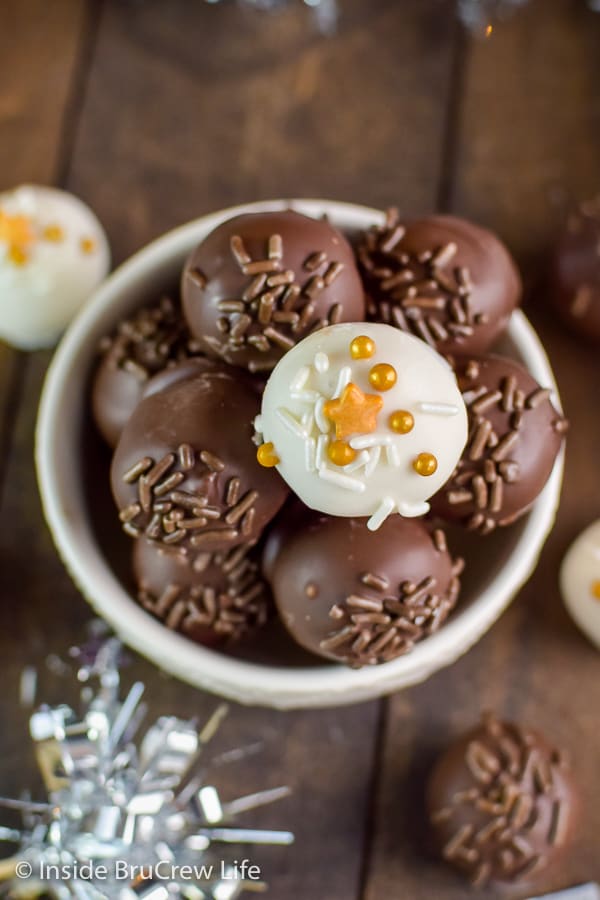 Of course, I knew these white ones would never make it to New Year's Day because our boys go absolutely bonkers for these quick and easy Peanut Butter Balls. That just means another batch needs to happen again very soon.
How to make Peanut Butter Balls:
Beat the softened butter, peanut butter, vanilla, salt, and marshmallow cream until nice and creamy.
Slowly add the powdered sugar and mix until a soft dough forms.
Roll the mixture into 36 small balls and place on a pan lined with parchment paper. Refrigerate for at least 30 minutes.
Melt the chocolate wafers according to the package directions. Use a toothpick to dip each candy into the chocolate. Tap the excess chocolate off and place back on the parchment paper.
Twist out the toothpick and cover the hole with a little bit more melted chocolate. Top with sprinkles and let set.
Peanut Butter Balls vs. Buckeyes:
You may know these Peanut Butter Balls as Buckeyes. Buckeyes are a popular candy in Ohio because the Buckeye is the state tree.
Buckeye balls are only partially dipped in chocolate though. The tops are left uncovered to resemble the nuts from the tree. Peanut Butter Balls are completely dipped in chocolate.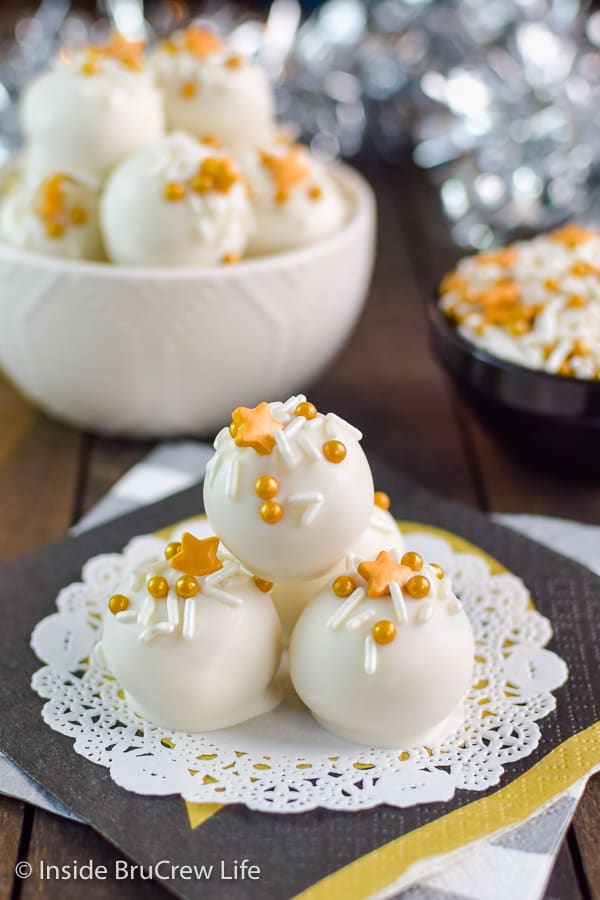 Getting the right texture for the dough is important in rolling out the buckeyes. Every type of peanut butter is different, so it will make a difference in your candy dough. Depending on the brand you use, you may need to adjust the recipe slightly.
If the dough is too crumbly, add a little more peanut butter. If it is too sticky, add a little bit of powdered sugar until it resembles a dough. You should be able to roll the dough without it sticking to your hands or falling apart.
Tips and tricks for making Peanut Butter Balls:
Refrigerate the peanut butter candies for at least 30 minutes or longer. Only remove a few at a time to dip. They stay on the toothpicks better when they are cold. I do not like to freeze them, because the frozen ball and the hot chocolate react and cause cracks in the chocolate.
Use a toothpick to dip each ball in the chocolate. I also use a spoon to get the chocolate all over the tops of each ball. Then tap on the side of the bowl very gently to remove the extra chocolate. Place on a parchment paper lined tray and twist the toothpick out. Dab a little bit more melted chocolate on the hole and add sprinkles to hide it.
Keep your chocolate warm. The warmer it is, the better it coats the balls. I usually keep my chocolate in microwave safe bowls, so I can pop it in for 20 seconds at a time when it starts to cool off.
Refrigerate the homemade candies if you are not going to eat them within a day or two. I personally prefer them room temperature, but I know others who like them cold. Do what you like best here.
Ways to change up the flavor of Peanut Butter Balls:
Peanut Butter Balls with Rice Krispies – add 1/2 cup cereal to give it some crunch
Peanut Butter Balls with Graham Cracker Crumbs – add 1/2 cup crumbs for a different flavor
Peanut Butter Balls with Oats – 1/2 cup rolled or quick oats will change up the candies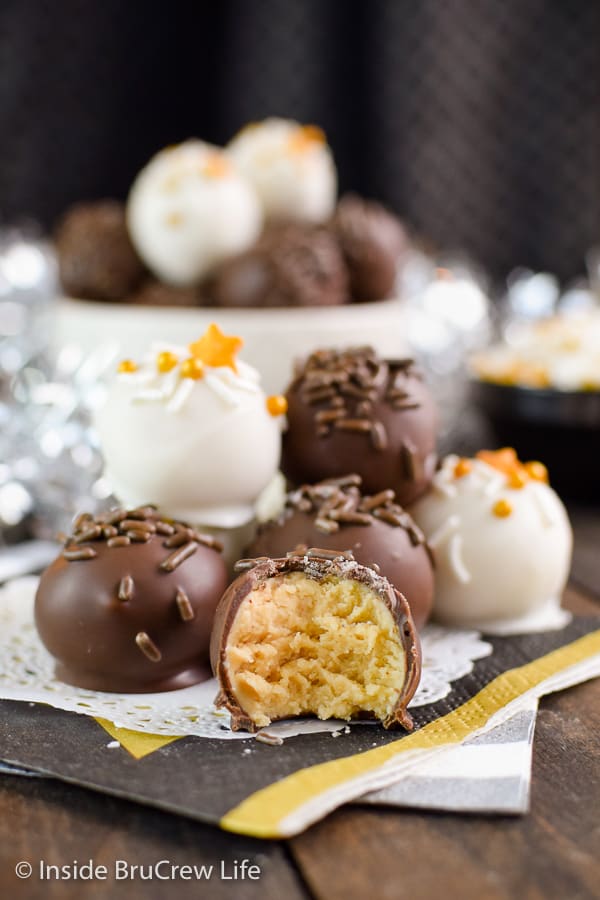 How long do Peanut Butter Balls last?
These homemade peanut butter candies will last 1-2 days in a container on the counter or 2 weeks if stored in an air tight container in the refrigerator. Of course, ours never last more than 24 hours, so good luck with that.
Can you freeze No Bake Peanut Butter Balls?
They sure can. Place the chocolate-dipped candies in a single layer on a baking sheet or plate and freeze for at least 30 minutes. Transfer the frozen candies to a freezer-safe bag or container and freeze for up to 3 months. Thaw overnight pin the refrigerator over night before serving.
What kind of chocolate is best for homemade candies?
High quality chocolate is best for dipping candies. A good quality chocolate will melt smoother and creamier and is better for dipping. I prefer to use Ghirardelli melts because they taste great and melt smooth.
You can melt the chocolate wafers in a double boiler over boiling water. Just be careful to not get any water in the melted chocolate because that will cause it to seize and clump.
You can also melt the chocolate wafers in a bowl in the microwave. Heat for 20-30 seconds, stir and repeat. Be careful not to overheat the chocolate because it will burn and you will have to throw it all away.
Melted chocolate chips or almond bark can also be used to dip the candies in. You may need to add some oil, butter, or shortening to the chocolate too thin it out for dipping.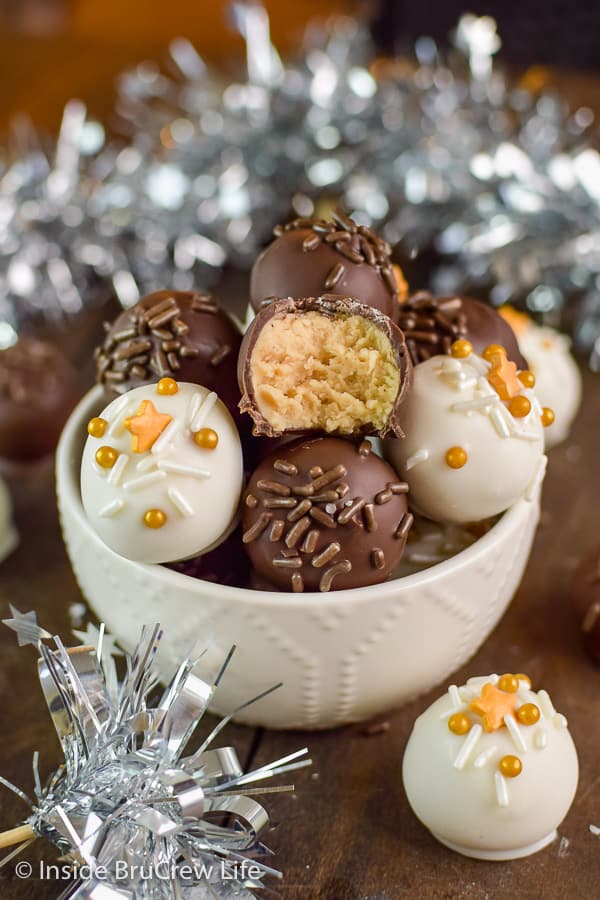 Other easy homemade candies you may like: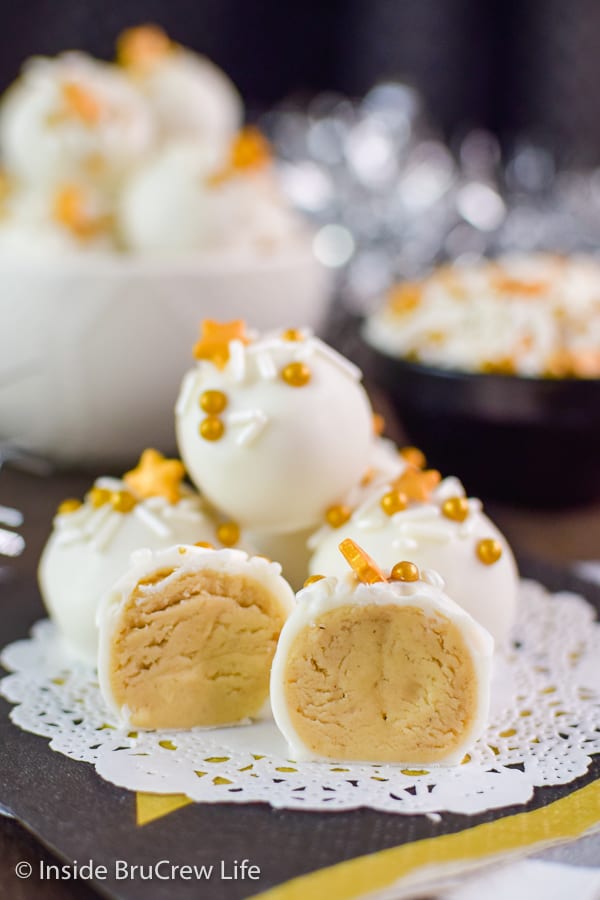 Connect with Inside BruCrew Life! Follow us on social media, so you never miss a post.
Email Subscription | Facebook | Pinterest | Twitter | Instagram | Bloglovin
I also have a Facebook group, and I would love for you to join. It's a group where you can share your favorite recipes, ask questions, share photos, and see what's new with the BruCrew. If you would like to check it out, you can request to join HERE.
Yield: 36 peanut butter balls
Peanut Butter Balls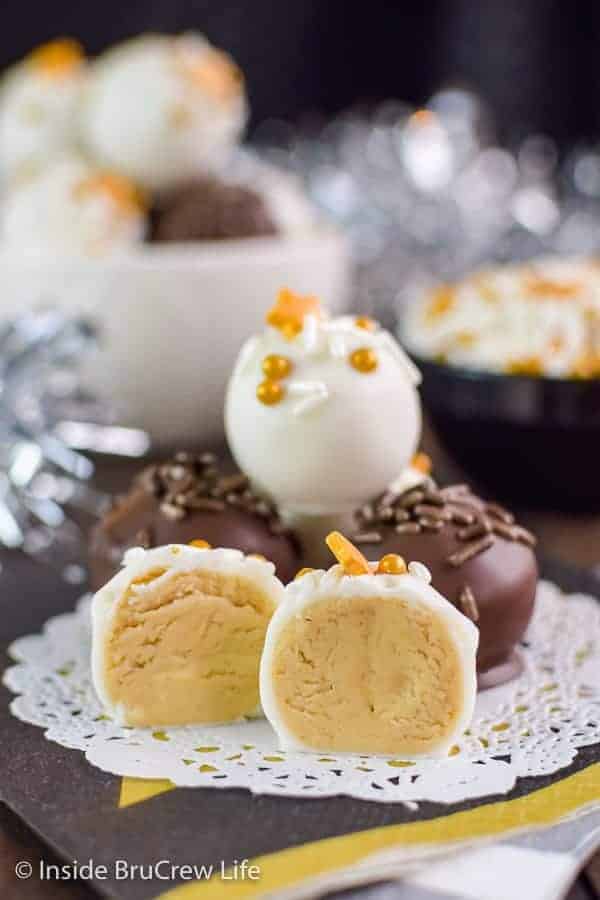 A simple no bake peanut butter mixture rolled into balls and dipped in chocolate makes an easy treat that the whole family will love. They never last very long in our house.
Ingredients
6 Tablespoons butter, softened
1/2 cup creamy peanut butter
1/4 cup marshmallow cream
1/2 teaspoon vanilla extract
pinch of salt
2 cups powdered sugar
1 - 10 ounce bag dark chocolate or white melts
sprinkles, optional
Instructions
Beat the butter, peanut butter, and marshmallow cream until creamy. Add the vanilla and salt and beat again.
Slowly add the powdered sugar until a soft dough forms.
Roll the dough into 36 even balls. Refrigerate for at least 30 minutes.
Melt the chocolate melts according to the package directions.
Remove a few peanut butter balls at a time from the refrigerator. Use a toothpick and spoon to dip the balls in the melted chocolate.
Place the balls on a parchment paper lined tray and twist the toothpick out. Dab a little bit of chocolate over the hole and top with sprinkles. Let set.
Store in a loosely sealed container on the counter for 1-2 days, or in the refrigerator for up to 2 weeks.
Recommended Products
As an Amazon Associate and member of other affiliate programs, I earn from qualifying purchases.
Nutrition Information:
Yield:
36
Serving Size:
1
Amount Per Serving:
Calories:

108
Total Fat:

6g
Saturated Fat:

3g
Trans Fat:

0g
Unsaturated Fat:

3g
Cholesterol:

6mg
Sodium:

38mg
Carbohydrates:

12g
Fiber:

1g
Sugar:

10g
Protein:

1g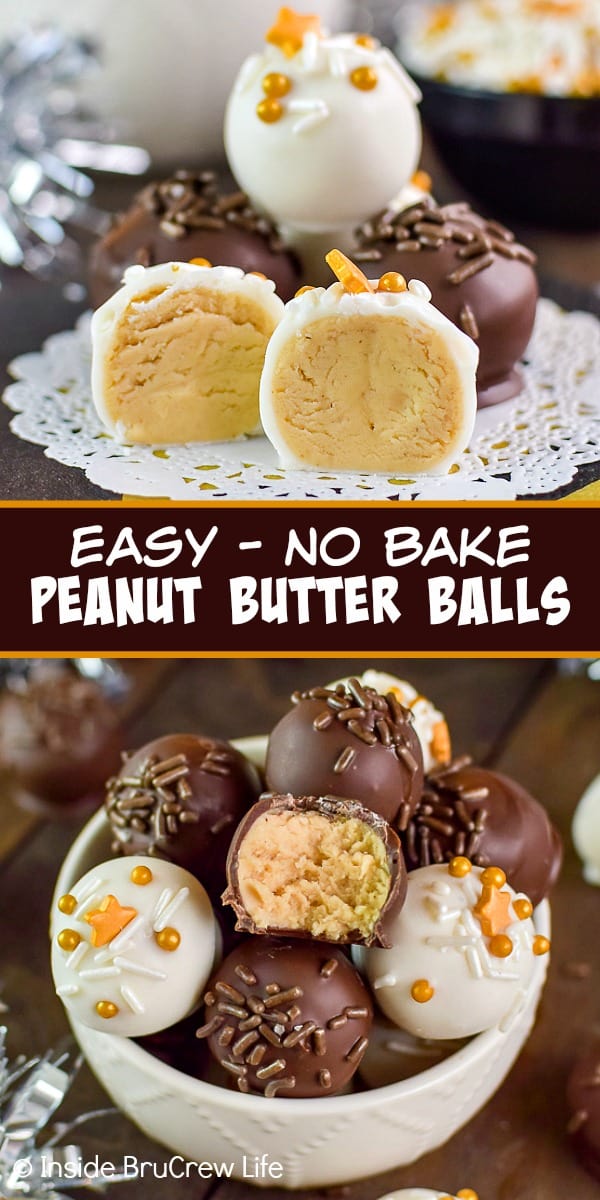 *The post for Peanut Butter Balls was first published on December 27, 2014. The post and photos have been updated and republished on November 18, 2019.