These Peanut Butter S'mores Bars are an easy treat that can be made year round. Gooey no bake bars loaded with marshmallow and chocolate always gets smiles at parties.
One of our favorite things to do as a family is sit around a campfire telling stories, looking at the stars, toasting marshmallows, and eating s'mores.
The house we are living in in Florida does not have much of a yard, and a bonfire in a screened in patio isn't the best idea. So, it has been way too long since we have roasted some marshmallows.
My kids love eating s'mores, so I am always looking for fun ways to create s'mores treats that we can eat all year long. Since these Peanut Butter S'mores Blondies were a hit, I wanted to make something with those same flavors in a no bake bar.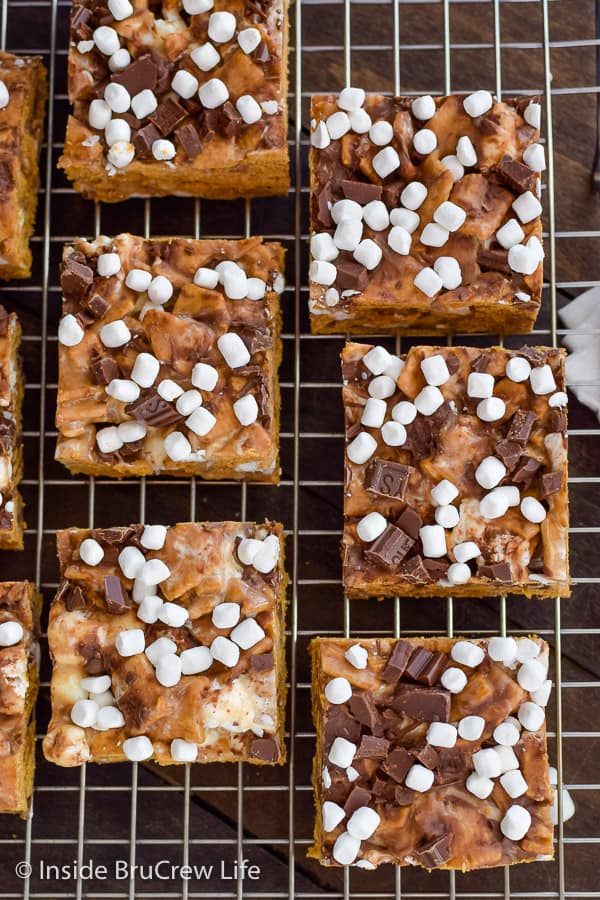 Now one thing that I don't miss about a bonfire is all the sticky messes that happen when my kids get around marshmallows and chocolate.
I'm not sure how it happens, but there are usually marshmallow guts on all the chairs. And don't get me started on how crazy kids can get when they are given a pointy stick and access to fire.
S'mores treats that are made without a fire gets the mom approval from me.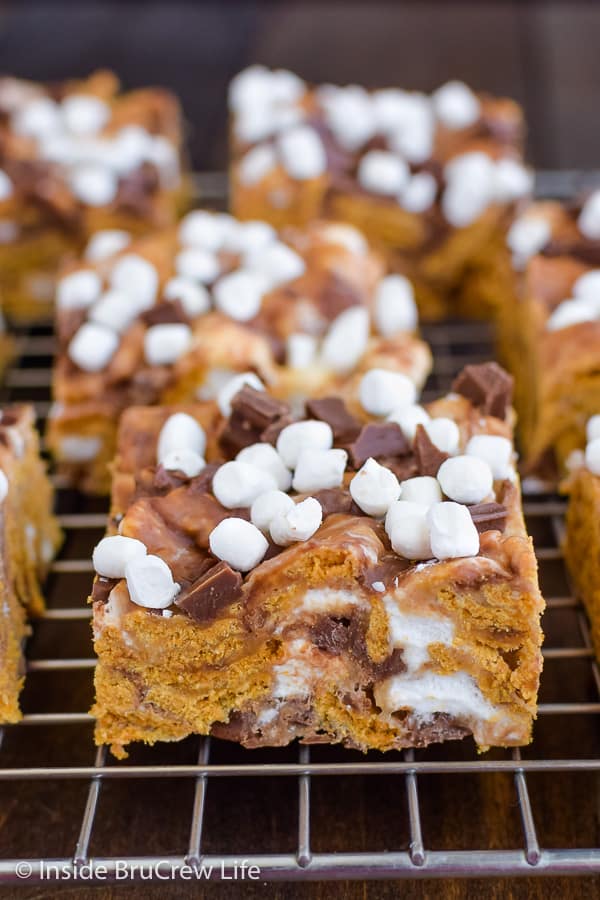 These no bake treats are very quick and easy to put together, and they are the perfect treat for any summer party or picnic.
You may have most of the ingredients in your cupboards or pantry. Well, hopefully you do. If not, add them to your grocery list right away because these s'mores bars are so stinking amazing!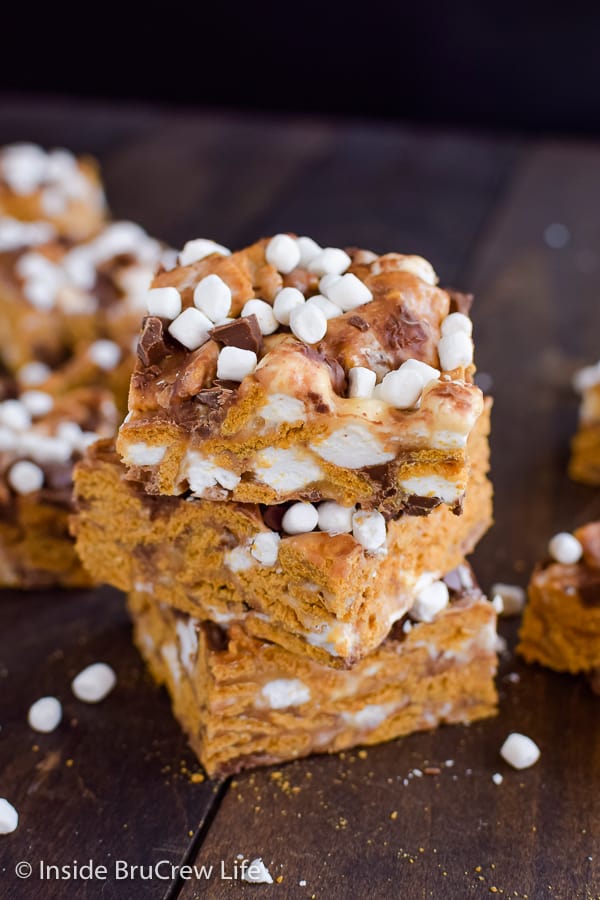 Tips for making Peanut Butter S'mores Bars:
Chop the candy bars into small pieces. Place the chopped chocolate bars in a bowl in the freezer.
Stir together the corn syrup and sugar. Heat over medium heat until dissolved. Bring to a boil and boil 1 minute.
Pour into a bowl and stir in the peanut butter until creamy.
Add the cereal and stir until everything is coated evenly. Another way to mix these together is to pour the hot syrup over the cereal in a bowl.
Stir in the marshmallows and 1 cup of the frozen candy bar chunks quickly and gently.
Press the mixture quickly into a greased pan. Top the bars with the remaining candy bars and mini marshmallow bits immediately. If the bars cool, the extra toppings will not stick very well.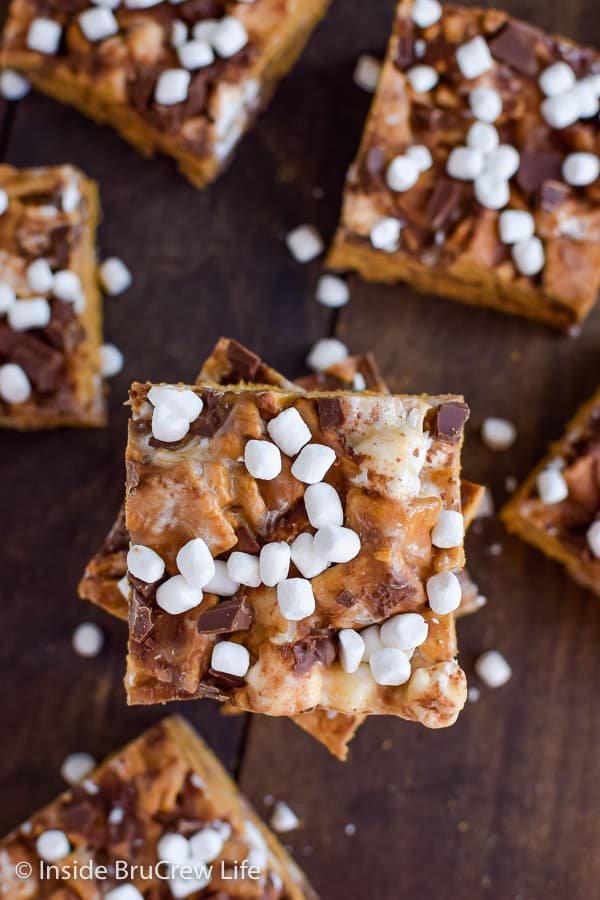 Delicious s'mores recipes you may like:
Easy no bake desserts for summer: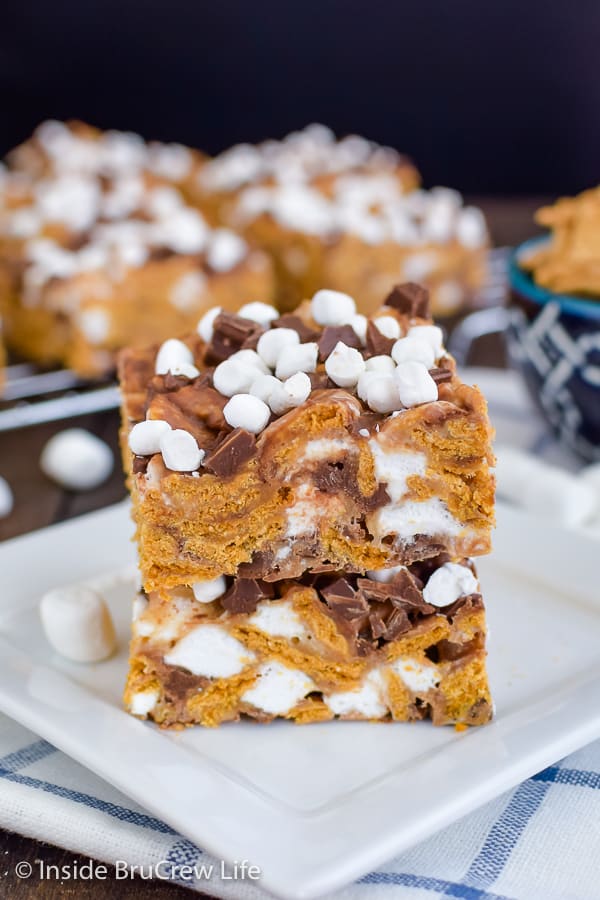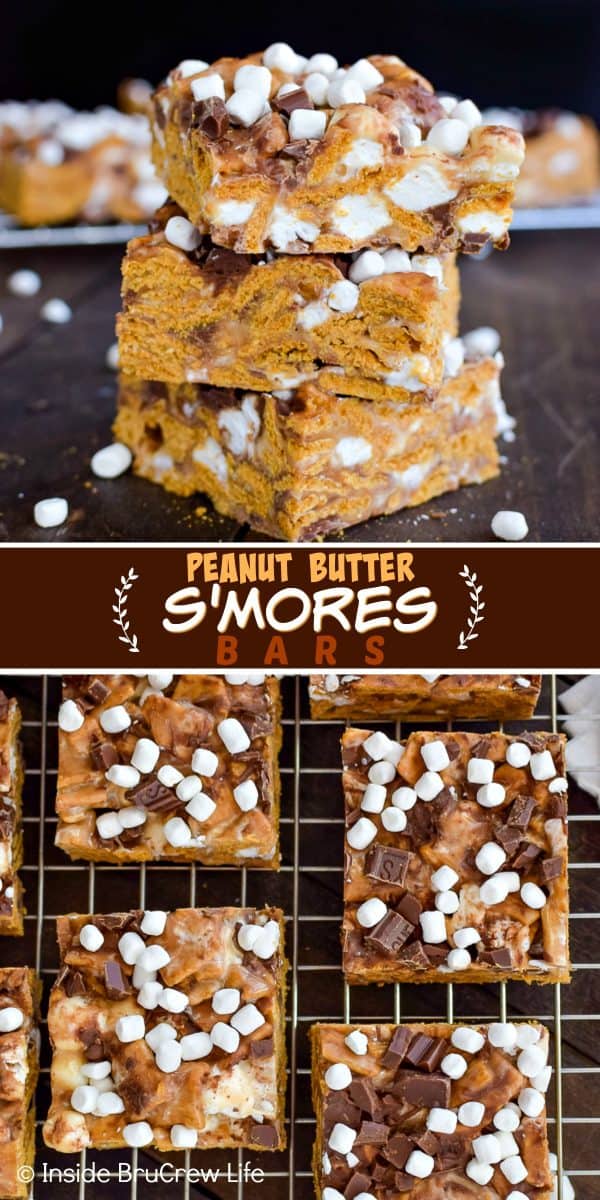 *The post for Peanut Butter S'mores Bars was first published on March 4, 2015. The photos have been updated and it was republished on June 14, 2019.