Do you look forward to sitting outside around a campfire for the sticky s'mores treats?  That isn't always possible because of the different seasons of the year.  These Peanut Butter S'mores Bars are an easy, no bake treat that can be made year round.
*This post is sponsored for One2One Network on behalf of ACH Foods and Karo® Corn Syrup.  I am partnering with them as a Become a Better Baker Blog Ambassador.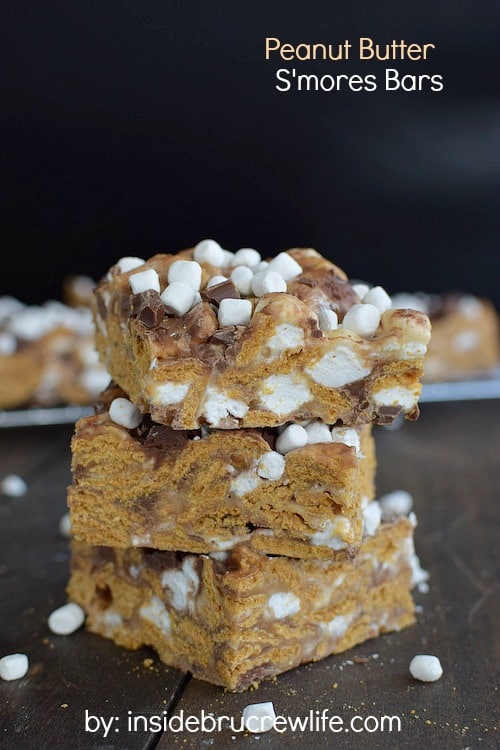 One of our favorite things to do as a family is sit around a campfire telling stories, looking at the stars, toasting marshmallows, and eating s'mores.
Of course, that all has to be put on hold during the winter months.  There aren't too many fires happening in this frigid weather that we have been having around here.
My kids love eating s'mores, so I am always looking for fun ways to create s'mores treats that we can have from all year round.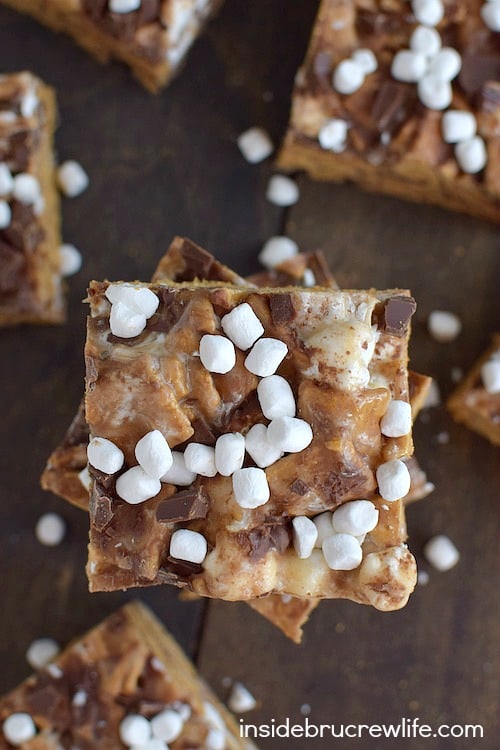 Now one thing that I don't miss during our months without a fire is all the sticky messes that happen when my kids get around marshmallows and chocolate.
I'm not sure how it happens, but there are usually marshmallow guts on all the chairs.  And don't get me started on how crazy kids can get when given a pointy stick and access to fire. S'mores treats that are not sticky and are made without a fire get the mom approval from me.
The days are getting longer, and so is my list of great spring recipes to remake again and again. With Easter upcoming, this is the perfect bite-size final sweet touch to your feast. Hunting for eggs on Easter Sunday works up quite an appetite, after all.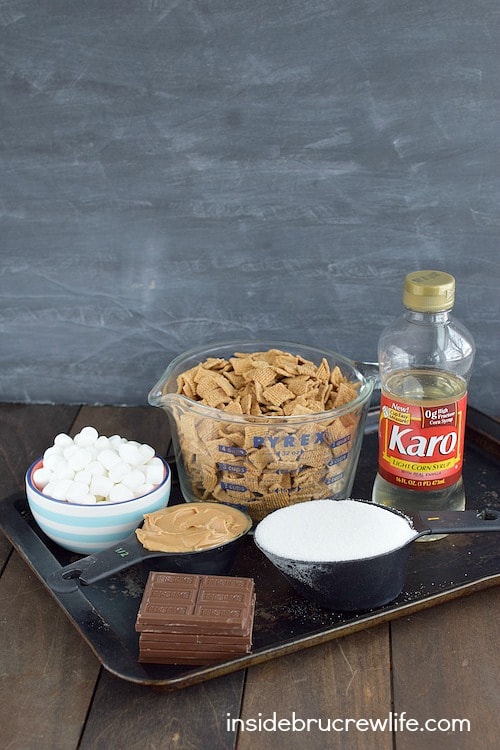 These no-bake treats are very quick and easy to put together.  You'll probably have most of the ingredients waiting in your cupboards.  Well, hopefully you do.  If not, add them to your grocery list right away.
I started by using this Crispy Pretzel Bars recipe on the Karo® website as my base.  Then I switched out the cereal, pretzels and candies for graham cereal, marshmallows and chopped up candy bars.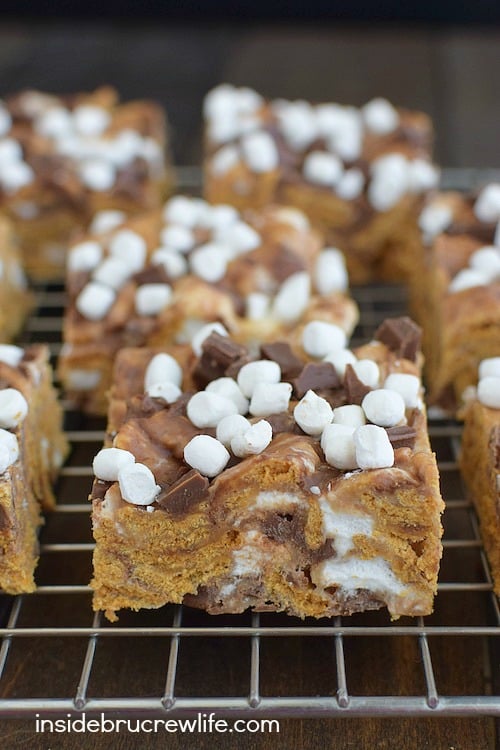 There are a few things that you need to make sure you remember as you make these bars.
1.  Chop the candy bars first.  Then place 1 cup of chopped chocolate bars into the freezer while you work on the rest.
2.  Place your cereal into a large bowl, then pour the hot peanut butter syrup over it.  I found it was easier to coat all the pieces this way.
3.  Stir in the marshmallows and frozen candy bar chunks quickly and gently.
4.  Press the mixture quickly into a greased foil lined pan.  Then top the bars with the remaining candy bars and mini marshmallow bits immediately.  If the mixture cools, they will not stick very well.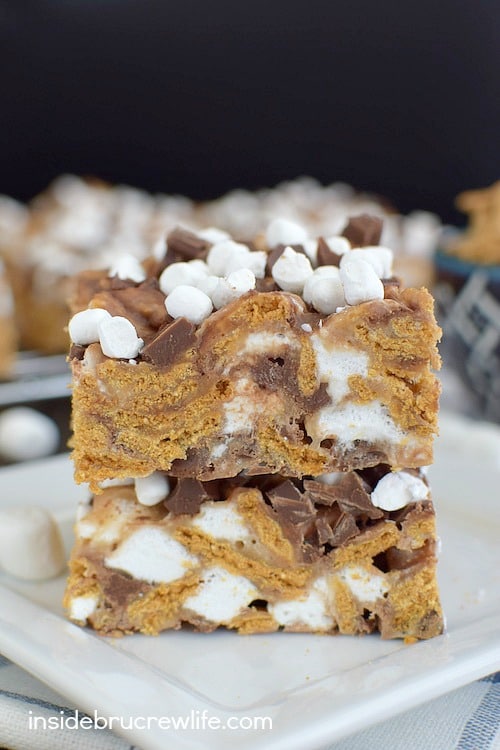 Connect more with Karo® Syrup:
Website | Facebook
#BecomeABetterBaker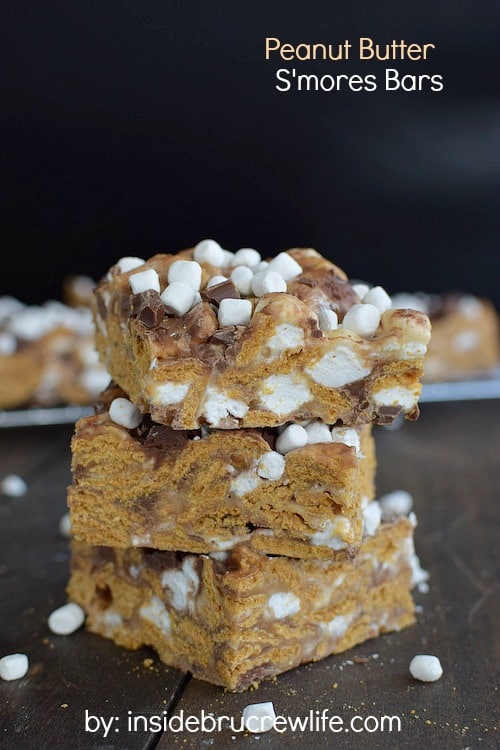 Marshmallows and candy bar chunks give these crispy peanut butter bars a fun s'mores taste. These no bake treats are perfect for enjoying any time of year.
Ingredients
1 cup Karo® Light Corn Syrup
1 cup sugar
1/2 cup creamy peanut butter
5 cups graham cereal squares
2 cups miniature marshmallows
1 1/3 cup chopped chocolate candy bars, divided
1/3 cup miniature marshmallow bits
Instructions
Chop the candy bars and place 1 cup of chunks in a bowl in the freezer. Set aside the remaining candy chunks.
Combine the corn syrup and sugar together in a sauce pan over medium heat. Stir until it is dissolved. Bring the mixture to a boil and remove from the heat. Stir in the peanut butter.
Pour the hot syrup over the cereal in a large bowl. Stir quickly to coat the cereal. Add the marshmallows and frozen candy bar chunks and stir quickly. Press the mixture into a greased foil lined 9x13 pan using a sheet of wax paper. Sprinkle with the reserved candy bars and mini marshmallow bits right away. Let cool and cut into 24 squares.
https://insidebrucrewlife.com/peanut-butter-smores-bars/
Copyright Inside BruCrew Life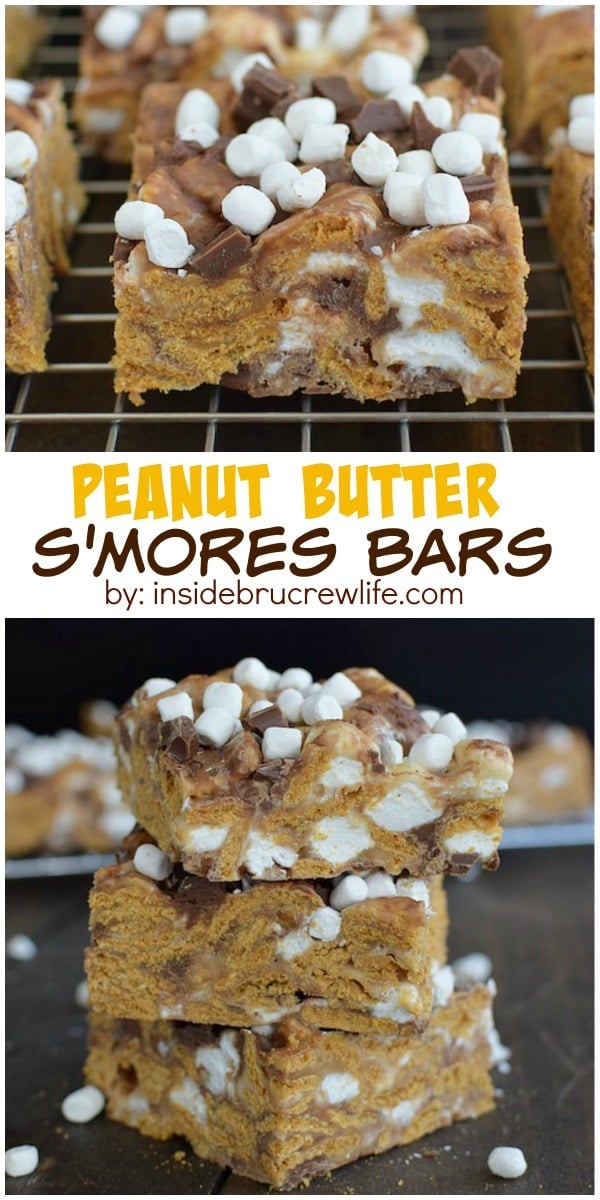 *I am part of the One2One Network, and I am working with ACH Foods as a Baking Ambassador. As always, all thoughts and opinions are 100% my own.