Get your chocolate and caffeine fix with a batch of these Almond Joy Krispie Treats!
I have a bone to pick with the video game creators.
In fact I am down right upset with them!!!
I do not understand the need to put half naked women into a video game!!!
My sons are 8 and 12...
there is absolutely no reason they need to see games and the
game magazines tainted with these inappropriate pictures!!!
As parents of 2 boys, we are very careful about the things that
they see and do. And sadly now it is everywhere!!!
These magazines have been coming for a few months now,
and at first there was just a few outfits that I thought were slightly
distasteful for a game.
But the magazine that just came today...
had a lady very terribly dressed right on the back cover.
And there were quite a few pictures inside of women barely covered!
What's a parent to do???
Rip every single offending picture out and tear them to smithereens!!!!
And definitely don't renew that subscription!!
I know that they are going to see and hear things that are
very inappropriate as they get older, but
for now we can shield them from these disgusting displays!!!
Seriously can't kids play games without having to worry about
a video game girl's chest filling the screen???
Uuuugggg!!!! So not happy right now!
Whatever happened to Frogger and the old Mario?
I might need more of these treats to calm my irritations:-)
Today is your lucky day
because now I am sharing them with you here too.
Do you like coffee?
Do you like coconut?
Do you like marshmallows?
Would you like all three in the best rice krispie treat ever?
(I know that is kind of presumptuous to claim the best ever!)
But seriously if you like all these flavors...
make them this weekend!
I have a sneaking suspicion that you will agree these almond joy krispie treats are the best!
Just be careful...
they are highly addictive:-)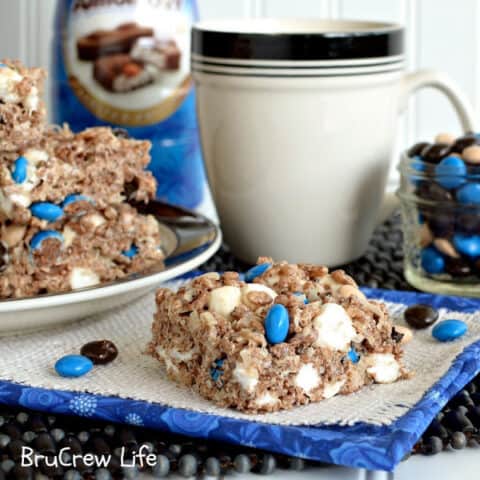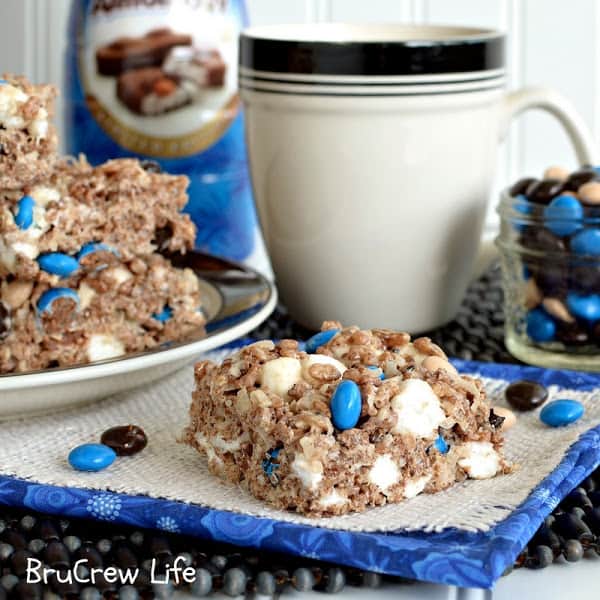 Almond Joy Krispie Treats
These sweet Almond Joy Krispie Treats are loaded with candy, coconut, and chocolate. Great no bake treat that is ready in minutes!
Ingredients
3 Tablespoons coconut oil
10 bag large marshmallows
2 Tablespoons instant coffee granules
5 cups chocolate rice krispies
1 ½ cups shredded coconut
1 ½ cups mini marshmallows
1 ¼ cups Almond Joy chocolate pieces, divided
Instructions
In a large saucepan, melt the coconut oil. Stir in the instant coffee until dissolved.
Add large marshmallows and stir until melted and creamy.
Pour in the cereal and stir until coated. Let cool 5 minutes, then add the coconut, mini marshmallows, and 1 cup of the Almond Joy pieces, stirring quickly.
Spoon the mixture into a buttered 9×13 pan. Gently press into the pan with buttered hands or parchment paper. (pressing too hard will result in hard krispie treats)
Press the extra candy pieces into the top. Let set up. Store covered loosely.
Recommended Products
As an Amazon Associate and member of other affiliate programs, I earn from qualifying purchases.
Nutrition Information:
Yield:

24
Serving Size:

1
Amount Per Serving:
Calories:

310
Total Fat:

17g
Saturated Fat:

11g
Trans Fat:

0g
Unsaturated Fat:

4g
Cholesterol:

9mg
Sodium:

71mg
Carbohydrates:

37g
Fiber:

2g
Sugar:

29g
Protein:

4g