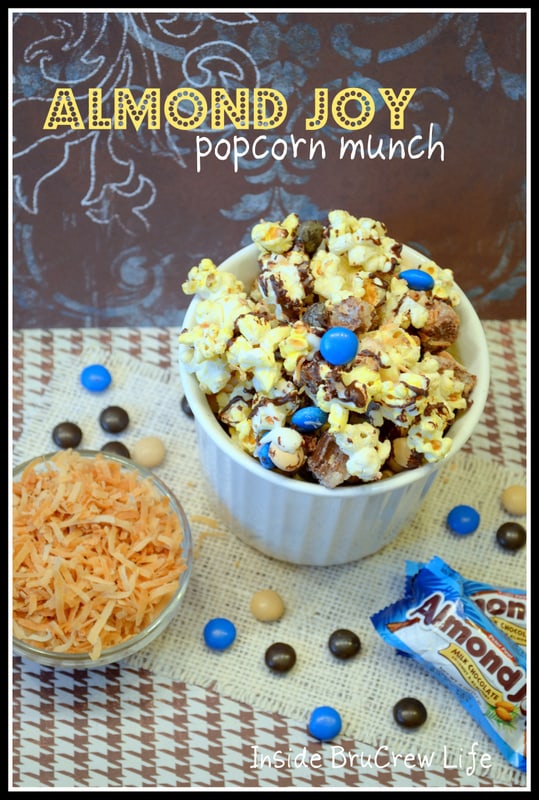 So the other day I was driving to pick my kids
up from school when I realized my hands
really could use some lotion.
I have been driving for so many years…no problem.
I knew that I could handle getting in my bag,
grabbing the lotion, and staying in my lane.
Like I said, no problem at all.
The problem comes as I keep my eyes
on the road and squeeze the lotion on my hands.
I drop the tube in my lap and start
to rub the the lotion on my hands.
Immediately I realize that I squeezed
way too much out…and my hands were WHITE.
I didn't even want to touch the steering wheel.
My mind is racing with my options…
do I should just wipe it on my jeans or
just wipe it on the van seat?
I don't want lotion spots
in my jeans forever, and…
I don't want
my husband to "kill" me for wiping it on the seat.
Then I remembered…I shaved this morning.
So, very carefully…remember I am still driving…
I pull up a pant leg and rub some lotion in.
Then I repeated on the other side.
It seemed like a good idea at the time.
It's just a good thing there wasn't that much
Hey, I stayed in my lane the entire time.
I just was very preoccupied.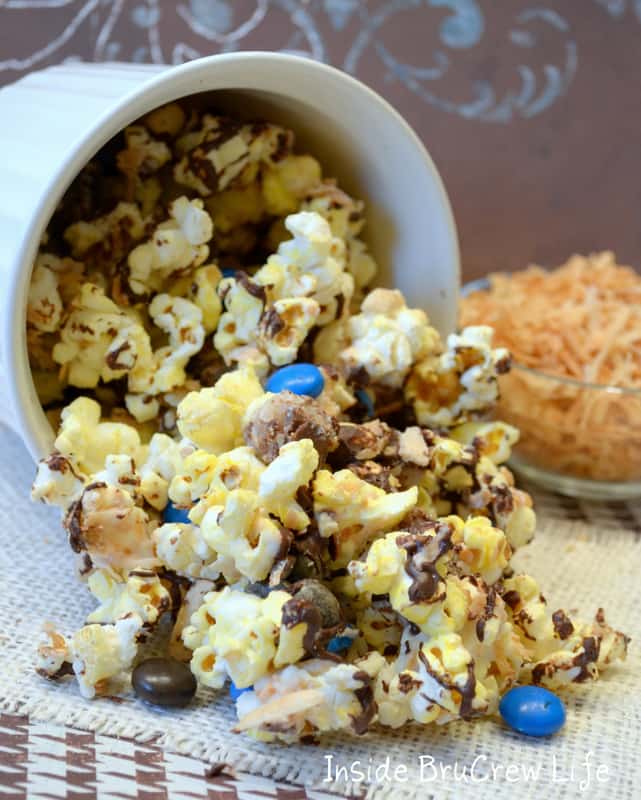 You know what else seemed like a good idea at the time?
And truly it
was
a great idea!!!
I mean, 2 kinds of chocolate, 2 kinds of Almond Joy,
toasted coconut and almonds. Be still my heart!!!!
The only problem…is trying to stop once you start:-)
If you like coconut,
I dare you to make some…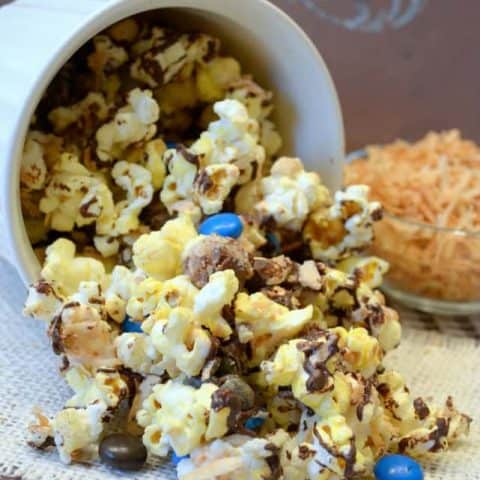 Almond Joy Popcorn Munch
Yield:
10 cups of popcorn
White chocolate covered popcorn with coconut, almonds, and Almond Joy bars and pieces...for the serious coconut lover.
Ingredients
1 cup shredded coconut
7 cups popped popcorn
1 1/2 cups chopped Almond Joy bars
1/2 cups slivered almonds
1 cup Almond Joy pieces or other chocolate candy pieces
1 cup white chocolate melts
1/4 cup dark chocolate melts
Instructions
Preheat oven to 400 degrees. Spread coconut on a baking sheet and bake for 5-6 minutes. Stir occasionally, so the coconut does not burn. Cool on pan.
In a large bowl combine the popcorn, toasted coconut, Almond Joy bars, and almonds.
Melt the white chocolate melts according to the package directions. Pour the melted white chocolate over the popcorn and toss to coat.
Spread on a large baking sheet that has been lined with wax paper. Sprinkle with the candy pieces. Place in the refrigerator to set up quickly.
Break the popcorn into large chunks. Melt the chocolate melts according to the package directions and drizzle over the popcorn pieces. Let set again. Store in a tightly sealed container.
Recommended Products
As an Amazon Associate and member of other affiliate programs, I earn from qualifying purchases.
Nutrition Information:
Yield:

20
Serving Size:

1
Amount Per Serving:
Calories:

248
Total Fat:

15g
Saturated Fat:

9g
Trans Fat:

0g
Unsaturated Fat:

5g
Cholesterol:

3mg
Sodium:

82mg
Carbohydrates:

28g
Fiber:

3g
Sugar:

22g
Protein:

3g