These no bake Peppermint Rice Krispies Pinwheels are an easy and fun treat for the holidays. Red and white spirals with a white chocolate sugar coating will add a fun flair to your treat trays.
*This is a sponsored post written by me on behalf of Kellogg's® Rice Krispies®. As always, all opinions are 100% my own.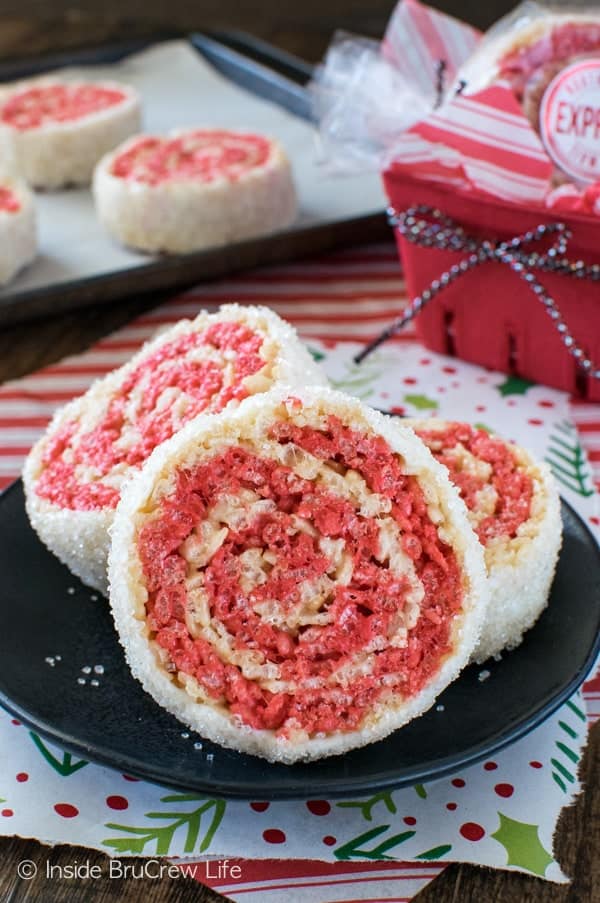 CLICK HERE TO PIN THIS RECIPE FOR LATER!
Every year for Christmas, my mom would put together stockings filled with fun treats and toys for each of us kids. The one thing we could always count on being in the toe of that stocking was a popcorn ball.
The funny thing is that I don't think any of us ever ate those hard popcorn balls, but she still continued to put one at the bottom every single year.
Now I could be totally wrong, and maybe my brothers and sisters ate their popcorn treats, but I know mine just "mysteriously" disappeared every year around Easter. I'm still pleading the fifth on that one...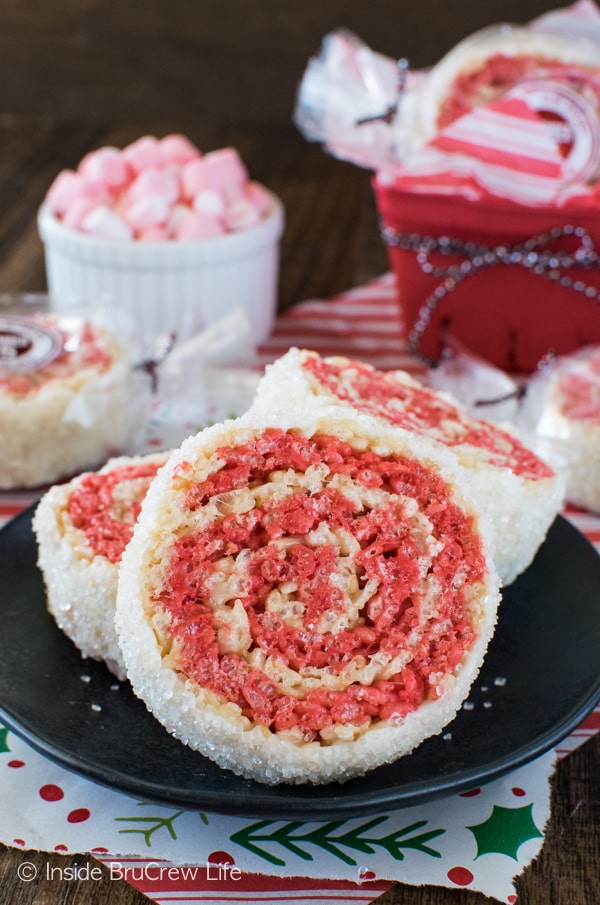 I think that if my mom had made or bought some different treats for our stockings, we would all have been eating them first thing on Christmas morning instead of hiding them in our closets.
This month I had the opportunity to create a holiday recipe using Kellogg's® Rice Krispies® cereal. We keep a few boxes in the pantry most of the time because these peanut butter cup Rice Krispies treats are a must make for parties or picnics all year long.
It's a cereal that I have been eating and baking with for so many years, so it has been fun to continue sharing them with my family. I love how many fun ways you can use them in desserts.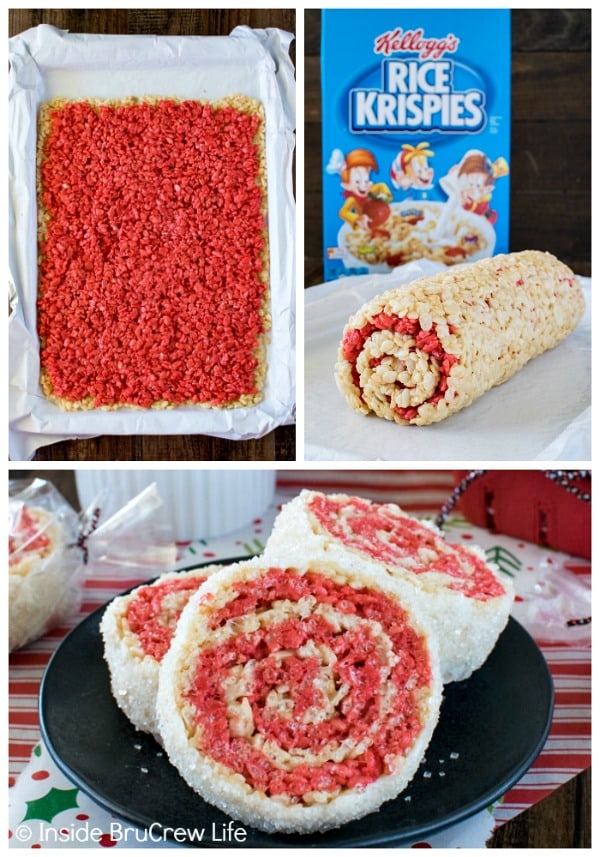 I wish I could say this treat idea was 100 percent my own. But honestly, my husband comes up with most of the good ideas around here. He really should start a food blog. Ok, scratch that. I need him to keep thinking up new ideas for around here instead.
A few weeks ago I was talking out loud in the car trying to come up with a fun idea to use the Kellogg's® Rice Krispies® cereal in, when he shouted out how I should do layers of peppermint treats, roll them up, and then cut that into spirals.
As soon as he said that, my brain went crazy with a fun way to decorate and package them for Christmas parties. Gotta love an easy idea that comes to life! I also love my hubby for the fun ideas he helps me come up with!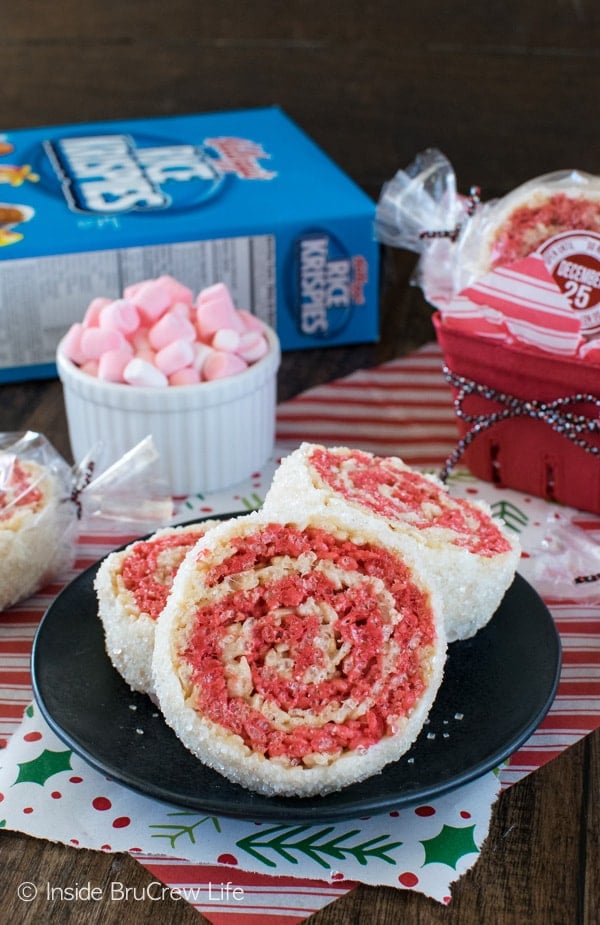 In order to make these treats, you will need to make two batches of the marshmallow cereal separately. Line a pan with parchment paper and butter it really good because it will make it easier to flatten and roll up the cereal.
Actually, make sure you keep the spreadable butter right beside you too because you will want to keep a layer of butter on your hands too.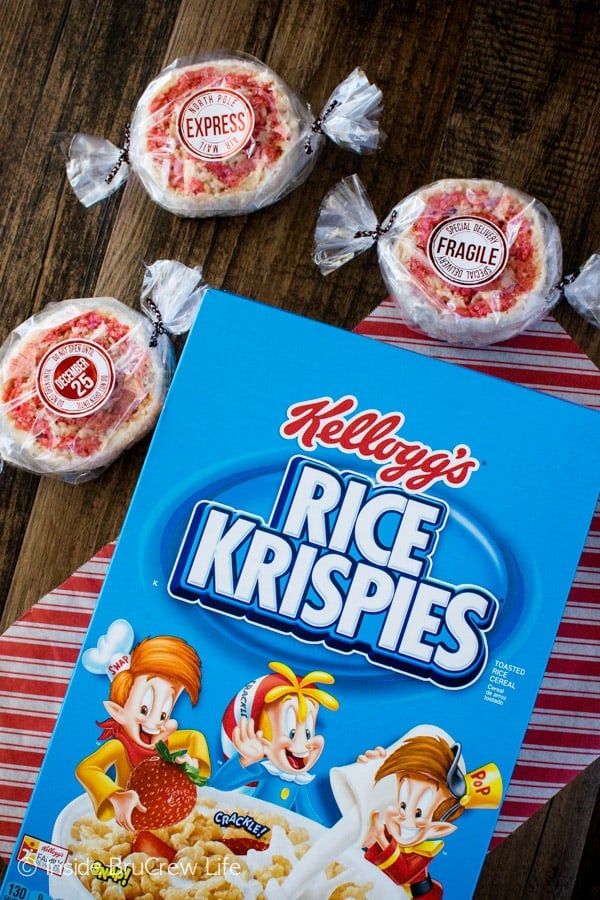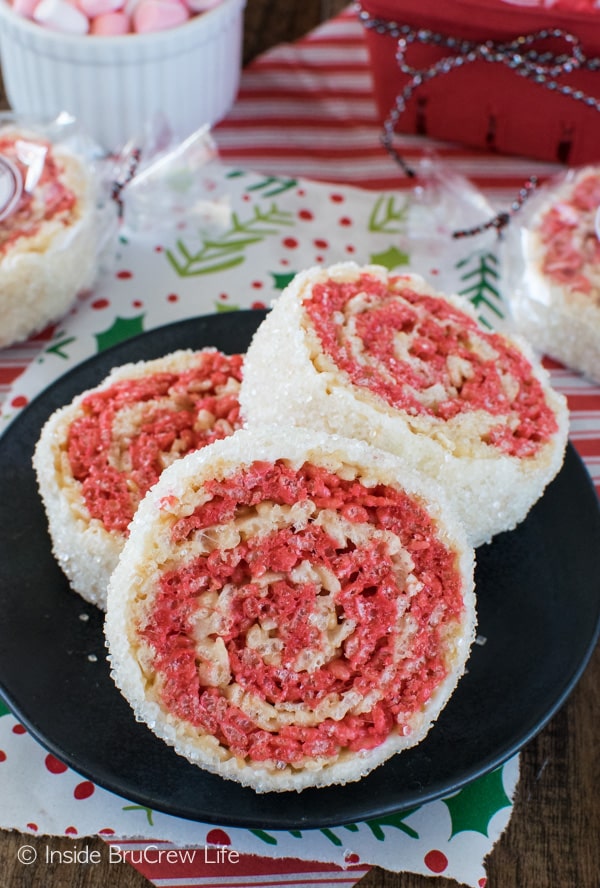 Here are some tips for making these peppermint Rice Krispies pinwheels:
Line a pan with foil backed parchment paper. I prefer to use this because it fits the pan better. Use a paper towel to really butter the parchment paper.
Make the regular Kellogg's® Rice Krispies® layer first. Press it firmly and evenly into a 9x13 rectangle. Keep your hands coated in butter so the mixture doesn't stick to you. You could also use another piece of parchment paper to protect your hands if you choose.
Once that layer is flat, make the peppermint cereal mixture. Peppermint marshmallows and baking chips add a fun flavor to this layer. I also added a little bit of red gel food color, so that the color was very vibrant and bold.
Drop that mixture by spoonfuls on top of the regular layer and press it out quickly. The mixture will be hot, but it will cool off quickly, so do not hesitate to get pressing right away. Again, make sure to keep your hands buttered, so it doesn't stick to you.
Let the layers cool for about 5 minutes, and then gently start to roll it up from the shorter side of the rectangle. Use your hands to keep the mixture together while you roll it up evenly into a log.
Let the roll cool for another 15 minutes and then use a serrated knife to cut it into 10 pinwheels. Lay them flat to cool completely.
Spread white chocolate on the outside edge of each pinwheel using a metal spatula. Roll the edges in white sanding sugar before the chocolate sets.
Store in a sealed container, or wrap each pinwheel in cellophane bags. Add ribbons and stickers to make them look pretty.
Leave them on the counter and wait for the kids to come home and ask where you bought them from.
Smile proudly because your treats look like a professional treat from a bakery!!
Connect more with Kellogg's® Rice Krispies®:
Facebook | Twitter | Pinterest
*And if you want to help give a little joy to a child in need this holiday season, tag your favorite treat across social using #Treats4Toys! For every photo of a Kellogg's® Rice Krispies Treat® shared, using #Treats4Toys, Kellogg's® Rice Krispies® will donate one toy.