These Apple Cider Whoopie Pies with Cinnamon Red Hot Frosting are a must make recipe for Fall. Soft apple cookies with a spicy candy frosting will get rave reviews from everyone.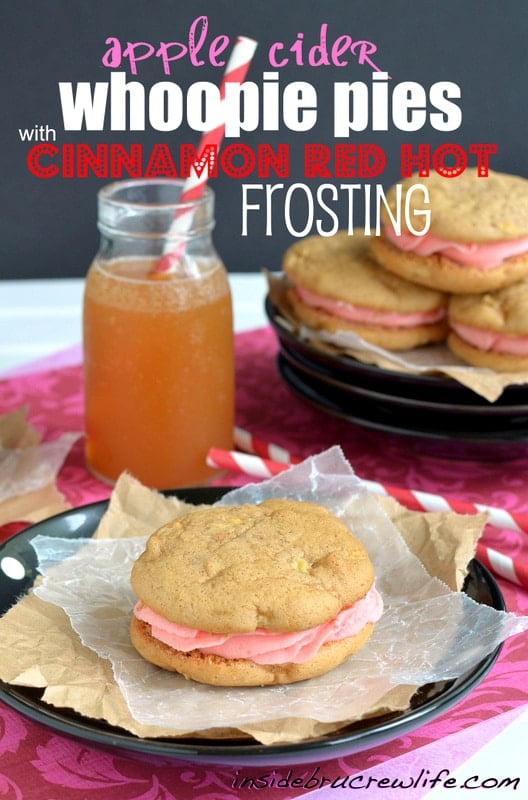 Is it bad to want these whoopie pies to be my best friends for life? I'm guessing after my confessions yesterday regarding my shrunken jeans, that I should probably stay as far away from the delicious baked goods.
Why is it so hard though? I just.can't.stop.baking!!!!
Seriously, you should see the pile of scrap papers on my desk with ideas, and the lists in my notebook and on my phone. It's pretty ridiculous!
I better start scheduling 8 mile runs every day, if I'm going to make everything on my lists.
Soooo, we are still in the middle of Applicious Week...have you enjoyed all the apple recipes so far?
When we first came up with the idea of an apple week, I started brainstorming apple ideas and making lists. Of course things like muffins, cakes, crisps, cookies, and pies were all on the list.
But I also wanted to do some things that were different, out of the ordinary. Now I realize that a whoopie pie is nothing new and doesn't make me an extraordinary food blogger.
Are you wondering what sets this bad boy apart from all the rest? It's the Cinnamon Red Hot Butter Cream!!!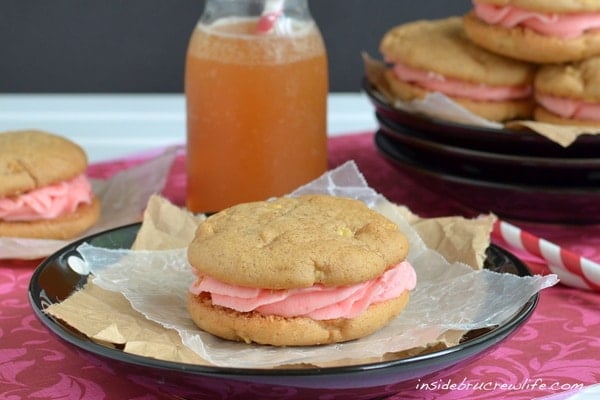 Now to be honest and fair, this wasn't my idea. Oh, I had apple whoopie pies with cinnamon frosting on my list, but the idea to use red hots came from my awesome hubby!!!!
Usually when I start talking blog stuff and recipe ideas, he gets this kind of far away and glazed look in his eyes. I'm pretty sure he doesn't care about desserts, pinterest, ads, traffic, stats, apple parties...
So, imagine my surprise when I was just talking out loud about these apple cider whoopie pies. He jumped right in and said, "You should use red hots in your frosting."
I paused and let it sink in...I did have a box of red hots in the baking cupboard. The more I thought about this concept, the more excited I became.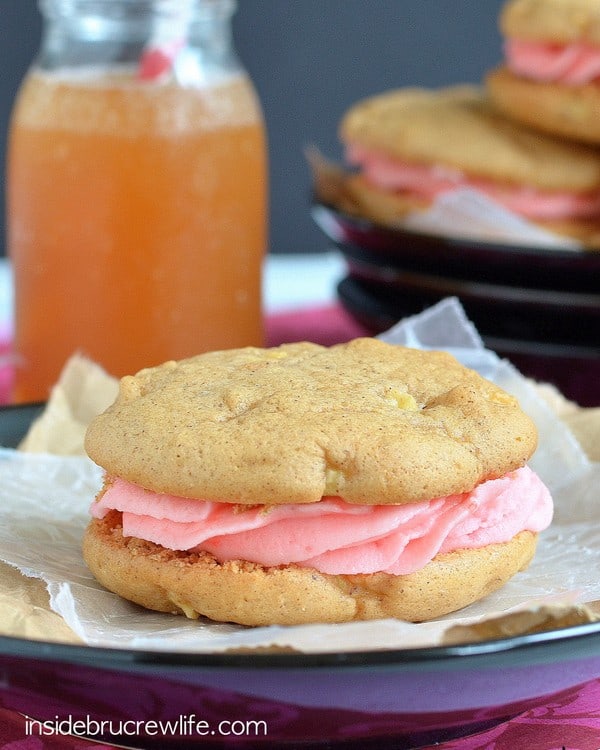 The whoopie pies are super easy to do. Box mixes do that for you. I just love the versatility of what you can make with those mixes. I substituted apple cider for the water and added some shredded apples and spices to give it a good apple flavor.
They were so soft and applicious!!! Perfectly ok to just eat like a cookie.
But I like to put frosting on just about everything which is why yoga pants are probably in my near future. Plus, when a recipe makes 46 cookies, that's a lot of cookies sitting on your counter calling your name.
Fill them with frosting and you are down to 23 cookies which is an easier amount to eat, or get rid of.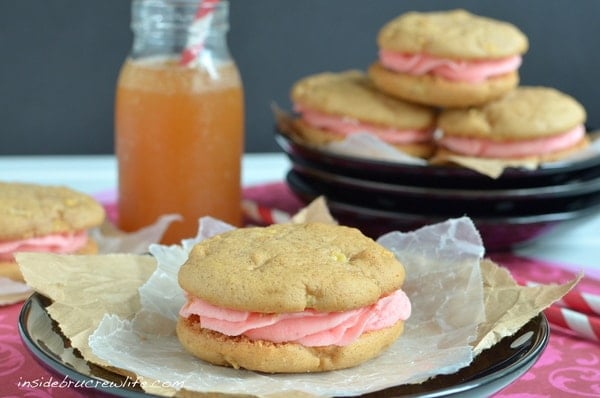 Now I will tell you, I had to make this frosting twice to get it right.
You boil the red hots with a little bit of water to make a nice cinnamon sauce. Well, I thought that it needed to cool a little bit, so it didn't melt my butter and affect the frosting consistency. Bad idea!!!
Red hots don't stay liquid for very long when you only use a little bit of water. I let it cool a few minutes and then poured it into my butter. It turned clumpy right away. I tried to make it work by beating it really hard. Nope didn't work, so into the trash it went. It's a good thing I stay stocked in butter...it was easy to start again.
This time as soon as the red hots were liquid, I poured it in and let my kitchen aid do the rest.
The cinnamon flavor is subtle without being overpowering. It is enough of a red hot taste that you know it's there and you know what it is. Totally compliments the apple flavor in these whoopie pies.
I really want to make some more, but if I make them, I will eat them. So I guess I will just drool over the pictures and remember how awesome they were.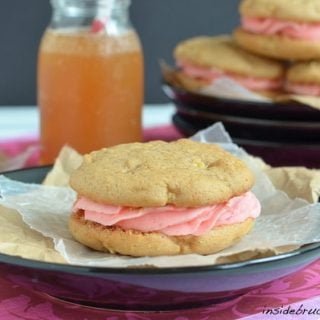 Apple Cider Whoopie Pies with Cinnamon Red Hot Frosting
Yield:
46 cookies/23 whoopie pies
These Apple Cider Whoopie Pies with Cinnamon Red Hot Frosting are a must make recipe for Fall. Soft apple cookies with a spicy candy frosting will get rave reviews from everyone.
Ingredients
For the Whoopie Pies
1 cup shredded apples
1 box white cake mix
⅓ cup apple cider
2 large eggs
3 Tablespoons oil
2 teaspoons cinnamon
½ teaspoon nutmeg
For the Red Hot Frosting
¼ cup unsalted butter, softened
¼ cup shortening
pinch of salt
2 Tablespoons red hot candies
1 Tablespoon water
4 cups powdered sugar
5 Tablespoons heavy cream
Instructions
Preheat oven to 350 degrees. Line a baking sheet with a Silpat.
Squeeze all the excess juice from the shredded apples and set aside.
In a mixing bowl, combine the cake mix, apple cider, eggs, oil, cinnamon, and nutmeg. Beat for 1 minute on low and then 1 minute on medium.
Stir the shredded apples in by hand. Scoop out 46 spoonfuls onto a baking sheet.
Bake for 10 minutes. Cool 2 minutes on the pan and then remove to a wire rack.
Beat the butter, shortening, and salt until creamy. Beat in 1 cup of powdered sugar and set aside.
In a small saucepan on low-medium heat, combine the red hots and water. Stir until melted.
Pour the hot red hots into the butter mixture in the bowl and beat immediately. Do not wait to mix in the liquid red hots because it hardens very quickly.
Slowly add the rest of the powdered sugar and heavy cream until completely mixed in. Beat on high for 1-2 minutes until light and fluffy.
Fill cookies with the frosting and store in a loosely sealed container.
Nutrition Information:
Yield:

23
Serving Size:

1
Amount Per Serving:
Calories:

167
Total Fat:

8g
Saturated Fat:

3g
Trans Fat:

0g
Unsaturated Fat:

4g
Cholesterol:

26mg
Sodium:

25mg
Carbohydrates:

24g
Fiber:

0g
Sugar:

22g
Protein:

1g
Nutrition facts are an estimate and are not guaranteed to be accurate. If you need special diet advice, please see a registered dietician.