Last month our family went on vacation. Ok, it really has been almost two months because I have been slow to get these pictures edited and shared. I hope you are ready for picture overload.
The school that our kids go to has a week off in February for conferences that the church holds there. Since it is always frigid and snowy that time of year here in the midwest, we like to take that opportunity to go on vacation as a family.
And when it is cold, warm tropical places are the best place to be. If you are looking for an affordable vacation for your family. I highly suggest looking into a cruise. There are so many out there that offer great prices and lots of activities. We have used the Carnival cruise line the past few times because if you book on one of their older ships, you can have 5 in a stateroom. Yes, it is a tight fit with teenagers, but it is totally doable. Believe me, there is so much to do and see that you only use your room for showering and sleeping.
What is there to do? Well, the first day is pretty much spent exploring the ship and seeing where everything is. We like to scope out the best places to grab a chair for those sea days. Of course, that is what everyone else is doing too, so good luck when it actually comes time to getting one.
This year we had the brilliant idea to wear matching shirts one of the days. Ok, so they weren't completely matchy matchy...we did a super hero theme day. So before the trip I was looking everywhere for different super hero shirts for everyone. The boys were pretty easy to find, but girly super hero shirts are not as common. We also did a Star Wars shirt day, but I totally forgot to get a picture of those! Bummer!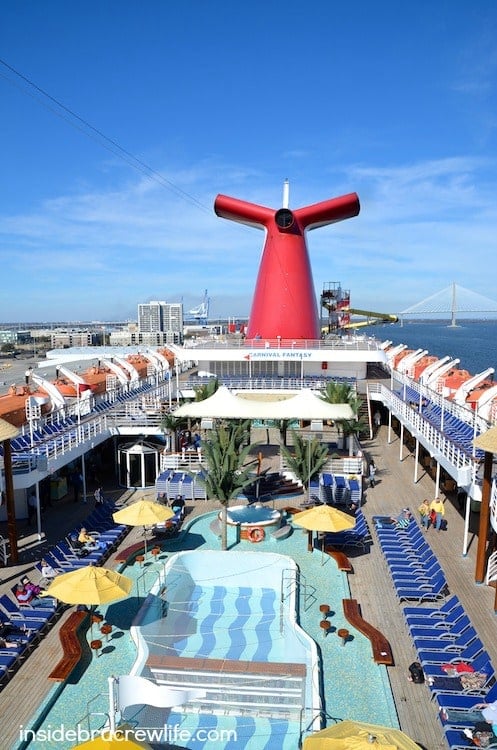 Watching sunsets every night is always a highlight for my hubby and I. They are absolutely gorgeous and makes us awestruck to watch the majesty of God in action!!! We serve an amazing God who loves us beyond measure!!!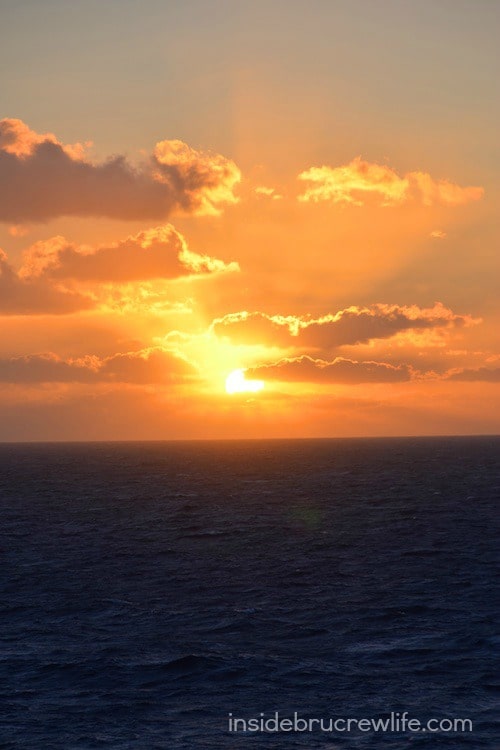 Of course dressing up for fancy dinners is always fun. This was a 7 day cruise, so we had two formal days. After eating lobster and chocolate melting cake, we scoped out places to take pictures. Of course be prepared to dodge all the professional photographers. They usually have all the cool places occupied, but we managed to snag a spot by the staircase while no one else was going by.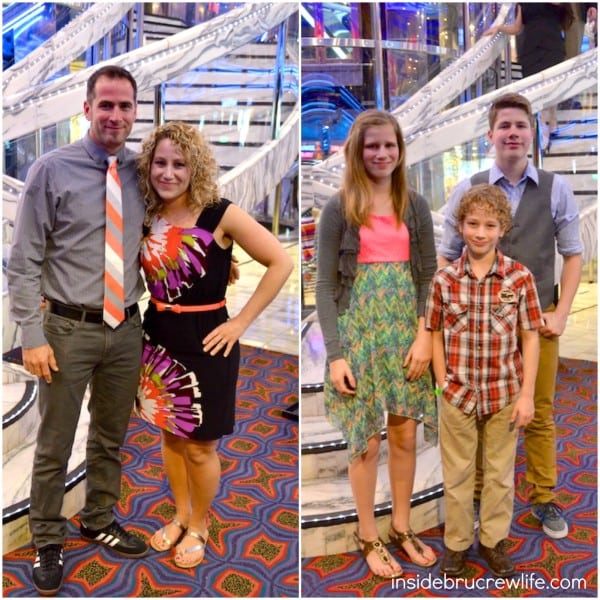 Taste testing every single dessert is a must.
I mean, a cruise is a floating all you can eat buffet, so why not?!?! Of course a week of eating all the desserts does not do good things for your jeans. But that didn't stop me from trying a bite or two from all of these. And I may have a chocolate melting cake for dessert every night at dinner. It is seriously the best thing on the cruise!!!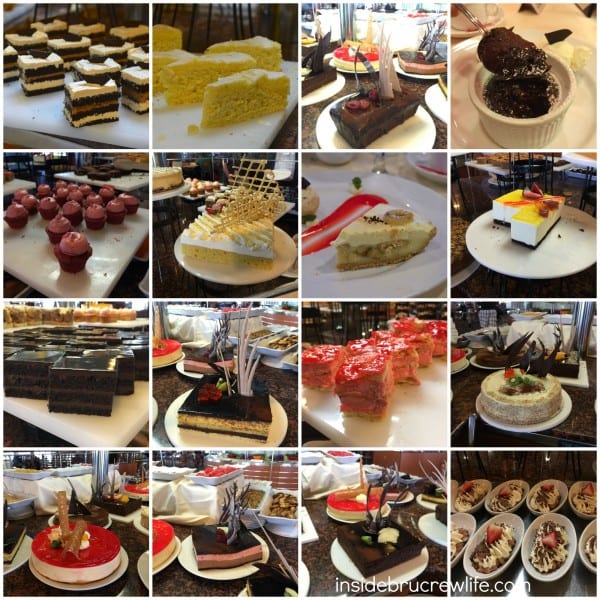 Our first stop was Nassau, Bahamas where we surprised the kids with an all-day pass to the waterpark at Atlantis.
The ship pulled into the island early in the morning, so we watched the sun and clouds over the buildings. It was such a pretty sight!!!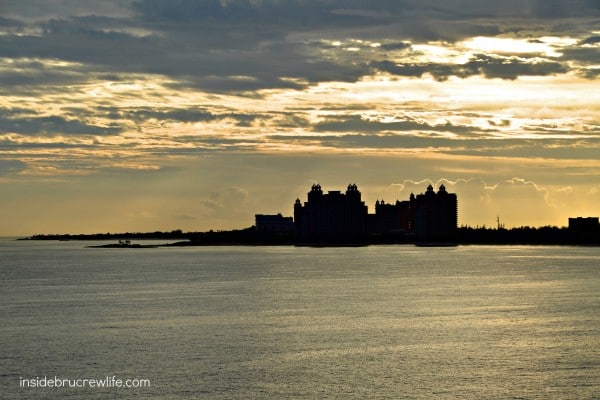 I was honestly hoping for warmer weather while we were there, because spending the day on water slides when it is cold isn't the best. But the sun eventually came out and we had the best time on the slides. The fun made the cold not seem so bad.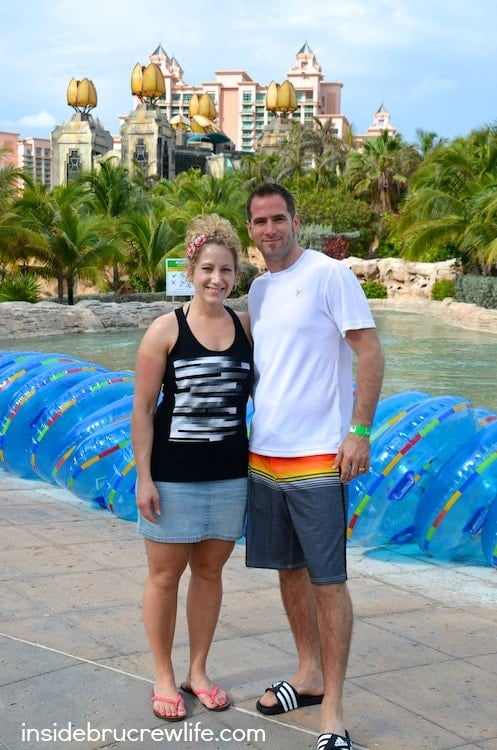 This place is incredible. If you ever get a chance to visit, definitely take a day to do the water park. It is by far one of the best we have ever been too.
We got on the lazy river thinking it would just take you around slowly. Oh, no! There are rapids, waterfalls, waves, and more.
And of course we all had to do the slide that takes you through the shark tunnel. Of course, you can't see anything as you actually go down because it is too fast and water is spraying everywhere. There is another tube slide that you go through slower and see the sharks swimming all around you.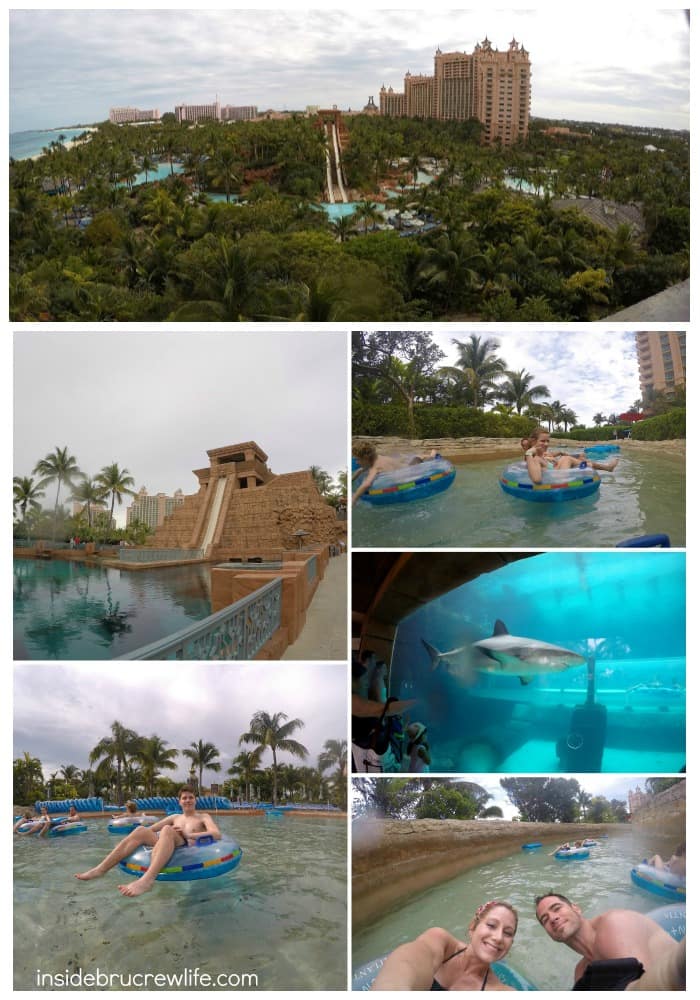 It was such a beautiful sight from the top of every slide. Even on a cloudy day, it was gorgeous to just look out and see the wonders that God has placed in our world. The ocean and trees that is...not the slides 😉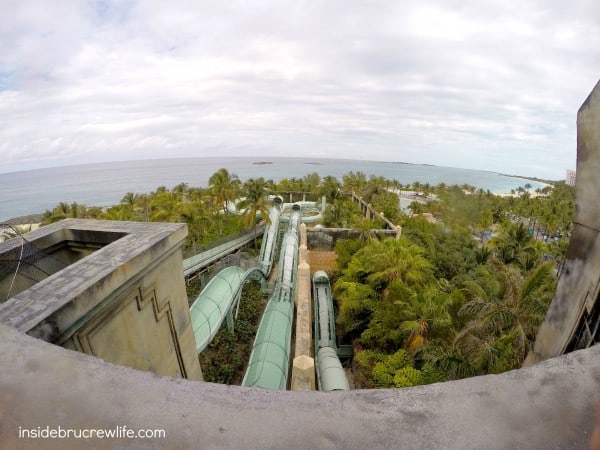 The second stop got cancelled because of rough water, so we missed out on a day of sunning and snorkeling. Total bummer, but there was nothing we could do. So we spent the day doing fun things like mini golf, eating candy, and sitting on the deck in the sun.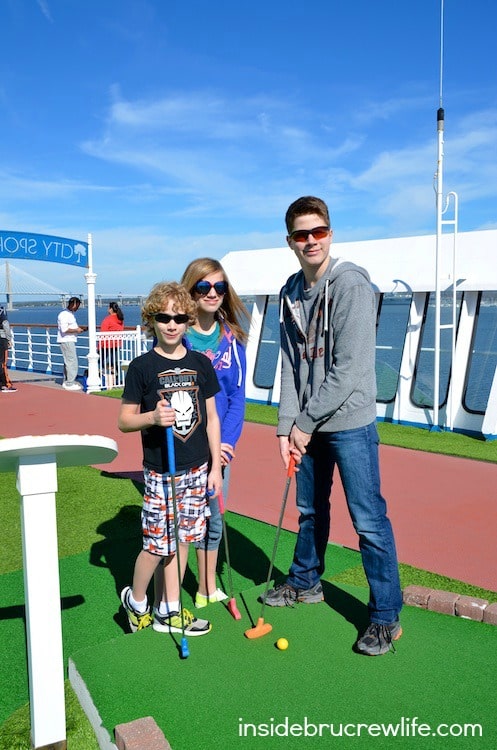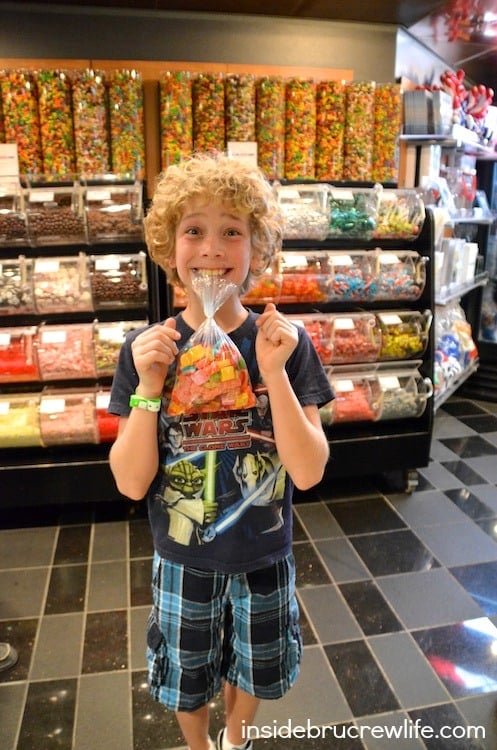 Our last stop was the island of Grand Turk. This was a new place for our family, so we were excited to explore. Although it was another chilly, rainy day, so we just got off and headed to the free beach and pool that Carnival offers at this port.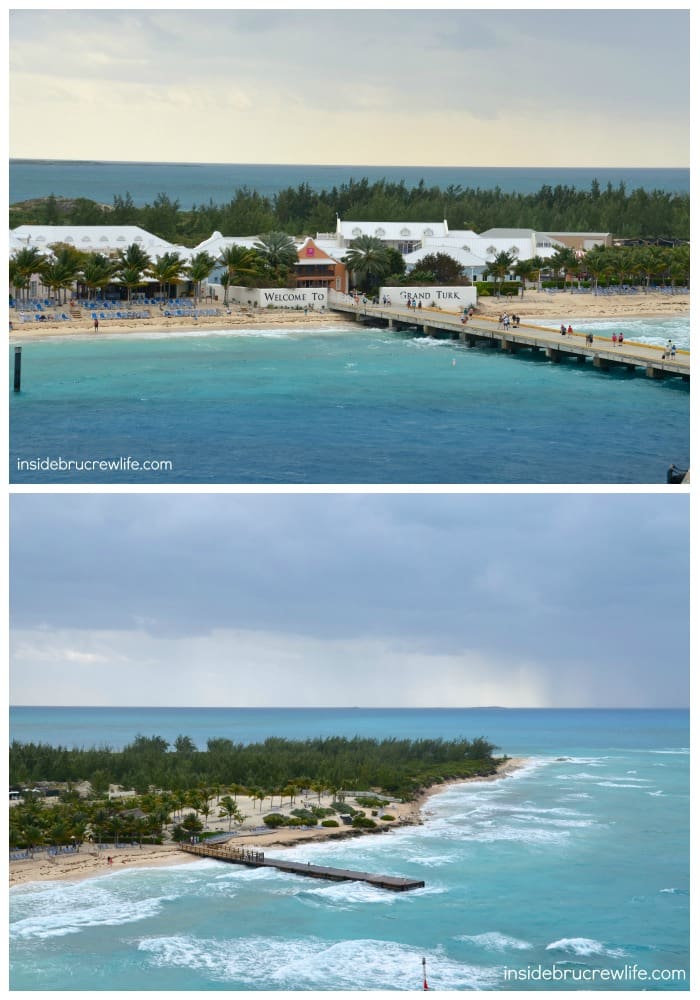 Good thing we all packed sweatshirts because they definitely came in handy this year.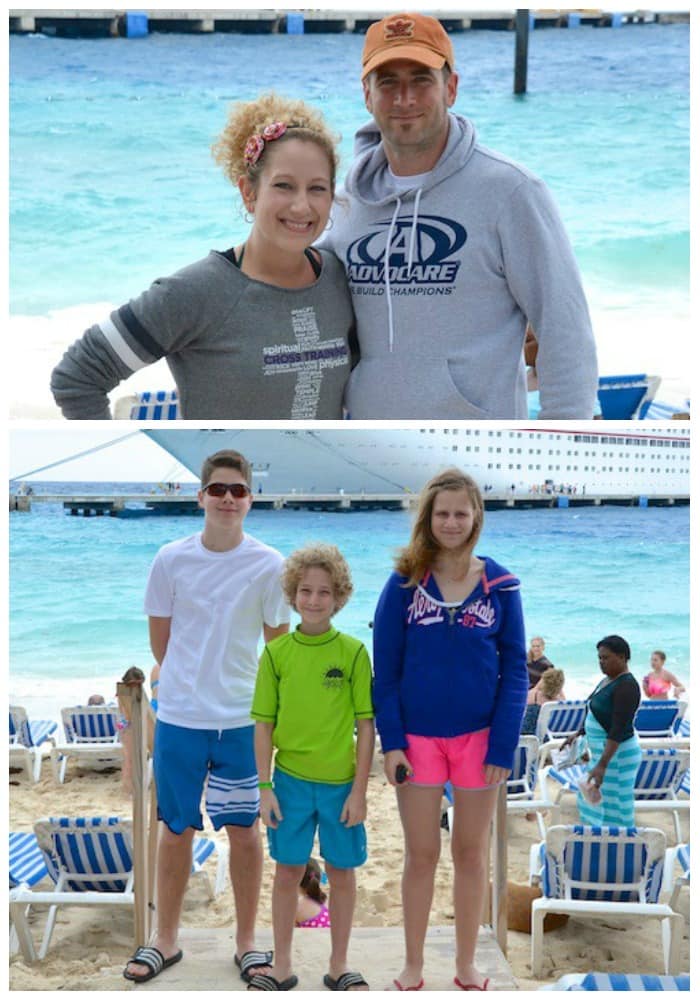 But then the sun came out, and the boys found a Wave Rider. They spent the next 90 minutes learning all kinds of tricks to do on the waves. I spent that time enjoying the sun and laughing at them when they wiped out.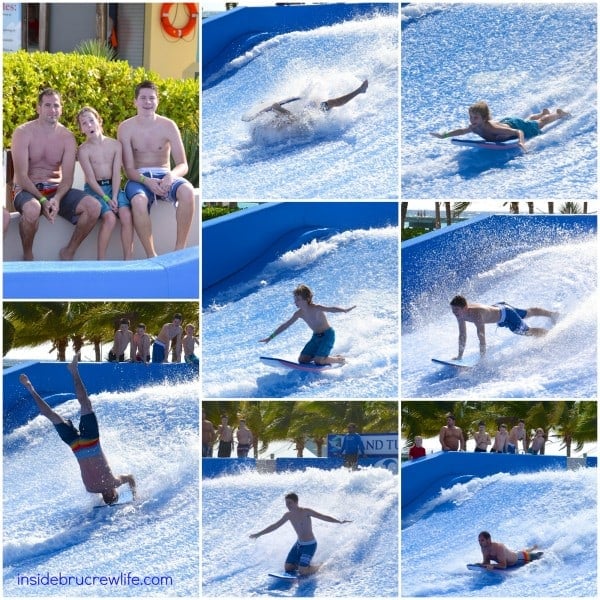 And what about that girly of ours? Well, if you give a kid a water camera, be prepared for quite a few underwater selfies. This is only a handful of the ones I found on the camera. She is such a goof!!!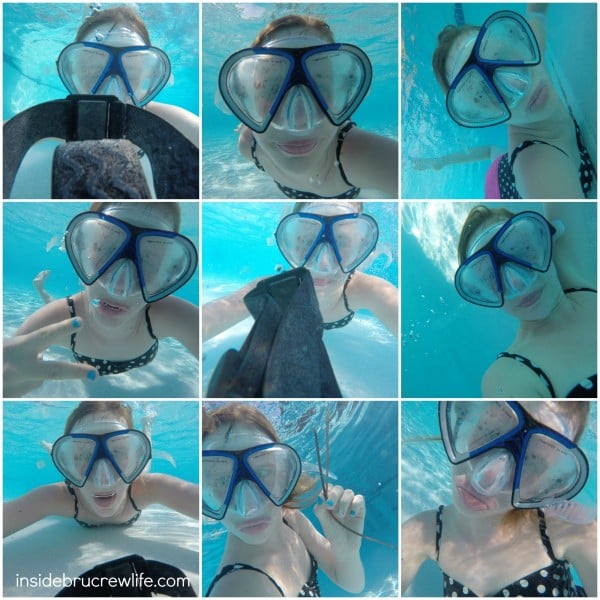 It was an amazing week of just family time. No electronics, social media, or work to distract us. We all need to unplug like that sometimes. It is the perfect way to refresh your body and soul and really focus on each other! I can't wait to get away again!!!