Hello, hello!!! So I would say that it was because I was so incredibly busy this summer, so that's why Top Ten took a break for a while. Yeah, let's go with that and not the fact that I'm lazy and just didn't do it. LOL! Perks of being your own boss...you get to make the rules. Gotta love that! Anyway, I'm back today to share a few of my favorites from the past 2 months.
1. Last month my hubby and I went with a few other couples/friends on our church staff retreat. It was a nice time to just get away and relax and get to know each other more. We spent the few days praying for our church family, biking, eating, and exploring Lake Geneva.
One of the days we biked into town, then Jeremy and I decided to find a few bakeries. Bike and dessert crawl...does biking to 2 different bakeries count as a crawl? We actually found another one, but it was closed on that particular day. Not that I really needed more dessert after downing half of the chocolate pie and lemon tart and then most of the coconut cream. Jeremy is the dessert light weight in our family...I have to help him out most days in this area. It's rough but that's another job I excel at 🙂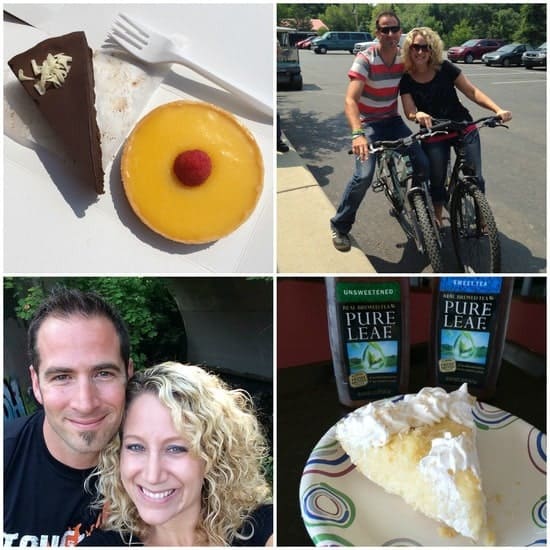 2. The BruCrew does a White Sox game. My mother in law gets tickets through her work for these crazy awesome up close seats to a few White Sox games a year. This year the boys and I were able to join them for one of the games. It is always fun to eat game food and hang out with family. Too bad the White Sox had probably one of the worst games ever. Most people left in the 7th inning because they were losing so bad...we listened to the score after we got home. 16-0! Yup, glad we left early too.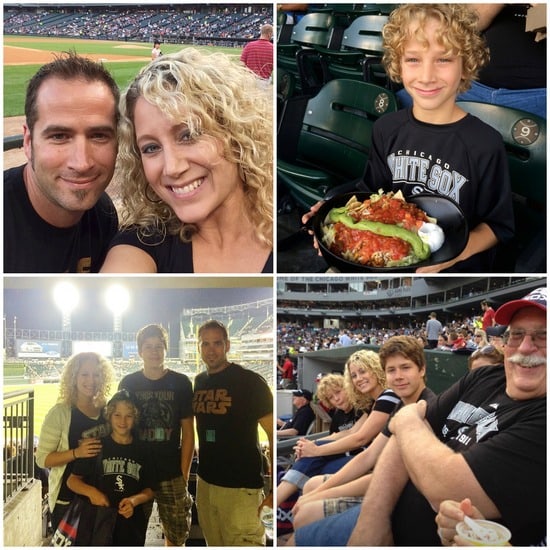 3. First day Back to School photos are a must. Our kids thought they were getting out of it this year because it was rainy that morning. But by the time we left it was just misting. Most days I do not like the giant tree in our front yard (it blocks my light in our windows...food photographer problems), but today it shielded the camera from the mist. Lucky for the kids it was one of the fastest back to school picture taking sessions. Maybe one of these years I'll just take them the weekend before. Ya know, like a dry run for the first day of school.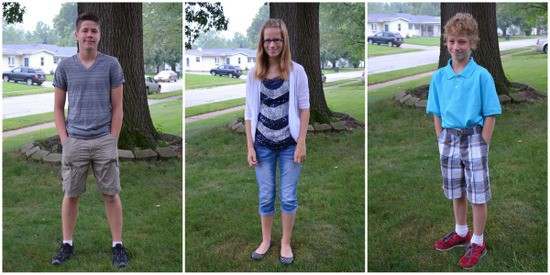 4. Do your kids pack their lunch boxes for school? Produce for Kids has a new Power Your Lunchbox Pledge that parents can sign up for. There are lots of lunch box ideas, coupons, and tips on how to pack a healthier lunch.
5. I sure hope my "little" girl will always like dressing like her mama. The other day she wore a t-shirt and scarf to go run errands with me, and I realized how long it had been since I had pulled out a scarf too. I pulled out a t-shirt and scarf that day too. Good thing she is so good natured...she is a good sport for letting me copy her clothing for the day. Hopefully that never changes!!!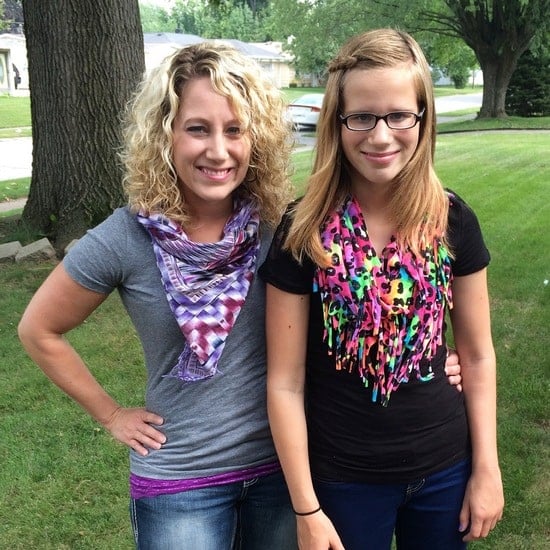 6. This summer I became a legal driver again. Yes, I was driving illegally for oh, about a 1 ½ years. If you let your license expire for over 6 months, you need to retake the written test. I stressed out about that one for a good week before I sucked it up and went and took it. I'm not sure how many I actually missed because I was so excited when the lady told me I passed. And yes, I did stop outside the BMV for funny pictures. If you follow my Instagram, you probably already saw the jumping picture 🙂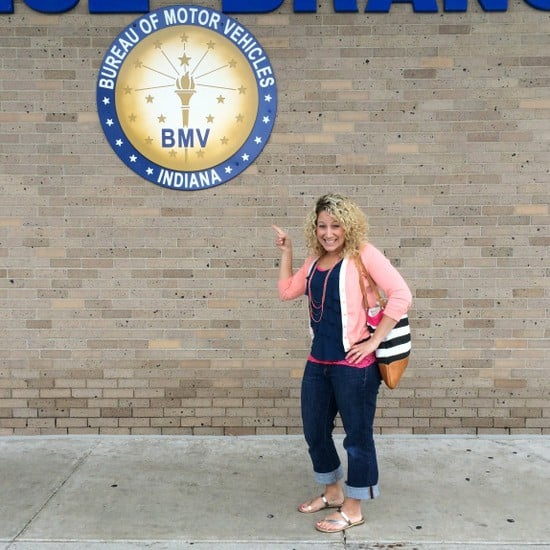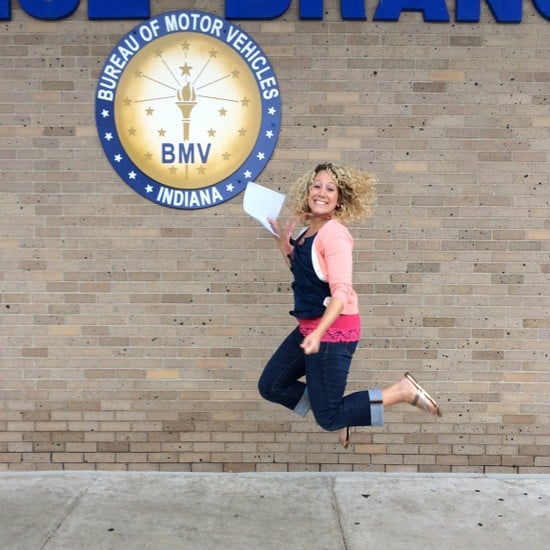 7. This summer I had a chance to try Oatworks smoothies. These fruit smoothies are packed with 100% fruit juice and the power of two bowls of oatmeal. The added fiber keeps you full longer and helps you be energized to get your day started...or to restart your day if you drink one later. I really liked having one of these as a start to my day. They were smooth and delicious! The oats are blended into the fruit juice so well. You would never know there is oatmeal in the drink. Smooth and creamy and perfect for grabbing on the go for any busy school morning!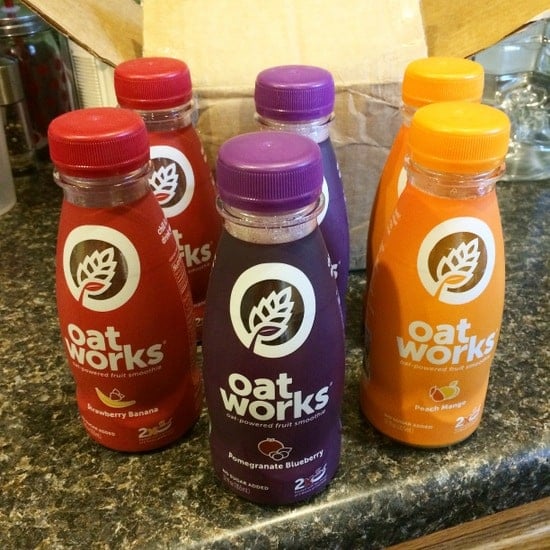 I love checking out the fun things that my fellow bloggers are making. Here a few that I found on pinterest that look amazing!!!
8. A giant cookie loaded with peanut butter and chocolate...I am definitely drooling over this Ultimate Peanut Butter Chocolate Chip Cookie Cake from Baker by Nature.
9. I have a thing for fudge, so when I saw this S'mores Fudge from Spoonful of Flavor, it was calling my name. Those gooey toasted marshmallows look so good!!!
10. Healthy bites of cookie dough...I'll take about 15 of these Monster Cookie Dough Energy Bites from Life Made Simple
Have a wonderful day and make sure you take time to relax this coming weekend. Our craziness starts today with soccer games every day until Sunday. Go team BruCrew!!!! We are looking forward to a quiet day of rest on Sunday afternoon.