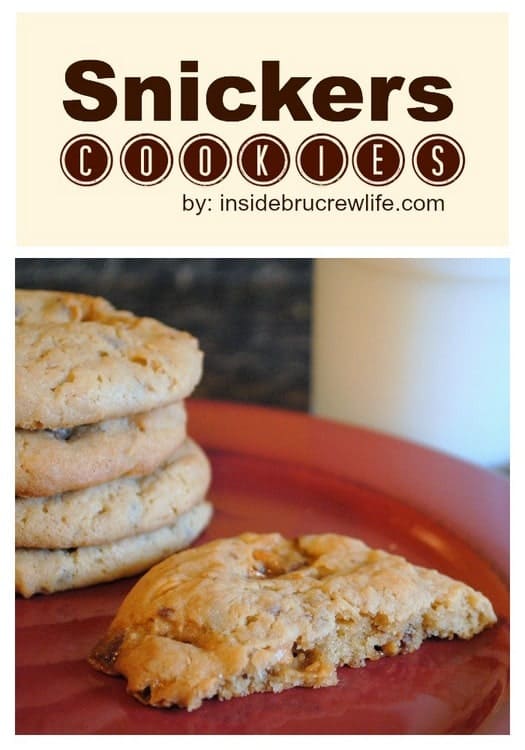 What to do with the candy overload in your house?
Make cookies and have quality time with one of your kids 🙂
We ended up with quite a few Snickers Bars so, I decided we needed cookies.
It also gave me some quality time with my youngest while we made cookies.
Gotta love Snickers Cookies and sweet kid time!!!
The cookies were actually better the next day
after sitting in a sealed ziplock bag overnight.
Here is the recipe for these if you still have halloween candy to dispose of.
Peanut butter cookies with Snickers candy bar chunks.
Ingredients
1/2 cup sugar
1/2 cup brown sugar
1/2 cup butter, softened
1/2 cup peanut butter
2 eggs
1 teaspoon vanilla
1 1/2 cups flour
1/2 teaspoon baking powder
1/2 teaspoon baking soda
1/4 teaspoon salt
10 – 12 fun size Snickers, chopped up
Instructions
Combine first 6 ingredients and beat until creamy. Add the dry ingredients and mix gently. Stir in Snickers pieces. Drop by large teaspoonfuls on baking sheet. Keep 2 inches apart, so the dough can spread. Bake at 375 degrees for 9-10 minutes. Makes 36 cookies.
https://insidebrucrewlife.com/candy-overload/
Copyright Inside BruCrew Life