So far so good on the whole NO sugar for a WEEK
fad
that I am delusional for trying:-)
(this will definitely not be a life style change for me)
Having these Peanut Butter Snickers Cookies in my house is definitely tempting me though...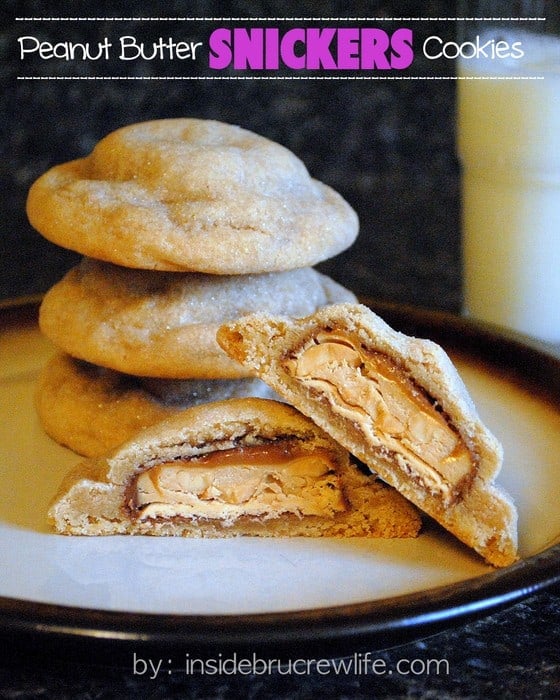 Here are a few things that I have learned so far...
1. Stash all the Easter candy in the top of the pantry.
2. Keep the door to said pantry closed at ALL times.
3. Make a sign for the door that reads, "Step away from the Candy"
4. Stay out of the kitchen all week long.
5. Order take out all week because you can't go in the kitchen even to make dinner:-)
6. Don't bake at all...you will be too tempted to lick the beaters clean!
7. Drink coffee when sugar cravings hit...use sugar free creamer though!
8. Candy talks...honest, there is a pb cup calling me right now!
9. Put cotton balls in your ears to drown out those little sugar whispers that are coming from behind the closed pantry doors.
10. Post yummy recipes, so you can drool like other blog readers:-)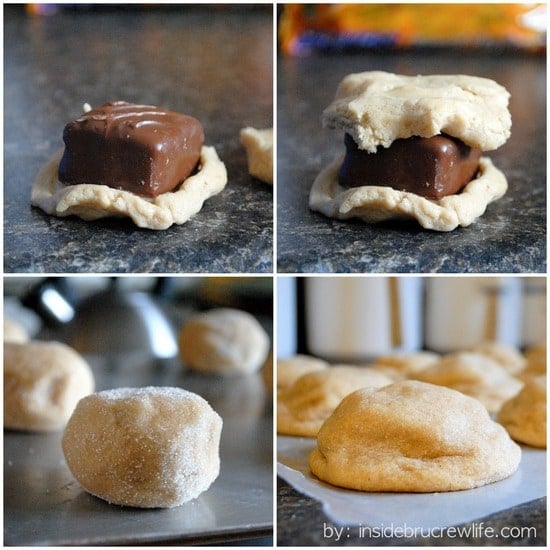 This is my ultimate go to recipe for
peanut butter cookies
.
It has never left me down.
This time I decided to "fill" the dough with my new fav candy...
the
Peanut Butter Snickers bar
!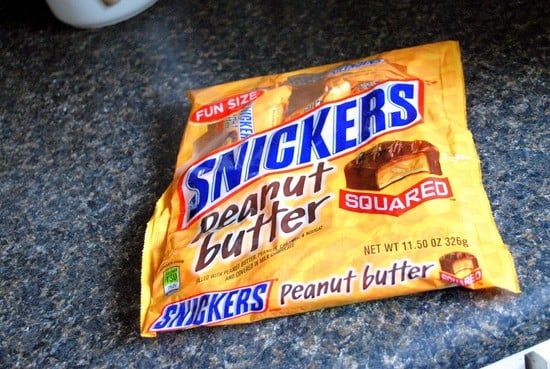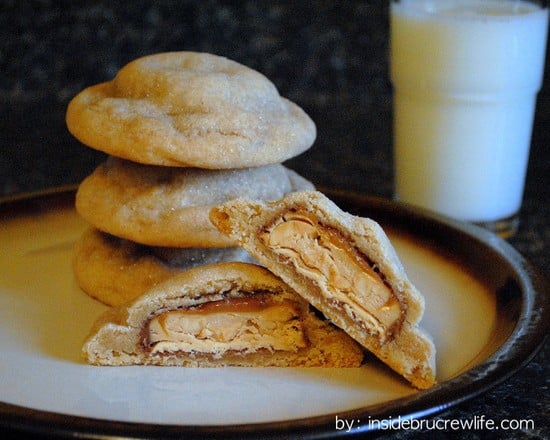 If you haven't tried it yet...
go buy some NOW!
I will wait for you to get back.
Ok, maybe just come back when you get some.
Wait for them to cool all the way before biting into them...how do I know?
Just trust my scorched taste buds:-)
Peanut Butter Snickers Cookies
Additional Time:
10 minutes
Peanut Butter cookies filled with a Peanut Butter Snickers candy bar.
Ingredients
½ cup shortening
½ cup peanut butter
½ cup sugar + ¼ cup sugar for rolling
½ cup brown sugar
1 teaspoon baking powder
⅛ teaspoon baking soda
1 egg
2 Tablespoons milk
1 teaspoon vanilla
1 ¾ cup flour
14 peanut butter Snickers bars (snack size)
Instructions
Preheat oven to 350 degrees.
Beat the shortening and peanut butter until creamy. Add both sugars, baking powder, and baking soda and mix until light and fluffy.
Beat in the egg, milk, and vanilla. Slowly add the flour until all incorporated. Chill the dough for 30-60 minutes.
Shape the dough into 28 small balls. Flatten with the palm of your hand.
Take two flattened balls and form it around the unwrapped Snickers square. Completely cover all the chocolate so it doesn't melt out when baking.
Roll the large dough ball in granulated sugar and place on an ungreased baking sheet.
Bake 10 – 12 minutes. Let cool on baking sheet for 2 minutes, then remove to a wire rack to cool the rest of the way.
Notes
I only baked 6 at a time on my baking sheet because they are so big. They are such a big cookie that I cut them in half for my kids.
Nutrition Information:
Yield:

14
Serving Size:

1
Amount Per Serving:
Calories:

553
Total Fat:

27g
Saturated Fat:

10g
Trans Fat:

0g
Unsaturated Fat:

14g
Cholesterol:

26mg
Sodium:

245mg
Carbohydrates:

69g
Fiber:

2g
Sugar:

49g
Protein:

9g