These easy Chocolate Mocha Cupcakes are a fun treat to share after a hard day at work or school.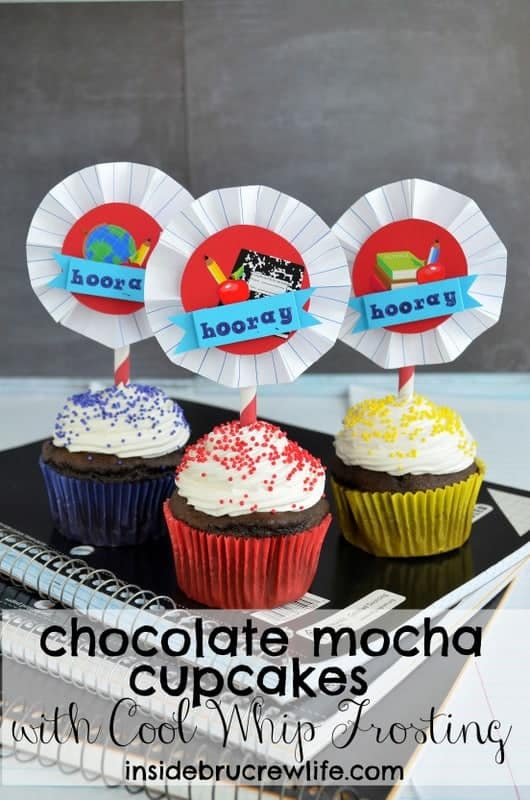 There is a new frosting in town. Frosting made by Cool Whip just has to be good stuff. As soon as I heard about this new frosting, I couldn't wait to get my hands on it. Thank goodness my local Walmart seems to always have the newest products in a timely fashion. So after school one day, the kids and I stopped to see if we could find it. I wanted to make something to celebrate everyone finishing out the first quarter in school strong. Cupcakes seemed like the obvious choice for dessert…especially because then I could try out the Cool Whip Frosting.
We have been trying to instill some better study habits in our kids this year. Last year they just rushed through homework and studying so they could play or watch t.v. Time to set up some rules. One that they might not like. We decided that there was going to be no t.v. or video games on school nights. And do you know what? So far, everyone is doing very well in school.
I think removing those distractions is paying off for us. We still have to keep after them to study and to write neater, but that is to be expected. My daughter struggles with learning things more than the boys do. We are so proud of her for not complaining when we ask her to study. And we are asking her to study quite a bit more than the boys.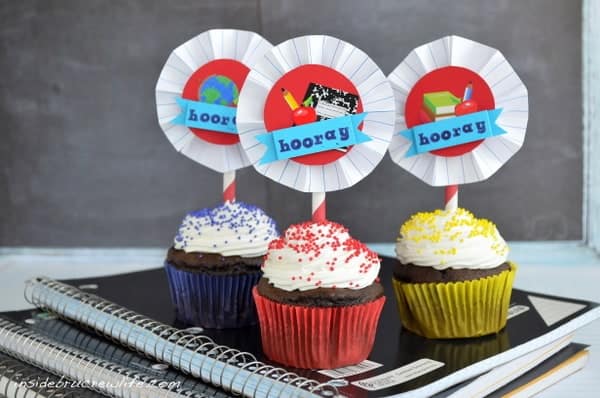 I bake things almost every day of the week, but most of the stuff gets sent to dinners and friends' houses. I knew that I wanted to create a yummy cupcake just for our family to enjoy together after dinner.
While they were in school, I created some fun cupcake toppers with scrapbook paper, stickers, stamps, and striped straws. I don't usually add the "fluff" to the things we eat at home, so I knew the kids would appreciate the extra decorations that were made just for them.
With school, church, and extra activities going on this week, I decided to use a boxed cake mix that had some extra ingredients added to it to make it stand out. Then I opened the first carton of Cool Whip frosting. I did what any normal person does. I grabbed a spoon from the drawer and dug out a big spoonful.
What? Normal people don't do that? Well, then they are missing out, because this frosting is so good. It is creamy and delicious! I also liked how smooth and light it is, yet it is sturdy enough to pipe with a cake decorating tip.
The biggest bonus to this frosting is that is is already made up. That means I can spend a little less time in the kitchen and a lot more time playing a game with my kids.
I'm thinking that the shaving cream battle we had this summer might have been a bad idea though…they like to cream you any chance they get. This brings new meaning to the words cupcake wars. My oldest is pretty proud of the fact that he can hold me back, so his sister can smash one of these chocolate mocha cupcakes into my eyeballs!! I'm pretty sure they will remember this for quite a while.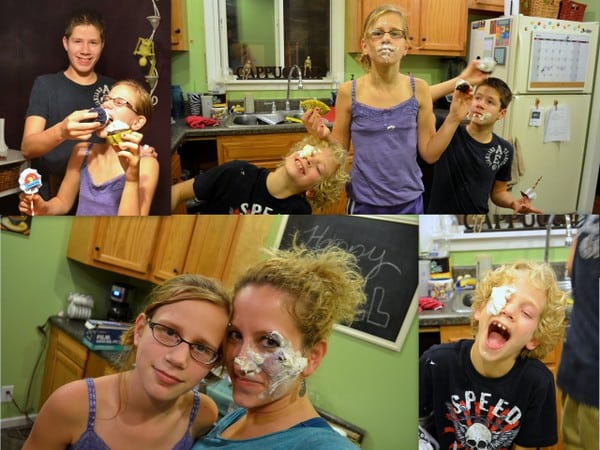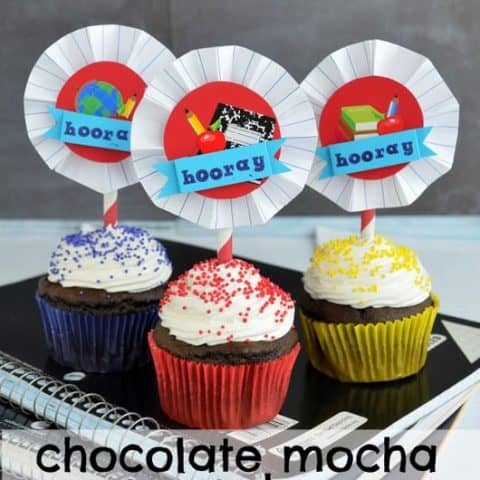 Chocolate Mocha Cupcakes with Cool Whip Frosting
These sweet Chocolate Mocha Cupcakes are topped with Cool Whip Frosting. Easy dessert for any party!
Ingredients
1 chocolate cake mix
1 cup brewed coffee, cooled
4 eggs
1/4 cup vanilla yogurt
1/3 cup butter, melted
1 - 3.4 box instant chocolate pudding mix
2 cartons Cool Whip Frosting
Instructions
Preheat the oven to 350 degrees. Line a cupcake pan with 30 liners.
In a mixing bowl, combine the cake mix, pudding mix, coffee, eggs, yogurt, and melted butter. Beat on low speed for 1 minute. Increase speed and beat on medium for 2 minutes. The batter will be very thick.
Fill cupcake liners 1/2 full. Bake for about 18 minutes. Cool on wire rack.
Top with Cool Whip Frosting. Add colored sprinkles for some fun color. Refrigerate if not eating right away. Makes 30 cupcakes.
**I am a member of the Collective Bias™ Social Fabric® Community. This content has been compensated as part of a social shopper insights study for Collective Bias™ and Kraft Cool Whip. #CoolWhipFrosting #CBias #SocialFabric All opinions expressed are my own.