This week starts a month long cupcake challenge
over at
Hoosier Homemade
.
I love reading her blog and seeing the amazing
treats that she bakes.I just HAD:-) to participate in this fun challenge.
The theme of the month is summer time, and
this week the challenge was to create a flavor
that says summer to you.I had so many different ideas for cupcakes
running through my brain.
Blackberry, peach, lime, coconut, watermelon, cobbler, blueberry…
It was hard to choose just one!
But in the end, the one flavor that I love to have in the summer
is a
White Chocolate Mocha Frappuccino
from
Starbucks
.
(actually I go back and forth between the caramel frapp too)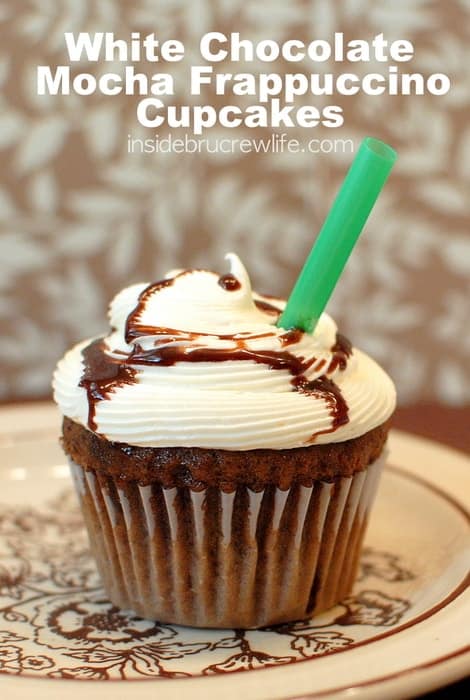 I figured, why couldn't I capture that in cupcake form???
And in order to really get the essence of the drink…
I just had to go have one.
It was for research purposes…honest…
and I needed a green straw:-)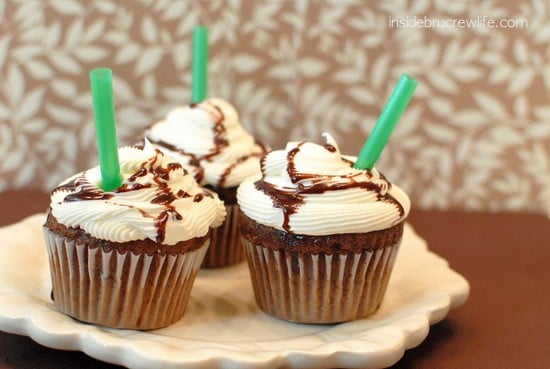 After thoroughly finishing my research,
(yes, it was tasty on a very hot summer day)
I went and bought the necessary items to make these
White Chocolate Mocha Frappuccino Cupcakes.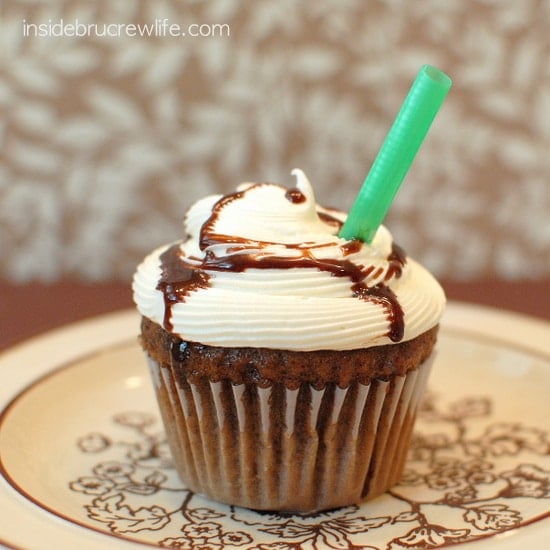 These smelled soooooo good baking!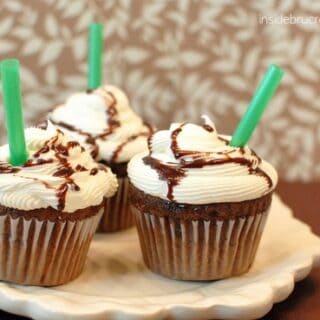 White Chocolate Mocha Frappuccino Cupcakes
Mocha Latte Cupcakes topped with a White Chocolate Frosting
Ingredients
For the Cupcakes
1 white cake mix
3 eggs
1/3 cup oil
1 cup hot water
1/4 cup International Delight Mocha Latte drink mix
For the White Chocolate Frosting
6 ounces white baking chocolate (chopped up)
1/4 cup heavy cream
1 cup butter, softened
1 1/4 cup powdered sugar
1/2 teaspoon vanilla extract
Instructions
Preheat oven to 350 degrees. Place 24 cupcake liners in pans.
In a large mixing bowl dissolve the mocha drink mix in the hot water. Add the rest of the cake ingredients and beat on low for 1 minute. Beat on medium for 2 minutes.
Fill cupcake liners 2/3 full and bake for 20-22 minutes. Cool completely.
Stir white chocolate and whipping cream in a small saucepan on low heat until melted and smooth. Cool.
Add to the butter, sugar, and vanilla and beat on high until light and fluffy. (anout 5 minutes)
Frost cupcakes. Drizzle with chocolate before serving if desired. Store in a sealed container in the refrigerator.
Nutrition Information:
Yield:

24
Serving Size:

1
Amount Per Serving:
Calories:

193
Total Fat:

16g
Saturated Fat:

8g
Trans Fat:

0g
Unsaturated Fat:

7g
Cholesterol:

47mg
Sodium:

84mg
Carbohydrates:

10g
Fiber:

1g
Sugar:

7g
Protein:

2g
Now to start thinking about next weeks themed cupcake????