A hidden coconut center and chocolate and caramel drizzles turn this Chocolate Coconut Cake into the perfect chocolate dessert.
I am sharing this recipe on Better Homes & Garden's Delish Dish blog this month as part of their "Month of Chocolate".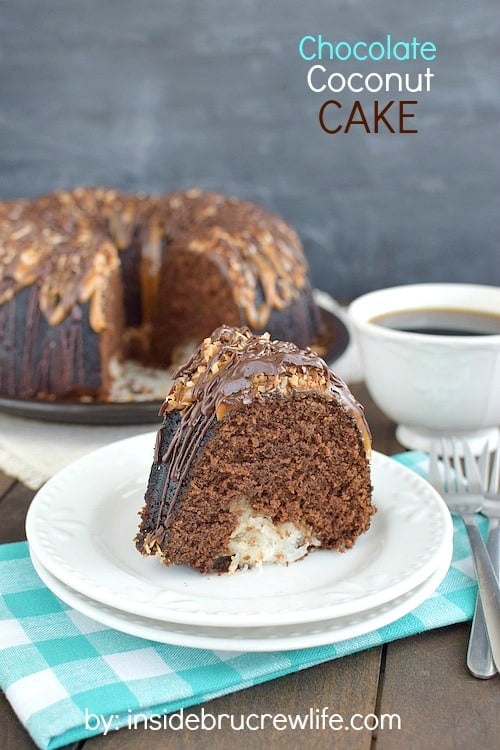 Oh, the weather outside is frightful, but my oven is baking so delightful.  I have my temperature cranked to a balmy 78 degrees, my curtains are closed to hide the snow from my eyes, and the coconut treats are baking away.
Coconut tends to make my mind go to the tropics. So, when the weather is downright frigid around here, you will find me in the kitchen surrounded with all sorts of coconut goodies.  Sorry kiddos, mama loves her coconut.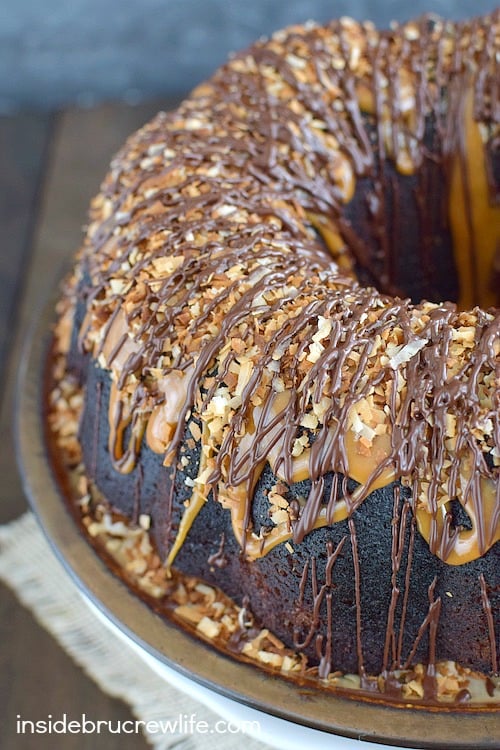 For my last BHG chocolate recipe tweak this month, I chose a dark chocolate cake with a hidden tunnel of coconut goodness.  The recipe itself looked pretty perfect, so I only made a few minor changes to the cake.
The top needed some fun toppings though.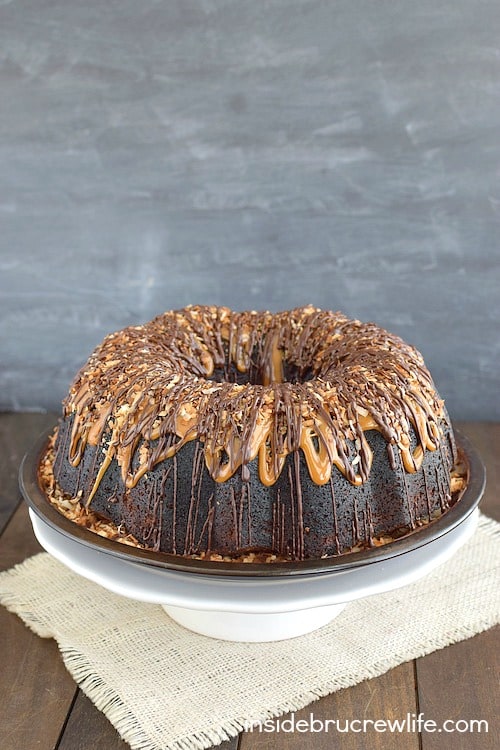 The crazy baker in me had to fix that right away.  Since this is prime girl scout cookie time, I decided to give this chocolate coconut cake some Samoa loving.
Caramel, toasted coconut, and chocolate was the perfect "icing" for this delicious cake. I couldn't stop sneaking slices every time I walked through the kitchen.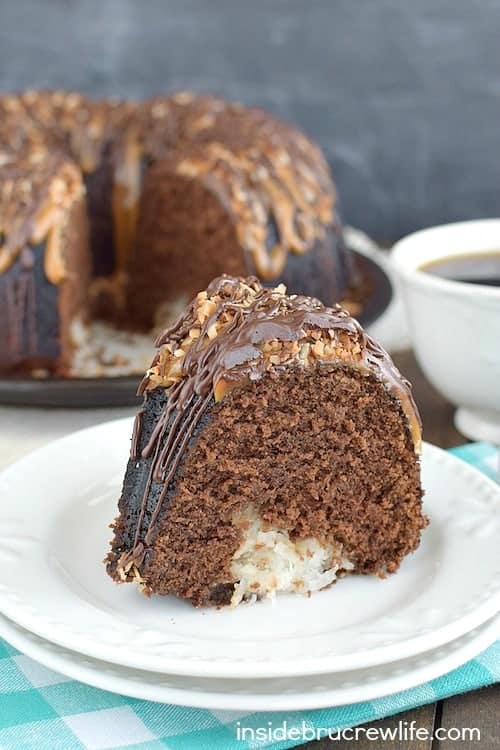 It's a good thing summer is far away, because all this snacking I'm doing is not good for shorts and bathing suits.
I guess there is a good thing to cold weather…all the layers of clothing I can use to hide my cake rolls.  LOL!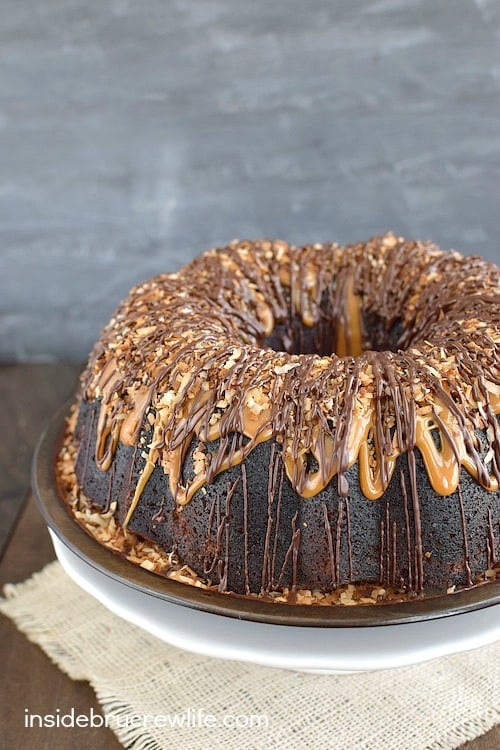 Make sure to click over HERE to read all about my recipe "tweaks".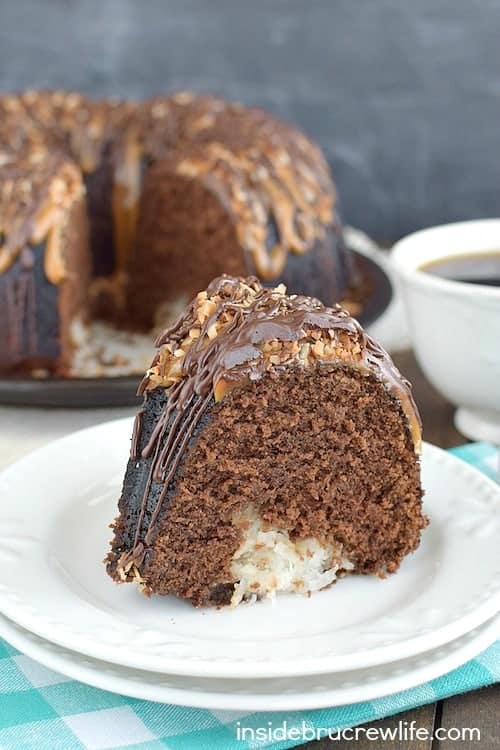 These Chocolate Coconut Cake has a fun hidden coconut center and is topped with caramel, more coconut, and chocolate drizzles.
Ingredients
For the Cake

1 Tablespoon dark cocoa powder
3/4 cup butter, softened
1 cup sugar
3/4 cup brown sugar
3 eggs
4 ounces dark chocolate, chopped
1 1/2 teaspoons vanilla extract
1 3/4 cup flour
1 teaspoon baking soda
1/2 teaspoon salt
1/3 cup dark, cooled coffee
For the Coconut Filling

1 egg white
1/4 cup sugar
1 cup shredded sweetened coconut
1 Tablespoon flour
1 teaspoon rum extract
For the Topping

1/2 cup caramel baking bits
2 Tablespoons heavy whipping cream
1/2 cup toasted coconut
1/4 cup chocolate chips
1/2 teaspoon shortening
Instructions
Preheat oven to 325 degrees. Grease a 10 inch bundt pan and sprinkle it with 1 Tablespoon cocoa powder.
Beat the butter and sugars until creamy. Add the eggs, one at a time until mixed in.
Melt the dark chocolate according to the package directions. Slowly add the melted chocolate and vanilla to the butter mixture.
Stir together the flour, baking soda, and salt. Slowly add the dry ingredients alternately with the coffee to the butter mixture. Set aside.
Beat the egg white until soft peaks form. Add the sugar and beat until stiff peaks form.
Stir in the coconut, flour, and extract gently.
Pour half the cake batter in the prepared pan. Drop spoonfuls of the coconut filling in the center of the cake batter, avoiding the edges of the pan. Spoon the remaining batter on top of the filling.
Bake for 60 minutes, or until a toothpick inserted in the center comes out mostly clean. Let the cake cool in the pan for 15 minutes, then flip it out onto a plate. Let cool completely.
Place the caramel baking bits and cream in a sauce pan. Stir over low heat until melted and creamy. Cool slightly before drizzling over the top of the cooled cake.
Immediately sprinkle the toasted coconut on top of the caramel.
Place the chocolate chips and shortening in a microwave safe bowl. Heat for 30 seconds. Stir until melted and creamy. Spoon into a plastic baggie and cut one tip off. Drizzle over the top of the coconut and caramel. Let set. Cut into 12 slices.
https://insidebrucrewlife.com/chocolate-coconut-cake/
Copyright Inside BruCrew Life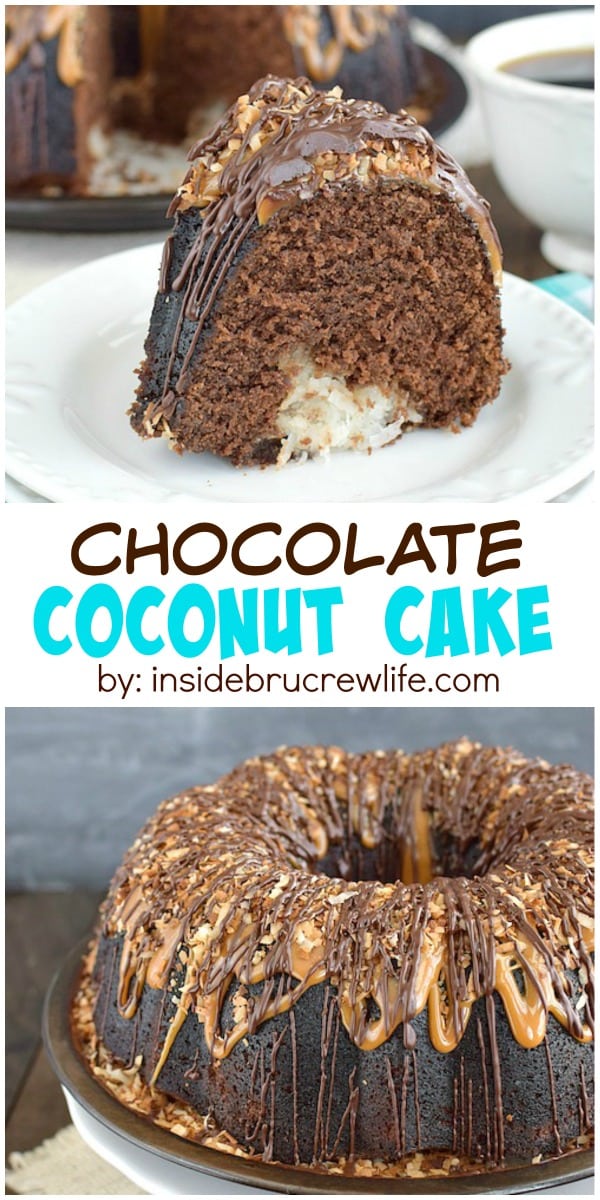 *This post and recipe creation was compensated by Better Homes & Garden. As always, all opinions are 100% my own.