This spiced Carrot Bundt Cake is loaded with carrots, nuts, and raisins. It is a soft, dense cake that is great for Easter parties or dinners.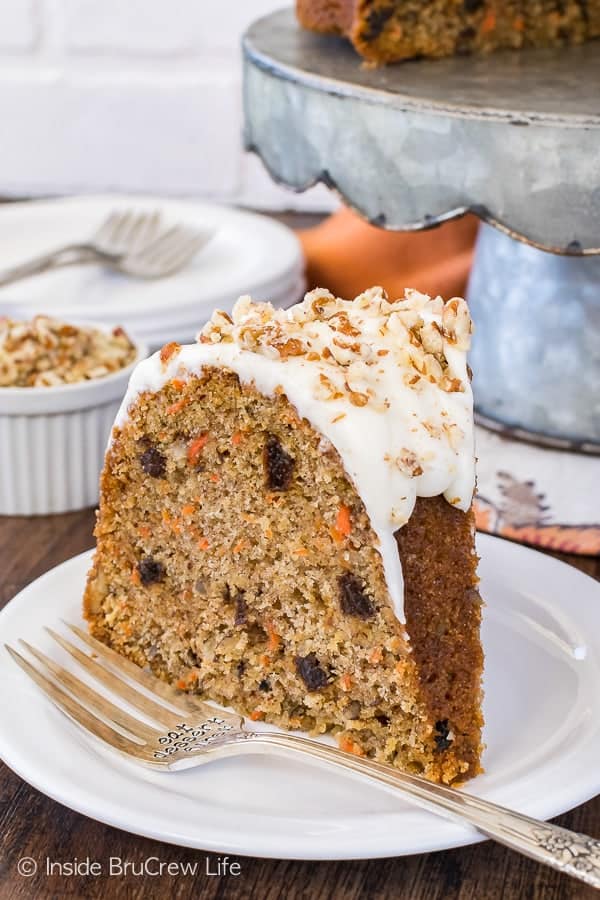 So, carrot cake is one of those cakes that I do not make around here very often. Not because I don't like it, but because I'm really the only one in the family who actually does like it. I take that back. I think my husband does like this cake, but he has this crazy good self control and doesn't crave sweets like me. If I make a carrot cake, then I will be the one consuming the entire cake. And that does not make my skinny jeans very happy.
Most of the time, I just reserve carrot cake eating for when we go out to eat. Then I can enjoy my favorite cake in a one slice form. Or I make Carrot Cake Donuts and pretend like the carrots and pineapple make them a "healthy" breakfast.
But for some reason with spring and Easter coming at us full force, I totally was craving some slices of this Carrot Coconut Bread last week. I had every intention of just making the bread again and sharing it with some friends. But then I started to wonder if the bread would make a good bundt cake...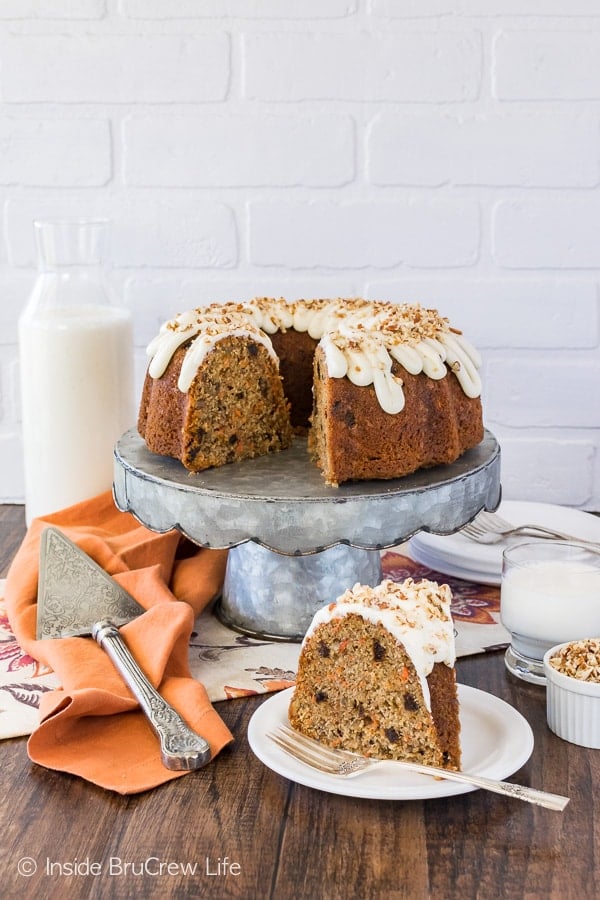 You should know by now that when I get a crazy baking idea, I can't rest until I get in the kitchen and try it out. Turns out a double batch of the bread batter totally makes an amazing looking cake.
I'm sure you also know that I have a hard time making the same thing twice, so of course I had to give the carrot bundt cake a fun little twist. Instead of using coconut, I added pecans and raisins.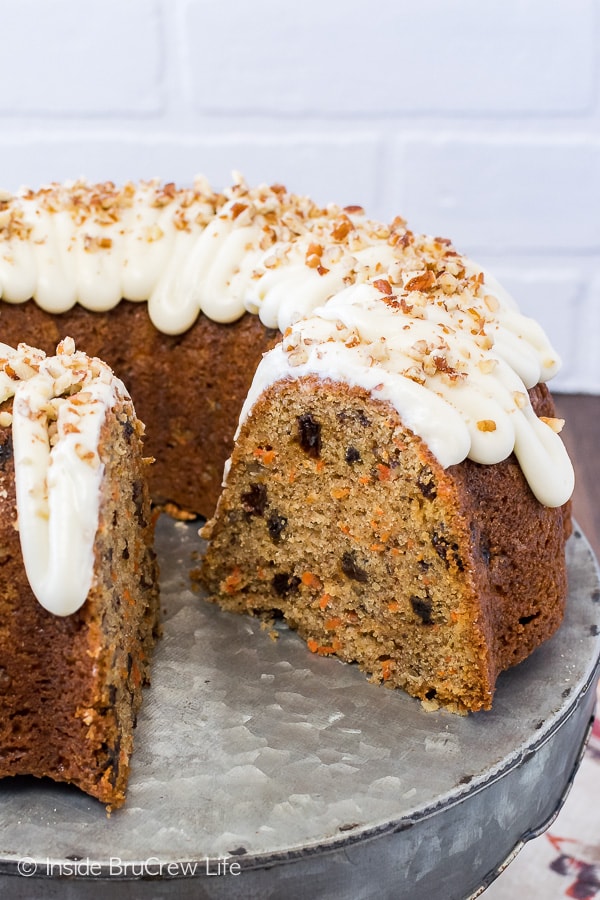 I realize that there are people out there cringing because I just said raisins. Hopefully there are the same amount of people out there cheering because of the raisins. I happen to be a raisin lover myself. Give me a sweet oatmeal raisin cookie, and I'm a happy camper. If you are against raisins, feel free to leave them out.
Raisins and nuts add such a great flavor and texture to this dense cake. PRO TIP: Freshly shredded carrots add a better moisture content to this cake. I tried it with already shredded carrots from the store, and the cake turned out a little drier.
And of course, what kind of cake would it be if there wasn't frosting on top!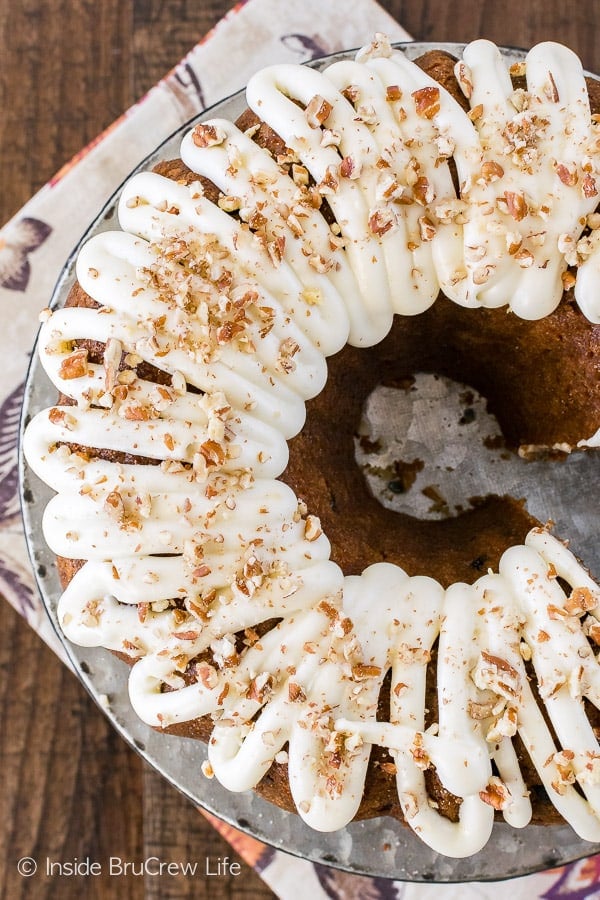 You can either drizzle the frosting on top in thick lines like I did, or you could just use a spatula to spread it over the entire cake. I go back and forth on what version I prefer. Having the frosting covering the entire cake keeps it from drying out faster, but the lines look so much prettier. There really is no right or wrong way to do the frosting.
Unless you are crazy and leave it off completely. Then I'm not sure if we can be friends. Ok, so I'm totally kidding. I would never diss you for leaving off the frosting. Ok, so I would probably give you a funny look, but then I would take your frosting, so then we would be cool.
If you are a carrot cake lover like me, you need to check out these fun recipes. This Carrot Cake Roll from Dorothy is a fun and unique way to have carrot cake. And I love that Sandra added chocolate to here German Chocolate Carrot Cake. Of course, Joanne is a girl after my own heart because she made Carrot Cake Pancakes. Gotta love when you can have "cake" for breakfast!!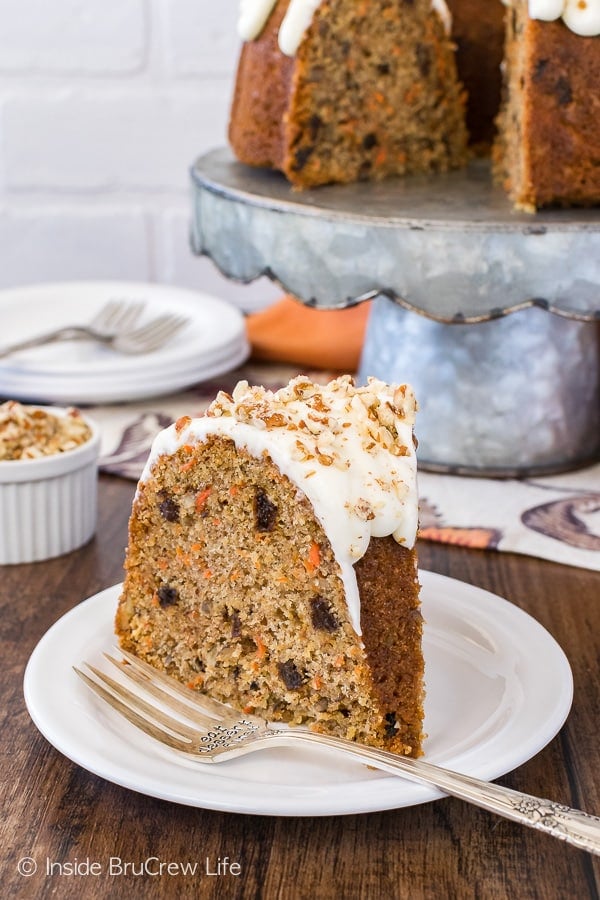 CLICK HERE TO PIN THIS RECIPE FOR LATER!
Do you love a recipe you tried from Inside BruCrew Life?
Please leave a 5-star ⭐️ rating and a review in the comments section below.