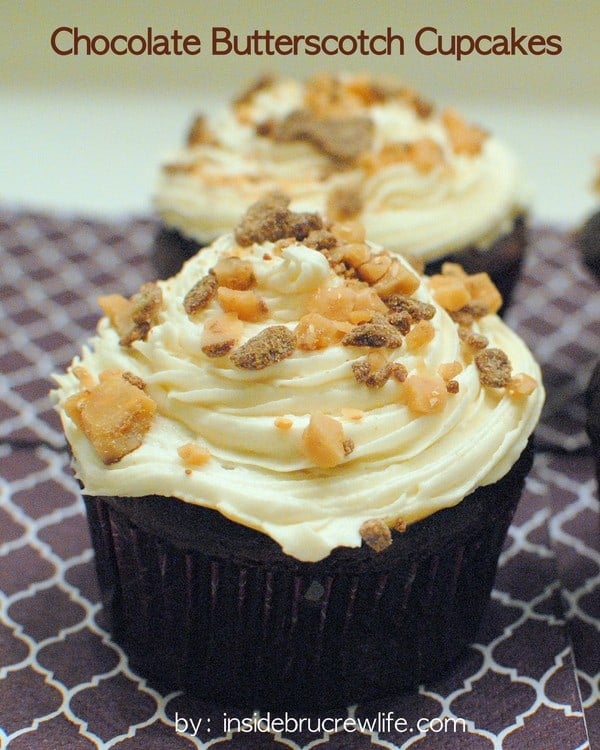 So you all know I can bake,
but I bet you didn't know I can cook too.That's ok...
apparently my kids don't know either 🙂
This is a condensed version of a conversation
we had the other night on our way home from running errands.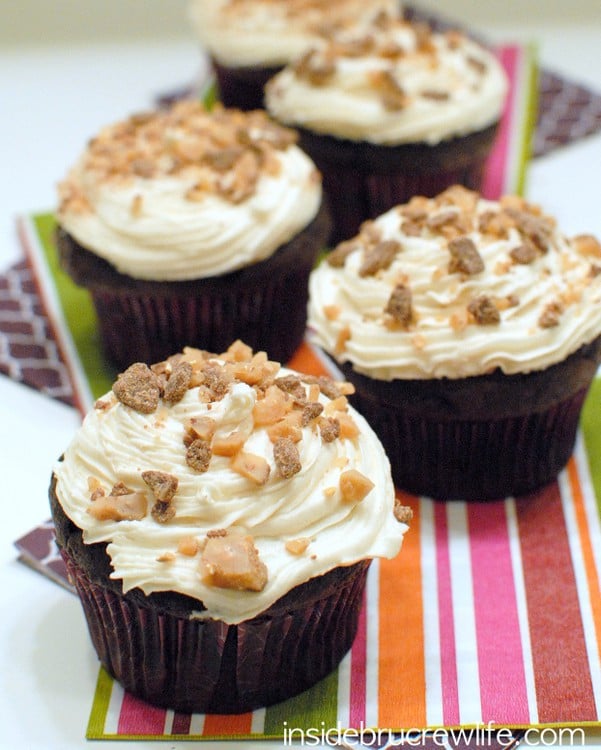 Me:
"Ok guys, I want you to do your chores while I grill burgers for dinner."
Kids:
"Grill? Do you even know how to use
Daddy's
grill?"
"Are these going to taste good?"
Me:
"Of course I know how to use the grill and yes, they will taste great."
Kids:
"I don't know about this."
"We have never seen you use the grill."
"Mom, you are a good cake baker, not a griller."
(honest! my youngest said that last statement)

Me:
"Fine then, you can just eat cupcakes for dinner instead of burgers."
Just kidding!
I fired up the grill and made some mean burgers.
My kids even grudgingly admitted
they were "almost" as good as Daddy's.
I will take the almost...
but I guess it is time I stepped up my A game
in the dinner department 🙂
It just isn't as fun and relaxing as baking.
I enjoy making brownies and cupcakes...
Cupcake????
Did someone say cupcake?
How about a Chocolate Butterscotch Cupcake
complete with Butterscotch Frosting and Heath Sprinkles??
Yup, you're gonna want one of these bad boys!
Poke the chocolate cupcakes with a straw after baking to create holes.
Warm butterscotch ice cream topping is slowly drizzled in the holes
and butterscotch butter cream is swirled on top.
Heath toffee bits sprinkled on top totally put these over the top!
MMMMmmmm decadent perfection!
Gonna need a tall cold glass of milk to wash these down.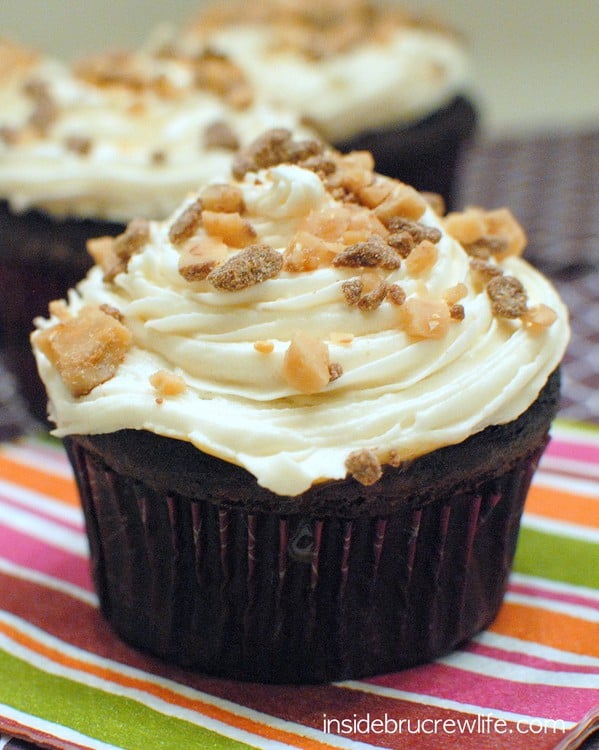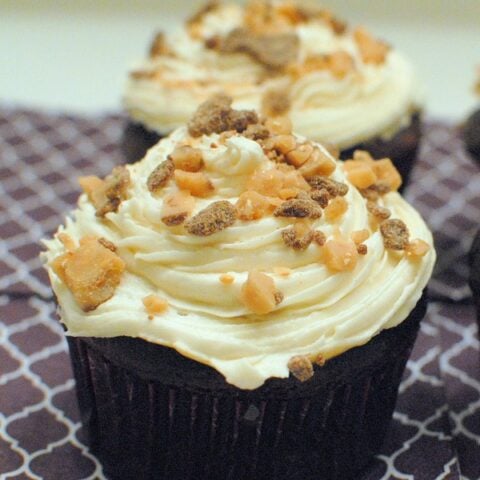 Chocolate Butterscotch Cupcakes
Chocolate cupcakes drizzled with ice cream topping and topped with frosting and Heath bars.
Ingredients
1 chocolate cake mix
1 - 3.4 ounce box instant chocolate pudding
1 cup milk
4 large eggs
½ cup canola oil
1 ¼ cups butterscotch ice cream topping, divided
1 batch vanilla buttercream frosting
½ cup milk chocolate toffee bits (chopped Heath bars)
Instructions
Preheat oven to 325°. Line cupcake pans with 24 foil cupcake liners.
Beat the cake mix, dry pudding mix, milk, eggs, and oil on low speed for one minute. Increase to medium speed and beat an additional 1-2 minutes.
Spoon batter evenly into liners. Bake 20-22 minutes or until toothpick comes out clean.
Let the cupcakes cool 5 minutes, then use a straw to gently poke 5-6 holes in the top of each cupcake.
Heat 1 cup of the butterscotch ice cream topping in the microwave for 30 seconds or just until it is pourable. Slowly drizzle topping into the holes in each cupcake. Let cool completely.
Use a piping bag and icing tip 1M to top each cupcake with a swirl of frosting. Right before serving drizzle with extra butterscotch topping and sprinkle with toffee pieces. Store cupcakes in a sealed container in the refrigerator.
Nutrition Information:
Yield:

24
Serving Size:

1
Amount Per Serving:
Calories:

138
Total Fat:

7g
Saturated Fat:

4g
Trans Fat:

0g
Unsaturated Fat:

3g
Cholesterol:

14mg
Sodium:

36mg
Carbohydrates:

19g
Fiber:

0g
Sugar:

18g
Protein:

1g
Nutrition facts are an estimate and are not guaranteed to be accurate. If you need special diet advice, please see a registered dietician.