Looking for cookies to take your mind off the things you need to be doing? These
Double Chocolate Chunk Cookies
are full of chocolate goodness. Perfect for a quick pick me up.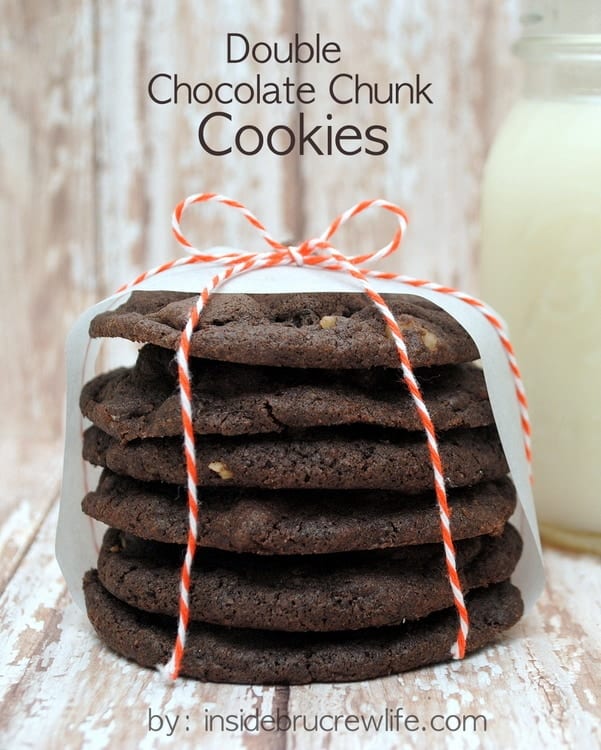 One of these days I will learn to do stuff ahead of time.
I WILL learn to stop procrastinating.
I will stop the bad habit of knowing what I need to do
and waiting until the last minute to start working on things.
Take my son's pirate party for example.
We picked the theme about a month ago.
Now the smart thing to do
would have been to do something each week to get ready.
You know things like cute handmade labels for the drink cups,
because I couldn't find ones in the store that I liked.
Labels for the candy bags, labels for the 2 liter bottles,
a hand painted crossbones welcome sign...
you know fun details that make a party, well...FUN.
But doing stuff that early would have been too smart.
Instead I waited until this week (like Tuesday) to start
making things for a party that is tonight.
So the last few days have been filled with all things piratey.
Aaaaarrrrrggggg!
Yea, that sounds about right.
The stress of doing too much in too little time might be catching up to me.
Me thinks that I need to walk the plank into
a bowl full of cookie dough to revive my soul.
The cookie I am about to share with you will do.
Excuse me while I go eat a cookie instead of finishing up skeleton candies...
What? Procrastinating again???
Never:-)