It's the last Monday of the month...
do you know what that means???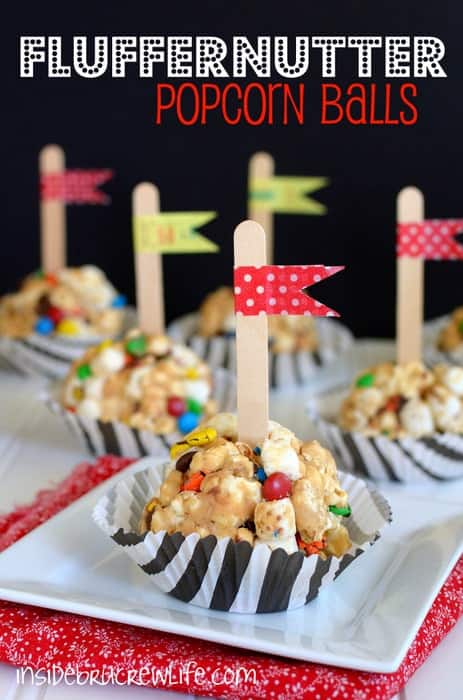 It means it's the
Secret Recipe Club
reveal day for my group!!! Go group D!!!
Today I can finally tell you what blog I have been stalking reading through this past month.
The fun twist to this club is that you have to keep your lips zipped on who you have.
This month I was assigned Kimberly's blog Rhubarb and Honey.
As soon as I saw she was addicted to shoes and magazines, I knew this would be a happy place:-)
Plus we are celery hating twins!!! Fast friends in no time I tell ya!!!
Can I tell you how much fun she is to read through...the crafts, the photography,
and the recipes!!!! It was tough to pick just one thing to make for this.
I mean look at this Peanut Butter & Jelly Banana Bread!
Or this Sweet Potato and Chorizo Lasana!!! Yum!!!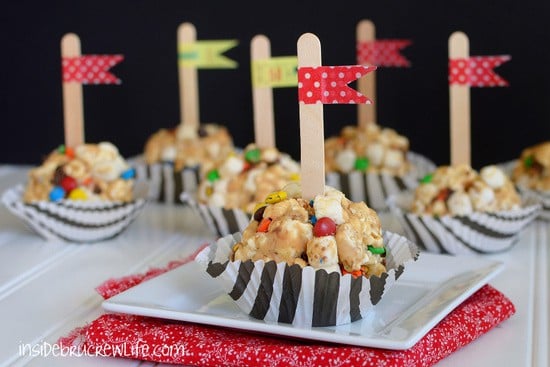 But I procrastinated, yet again, and so as I was looking through Kimberly's recipes...
I came across these fun Popcorn Baseballs.
If you have been reading my blog for very long...you know I am addicted to fun popcorn!
It was fate...I mean just Friday I shared Monster Cookie Dough Popcorn Munch!!!
Any chance I get to jazz up plain popcorn, I'm going to take it!!!!
THIS. WAS. THE. RECIPE. for me this month!!!
Simple, FUN, and easy to use whatever is in your baking cupboard.
We got back from camping on Saturday, so I knew time wasn't on my side.
Can we say procrastinator...big time!!!!
Whatever was in the cupboard was going to have to do.
I dug through and found a few bags of Reeses peanut butter chips and mini M&M's.
(yes, I always have a few bags or each kind just waiting around for inspiration or in this case disaster:-)
Peanut butter and marshmallow is definitely a favorite combo around these parts,
so I knew that I would have a winner for sure.
Now my first thought was to eliminate some marshmallow from the recipe and
make them into bars...BAD IDEA!!!
The first batch fell apart when I started cutting into them.
Bad for the post, but oh so yummy for our tummies!
The kids had no problem polishing off my little recipe "fail"!!!
So now it is Sunday and the post is due in ONE day....aaaaaahhhh!
Good thing I still had enough baking supplies to make it again...not time for a grocery store run.
This time I was USING the marshmallows.
I figured that would make it hold together for a bar for sure!!!
Wouldn't you know the minute I cut into them...
yup, you guessed it, they kind of crumbled.
Not as bad as the first batch...
but still not very picture worthy!!!
WHAT was I going to do???
You can imagine the panic that was starting to creep into my body.
So I grabbed a bunch and started to compress it into a popcorn ball...
this was going to work if I had anything to say about it!
And you know what...turns out I should have just followed Kimberly's recipe
in the first place:-) They were super easy to make into popcorn balls.
But not as hard and crunchy as the ones I used to get in my Christmas stocking every year...
you know the ones right? The ones that sat around until Easter when you finally threw them out!
I have no idea why my parents bought them every year? 🙂
Not these popcorn balls...they are soft and easy to pull apart!
Now because I can't leave well enough alone,
I started digging in my cupboard again.
I knew somewhere up there I had thrown a bag of wooden popsicle sticks.
In my head these popcorn balls would be so fun with a stick, a cupcake liner, and a washi flag!!!
EEEEEIIIKKK!!! Love it so much when something goes from my head into real life!
I knew I bought that washi tape for a good reason:-)
These turned out absolutely adorable...and super duper delicious too!!!
So good, that I have the rest wrapped up to send out the door ASAP!
I can't be around such cuteness without devouring one each time I go into the kitchen!!!
Thank you so much Kimberly for a fun recipe to play around with!!!
This recipe is a sure fire keeper!!!
I definitely see more fun popcorn balls in our future:-)
Can we say Christmas stocking tradition?
Yup, it just might live on now!