This Monster Cookie Dough Popcorn has all the traditional flavors of a monster cookie.  The popcorn is coated in a chocolate and Biscoff coating and tossed with lots of extra goodness.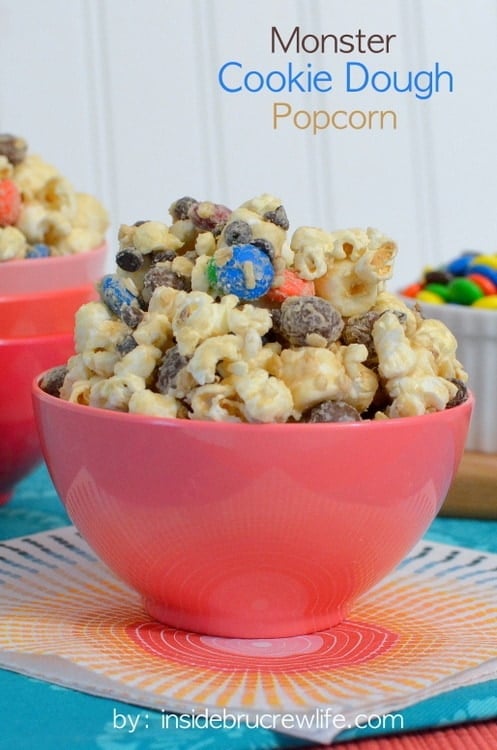 I have the funniest…ok, maybe the dorkiest habit…you are going to laugh at me…
but that's ok because my family cracks up all the time.
Want to know what it is???
I talk to myself.  Like all the time. And not a silent whisper either.
Oh, it's a whisper…just kind of out loud 🙂
My husband and my kids always like to let me know when it happens.
They think it is super hilarious to stand behind me
and listen to me go on and on.
Ok, fine it probably is.
The other day I was driving somewhere on some sort of errand.
Who am I kidding, I was probably going one of 2 places.
The grocery store for more baking goodies or Goodwill for fun photo props.
Oh wait, it could have been Target…just because…
because really I don't need a reason to go there other than I love the place.
Anyway, where doesn't matter.
Apparently I was having one of those strange conversations with myself
because my youngest piped up and said, "Mom, are you talking to yourself again?"
"I can talk to you if you want."
Isn't he the cutest?
Yes, I am well aware what a dork this makes me sound like.
Hey, just keeping it real here.
Honestly I can't even tell you what I talk to myself about…
I think sometimes my brain can't keep up with whatever I am thinking
and it just comes out.  I think it is mostly recipe stuff, what I have to do, what I want to do,
what I would say in situations…you know, normal stuff.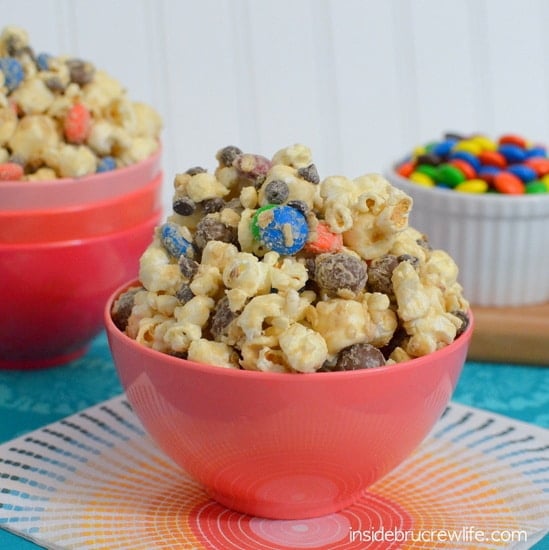 Ok, let's move onto a better habit that I have 🙂
I like to make chocolate covered popcorn !!!  Like a lot!
So far there are 5 different versions on my recipe page,
this makes #6…and I have ideas for a few more:-)
Hope you all like this stuff as much as I do.
This one just might be my all time favorite one…
and that's saying a lot because I made a Reese's Popcorn a while ago that kicks some butt!!!
But this one…oh this one…was so good it just melted in your mouth!
If you are in the market for a sugar high…I recommend going this route.
It was definitely monsterously delicious!!!
Oh, the Biscoff, the oatmeal, the cookie dough bites, M&M's, chocolate chips…
all your favorite cookie stuff in one popcorn bowl.
Now I have myself convinced to make another batch 🙂
I suggest making this one this weekend.
Although you just might want to double the batch…
since I guarantee you will eat the first one all by yourself as soon as you taste it.
Not that I would know anything about that though! Wink, wink!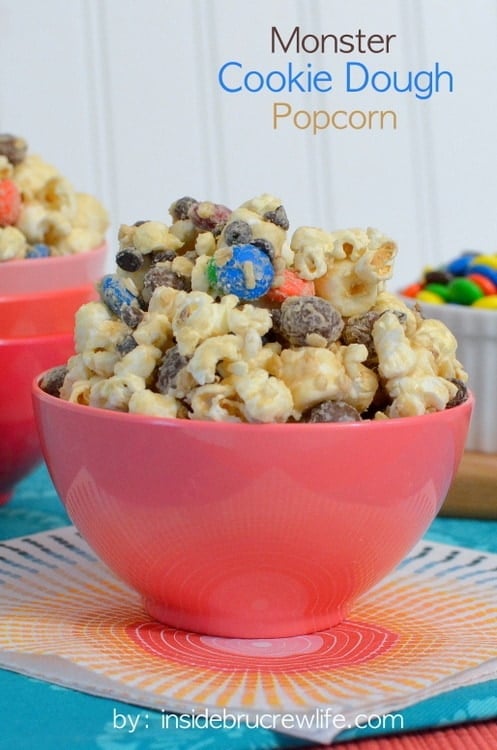 Chocolate and Biscoff covered popcorn with all the toppings of a monster cookie added in.
Ingredients
7 cups popped popcorn
1 cup M&M's
1 cup cookie dough bites candy
1 cup miniature marshmallows
1/2 cup miniature chocolate chips
1 1/4 cups white chocolate chips
1 teaspoon shortening
1/3 cup Biscoff cookie spread
1/2 cup quick oats
Instructions
In a microwave safe bowl, combine the white chips and the shortening. Heat for 30 seconds and stir. Continue heating 20-30 seconds at a time and stirring until melted. Add the Biscoff spread and stir until melted and creamy. Stir in the oats. Let cool for 3-4 minutes.
In a large bowl combine the popcorn and marshmallows. Pour the melted chocolate on top and toss until everything is coated. Add the cookie dough bites, m&m's and the chocolate chips and toss lightly again. Pour the popcorn out on a large wax paper lined tray. Place in the refrigerator for about 5 minutes to set up. Take out and break into chunks. Store in a tightly sealed bag or container.
https://insidebrucrewlife.com/monster-cookie-dough-popcorn-munch/
Copyright Inside BruCrew Life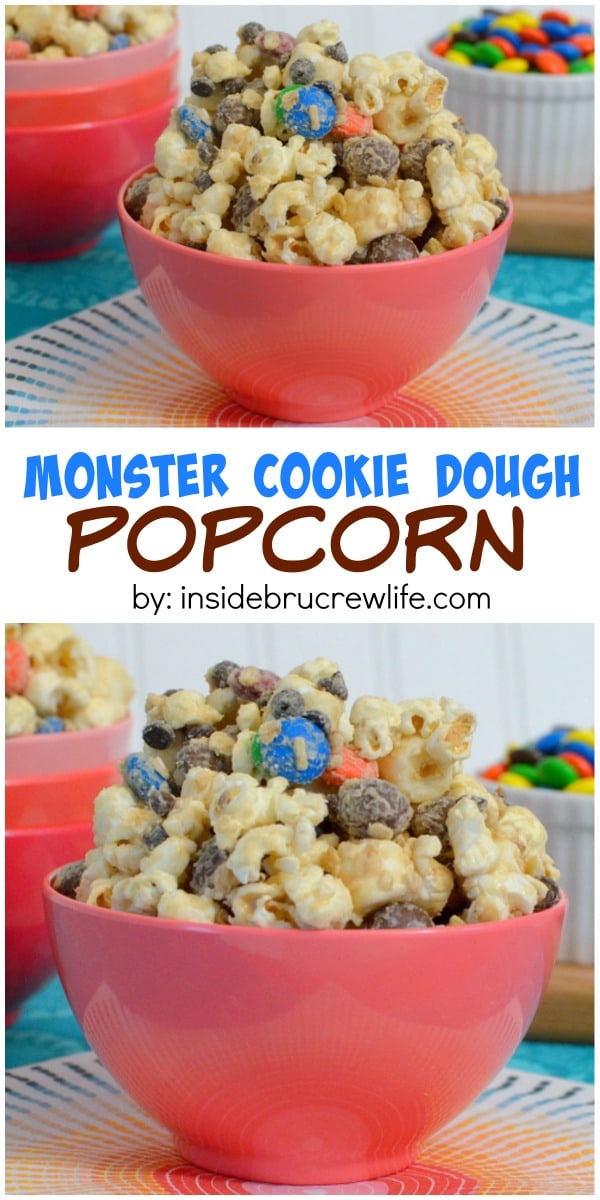 Want some more popcorn munch goodness???