Change up your holiday desserts with these Frosted Cranberry Apple Butter Bars. These sweet oatmeal bars will become one of your new favorite desserts.
*Musselman's sponsored this recipe and post. I am partnering with them this fall to create recipes using apple butter. As always, all opinions are 100% my own.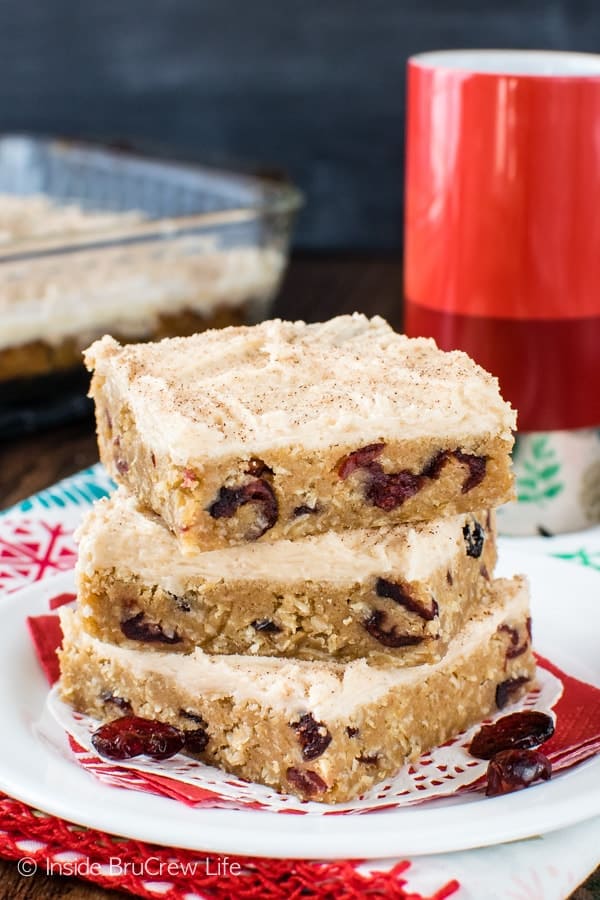 CLICK HERE TO PIN THIS RECIPE FOR LATER!
The other day my daughter and I went Christmas shopping for some of our nieces and nephews. Buying little clothes and toys is so much fun for those little kids! The only thing more fun would be if we could be there in person to watch them open them. But alas, this year we are staying put on Christmas day. Last year we were in the process of moving states, so the holidays were a blur of madness!
As we came out of the store, I had to stop and think where I parked the car because these days my short term memory is not what it used to be. Seriously! It doesn't matter if I'm in the store for 5 minutes or 50 minutes because either way I'm going to forget where the car is. Is this what it feels like to get older? My knees are already all creaky and sore in the morning. I don't know if I can handle the forgetfulness too!
Our daughter just gave me that look. She has definitely perfected that teenage look over the past 2 years. It was kind of funny to see her look at me like I was crazy for losing the car. I'm cool with it though...there are plenty of quirks that our kids give us grief for these days.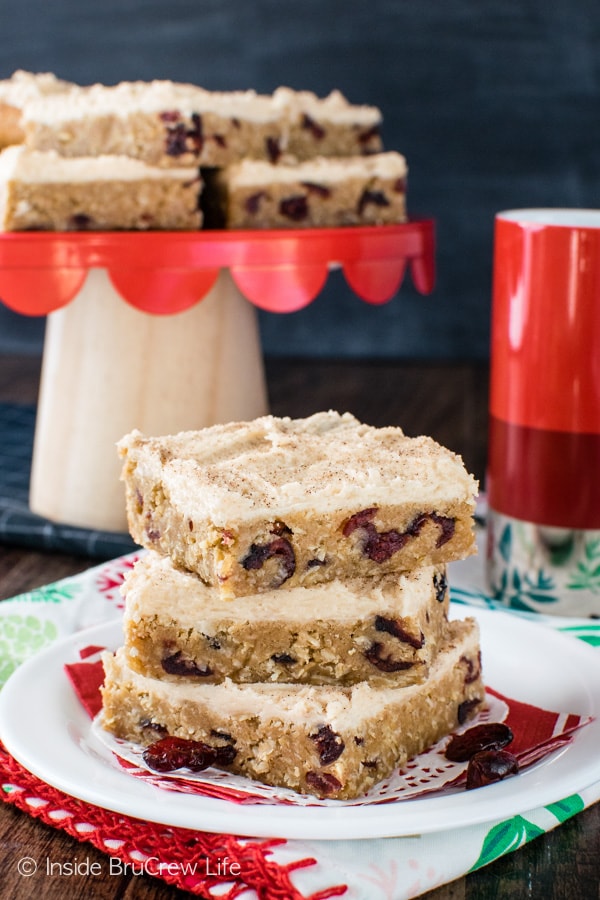 These sweet oatmeal bars were another thing that got some looks from the kiddos. They are used to me making peanut butter bars with lots of chocolate chips in them. So, a cookie with cranberries was a new surprise for them. In fact, I think one of them said raisins and cranberries were for old people.
The cranberries really worked well so, they better get used to more old lady treats. Of course, with my memory I will probably just forget about adding cranberries to something else.
This fall I have had the privilege of partnering with Musselman's. I am excited to be able to work on a few recipe projects for them because I grew up eating their apple butter on toast and sandwiches.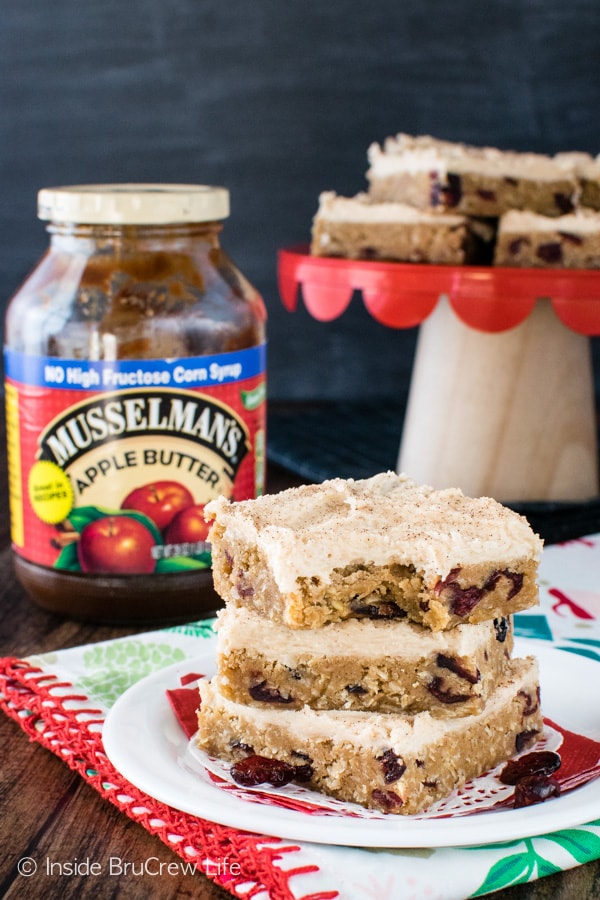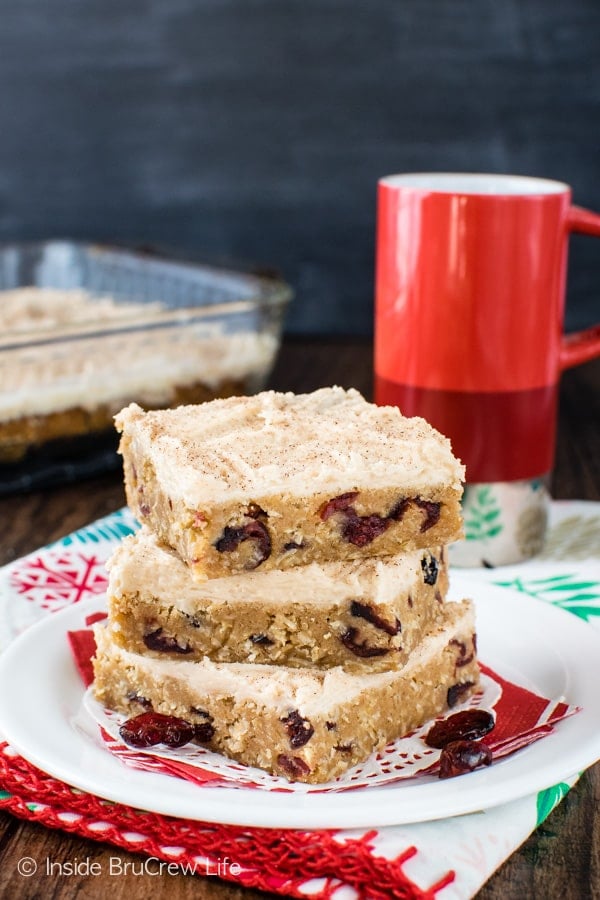 I decided to change up those regular oatmeal bars with some apple butter and dried cranberries in the mixture. A layer of sweet apple butter frosting with cinnamon sugar was the perfect way to finish these bars off.
The sweet hint of apple butter mixed with the tart cranberries was a welcome change to all the chocolate and peppermint treats I have been making lately. One of the parents that came to the youth group Christmas party loved these frosted cranberry apple butter bars so much that she requested a pan to share with her family.
Time to make two more pans of apple butter goodness! One for my friend's family, and one all for me. I couldn't get the kids to take one bite of these bars. The cranberries threw them off! Oh well, that just means more sweet treats for me this week.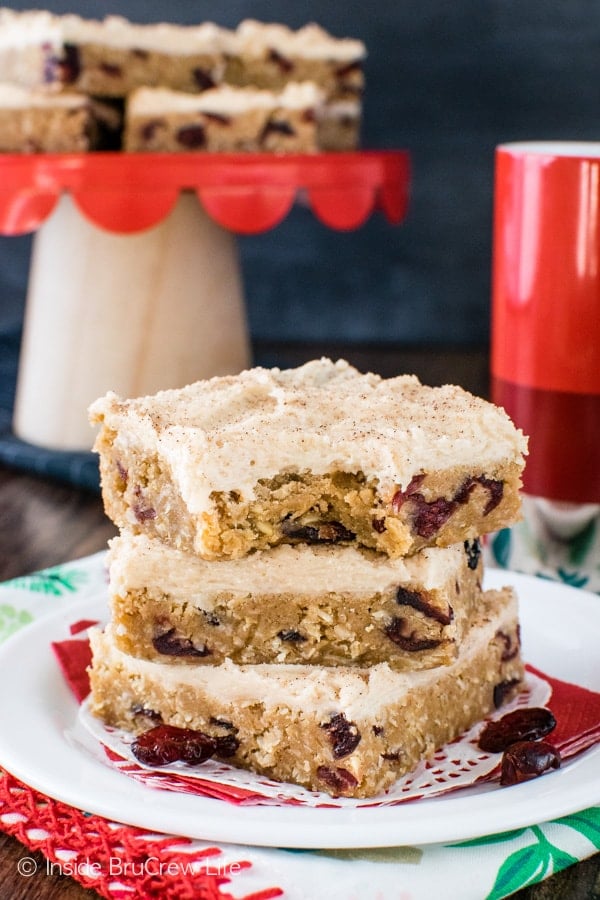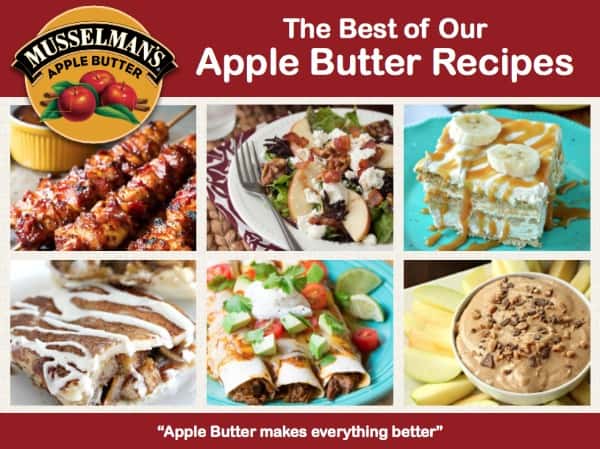 Download the free E-Recipe Book HERE.
Connect more with Musselman's:
Facebook | Twitter | Pinterest
More delicious apple butter recipes to try:

*Musselman's sponsored this recipe and post . All opinions expressed are 100% my own. Thank you for letting me share products and brands we use and love. See my disclosure policy for more information.*