Grab a glass of milk and a few of these Peanut Butter Bars. Chocolate chips, oatmeal, and a peanut butter glaze are sure to have you grabbing a few more bars to munch on.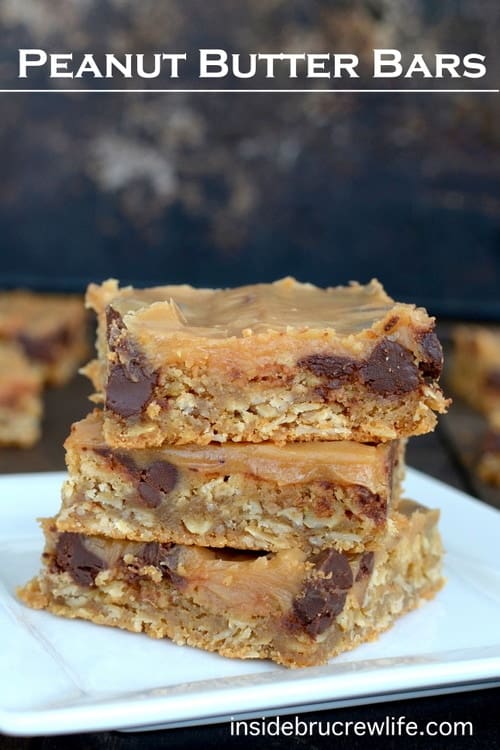 My husband just shakes his head at me and all my baking.
He gave up all sweets and carbs for lent this year. Every time he came in the kitchen and saw another pan of treats, he would sigh and then tell me that I was the dessert devil tempting him. LOL! Doesn't that sound like the perfect blog name? I wonder how hard it would be to switch names? Naaaaah! I'm thinking after blogging for 6 years as the BruCrew, I should probably stick with it.
The funny thing is that my husband isn't even a big sweets eater. He usually will take a bite and then be good. Now put a bag of chips in front of him, and that's a different story. He is the salty lover in our family, and I am the sweets lover. It's why we go together so well. Sweet and salty is an awesome pair!!!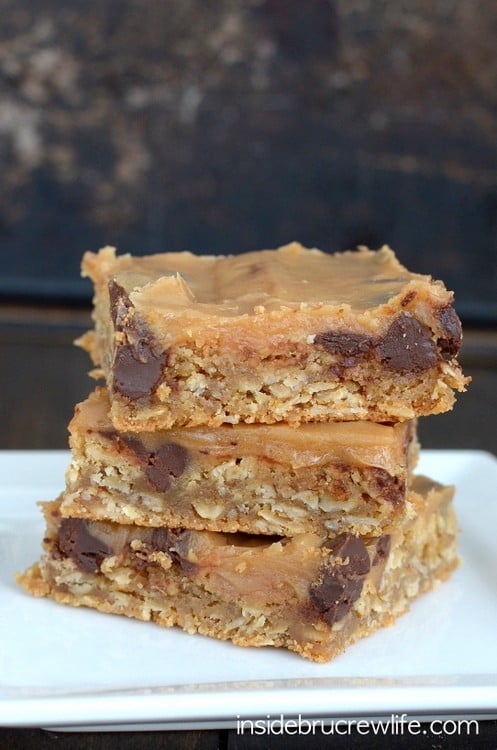 These peanut butter bars are one of the things that my husband said looked so good. I really think it is because he couldn't eat them, not that he wanted to eat them. He usually doesn't like peanut butter very much. I know!!! I think he is an alien in a cute human body too. How can you not like peanut butter? Seriously, I could bake with peanut butter every week and never get tired of it.
I picked up a few more old church cookbooks from Goodwill a few weeks ago. When I was flipping through I came across the recipe for these peanut butter bars. There was a note on the side that said if you like Reese's peanut butter cups, you will like this recipe. That totally sold me on making this one first. Of course, I did make a few tweaks to the recipe based on what I know and like in a bar cookie.
The bars are so easy to make. One bowl is all you need to cream the butter, sugars, and other wet ingredients in. Then add the dry ingredients and slowly mix it in. You can mix in the chocolate chips with the dough if you like, but I just sprinkled them on top of the cookie dough. Then into the oven for 20-22 minutes. Gotta love a bar cookie that doesn't take that long to bake.
As soon as the bars come out of the oven, start on your glaze. Three ingredients whisked together is all it is. Try to refrain from eating the glaze with a spoon. I made the mistake of tasting it...and then all I wanted to do was hide in the closet with that bowl of glaze. It is so good. Go ahead and spread the glaze on while the bars are warm. It will make the glaze melt down a bit and be easier to spread over the whole pan. Then wait for the bars to cool before cutting into them. That's the hardest part of the whole recipe.
I mean I guess you could dig into it while it's warm. It just wouldn't hold its bar shape very well. Although, now that I think about it, a bowl of this warm with ice cream and hot fudge on top does sound pretty good. Holy cow! I totally need to make another pan right now! For research purposes, of course! 🙂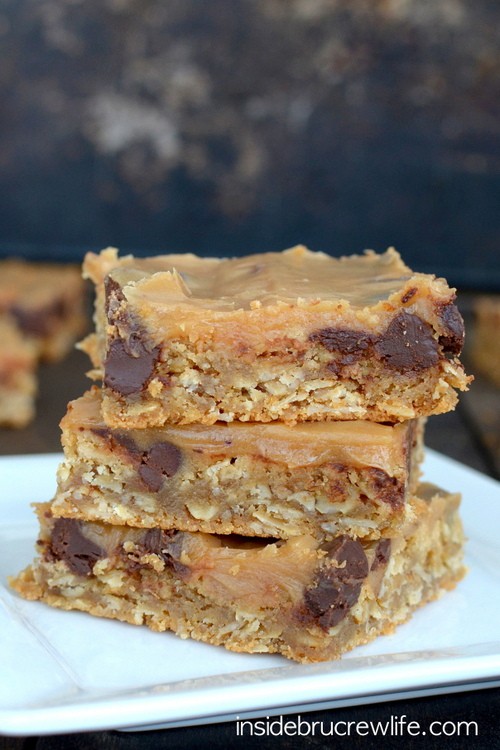 Stay up to date on all the BruCrew baking here:
FACEBOOK | PINTEREST | GOOGLE+ | TWITTER | INSTAGRAM | BLOGLOVIN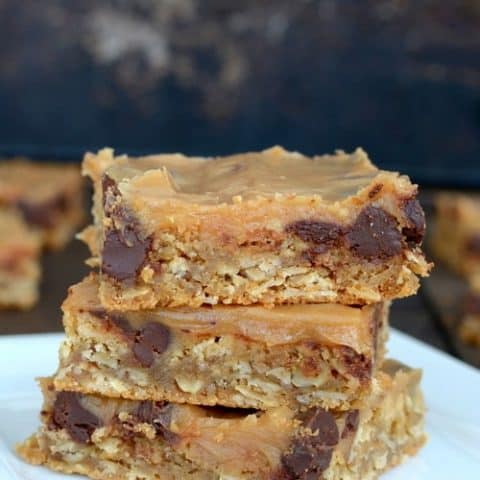 Peanut Butter Bars
Peanut butter chocolate chip bars with a peanut butter glaze that tastes absolutely amazing!
Ingredients
For the Bars
½ cup butter, softened
½ cup sugar
½ cup brown sugar
1 egg
½ teaspoon vanilla extract
⅓ cup peanut butter
1 cup flour
½ teaspoon baking soda
¼ teaspoon salt
1 cup rolled oats
1 cup chocolate chips
For the Glaze
½ cup peanut butter
1 cup powdered sugar
6 Tablespoons milk
Instructions
Preheat oven 350 degrees. Spray a 9x13 pan with nonstick spray.
Cream the butter and sugars. Add the peanut butter, egg, and vanilla and cream again.
Stir together the flour, baking soda, salt, and oats. Add to the creamed mixture and beat on low until mixed in.
Spread in prepared pan. Sprinkle with the chocolate chips. Bake for 20-22 minutes. Let cool for 5 minutes.
While the bars are cooling, beat the glaze ingredients. Spread over the top of the warm bars. Let cool completely. Store in a sealed container on the counter.
Nutrition Information:
Yield:

24
Serving Size:

1
Amount Per Serving:
Calories:

207
Total Fat:

11g
Saturated Fat:

5g
Trans Fat:

0g
Unsaturated Fat:

5g
Cholesterol:

18mg
Sodium:

128mg
Carbohydrates:

26g
Fiber:

1g
Sugar:

17g
Protein:

4g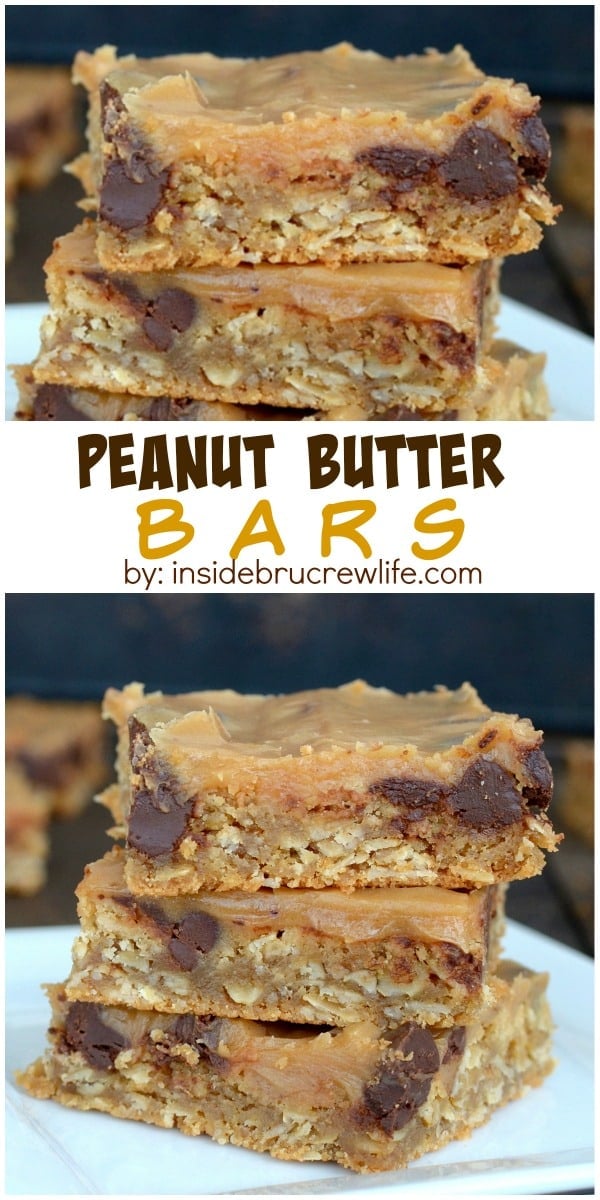 More peanut butter recipes to enjoy: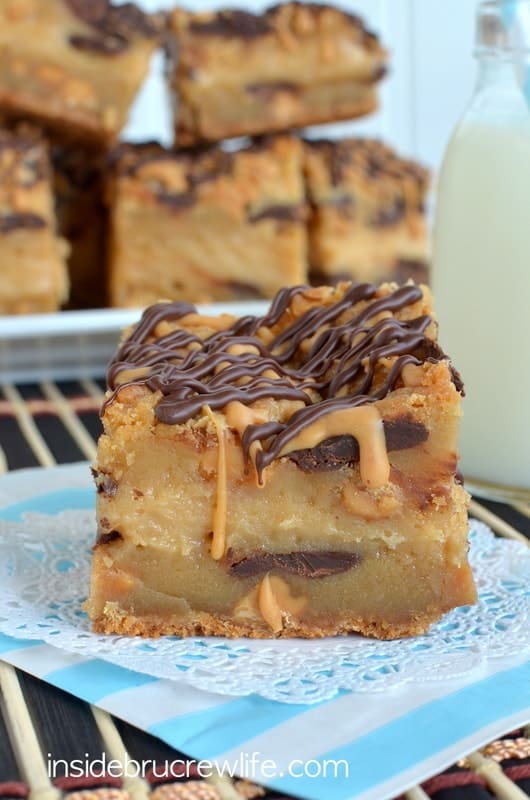 Peanut Butter Cheesecake Cookie Bars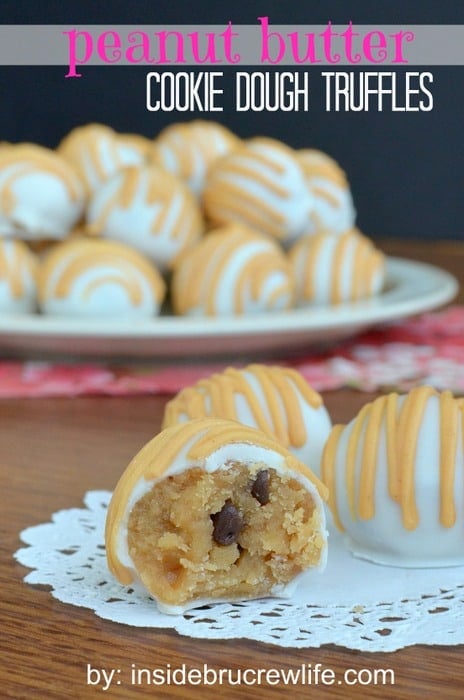 Peanut Butter Cookie Dough Truffles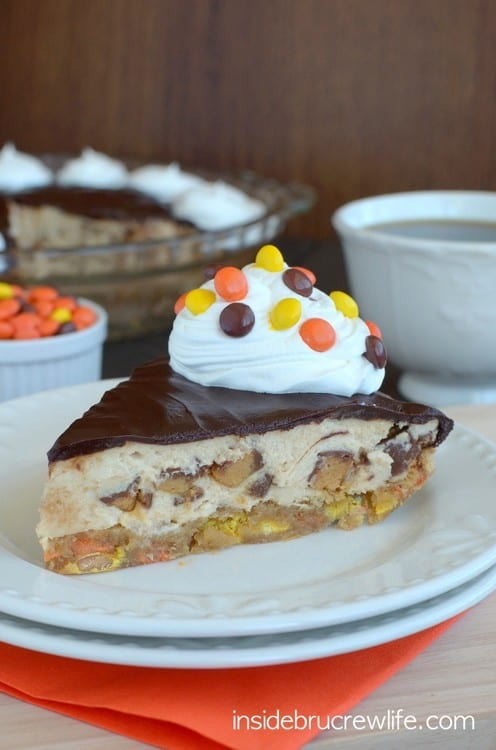 Triple Peanut Butter Cookie Pie