Making your own pancake mix is easy with ingredients you already have in your kitchen. Try a fun twist with this Funfetti Chocolate Chip Pancake Mix. It's the perfect breakfast for kids or adults.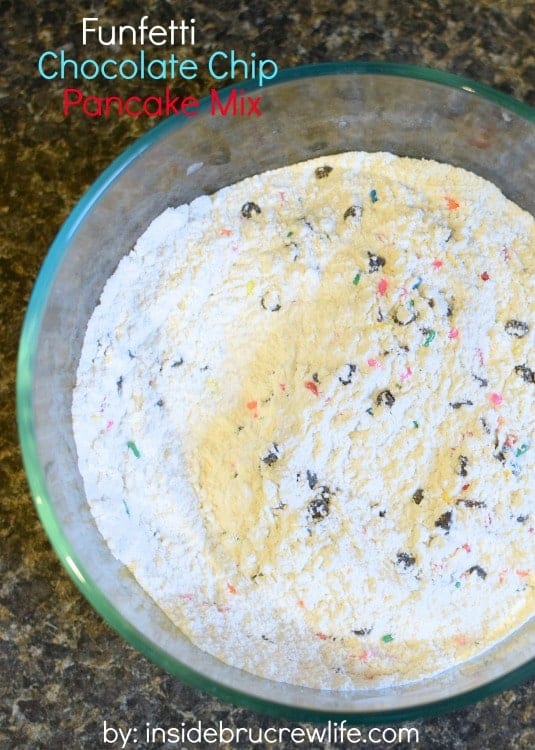 The most asked for breakfast in our house is pancakes.
But mixing ingredients and cooking on a hot griddle first thing in the morning can be dangerous for those of us that are morning challenged. Anyone else out there like that? Trust me. It's a real thing.
My eyes don't open and see very well too early in the morning. Believe me, I struggle being awake to do these crazy workouts, but at least those don't involve a hot stove.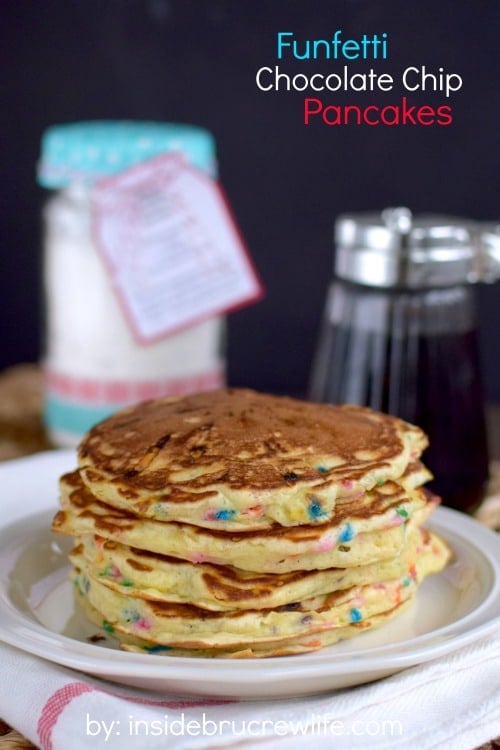 I do love my kiddos though, so I have solved the pancake dilemma by making batches of pancakes before I go to bed at night. Night owls have no problem cooking a few batches of pancakes that late at night.
The pancakes get laid on a parchment lined tray in the freezer for 30 minutes, then into a ziplock bag they go. Perfect for popping into the toaster or microwave the next time someone is craving a stack.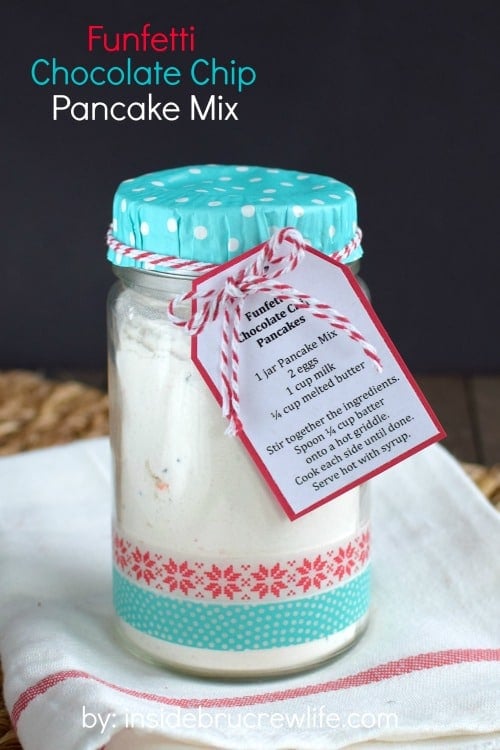 Since we were going through pancake mix, I decided to make a homemade baking mix that I could have in a hurry. Flour, baking powder, salt, shortening, and a little sugar is all you need for the base.
Now my kids are spoiled because I usually always add sprinkles and chocolate chips to our homemade pancake mix. That is totally optional, but you might be an alien if you leave them out. Just sayin.
How to make Funfetti Chocolate Chip Pancake Mix:
Stir together baking mix, sprinkles, and mini chocolate chips. (full recipe at bottom of post)
Store in a sealed container or jar in the fridge for up to 4 months.
Mix with eggs, milk, and melted butter and cook on a heated skillet to make homemade pancakes.
This mix is also great to put in a jar with a cute tag to hand out as a gift. Top the jar with a cupcake liner and some twine. Wrap washi tape around the bottom of the jar, then tie on one of these free printable Funfetti Chocolate Chip Pancake tags.
These are so easy, even morning challenged people could handle them. I did say "could handle them", let's not get too crazy. I'm pretty sure I'm still sticking to my pancake routine at night. But at least now my pancakes are free of preservatives and crazy things I can't pronounce.