Hiding fresh berries and chocolate inside these Strawberry Nutella Twists makes an awesome breakfast or afternoon snack.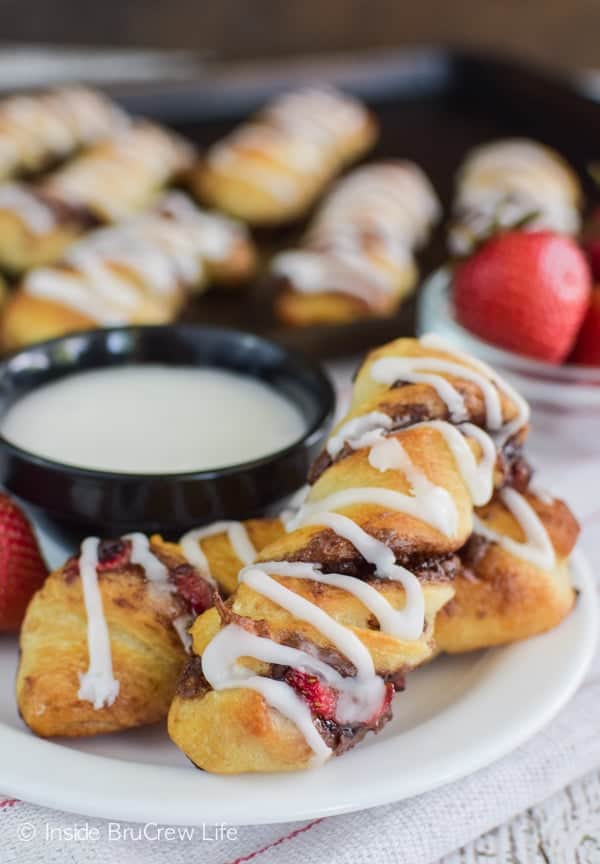 Are you ready to feast today? I sure hope you have your fat pants ready this Tuesday. Because these breadsticks stuffed with chocolate and berries and drizzled in sugar glaze are coming at you full force.
I have to be completely honest with you. These little pastries happened last summer...and then I forgot about them. Yesterday I was scrolling through old pictures, and there they were. Staring me down.
Forgetting about delicious little bites of carbs and chocolate is not something I'm proud of. But since I found them and am sharing them now, all is forgiven, right?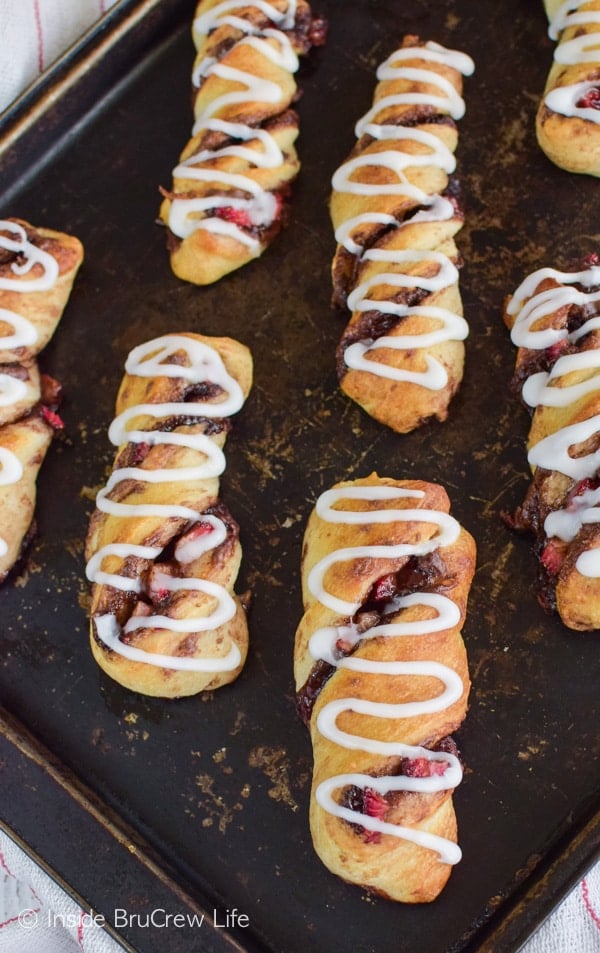 The past month and a half has been like a big long fat Tuesday. My resolve to eat well this year lasted a whole whopping one weekend in January. Then it was eat all the things whenever I want. Clothes are starting to rebel...and it's not pretty.
Maybe it's a good thing my brain has started to forget about things like strawberry nutella twists. Now if only I could forget about the cheesecake in the fridge and the chocolate candy cookies in the cookie jar.
I have a feeling that sugar has become my nemesis. Usually I do ok with the eating healthy and working out balance, but lately that has gone out the window to the birds. Maybe fasting tomorrow isn't such a bad idea...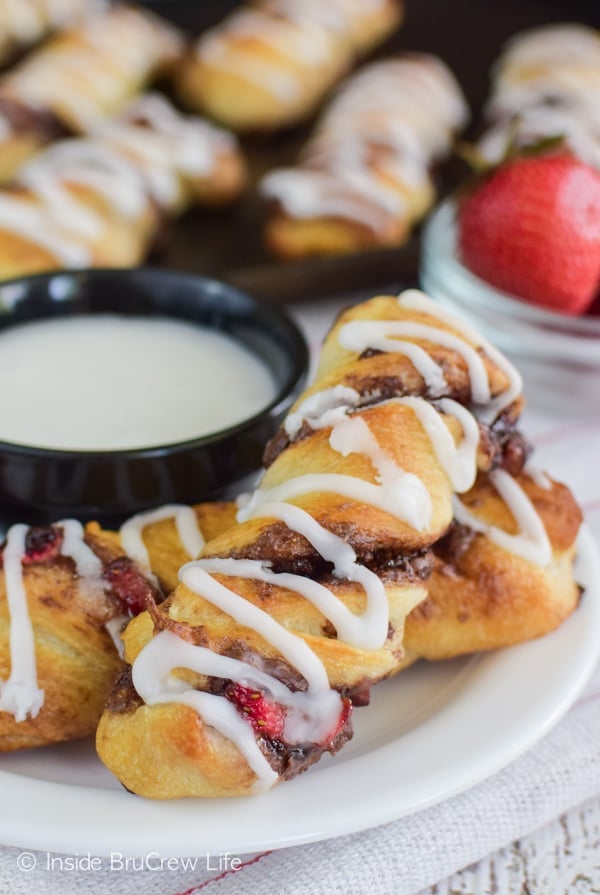 While I work through my sugar problems, let's talk carbs stuffed with chocolate. I did add some fruit, so we can say they are kind of healthy. See? There's my sugar problems coming out again.
These bad boys are so easy. Seriously.
Open a can of breadsticks. Press them out a little, so we have room for the good stuff. Then spread Nutella all over everything, and press diced strawberries into the top. Fold the dough over. Cut each breadstick apart. Twist and press. Bake. Cool. Glaze. Devour!!!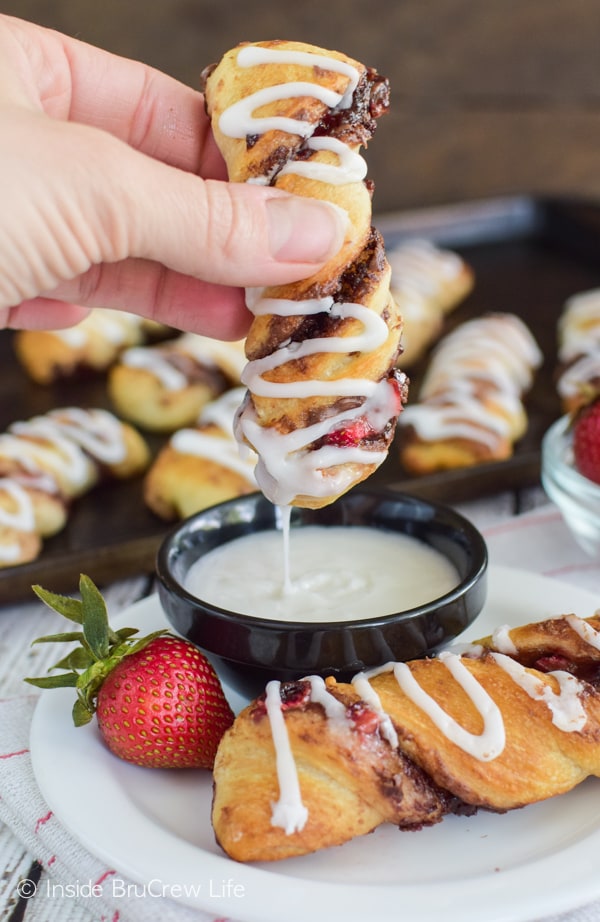 Ok, that totally sounds harder than it is. Now, I'm wishing I had taken some extra shots while I was making these. Of course, my hands were covered in chocolate, so...
Sounds like a challenge I should tackle today! Plus, eating more of these strawberry Nutella twists sounds like a good way to prepare myself for an end to my sugar feasting!
My kids are going to be so excited when they get home from school and see I made more treats. That is if I can keep my hands off them until then...I'm making no promises.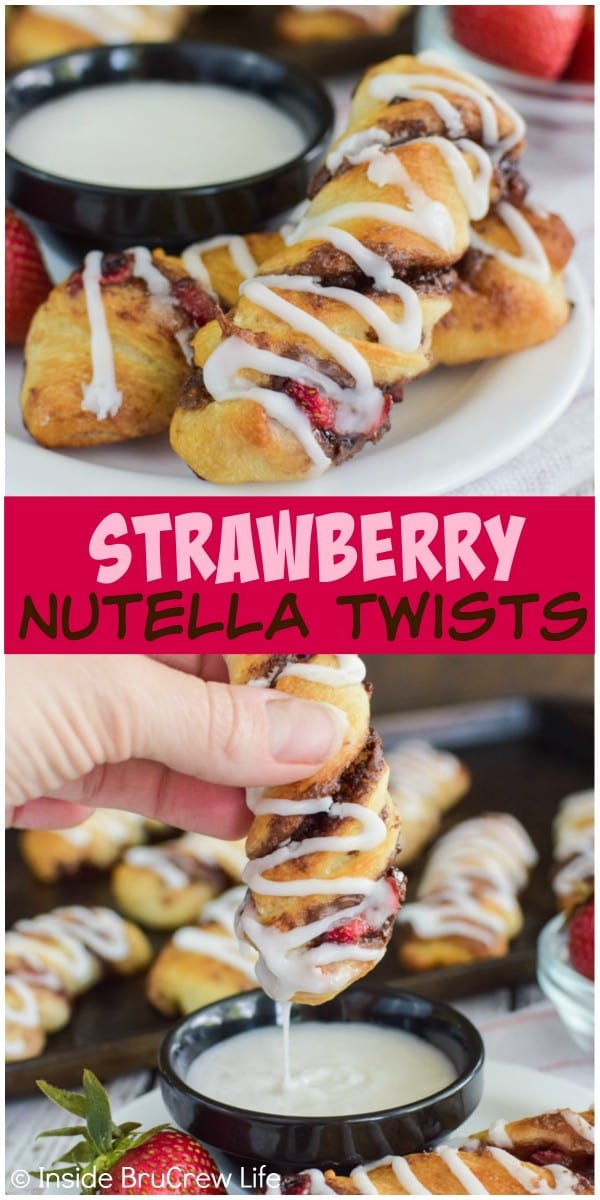 More easy pastry recipes that our family enjoys: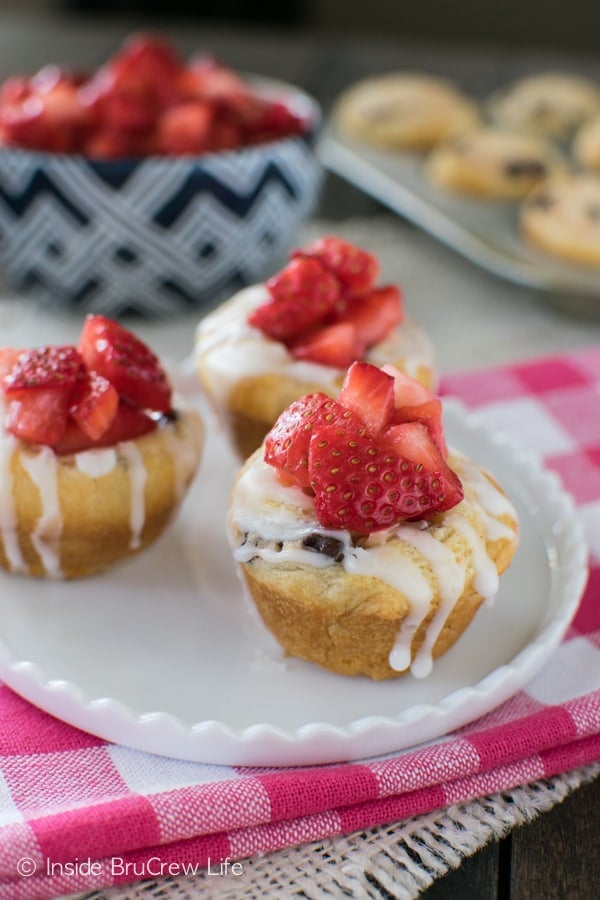 Strawberry Chocolate Chip Rolls