Adding honey to fresh blueberries will create an easy and delicious Honey Blueberry Sauce that is great for topping pies, pastries, cakes, or just eating with a spoon.
*Thank you so much to Best Food Facts for putting together this amazing trip to Davis, CA to learn more about the food we eat. This trip was sponsored and paid by Best Food Facts, along with this post using honey. This year I am partnering with them as a blogger for their Taste program.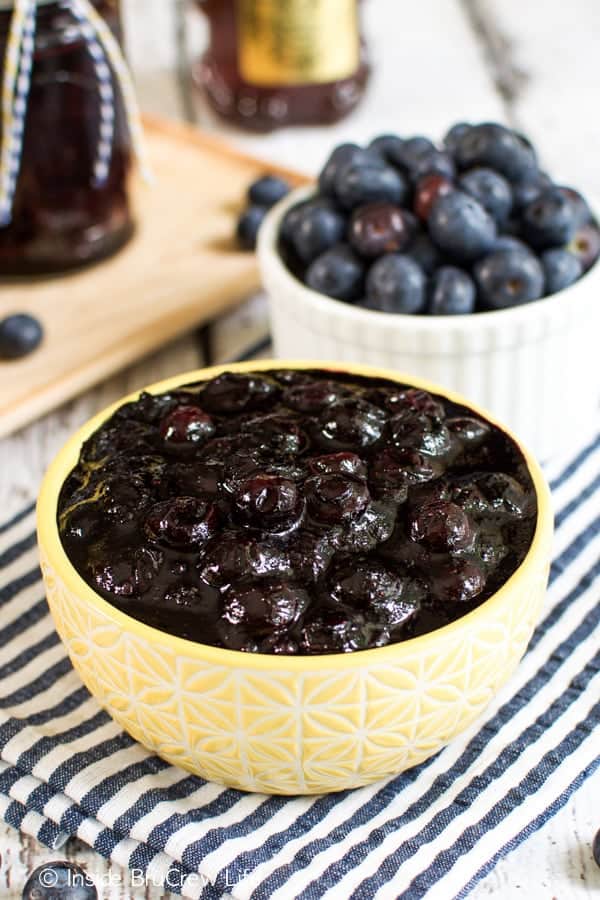 A few weeks ago I was invited to attend a foodie event in Davis, CA along with a fabulous group of bloggers and reps from Best Food Facts.
The first night we all met in the lobby of the hotel and took a bus to Putah Creek Winery. Here we learned about how different grapes are grown and how different wines pair with different foods. The food was amazing! I am still dreaming about the strawberry goat cheese cheesecake that ended our night.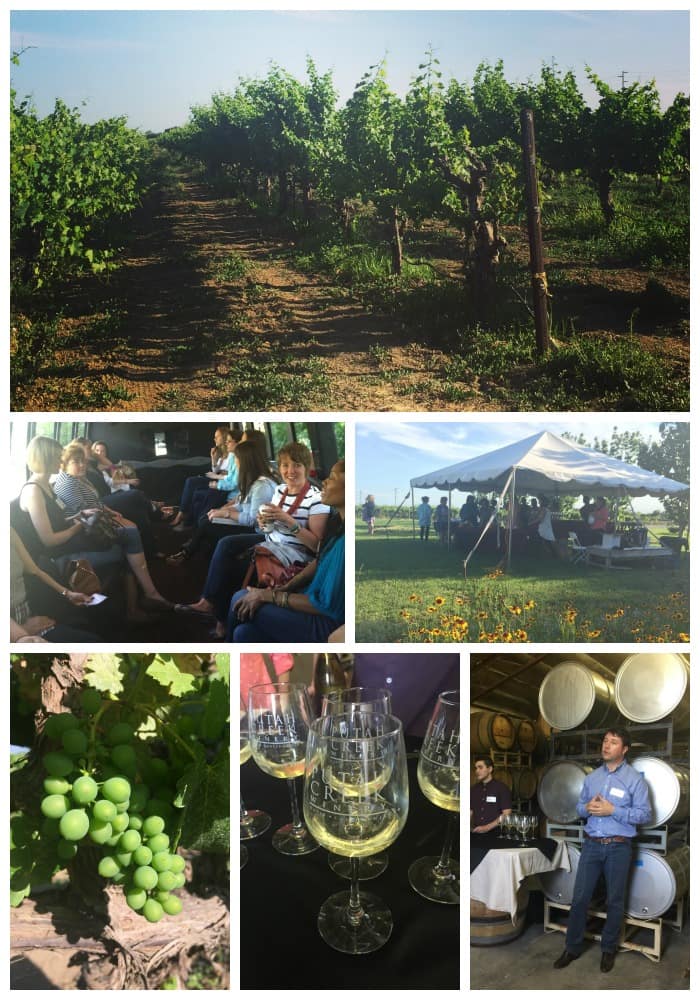 The next morning we were up bright and early to go to a local strawberry farm. At the T&Y Strawberry Patch farm stand, we picked up Newt, our tour guide. He took us out to his family farm where we met his mom and learned how his parents had come from Laos and met in America where they started farming.
It was so sweet to meet his mom and see how this farm had become successful because she was willing to be in the fields to this very day. They explained how they use drip tape down the strawberry rows, so they do not waste the water they have. They they handed us baskets and showed us how to pick berries from the vines. I grew up picking strawberries, so this wasn't new to me. Picking strawberries is something that I fondly remember from when I was little, so I love any chance I can get to pick fresh strawberries from the field.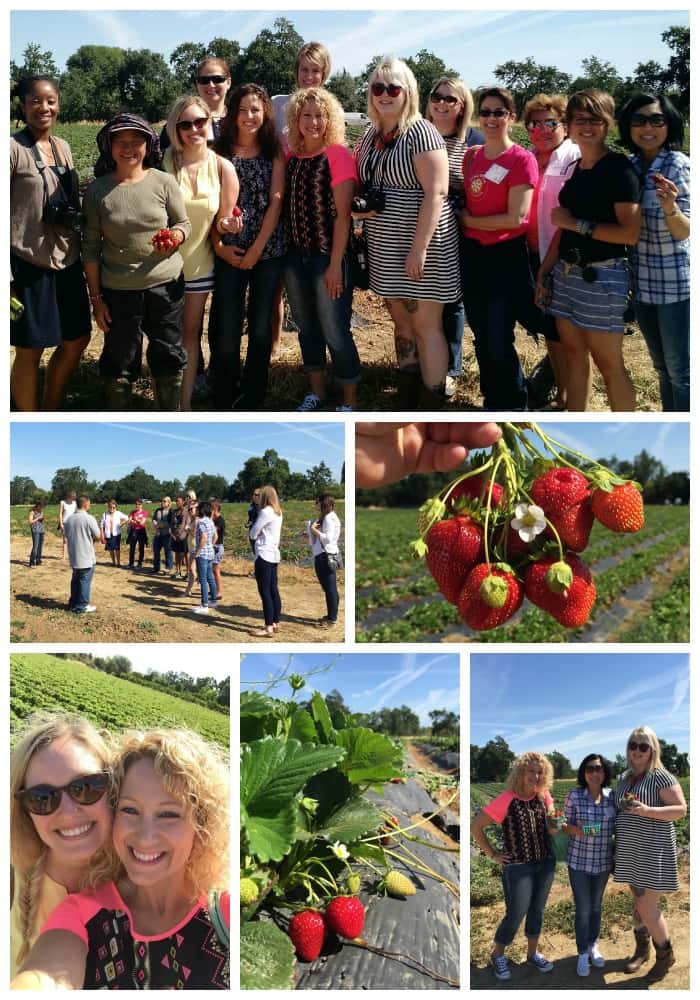 After lunch we headed to UC Davis to do a honey and olive oil tasting. I wasn't quite sure what to expect. In my mind, I thought honey was honey and oil was oil. Boy, was I wrong. We learned about all the different varieties of honey and how different flowers affect the smell and taste of honey.
They gave us a honey tasting wheel to distinguish the flavors and the underlying notes in each one. It was amazing to me to be able to open each container and smell the fruity or floral aromas to start with. My favorite honey was the Oregon Blackberry. It had slight fruity smell to start with, but what struck me was that I got a woodsy and almost toasted marshmallow flavor as I swirled the honey in my mouth. I mentioned this to the instructor, and she agreed. If you look at a honey wheel, fruity and woodsy are opposite each other on the wheel making them complimentary. I have to admit this was my favorite part of the trip. It was neat to walk away with a new found knowledge of a food item that I thought wasn't that interesting before.
Our last stop the next day was New Hope Dairy farm. Here we were given a personalized tour of this family owned farm. We met the cow nutritionist and vet and listened as they shared about what they feed the cows each day and how they are treated.
The cows were super curious about us as we wandered down the middle of the barn. A few of them even posed for their close ups. My favorite place was the "maternity" trailer. We were able to see a few baby cows that were less than 24 hours old. They were super cute and so wobbly on their new legs.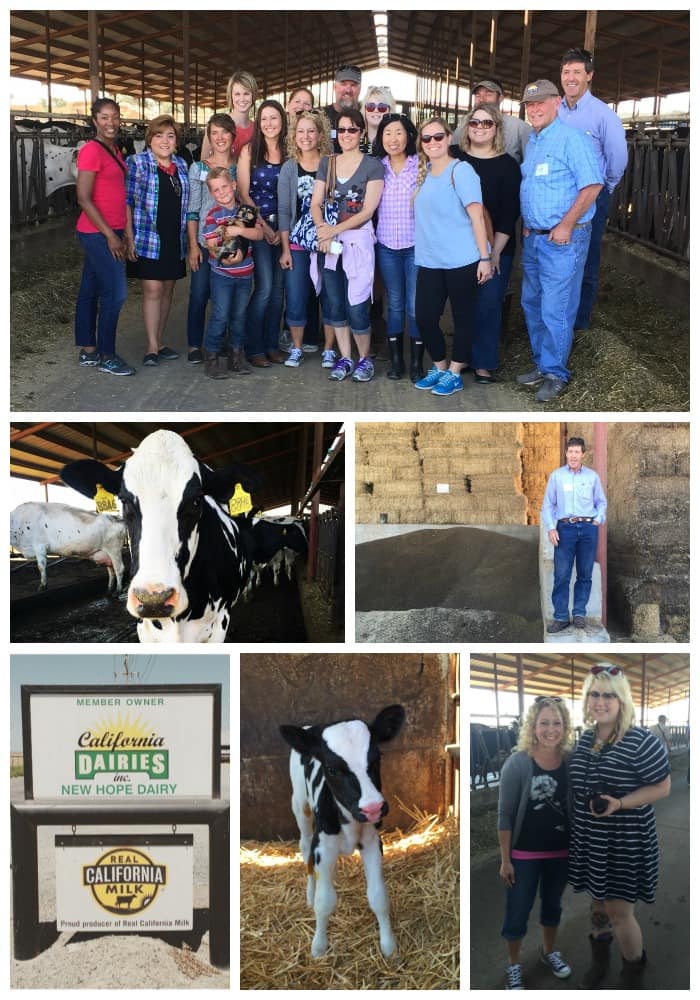 Best Food Facts and UC Davis sent us a jar of honey and olive oil as a thank you when we returned home. Since the honey tasting gave me my aha moment on the tour, I couldn't wait to make some sort of treat with it.
I took some fresh blueberries and cooked them down in a tiny bit of water. Once all the water and fruit juices had simmered off, (about 5 minutes) I stirred in some honey and a little bit of cinnamon. As this cools, it becomes this amazing fruit sauce/filling that you can use in so many different ways.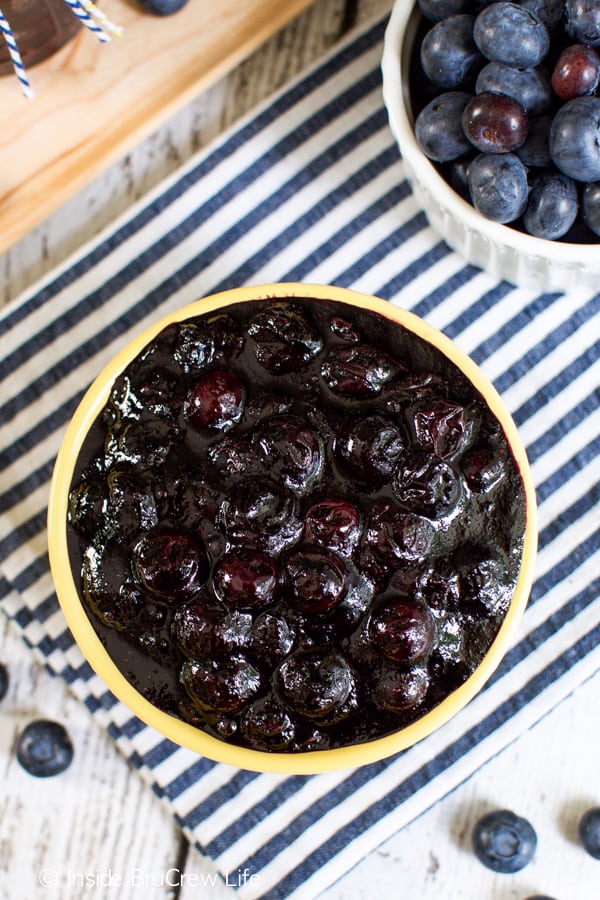 You could spread this filling on a slice of toast, add it to a blueberry cheesecake danish, or eat it on top of skinny banana oatmeal pancakes. Of course, my favorite way so far was just to eat it from the jar with a spoon.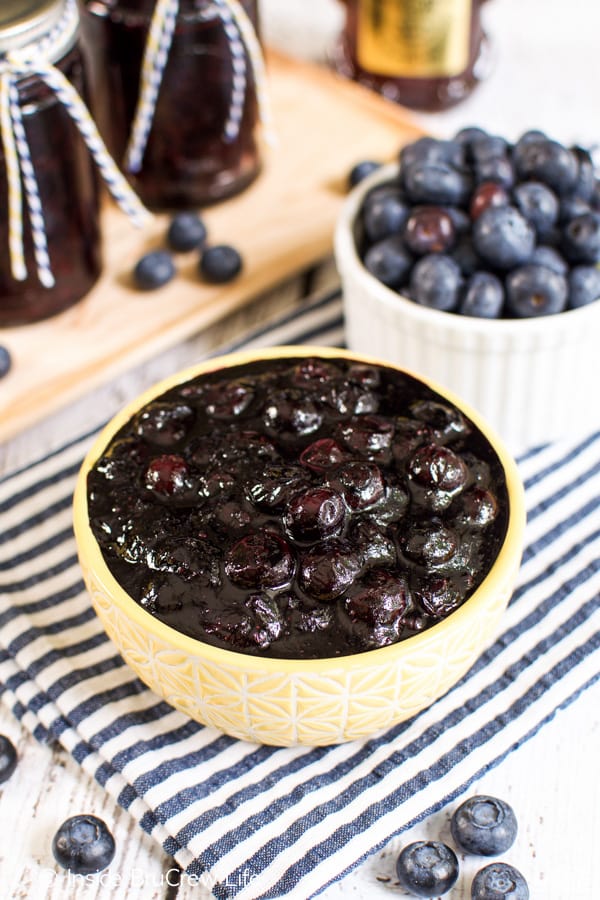 Looking for a few more ways to use your blueberries this year? Check out these recipe from some of my friends.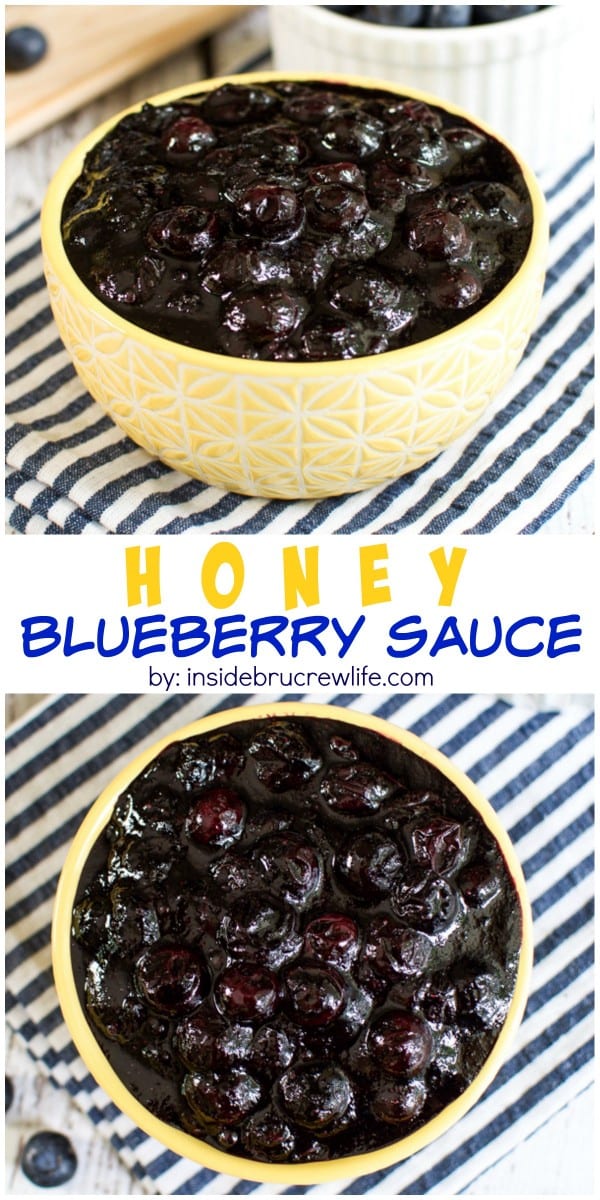 *I was provided with an all expense paid trip to Davis, CA through Best Food Facts. They also compensated me for time creating this recipe and post. All opinions are 100% my own. Thank you so much for allowing me the opportunity to share brands and companies I believe in.