Pumpkin Spice Pop Tarts are a breakfast pastry you can make yourself! With a sweet, spicy glaze and festive sprinkles, they're quite the treat.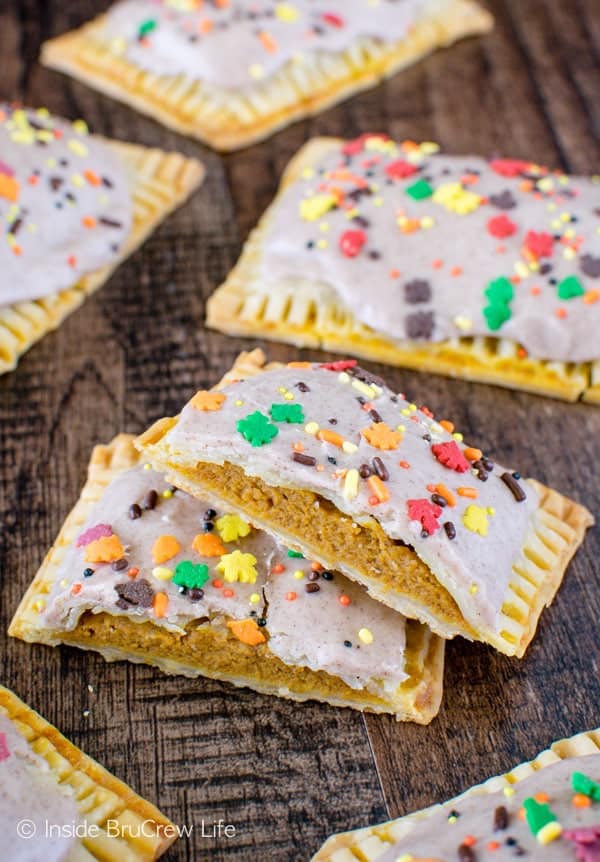 I grew up eating pop tarts for breakfast. We would always a buy a few boxes for my brother and sisters and I to eat. Of course, in those days there were not as many fun flavors to choose from. We usually got strawberry, blueberry, or brown sugar.
These days my kids snub their noses at those flavors. If I would buy any of the original flavors, I can guarantee they will sit on the shelf untouched. They would prefer to have the s'mores, hot fudge sundae, or chocolate chip cookie dough flavors in our pantry. Yes, they may have inherited a sweet tooth from all the triple chocolate donuts I like to make. I guess it is time to make more smoothies and eggs for breakfast.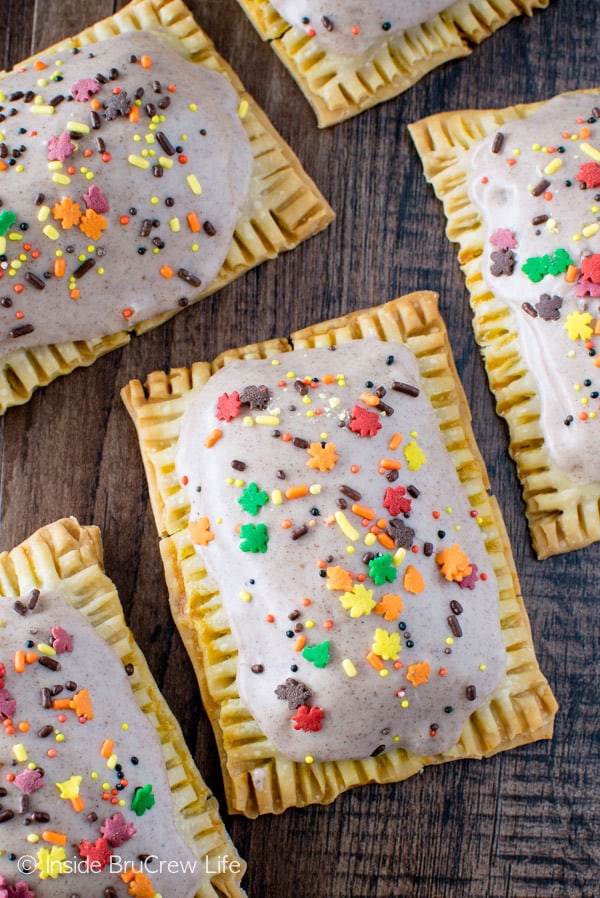 A few years ago I made these Nutella pop tarts for a quick and easy after school snack. My kids were in awe that you could actually just use two ingredients and have a homemade pop tart. Of course, if you are going to add the chocolate and sprinkles on top, you will need four ingredients. But who is counting?
Each holiday season you can find limited edition pop tarts on the grocery store shelves. Recently, I saw a box of pumpkin pie pop tarts. I almost bought a box to try, but I knew that I had some piecrust in the refrigerator that needed to be used up. So, I came home and made my own version of the seasonal breakfast pastry.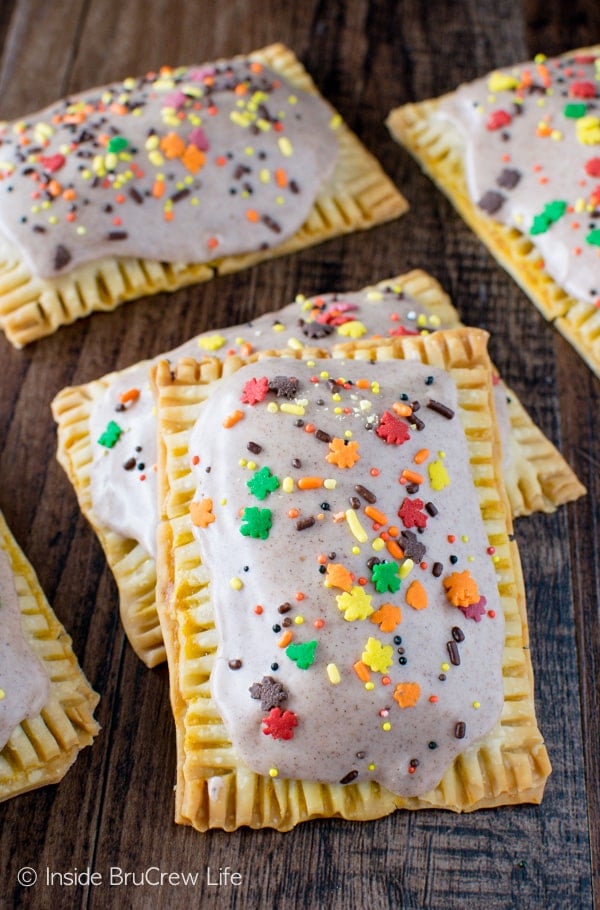 A few spices added to the pumpkin filling made these little pastries taste like a slice of pumpkin pie. Pie for breakfast? Oh, yeah! That's how I roll. Ok, so roll might not be the best word to associate with pie and breakfast. I may have a few too many "rolls" because I like to sample all the cakes and cookies I make.
Making your own pumpkin spice pop tarts is actually quite easy.
• Place both the piecrusts on your counter and cut each one into 8 rectangles that are 3x4 inches. You will need to keep the edges and roll them out to get a total of 16.
• Spoon a generous spoonful of pumpkin filling onto 8 of the rectangles, making sure not to go all the way to the edges.
• Gently place the other 8 rectangles on top of the filling. Use a fork to crimp the edges of the piecrust all the way around, so the filling does not leak out.
• Use a large spatula to move the pop tarts gently to a baking sheet. Bake for 20 minutes and then let them cool.
• Spread the spice glaze and sprinkles on top and let them dry.
It is so fun to watch your kids smile in amazement that mom can actually make a treat that looks just like the store bought pastries. And it makes me smile because I know mine taste ten times better too!!!
Make sure to head over to Food Fanatic where I'm one of the breakfast contributors. You can print the pumpkin spice pop tarts recipe there.