Layers of creamy tart cheesecake and soft chewy cookies make these Key Lime Cheesecake Cookie Bars a delicious dessert to make and share.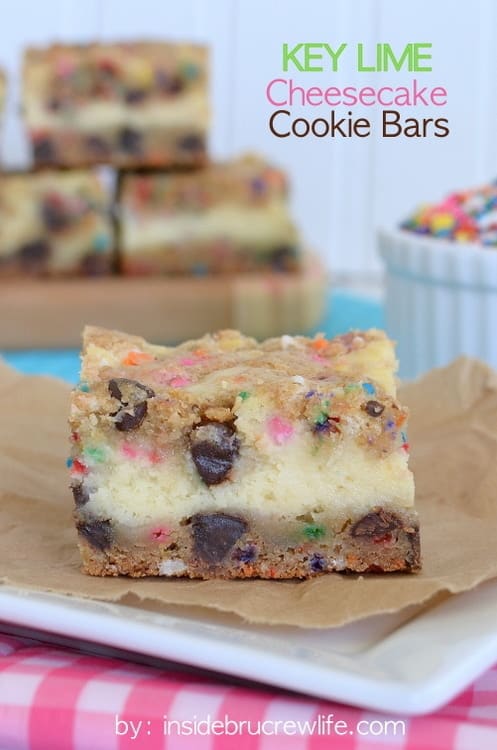 These Key Lime Cheesecake Cookie Bars are some of my favorites to make. For some reason though I haven't made them in forever.
A few weeks ago I was wanting to make my hubby a yummy treat for us to enjoy after the kids went to bed.
He loves cheesecake, and I love chocolate chip cookies. These bars are just perfect for us!!!
I made and posted these Chocolate Chip Cheesecake Cookie Bars a few years ago.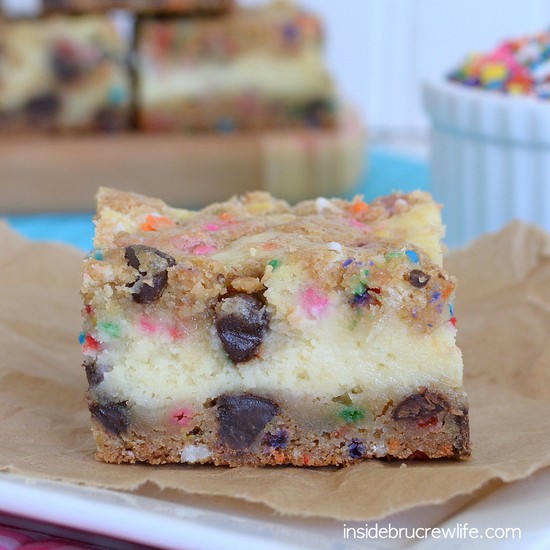 But this time I wanted to jazz them up. Enter in the key lime and sprinkles…and home made chocolate chip cookie dough!!!
My husband LOVES key lime pie so, it was kind of a no brainer to try adding it into this bar.
And sprinkles make everything just that much more fun!!!
Stay up to date on all the BruCrew baking
by following here:
BLOGLOVIN | FACEBOOK | PINTEREST | GOOGLE+ | TWITTER | INSTAGRAM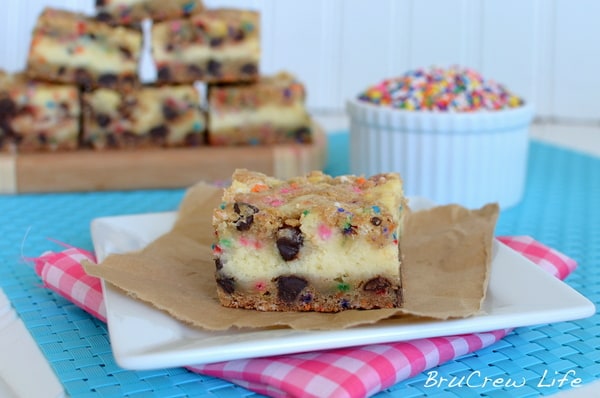 Chocolate chip cookie bars with a Key Lime cheesecake layer in the center.
Ingredients
For the Cookie Dough

1/2 c. butter
1/2 c. shortening
1/2 c. sugar
1 c. brown sugar
2 eggs
1 tsp. vanilla
1/2 tsp. baking soda
1/2 tsp. salt
2 1/2 c. flour
2 c. chocolate chips
1/4 c. colored sprinkles
For the Cheesecake

1 (8 oz.) package cream cheese, softened
1/2 c. sugar
1 egg
1/4 c. key lime juice
2 tbsp. flour
Instructions
In a large mixing bowl, beat the butter, shortening, sugars, and vanilla until creamy. Add the eggs one at a time while slowly beating. Mix together the baking soda, salt, and flour, and add a little bit at a time to the butter mixture until it is all incorporated. Stir in the chocolate chips and sprinkles by hand. Press half the batter into a greased 8 inch baking pan.
In a mixing bowl, beat the cream cheese, flour, and sugar until light and fluffy. Add the egg and the lime juice and beat until creamy.
Pour the cheesecake batter on top of the dough in the pan. Crumble the rest of the cookie batter over the cheesecake. Bake at 350* for 40 minutes. Let cool on a wire rack. Refrigerate to set up. Keep any leftovers refrigerated. Cut into 16 squares.
https://insidebrucrewlife.com/key-lime-cheesecake-cookie-bars-and-a-hop/
Copyright Inside BruCrew Life