Enjoy chocolate chip cookies AND cheesecake in these easy to make Chocolate Chip Cheesecake Bars. These delicious cheesecake cookie bars come together in minutes and will be a hit at every party or picnic.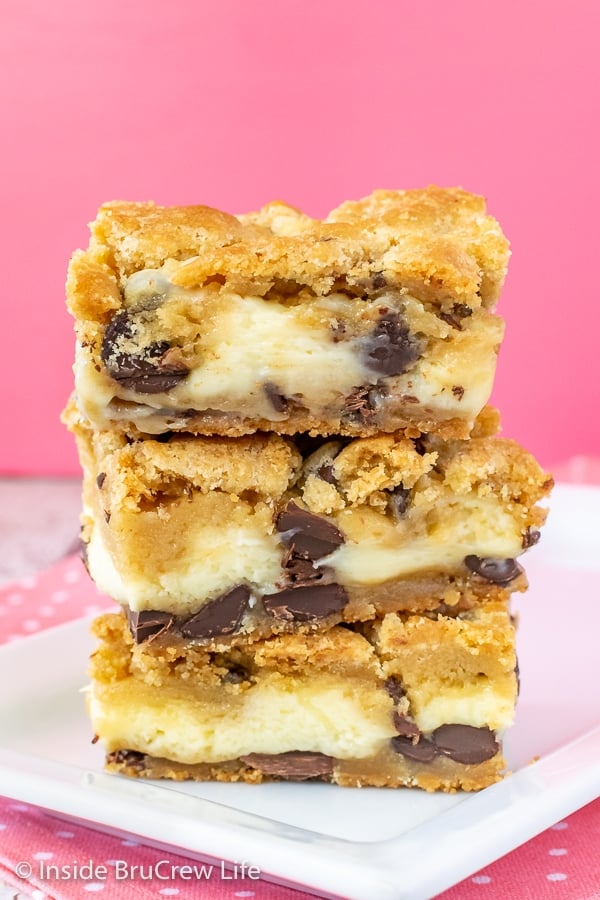 Chocolate Chip Cheesecake Bars
These cheesecake cookie bars combine two favorite desserts into one easy to hold cookie bar. The combination of chocolate chip cookies and vanilla cheesecake will have you going back for another slice in a hurry.
One of the best thing about these cheesecake cookie bars is that everything bakes all at once. No scooping and baking pans of cookies. They are always a big hit every time we bring them to dinner parties or picnics.
When I first started making this chewy chocolate chip cookie bar recipe years ago, I used a roll of refrigerated cookie dough. But since I don't always have that on hand, I started making the cheesecake bars with homemade chocolate chip cookie dough. In my opinion, the homemade ones are better!
Cheesecake bars are also so easy to customize. You can change up the cookie dough with different chips, nuts, sprinkles, or candies. One of the favorites in our house are these Oreo Cheesecake Cookie Bars.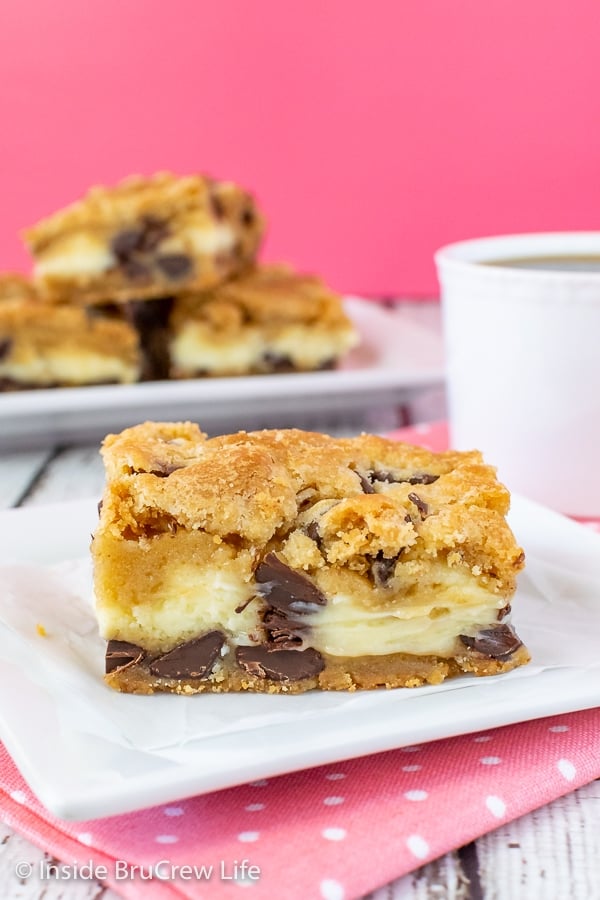 Ingredients for Cheesecake Cookie Bars
You will need some basic pantry ingredients to make these cookie dough cheesecake bars. Each layer comes together easily, so you can make the cheesecake bars in minutes.
For the Chocolate Chip Cookies
Butter & Shortening - the combination of fats gives the cookies flavor and keeps them soft
Sugars - using granulated and brown sugar sweetens the dough and keeps the cookie layer soft and chewy
Eggs - binds the ingredients together
Vanilla & Salt - for flavor
Baking Soda - allows the dough to rise properly
Flour - stabilizes the dough. Make sure to measure it using the spoon and sweep method, so you don't add too much.
Chocolate Chips - white, milk, semi-sweet, or dark are great in these cookie bars. Mint chips would be awesome too.
For the Cream Cheese Filling
Cream Cheese - make sure to set the block out ahead of time, so it is soft and ready to go.
Sugar - granulated sugar sweetens the cheesecake filling and helps smooth out the cream cheese
Egg - binds the ingredients together
Vanilla - gives the cheesecake a good flavor
Flour - thickens it and keeps it from cracking
BRUCREW TIP: Want to save time making these cheesecake cookie bars? Use an 18 ounce roll of pre-made refrigerated cookie dough instead of making your own.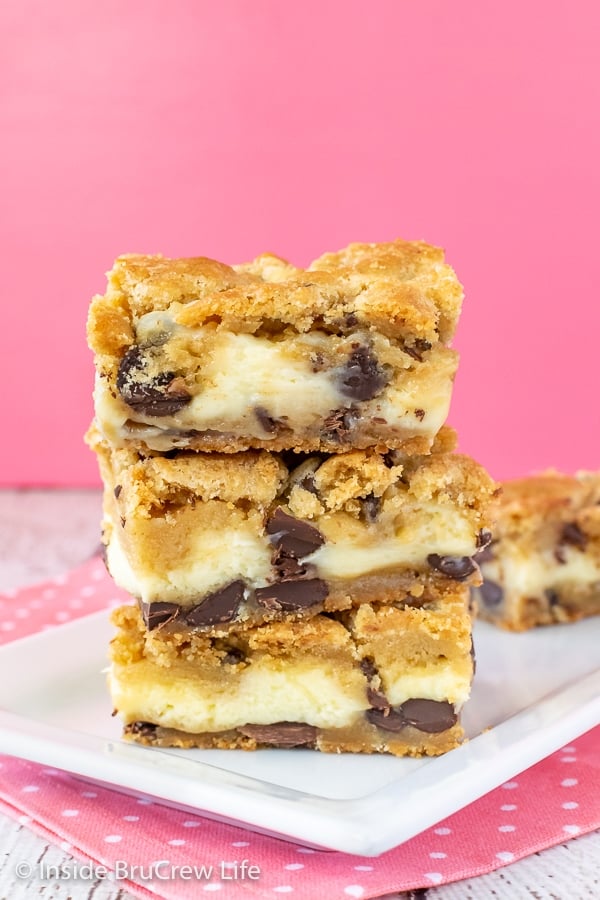 How to make Chocolate Chip Cookie Cheesecake Bars
These cookie dough cookie bars are a great mash up of chocolate chip cookies and creamy cheesecake. The cookie crust makes it easy to hold each piece making this a great picnic or potluck dessert.
Preheat the oven and spray a 8x8 pan with nonstick spray.
Beat the butter, shortening, and sugars until creamy. Add the eggs and vanilla and mix again.
Add the dry ingredients and beat until a soft dough comes together. Stir in chocolate chips.
Press HALF the chocolate chip cookie dough into the prepared pan.
In another bowl beat the cream cheese and sugar until creamy. Add the egg, flour, and vanilla and mix again.
Pour the vanilla cheesecake on top of the cookie dough crust.
Crumble the remaining chocolate chip cookie dough on top of the cheesecake layer and bake.
Let the cream cheese cookie bars cool for an hour on the counter, then refrigerate for 3-4 hours or until chilled all the way through.
Frequently Asked Questions
How do you store these cheesecake cookie bars?
Keep the chocolate chip cheesecake bars in an airtight container in the refrigerator for 4-5 days.
Can you freeze cream cheese cookie bars?
Yes, you can.Freeze individual cheesecake bars in small freezer bags or wrap the whole pan of cookies in plastic wrap and foil. Freeze for 1-2 months. Place in the refrigerator overnight to thaw before serving.

Other Cheesecake Cookie Bars
More Easy Cookie Bars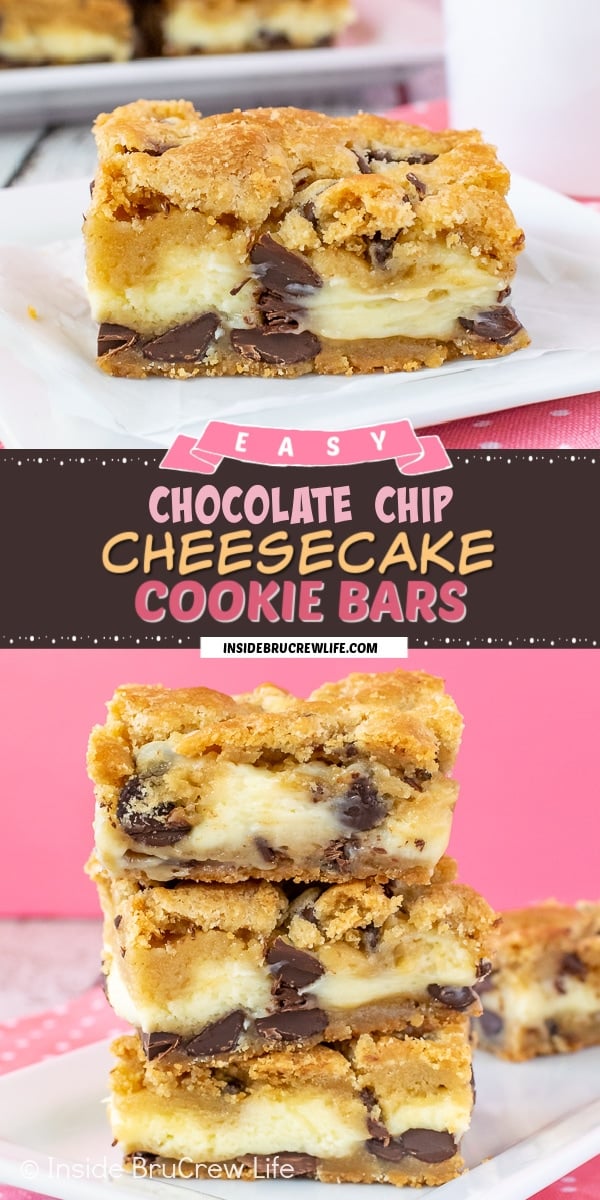 *The post for these Chocolate Chip Cheesecake Bars was originally published in May 2009. The photos were updated June 2017 and the post was republished on February 25, 2019.