These easy Cupcake Milkshakes are a great way to use up extra cupcakes!
My family and I spent all last week
living it up on Table Rock Lake
near Branson, MO.
It was really a boat kind of a week.
We saw a few shows and walked around
one shopping plaza.
But mostly we chilled on the boat,
swam in the lake,
and did some tubing.
(I'll have some funny tube pics for you tomorrow:-)
I did get in the water...
but I have a confession for ya.
I am just as terrified of the lake water
as my 3 and 6 year old nieces!
I just don't vocalize it as much as they did:-)
Come on people...
I have seen Lake Placid!!!!
Who knows WHAT is underneath me
just waiting for the right moment to chomp!
Something about being in a lake that is
over 100 ft. deep in parts
where I couldn't see my feet when in the water...
just freaks me out a bit!!!
I may have missed an entire week of working out,
(LOL! I didn't "miss" it at all:-)
but I worked out my abs each time I got in...
because I basically did a variation of a V sit
with my life vest.
No way was I letting my feet dangle down
for some fish to nibble on!
At one point I actually got in WITHOUT the vest...
I CLUNG to my little floaty raft...
of course then I had to fight off the family members
who knew how freaked out I was by the water.
Not exactly relaxing that day!!!
My idea of being surrounded by liquid...
is to relax with a glass full of this milkshake!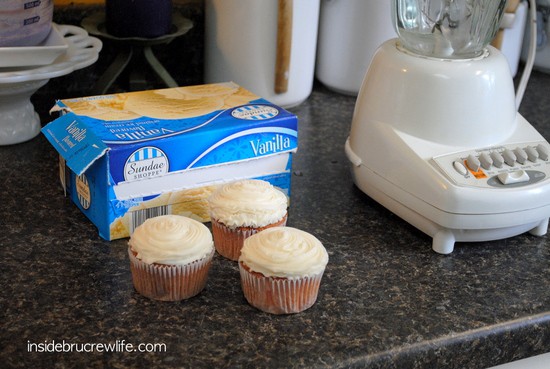 I had a some leftover strawberry cupcakes that had been
sitting on the counter for a couple days.
For some odd reason I didn't cover them,
and they were a wee bit stale.
(no these didn't sit for the entire week we were gone...
they would be past stale then:-)
No one was going to eat them,
but I had some ice cream in the freezer
and thought,
"What the Heck!"
the kids just might like this idea.
Ok, fine,
I might like this idea.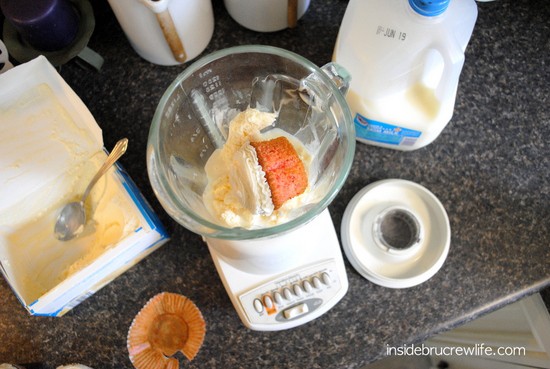 I plopped in a few scoops of ice cream,
poured in some milk,
and threw the whole cupcake in on top.
I don't have any exact measurements for you today.
Just eyeball it.
You really can't mess up milkshakes, can you?
My oldest loved these so much
that he even came up with the idea for calling them
LIQUID CUPCAKES!
You really can taste the cupcake and frosting in these.
Just so you know...
these taste even better when served in a canning jar
with a swirl of Hershey's chocolate!
Don't know why, but I think everything
nowadays is better in a jar!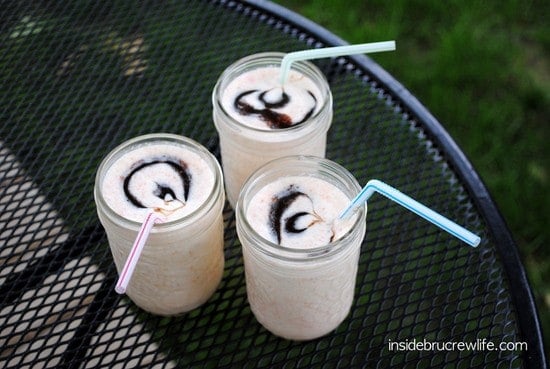 So the next time you have some cupcakes
that are just past the eating stage.
Hold off on throwing them away...
you will want to try these cupcake milkshakes.