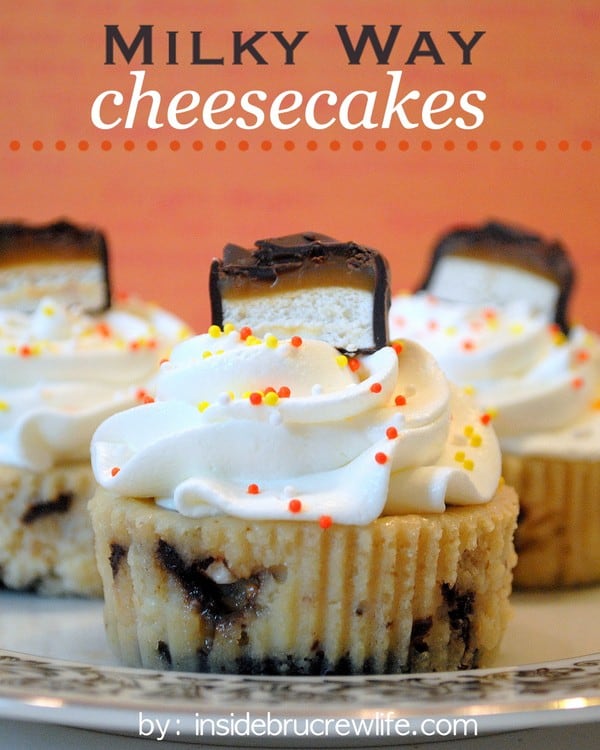 Do you ever have one of those days?
You know the one.
Where you just want to crawl back under the covers
and not emerge until tomorrow.I had one of those "not so horrible, but not so great" days recently.
First I just couldn't get moving fast enough in the morning.
My kids were almost tardy for the very first time.
Then later I opened the "busting at the seams" baking cupboard
and knocked out the sea salt.
It broke and salt went everywhere.I decided it would be better to just take a break after lunch
and rest/read for a while.
A warm cup of coffee sounded good too.
The break was just what I needed to recharge.Then I realized that if I wanted to stop at Sam's Club BEFORE
getting the kids from school, I needed to go now.
The coffee got poured into a travel cup and I headed out the door.I made it about a mile down the road
and started taking a sip of my delicious coffee…
only to find out that I didn't close the lid all the way.
Seriously???Yea, warm coffee now is all over my shirt and my jeans.
AND I was going to run into Sam's Club.
Perfect!It is going to look like I wet myself.Thank goodness we always get too many napkins from restaurants…
they were my saving grace.
I blotted and drove, drove and blotted.
And fortunately the jeans were dry enough to not be noticed…at least that is what I am telling myself:-)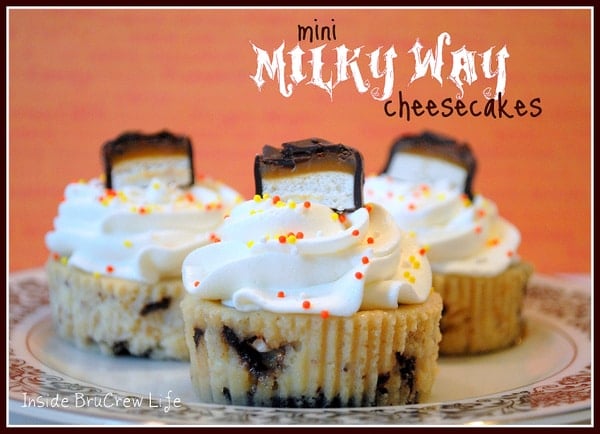 A day like that deserves more cheesecake.
And Milky Way cheesecake
sounds just about perfect.I suggest snagging all the ones that your kids get
in their Halloween buckets so you can make these.Or just go to Target and get a big bag of them for yourself!Either way, you will be thanking me for such
a delicious treat that banishes bad days!!!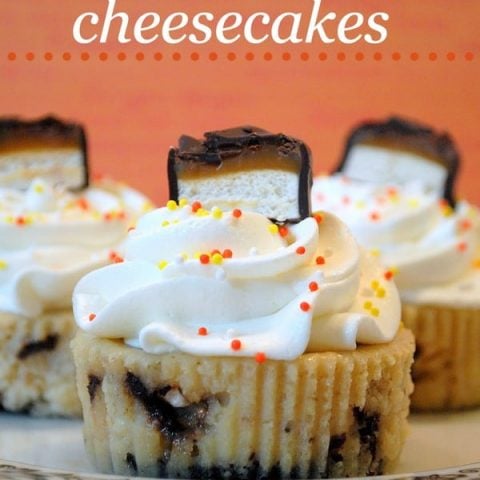 Milky Way Cheesecakes
Caramel cheesecakes filled with Milky Way candy bar chunks.
Ingredients
For the Crust
10 Oreo cookies
2 tablespoons unsalted butter, melted
2 - 8 ounce packages cream cheese, softened
1/2 cup granulated sugar
2 tablespoons sour cream
1 teaspoon vanilla extract
1/4 cup caramel ice cream topping
2 tablespoons all purpose flour
2 large eggs
1 cup chopped Milky Way Midnight bars, extra for garnish
Instructions
Preheat oven to 350 degrees. Line cupcake pan with 12 liners.
Place cookies, cream included, in a food processor. Pulse until they become crumbs. Stir in melted butter.
Evenly spoon crumbs into cupcake liners and press down.
Beat the cream cheese and sugar until creamy.
Add the sour cream, vanilla, caramel topping, and flour and beat again.
Whisk the eggs in a separate bowl. Gently mix the eggs in to the batter until combined.
Stir in the Milky Way candies by hand.
Fill the cupcake liners with the batter. Bake 22-24 minutes.
Cool in pan for about 15 minutes, then remove to wire rack to cool completely. Refrigerate until chilled.
Before serving, top with whipped cream and garnish with extra Milky Way minis.
Nutrition Information:
Yield:

12
Serving Size:

1
Amount Per Serving:
Calories:

349
Total Fat:

21g
Saturated Fat:

12g
Trans Fat:

0g
Unsaturated Fat:

6g
Cholesterol:

77mg
Sodium:

224mg
Carbohydrates:

36g
Fiber:

1g
Sugar:

29g
Protein:

5g
Nutrition facts are an estimate and are not guaranteed to be accurate. If you need special diet advice, please see a registered dietician.