Learn how easy it is to make Homemade Whipped Cream with just three simple ingredients and a few minutes. This recipe for whipped cream is creamy and delicious and will hold up for piping fancy swirls onto cheesecakes, trifles, coffee, and so much more.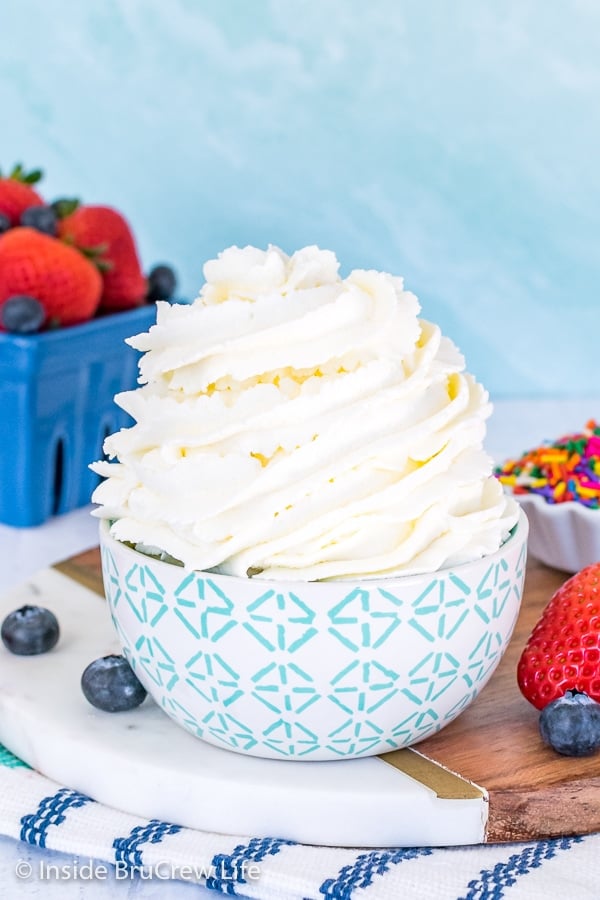 Jump to:
I grew up using and eating store-bought whipping topping because it was convenient. We always had a containers of Cool Whip in our freezer. It was one of those ingredients that I never really thought about making.
In fact, I never realized how easy it was to make your own homemade whipped cream until just a few years ago. We were out of whipped topping, and since there was heavy whipping cream in the fridge I decided to give it a try.
Why You Will Love This
Homemade whipped cream is so easy to make. All you need is a chilled bowl, three ingredients, and about 5 minutes to make whipped cream from scratch.
This easy Cool Whip substitute tastes absolutely amazing and is perfect for adding swirls of goodness to all your favorite desserts.
There is something about eating strawberry shortcake with a big dollop of sweetened whipped cream. Am I right?!?!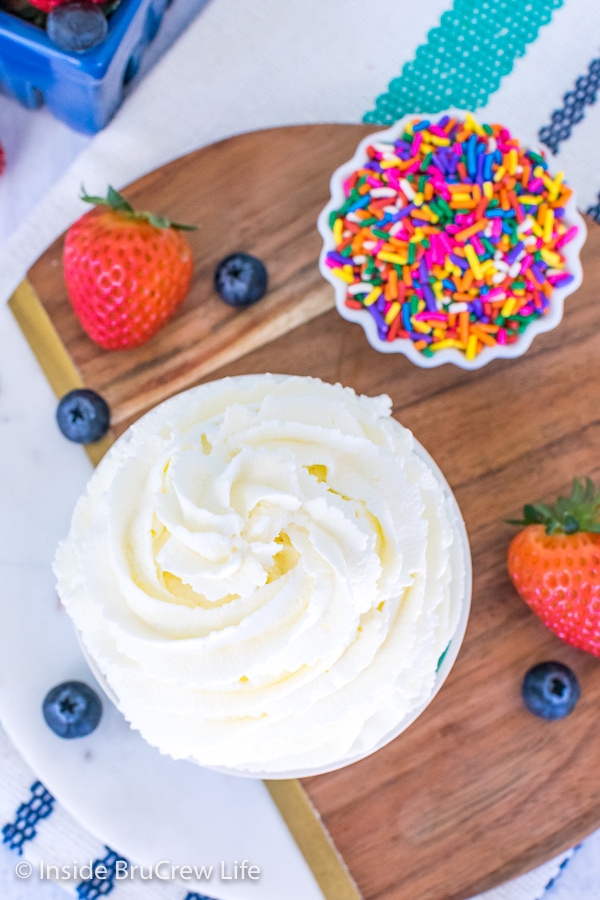 What is whipped cream?
It is exactly what it sounds like. Heavy whipping cream beaten on high speed becomes light and fluffy. Adding sugar and flavorings will sweeten the easy whipped topping.
For a vegan whipped cream, use coconut milk or coconut cream from a can or the aquafaba from a can of chickpeas.
Ingredient Notes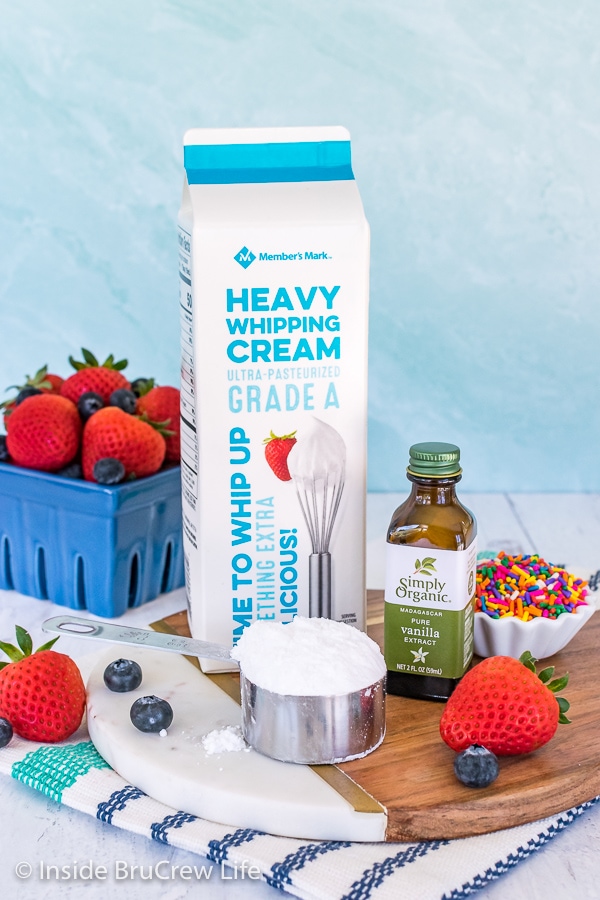 You only need three basic ingredients when you are making this homemade whipped cream recipe. There are no crazy ingredients that you can't pronounce in this recipe.
Heavy Whipping Cream - This has more than 30% fat than regular cream. The higher fat content will whip up faster, and the peaks will hold up longer.
Powdered Sugar - This sugar dissolves easier in the cream. It also has a little bit of cornstarch in it to prevent clumping, so it works well as a stabilizing agent in the whipped cream. Use monkfruit sweetener to make a sugar free whipped cream.
Vanilla Extract - Adds a nice boost of flavor to the classic whipped cream.
BruCrew Tip: Change up the flavor of this three ingredient whipped cream by using different extracts, spices, or liquors.
How to Make Homemade Whipped Cream
This homemade whipped topping whips up in just minutes. It's so easy to do with a stand mixer or electric hand mixer.
Place metal mixing bowl and whisk attachment in the freezer for 15-20 minutes. Using a chilled bowl and metal beater will help the cream whip up faster.
Pour ingredients into chilled bowl and beat on slow speed until the sugar dissolves.
Increase the speed to high and beat until stiff peaks form, 1-2 minutes.
Spoon or pipe onto your favorite dessert. A disposable piping bag fitted with icing tip 1M will let you create bakery style swirls.
BruCrew Tip: Do not over beat the whipped cream. If you beat the cream for too long, it will result in butter.
Whipped Topping Variations
It is so easy to make a flavored whipped cream using this homemade whipped cream recipe. Choose a flavor below and add it to the recipe instead of the vanilla.
Vanilla Bean Whipped Cream - add ½ teaspoon vanilla bean paste
Chocolate Whipped Cream - add 3-4 tablespoons cocoa powder
Expresso Whipped Cream - add 1 teaspoon espresso powder and 1 teaspoon cocoa powder
Cinnamon Whipped Cream - add ½ teaspoon cinnamon
Orange Whipped Cream - add ¾ teaspoon orange extract
Caramel Whipped Cream - add 1 tablespoon caramel ice cream topping
Recipe FAQs
What is the difference in soft, medium, and stiff peaks?
Soft peaks will barely hold a shape when you lift the beater out of the mixture. Medium peaks will have a slight peak that forms then drops as you lift the beater out. Stiff peaks will stay in place when you lift the beat up and out.
How much does it make?
Heavy whipping cream doubles in volume as you whip it. So 1 cup of heavy cream will become about 2 cups of whipped topping.
Will whipped cream hold overnight?
Yes. It can be prepared up to 24 hours ahead of time. The homemade whipped cream will last 3-4 days in the refrigerator if kept in a tightly sealed container or piped onto a dessert.
Why is my whipped cream runny?
Heat can affect the outcome of whipped cream. Make sure your cream is very cold. Using a chilled bowl and whisk attachment will also ensure your heavy cream beats up light and fluffy.

If you mix it too little, the whipped cream will be runny. Mix it too long, and it will make butter.
How do you make whipped cream without heavy cream?
Use a good quality full fat coconut milk or coconut cream. Chill the can in the fridge overnight and then beat the hardened cream with your choice of sweetener into stiff peaks.

Use the liquid from a can of chickpeas, ⅛ teaspoon cream of tartar, and your choice of sweetener. Beat the aquafaba until it is fluffy and creamy.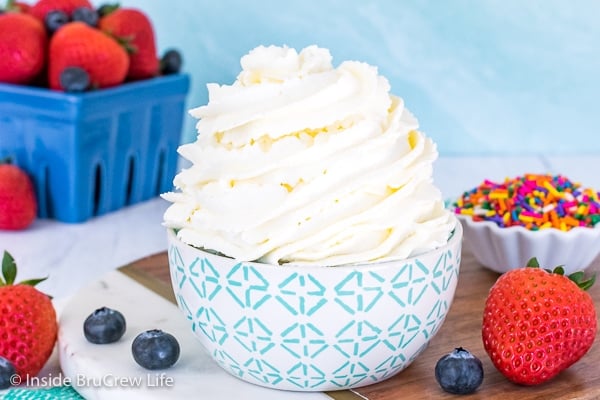 How To Use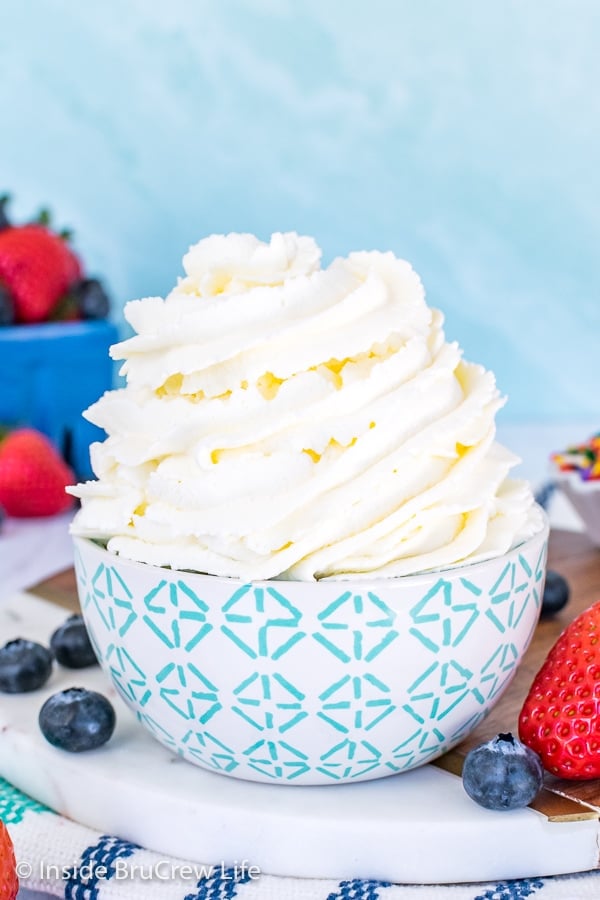 Do you love a recipe you tried from Inside BruCrew Life?
Please leave a 5-star ⭐️ rating and a review in the comments section below.