Easter is kind of sneaking up on me this year.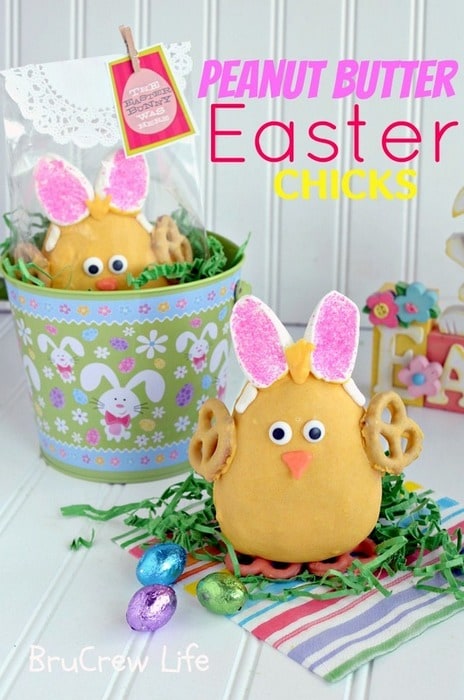 The boxes in the basement labeled Easter are still in there. I have a feeling they will end up staying there this year. Too much going on in the house right now.
I better at least dig the baskets out, or the kids might riot.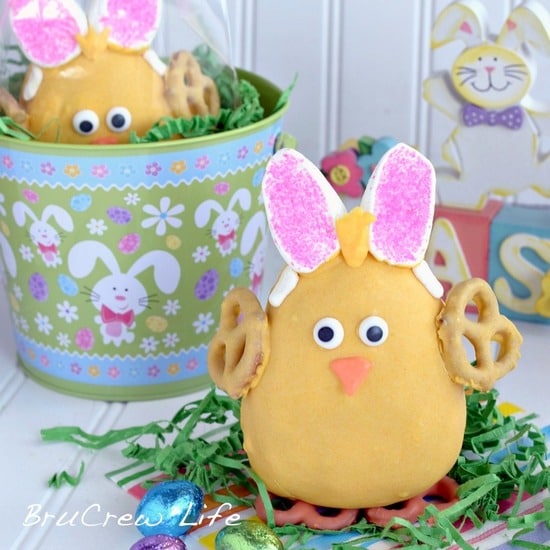 A couple weeks ago I was leaving Walmart and saw a poster advertising the movie Hop.
Our kids are deprived because we wouldn't take them last year to see it. We don't mind watching silly movies. Tt is just paying an arm and a leg to see them that I mind.
So we told them when it comes to redbox we could rent it. $1 for silly movies is much more doable!!!
Anyway, on the poster was an egg shaped chick wearing bunny ears!!! My sister actually pointed it out to me and said that I should make something like that this year.
Fast forward 2 1/2 weeks and I finally made them. Let's just say, they ALMOST didn't happen. I blame it on trying to do these after 11 p.m.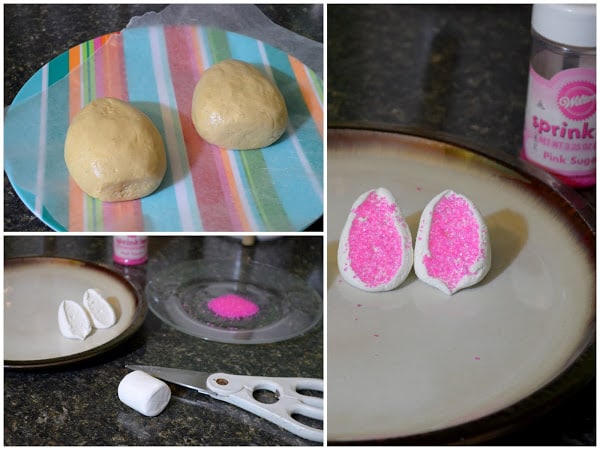 The peanut butter filling worked perfectly. The marshmallow ears were super easy to do.
It was the chocolate coating that gave me grief!!! (It isn't good to hurry when working with chocolate.)
I heated it up too much and then the chocolate was clumpy and just wouldn't smooth out, even with shortening added. GGGRRRR!!!! Finally I gave up on that batch and tossed it before getting too mad.
I still had a bag of CandiQuik white chocolate in the cupboard. This time I got smarter and heated it up slowly over low heat. Then I added some shortening and Wilton gel color, and was able to cover the peanut butter eggs.
Then for all the fun details like googly eyes, beaks, and chocolate covered pretzel wings!!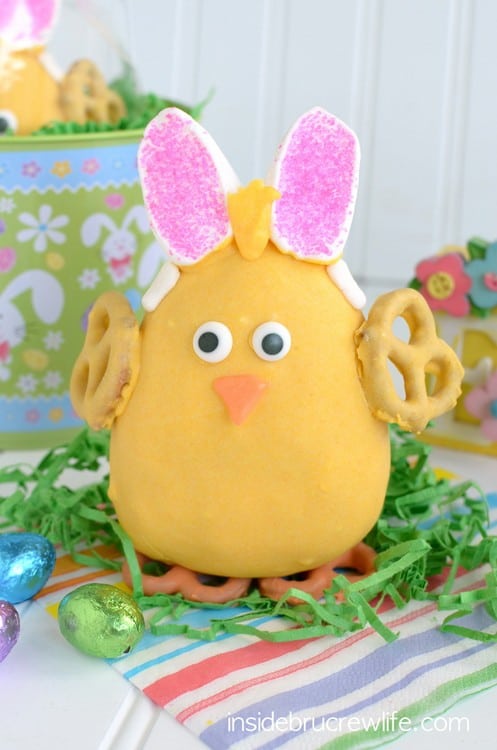 But really the best part of these chicks is cutting into them and gobbling them down!!!
With the peanut butter filling I made 2 chicks. They are about 4 1/2 inches tall, 3 inches wide, and 1 3/4 inches thick, so I don't recommend eating a whole chick in one sitting!
Spread out the Peanut Butter Easter Chicks wealth!!!
In fact, I would recommend saving one for yourself/family and then packing the other one up for someone special.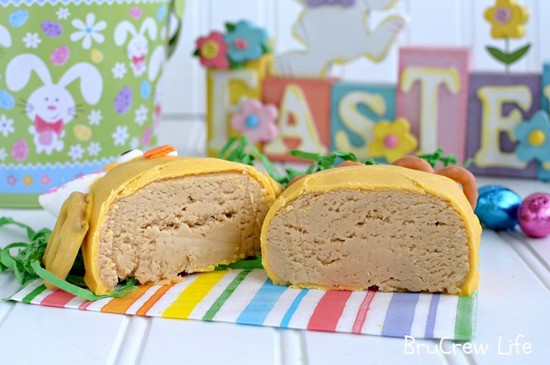 These are the perfect little gifts. Put one chick in a plastic treat bag.
Top it with a doily that is accented with a sticker, and put it into a grass lined easter basket from the $ Tree. (I got the clear treat bags and small doilies from Michaels) (the googly eyes came from there too)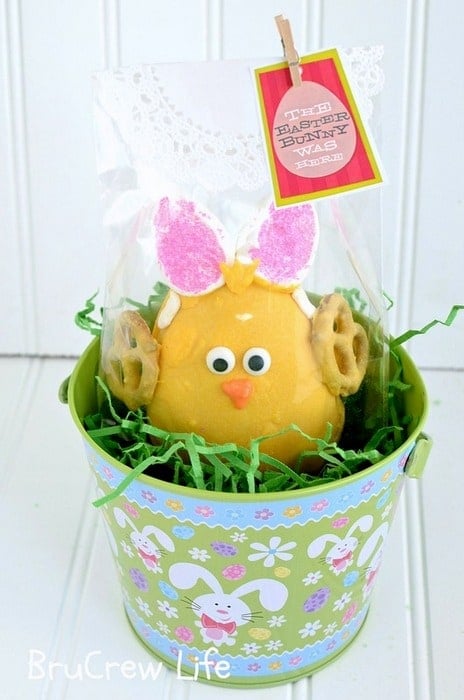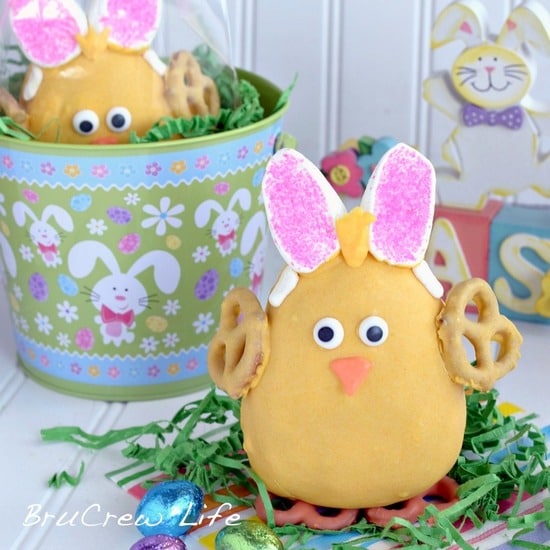 Peanut Butter eggs decorated to look like a chick with bunny ears
Ingredients
6 tbsp. salted butter, softened
1/2 c. peanut butter
1/4 c. marshmallow cream
2 c. powdered sugar
1/2 tsp. vanilla
1/2 package vanilla candiquik, melted
2 tsp. shortening
yellow gel food coloring
1/4 c. orange candy melts
2 large marshmallows
pink sprinkles
8 mini twist pretzels
4 googly eyes
2 mini marshmallows
Instructions
In mixing bowl, cream butter, vanilla, peanut butter, and marshmallow cream until light and fluffy. Slowly beat in the sugar. Shape into 2 large eggs. Place on wax paper and refrigerate.
Melt orange candy melts in microwave for 30 seconds. Stir until smooth. Dip 4 pretzels in the orange chocolate. Use a fork to place on wax paper to set up. Scoop the rest of the orange chocolate into a plastic baggie. Cut the end off and carefully pipe 2 orange triangles for beaks. Set the pretzels and beaks aside.
In a small saucepan over low heat, melt the vanilla candiquik. Stir until smooth. Stir in shortening and yellow gel color. Add the gel color slowly until you get the shade of yellow that you like. Pour the melted chocolate into a shallow bowl. Place one peanut butter egg into the chocolate and spoon the chocolate over the top until coated. Using a small spatula, remove the peanut butter egg and tap off the excess chocolate. Place on wax paper lined plate. Refrigerate until set. Dip 4 pretzels in the yellow chocolate and let set. Place a spoonful of yellow chocolate into a plastic bag and cut the tip off. Pipe a small patch of yellow hair.
While the chocolate is setting, cut the marshmallow in half diagonally and dip the sticky edge into pink sprinkles. Place 2 orange pretzels side by side. Add a dab of yellow chocolate on the bottom of the egg and stand it up on the pretzels. Use a toothpick to add chocolate to the backs of the googly eyes and place on chicks face. Do the same for the beak. Dip the bottoms of the marshmallow ears in the yellow chocolate and set on top of the egg. Hold in place for a few seconds so they don't slide off. Dip the end of the patch of yellow hair into the yellow chocolate and put in between the ears. Cut 2 small pieces off the mini marshmallows and add to the sides of the chick so it looks like a headband. Dip the edges of the yellow pretzels in the yellow chocolate and hold on the sides of the egg for a few seconds. Keep refrigerated if you aren't going to eat within a day or two.
https://insidebrucrewlife.com/peanut-butter-easter-chicks/
Copyright Inside BruCrew Life