Little desserts with a big impact are perfect for ending a dinner meal or taking to a party.  These Peanut Butter Marshmallow Brownie Cups will steal the show no matter where you eat them.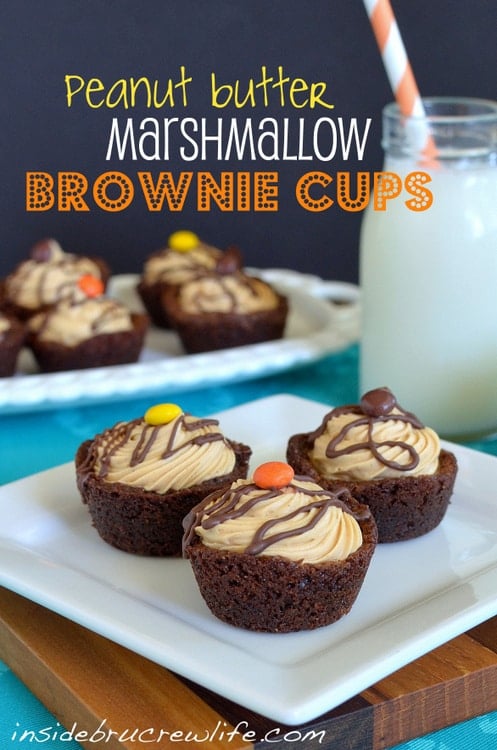 Lately I have realized that I am easily distracted or disorganized…or both. I have been losing receipts and putting things down then forgetting where they are.
Those are the times I storm around the house blaming one of the kids for moving it. But then I find it, and realize that I am the one who moved it.
The thing is our house isn't that big, and I don't have huge messes everywhere. Yes, there are some things that could be a little better organized.
It is just this mom brain of mine that needs some more help.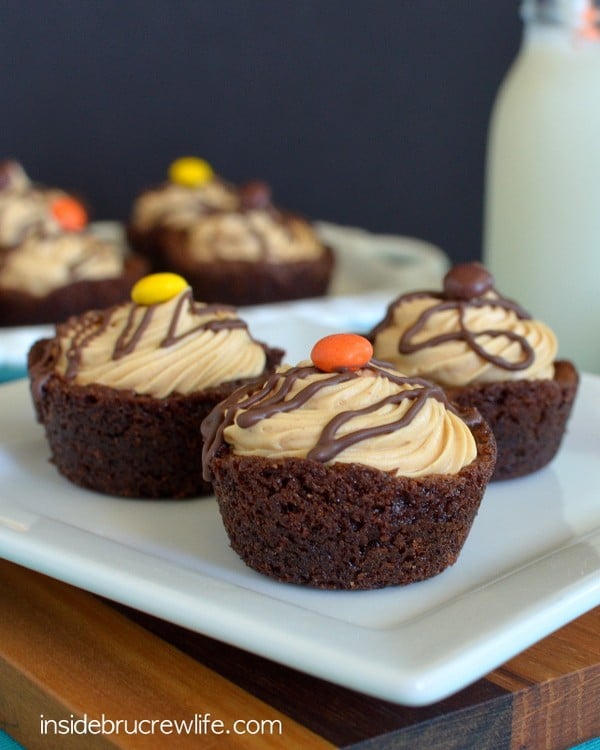 Just a few weeks ago, we were coming home from somewhere. I don't remember…I have forgotten that already.
Anyway, my husband had some cash from something and he handed it to me. Joking around he laughed and said "Can I trust you with this?" It wasn't a lot.
But it's money.  I can be trusted with that always.  Wink, wink!!!
Well, I put it in a pocket in my purse that I don't ever put money in. Don't ask.  I don't know why either.
Fast forward a few days and my husband wants the money for something. Do I remember where I put it?  Of course not.
I search my purse, my wallet, my jeans pocket…the van. No money anywhere. It's gone.  Disappeared. Vanished.
About a week later, I was digging in my purse.  Yes, the very same one I searched earlier. Any guesses what I found in the inside pocket, under some missing receipts. The money.
It was there the whole time…probably laughing at me.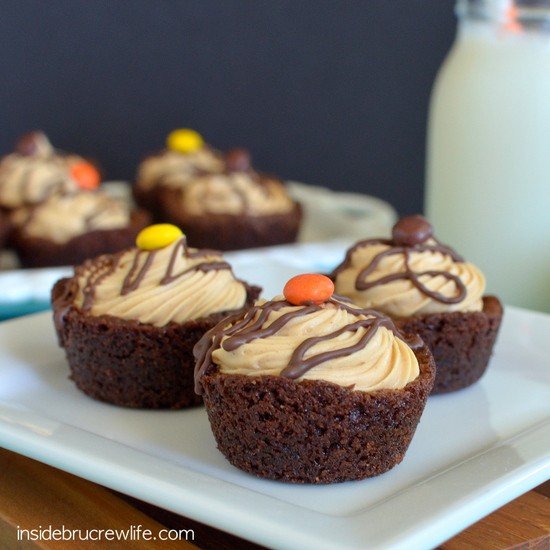 I can tell you one thing that I will never lose!!! Brownies.
Especially brownies with a fluffy peanut butter nougat filling, oh, and a hidden marshmallow center!!!
You didn't think I would forget to tell you about the center, did you???
Of course not.  These were way too good to forget about. Plus, I only have one refrigerator so they were kind of hard to lose.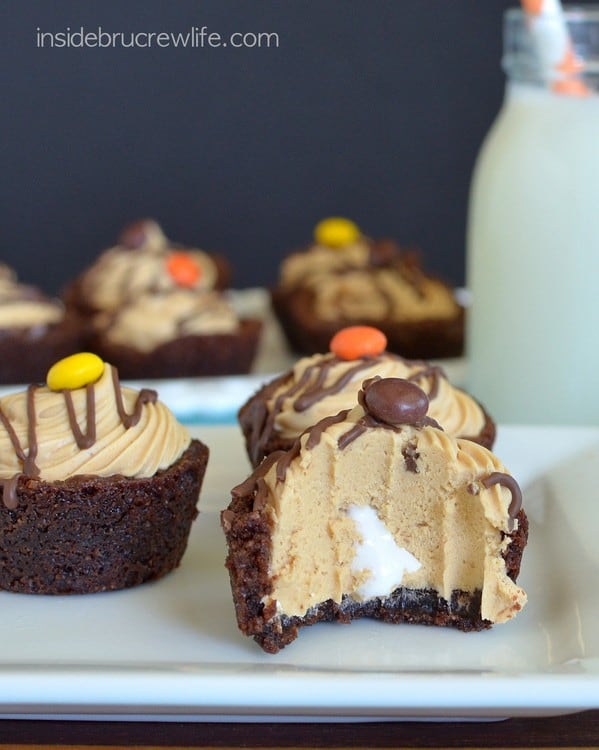 Don't make these unless you have somewhere to take them or someone to give them too! They are super addicting!!!
I kinda really wish I had lost them…my jeans wish I had too!
If you are interested in more mini brownie ideas, here are few recipes you may enjoy:
Yield: 48 mini brownie cups
Peanut Butter Marshmallow Brownie Cups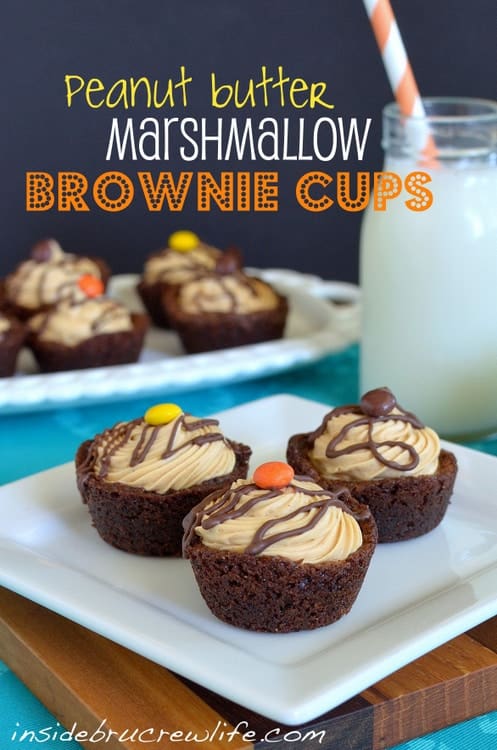 Brownie cups that have a hidden marshmallow cream center and topped with a peanut butter mousse are the perfect after dinner dessert.
Ingredients
1 box brownie mix (for 9×13 pan)
1/2 cup marshmallow cream
1 2/3 cups peanut butter chips (10 oz. bag, Reese's)
1 1/2 teaspoons shortening, divided
1 container Cool Whip (8 oz.)
1/4 cups chocolate chips
mini Reese's Pieces
Instructions
Prepare the brownie mix according to the 2 egg direction on the back of the box. Spoon 1 teaspoon into greased mini muffin tins.(I like to use Baker's Joy to grease the pan.) Bake for 12 minutes at 350*. Let the brownies cool in the pan for 2 minutes, then use a wooden tart shaper or spoon to push the centers in. Let cool 2 more minutes in the pan, then remove to wire rack and cool completely.
In a small sauce pan over low heat, melt the peanut butter chips and 1 teaspoon shortening. Stir until completely smooth. Beat with mixer for 1 minute. Add the Cool Whip and beat one more minute.
Spoon a small amount of marshmallow cream into each brownie cup. Spoon the whipped peanut butter mixture into a piping bag or plastic bag and swirl it on top of the marshmallow. Refrigerate until set.
In a microwave safe bowl, heat the chocolate chips and 1/2 tsp. shortening for 20 seconds. Stir and repeat until melted and smooth. Place in a plastic bag and cut the tip off. Drizzle over brownie cups and top with a mini Reese's pieces. Keep refrigerated. Makes 48 mini brownies.
Notes
I use a butter knife to go around the outside of the brownie cup, making it easier to remove from the pan.