Every Fall I get the urge…
the urge to make some sort of "butter".
The smell of it cooking in my kitchen
just makes it officially fall…at least in my world.This year was no different.
I was at the store looking at all the fruit
and the plums just called out to me.Honest I heard little voices saying
what yummy butter they would make.
I couldn't resist the urge to buy some right then and there.
You know what?
The voices were right.
Plum Butter is so yummy!
And my house smelled AWESOME the entire day!
Love that!
So here is the recipe that I used from…
what I like best about it is that it doesn't make a ton!
Only 3 small jars.
I knew those empty jelly jars that I saved would come in handy.
(my hubby laughs at me for saving all sorts of jars and boxes…but I showed him… this time anyway)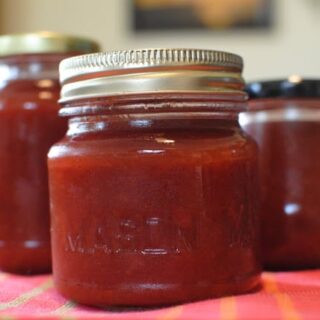 Easy Plum Butter
Ingredients
1 1/2 pounds plums (12 large)
2 cups sugar
1 teaspoon cinnamon
1/2 teaspoon nutmeg
1/4 teaspoon ground cloves
1/2 teaspoon vanilla extract
Instructions
Stir diced plums and 1/2 cup sugar in a large pot. Heat over low heat until the juices come out of the fruit.

Bring the mixture to a boil. Reduce heat and cook 5 minutes or until fruit is tender.

Pour the mixture into blender. Chop on low speed, 2 seconds. Return to pot; add remaining sugar and spices. Bring to boil.

Reduce heat, cover loosely, and simmer for 20-30 minutes or until your desired thickness.

Remove from heat and stir in vanilla. Cool slightly before spooning into 3 - 1/2 pint jars. Refrigerate for 2-3 weeks. Use 2 Tablespoons on toast or pastries.
Nutrition Information:
Yield:

32
Serving Size:

1
Amount Per Serving:
Calories:

59
Total Fat:

0g
Saturated Fat:

0g
Trans Fat:

0g
Unsaturated Fat:

0g
Cholesterol:

0mg
Sodium:

0mg
Carbohydrates:

15g
Fiber:

0g
Sugar:

15g
Protein:

0g
Now to find some cookie or cake recipes to use some
of this "butter" goodness in.