Avocados and tomatoes go together and make a wonderful Spicy Guacamole that is great with chips.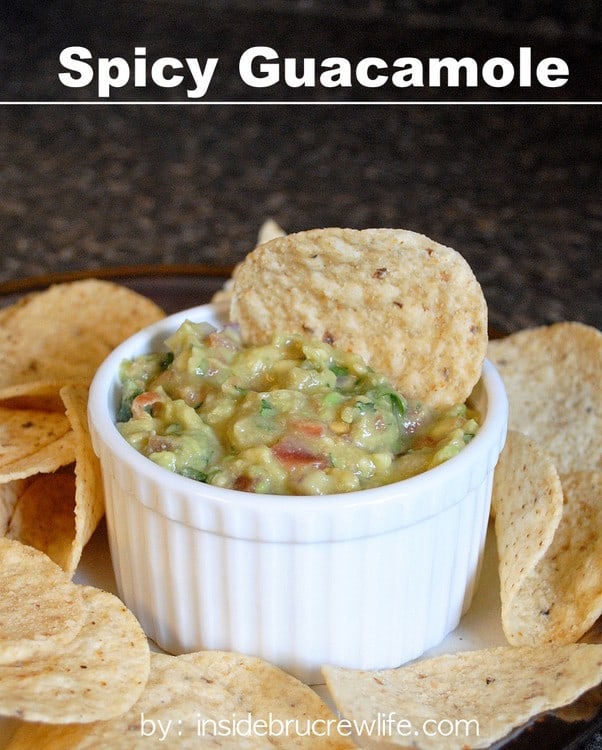 + My sweet hubby made some guacamole for taco night because I was craving it...we all love us some of this yummy green stuff!!! Now that the kids like it too, I have to fight them off!!! Usually I just ban them from the kitchen until dinner time, just so I can have first dibs on the bowl:-) I could seriously just about eat my weight in this! If you need to make something for Cinco de Mayo, maybe this is just what the doctor ordered.
+ I got to go on a zoo field trip with a bunch of rowdy 1st graders. Isn't the little curly headed boy next to me the cutest?? (I might be slightly partial.)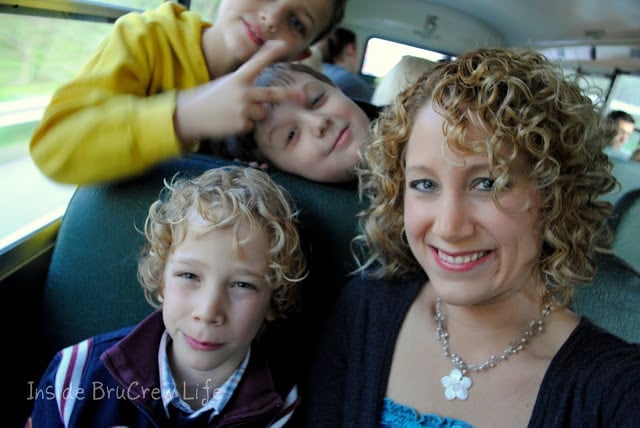 - My oldest was able to go to his first youth group activity:-( I don't think I like having a child that old.) It seems like just yesterday he was little and carrying around his dragon by the neck. I kinda miss those days. Maybe I shouldn't have wished away their childhood so quickly!!!
+ Our church held its annual missions garage sale. We purged 9 large laundry baskets full of clothes, toys, small appliances, candle holders, and books from our house. I love that we were able to give it to the church for a such a wonderful cause. They were able to raise over $3500 for the Haiti Christmas bags that we send each year. It is so great to be a part of a church family that wants to be a big part in missions! This fall I have the opportunity to go with my husband on a team to Haiti. I am nervous and excited all in one! I have a feeling it is going to be a real eye opener for me.
+ We scored a huge pile of old food magazines (I can't wait to find some new recipes to try) and a ping pong table from the garage sale. I have to brag just a little...I was able to beat my hubby in the first official game in our house. (I am still not sure how I did it...but I am not going to question my winner status:-)
- I was fixing my daughter's awana grand prix car on Friday night. Her car was shaped like a cheesecake wedge with a cotton ball for whipped cream. I squeezed out some glue and plopped it down on the chocolate felt...only to see a huge glob of glue run out the side. My first instinct was to swipe it away with my finger. (insert mental picture of me jumping around trying to rub it off my hands) HUGE mistake!!! The glue gun had been plugged in for over an hour and oh boy did it ever hurt! I was so worried about ruining her car, that I didn't even think about how it was going to hurt.
+ All three of our kids did awesome in the Awana Grand Prix race. Each year we give the kids the choice of doing a creative car or trying to make a fast car. Lucky for us...they always choose creative. We can do creative...fast, not so much. We try but the cars just have a mind of their own and don't want to speed!!! But they were able to take 2 first place trophies for design and a 1 second place design trophy. The best thing about these cars is that they came up with the designs on their own this year...we just had to help them execute them:-) It is hard to see the cars, but there is a speeding bullet from Mario Kart, a piece of cheesecake, and a black crow.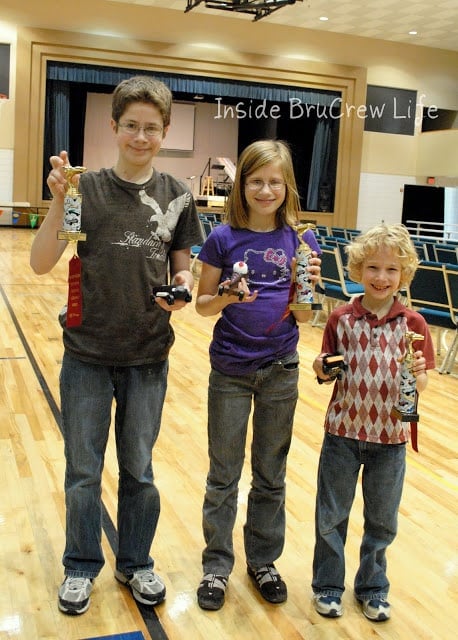 - I only made it to Friday afternoon doing the sugar free thing. I was really hoping to make it to Saturday. My personal record to beat is 5 ½ days...that is if I try it again. I really do enjoy eating sugary substances, but with summer vacations and days at the pool in the very near future, I suppose I should limit it to smallish doses.
+ The handing of the lawn mower baton was transferred this weekend. My hubby decided that if our oldest is old enough for youth group activities, then he is old enough to mow the yard too. He has to earn his keep and money somehow:-) Can you tell he wasn't too willing for the pictures? Hey, it is almost Mother's Day, so he had to oblige!!! And we got have the windows open all day and smell that fresh cut grass! Yea for spring!!!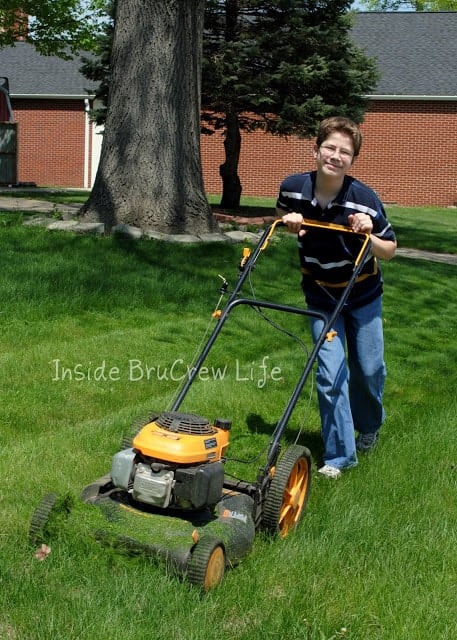 - I didn't keep track of how much dairy my daughter consumed last week and it caught up with her last night. She seems to only be able to handle milk and cheese in small doses. If she has too much it cause stomach aches and the occasion trip to the porcelain throne in the middle of the night. I was adding up what she ate and she had milk for school lunch one day, I made a cheesy pasta bake one night, and then they ate pizza Friday, Saturday, and Sunday. Not the best for her poor stomach. Anyone else struggle from this? I am looking for tips to help her out with it.