These Reindeer Snack Cakes are an easy and fun treat for any and all holiday parties. Kids of all ages will love them.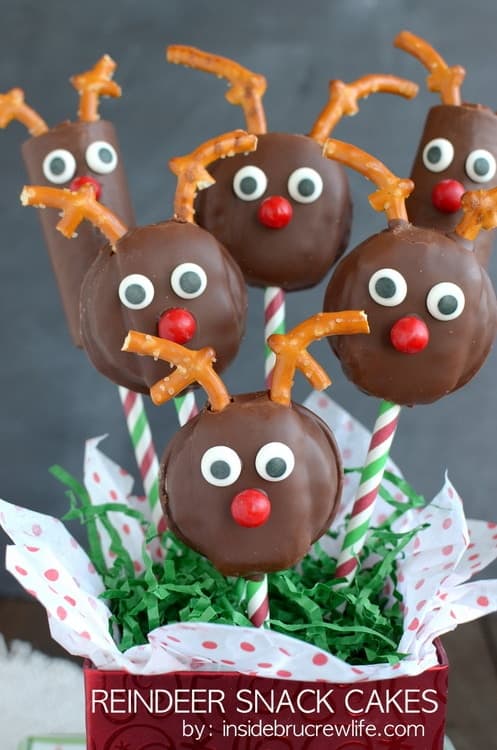 I just couldn't pass up the opportunity to make a fun holiday treat this year.
Reindeer inspired treats have been following me everywhere I go...on pinterest, magazines, and TV. I took it as a sign that I needed to jump on board and create my own fun version. Now really there isn't anything different about mine than anything I have seen. Googly eyes...check. Red nose...check. Pretzel antlers...check. Yup, it's kind of the same thing everywhere you look.
My little twist was to use pre-packaged snack cakes for the head. I wanted something that was already dipped in chocolate, so I didn't have to do it. This is an easy treat people. So easy the kids could probably do it with their eyes closed.
Only I don't recommend that if they are anything like my boys. They were using the toothpicks as weapons instead of dipping. They also were giving the reindeer a lot more eyes than two. Boys!!!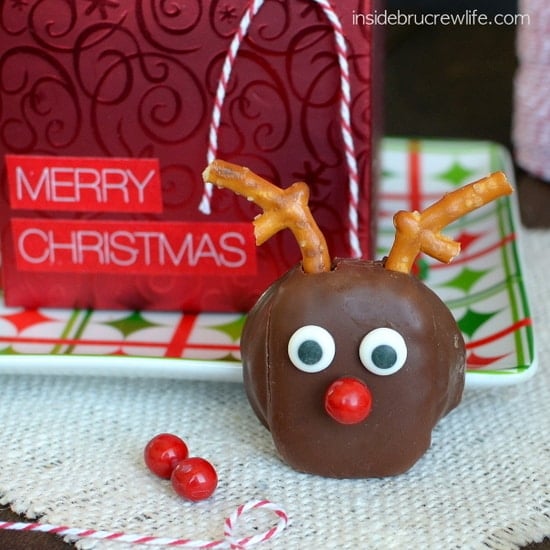 My first thought in making these reindeer was to use Reese's peanut butter cups. The face worked just fine. They were looking so cute, but then we started to add the antlers and they fell apart. So back to the drawing board...well, actually back to the store the next day.
I started looking for Moon Pies because I thought those would be perfect cookie to hold the antlers in place. After searching three stores, I called it quits on the moon pies, and started looking for another cookie that would work. I walked every aisle in the store and ended up in the snack cake aisle. Score! I found Swiss Cake Rolls and Tastykake Peanut Butter Kandy Kakes . I brought home a box of each to test.
The Kandy Kakes were my favorite for making the reindeer faces. The cake rolls were cute for another shape, but they were very flimsy. The Kakes were much sturdier and held up to us pushing and shoving things into them.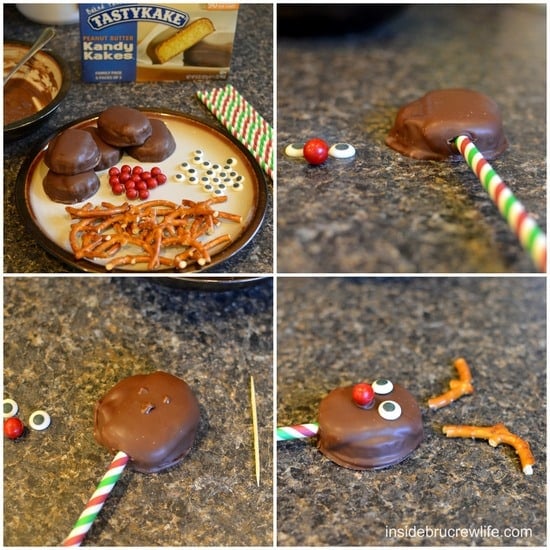 I had leftover candy eyes
from Halloween, but you can still find more at Michaels or Hobby Lobby in the cake decorating aisle. Go ahead and buy the bottle...you will find ways to use them up. I also had Sixlets in my baking cupboard, and I realized that the round shape worked perfect for a reindeer nose. A little bit of melting chocolate holds the eyes and nose in place.
Fun colored straws are not totally necessary, but food on a stick is just so much cuter. Dip the end of the straws in the melted chocolate and gently push into the cookie. Do it gently so you don't go through the other end or the front of the cookie. No reindeer casualties, please.
The last step is to add some antlers. I broke a bunch of pretzels into pieces to find the right shape I was looking for. You can really just use any piece of pretzel...I'm just kind of particular like that.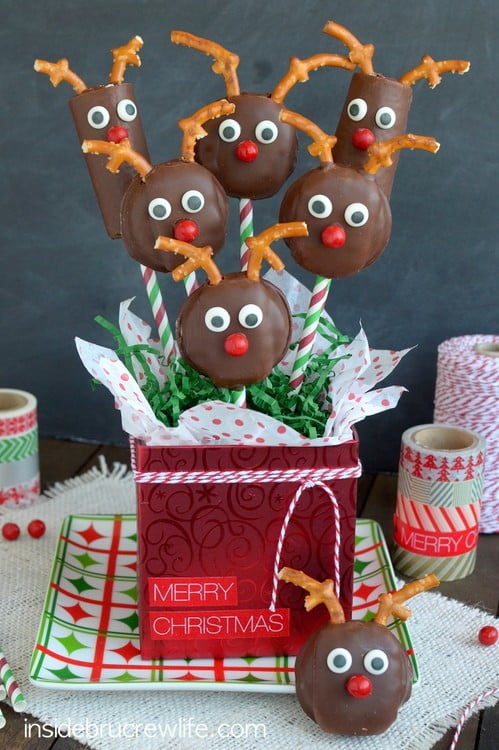 If you want to give these cute reindeer snack cakes as a gift, use a piece of floral foam and a cute decorated box.
I found the red box, tissue paper, and foam at the Dollar Tree. I added the twine and washi tape just to amp it up a little more.
Just be careful carrying your bouquet...mine ended up a little back heavy because there were more reindeer in the back of the box. It still stood up just fine on my counter though.
This one went to my hair dresser to say thank you for getting me in for a hair cut and color on such short notice. I knew her kids would adore it.
Aren't these just the cutest little reindeer around? Being so easy to put together definitely makes them even cuter. I have a feeling we will be making more reindeer snack cakes next week for school Christmas parties...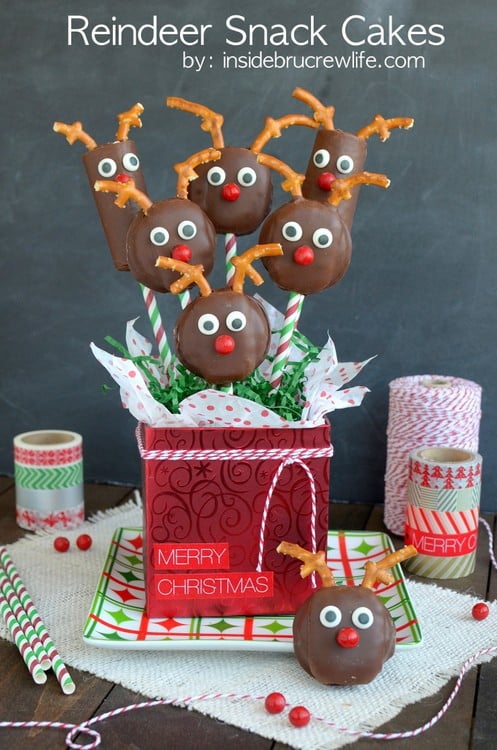 Stay up to date on all the BruCrew baking here:
FACEBOOK | PINTEREST | GOOGLE+ | TWITTER | INSTAGRAM | BLOGLOVIN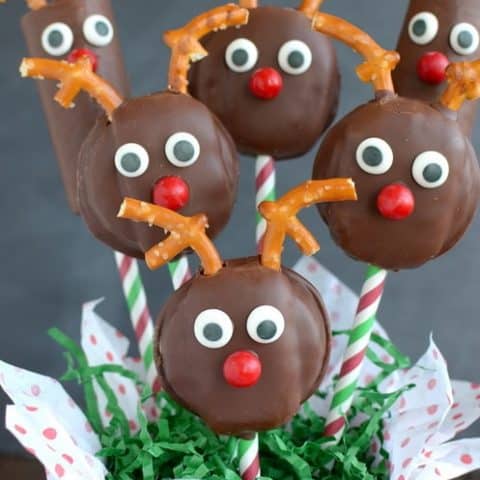 Reindeer Snack Cakes
Candy and pretzels decorate these snack cakes into a fun reindeer treat that is perfect for any holiday party.
Ingredients
chocolate covered snack cakes (TastyKake Peanut Butter Kandy Kakes)
paper straws
¼ cup chocolate melts
candy eyeballs
red Sixlets
pretzel pieces
Instructions
Melt the chocolate according to the package directions. Dip a toothpick in the chocolate and use it to attach the Sixlets and candy eyes to the front of the snack cake.
Dip the end of the straw in the melted chocolate. Gently push it into the center of the cookie. You can use a sharp knife to make a slit in the chocolate first if needed.
Press the pretzel pieces into the top of the snack cake to make holes. Remove and dip the ends of the pretzels into the melted chocolate. Place back into the antler holes.
Store in a sealed container. You can make as many or as few of these as you like.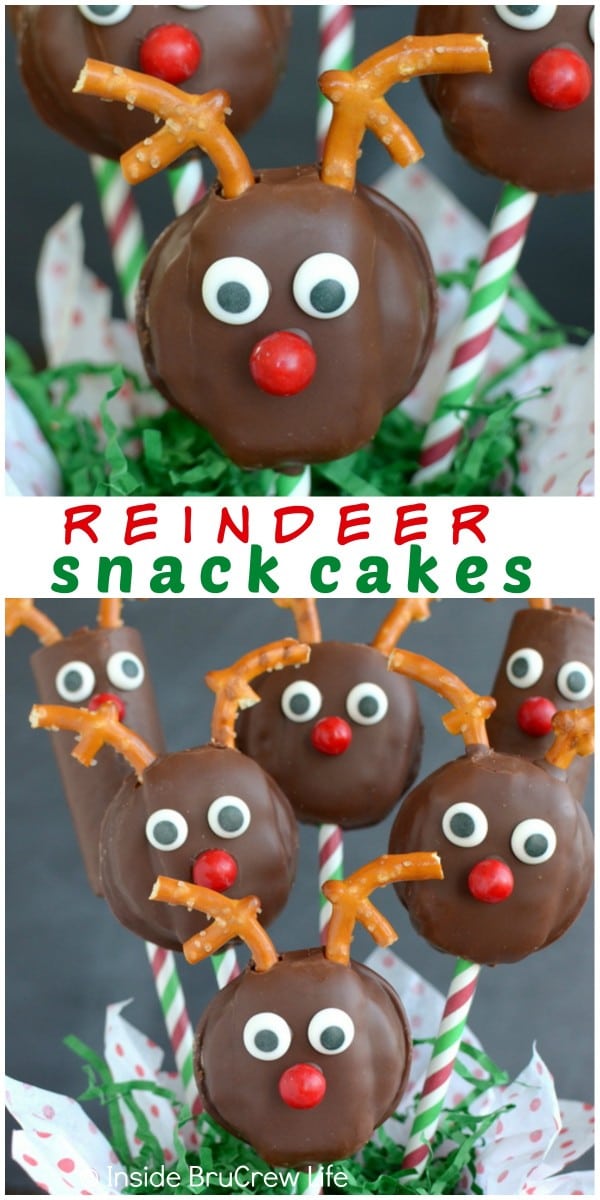 *This post contains affiliate links. Inside BruCrew Life receives a very small percentage of sales made through these links. Thank you for letting us share products and brands we use and love.