Fill your freezer with a pan of this Funfetti Cookie Dough Ice Cream today. This easy no churn ice cream is a great dessert to enjoy on a hot summer day. No machine needed.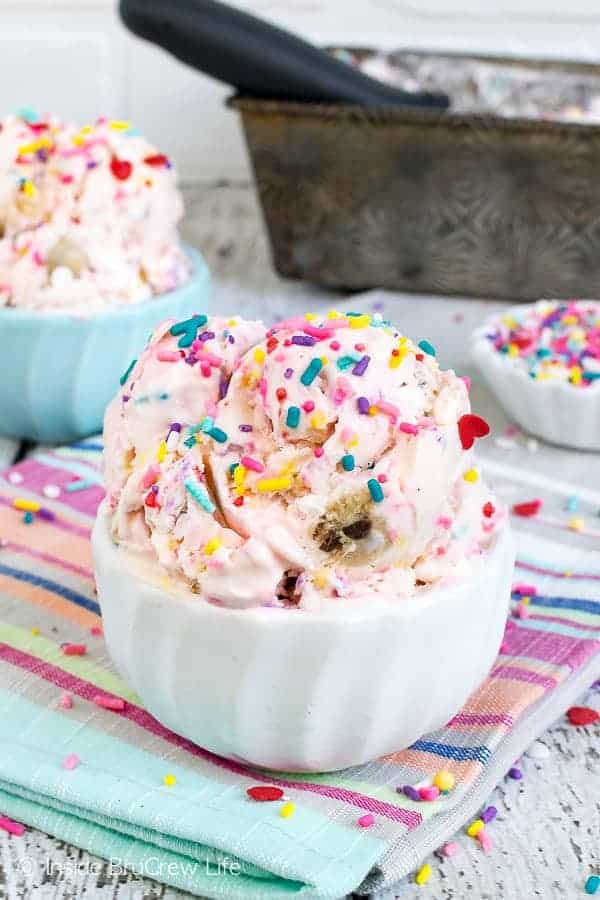 Want to know a crazy secret? Growing up I didn't like ice cream that much. I liked the flavor and the sweetness, but I just couldn't get past the cold sensation on my teeth. So, I usually would pass on a bowl of ice cream whenever we had it for dessert.
Of course, I never passed on the pudding pops that my Grandpa always had stocked in his freezer for my sisters, brother, and me. Those memories were the inspiration behind these Caramel Frappuccino Pudding Pops that I made last summer. I really do need to make another version soon.
As I got older, I finally got past the craziness of not eating ice cream. And now I enjoy a big scoop of Brownie Batter Coffee Ice Cream on top of a warm Homemade Chocolate Chip Brownies. Every once in a while, of course.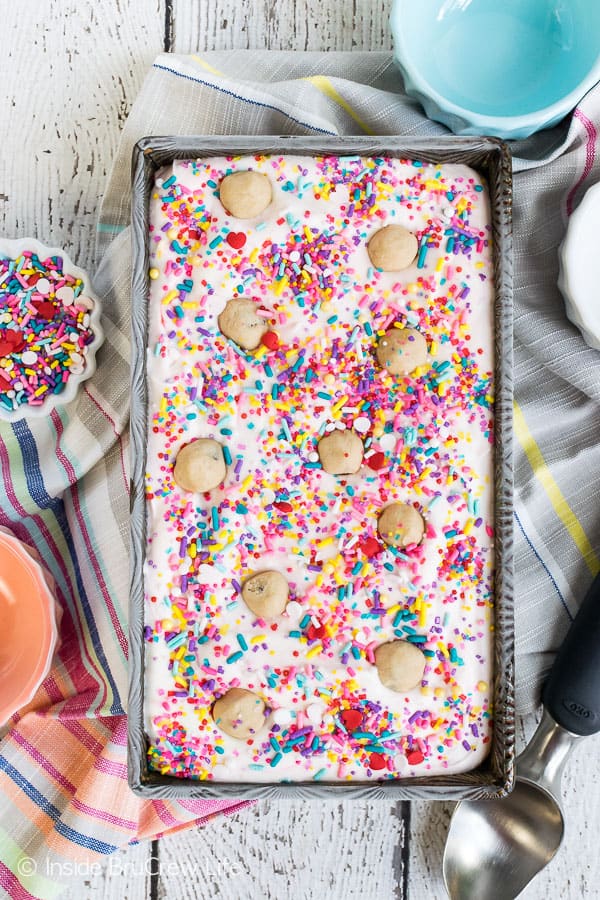 No Churn Ice Cream
There are two different ways to make homemade ice cream. The old fashioned ice cream way which starts with an egg custard that gets churned or the no churn ice cream way that doesn't use a machine.
Making easy no churn ice cream from just a few ingredients is one of my favorite kitchen hacks. The base for every flavor combination you can think of comes from just three ingredients.
Heavy whipping cream, sweetened condensed milk, and vanilla extract is all you need to create a simple no churn vanilla ice cream. Of course, I always add a block of cream cheese to the mixture too. I just like the taste and texture a little bit more this way.
Can you really make ice cream from heavy cream? Yup. Beat it until stiff peaks form, then stir in the milk and flavorings gently. Freeze the mixture in a container for a few hours or overnight before digging in.
To change up the ice cream, you can stir in your favorite ice cream mix-ins before you freeze the mixture.
This easy no churn ice cream is also great for using in cakes and pies. This Chubby Hubby Ice Cream Pie was a huge hit when we made it earlier this summer.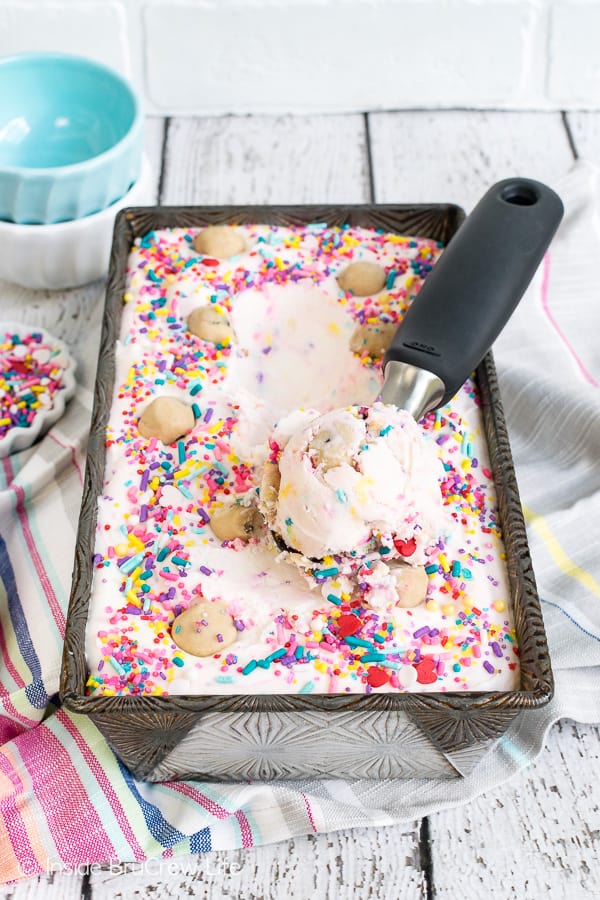 Luckily our kids did not inherit my strange ice cream phobia. They love when we have a few different flavors of ice cream in the freezer.
Plain vanilla ice cream is fine with them, but I know all three of them would be raiding the pantry for hot fudge, sprinkles, and cookies to add to the top of their bowls in a hurry.
Making Flavored Ice Cream
There is no wrong answer when it comes to ice cream mix-ins. It's the perfect way for everyone to enjoy their favorite flavor. Make a batch of vanilla ice cream and then set up a DIY ice cream bar.
Set out bowls of cookies, candies, fruit, sprinkles, graham crackers, fudge, popcorn, pretzels, marshmallows, cookie dough bites, cake, and shredded coconut and watch everyone go to town making fun combos.
You can also mix all these different mix ins into the vanilla ice cream before you freeze it. I recommend having these paper containers with lids to freeze the mixture in. Just make sure you label each container with your ice cream flavor, so you know what you are grabbing later.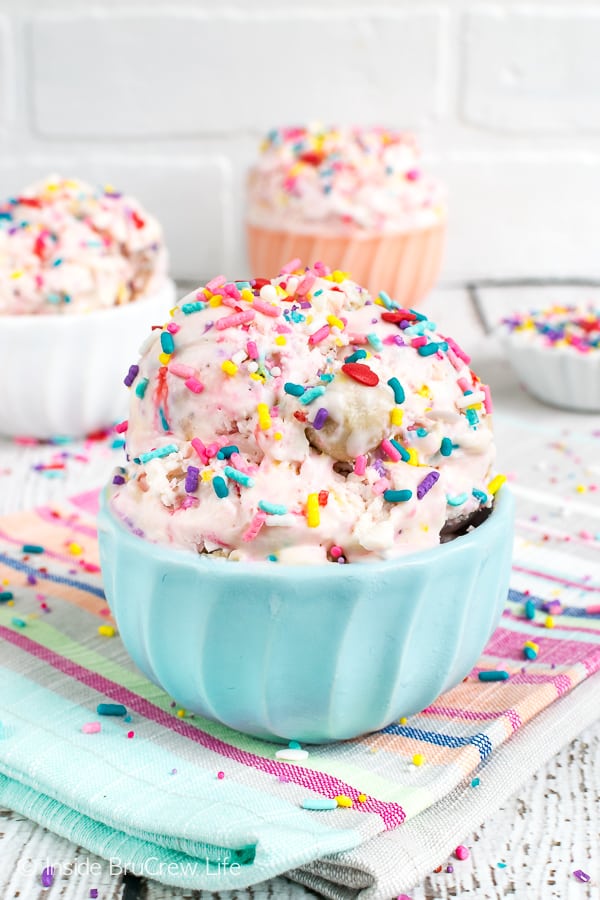 When I decided to make another fun ice cream flavor for us to enjoy this summer, I couldn't get cookie dough bites out of my head.
Mostly because I saw pictures of this Cookie Dough Cheesecake Brownie Pie and this Brownie Batter Cookie Dough Popcorn, and then all I could think about was having little no bake cookie dough bites in my life again.
I recently found these cute little ice cream bowls at Anthropologie, so I decided to throw a bunch of fun colored sprinkles into the ice cream, so the ice cream matched the bowls. Yes, I made ice cream based on little glass bowls. Don't judge me.
It's not the first time a containers has determined what I make. Hhmmm I really should go through all my props and narrow them down. I've accumulated quite a few over the years...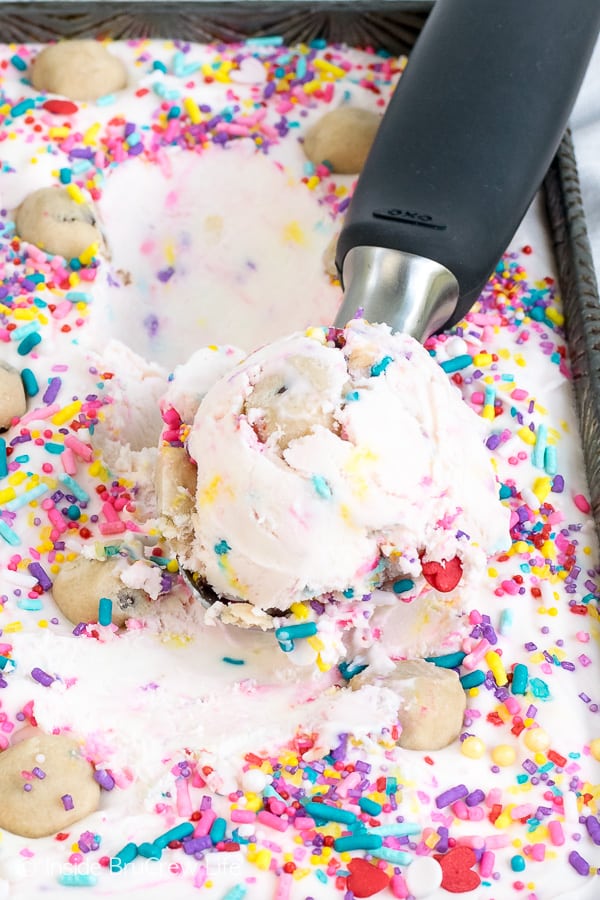 Tips for making Funfetti Cookie Dough Ice Cream
Mix up the cookie dough batter. Make sure you microwave your flour for one minute to reduce the risk from raw flour. Roll the dough into 56 mini cookie dough bites and place them in the freezer.
Place the metal mixing bowl and wire attachment from your mixer in the freezer for at least 10 - 20 minutes. Don't skip this step. When whipping cream is beaten at a lower temperature it will produce a higher volume of stiff cream. In other words, a cold bowl produces light and fluffy peaks that last.
Once your cream is beaten into stiff peaks, place it in the fridge while you beat the cream cheese, sweetened condensed milk, and vanilla into a creamy mixture. Fold the whipped cream gently into the mixture.
Stir some of the sprinkles and cookie dough bites into the ice cream and place the mixture into a freezer safe container. I like to use a metal loaf pan, but any container will work here.
Add the extra dough balls to the top of the ice cream and cover the top with more sprinkles. Freeze the ice cream for 4-6 hours or overnight.
It helps if you make ice cream the night before, so it has time to freeze completely while you are sleeping.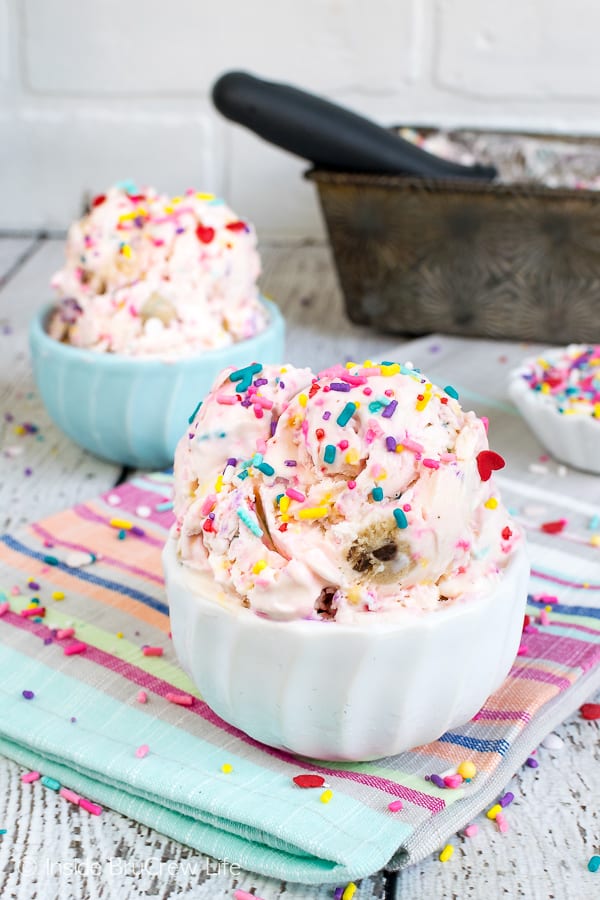 More no churn ice cream recipes you may enjoy:
Funfetti Cookie Dough Ice Cream recipe: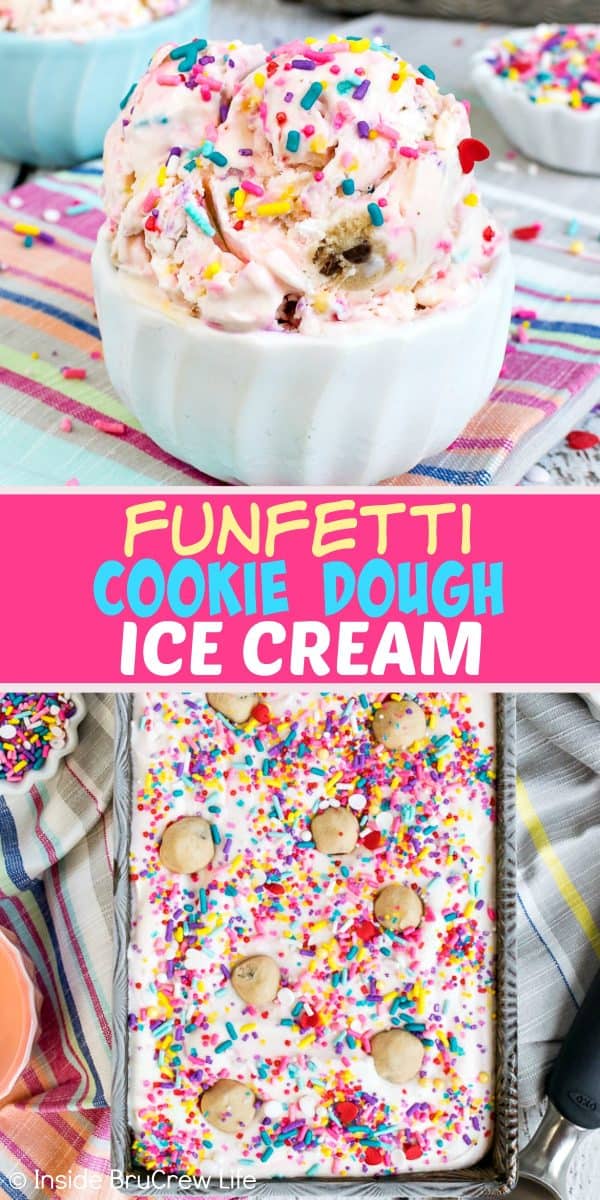 *This post contains affiliate links. Inside BruCrew Life may receive a small percentage from sales made through these links. As always, these free links do not cost you any extra. Thank you for letting us share products we use and love this way.