Celebrate National Ice Cream Month with a bowl of this Lemon Oreo Strawberry Swirl Ice Cream. Swirls of cookie chunks and strawberry preserves give this no churn ice cream a pretty color and taste.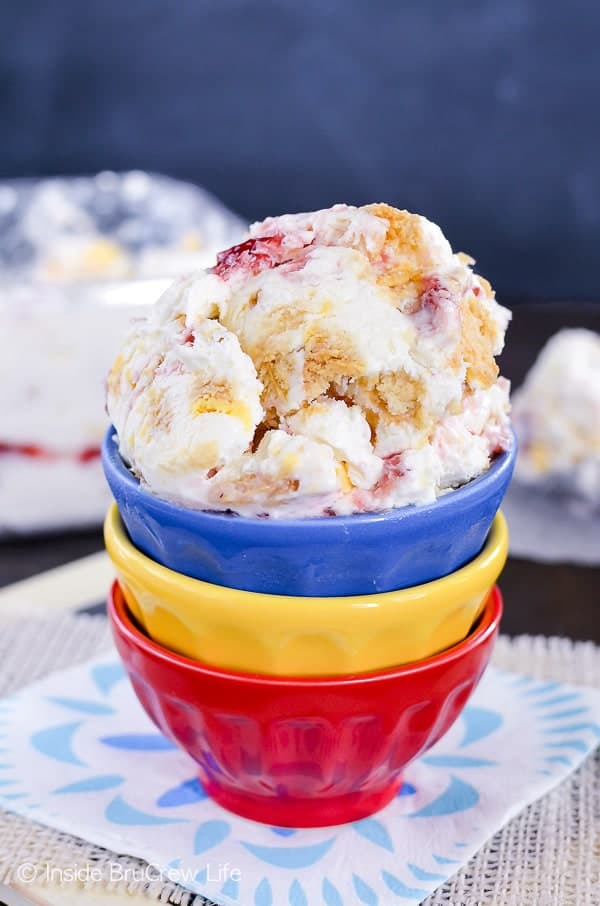 This summer has been different than most. Usually we plan one week long family vacation at the beach. Now that we live where everyone vacations our trips look a little different.
We still planned a beach vacation for one of our weeks, so I guess it isn't that much different. The difference is that we are using our other weeks to head back to Texas and Indiana to see friends and family.
With all these trips, summer seems to be flying by. Whatever happened to the days when summer vacation seemed to last forever? The older you get, the shorter breaks seem to get. Or is it that we just pack them with more things to do, so it seems shorter?
Even with all these trips, we are enjoying some lazy summer days on our back patio. Relaxing with a Frozen Salted Caramel Mocha Hot Chocolate or a bowl of homemade ice cream is a great way to enjoy a hot summer day.
We usually keep our freezer stocked with cookies and cream, vanilla, coffee, and my daughter's favorite homemade Oreo Fudge Cappuccino Ice Cream.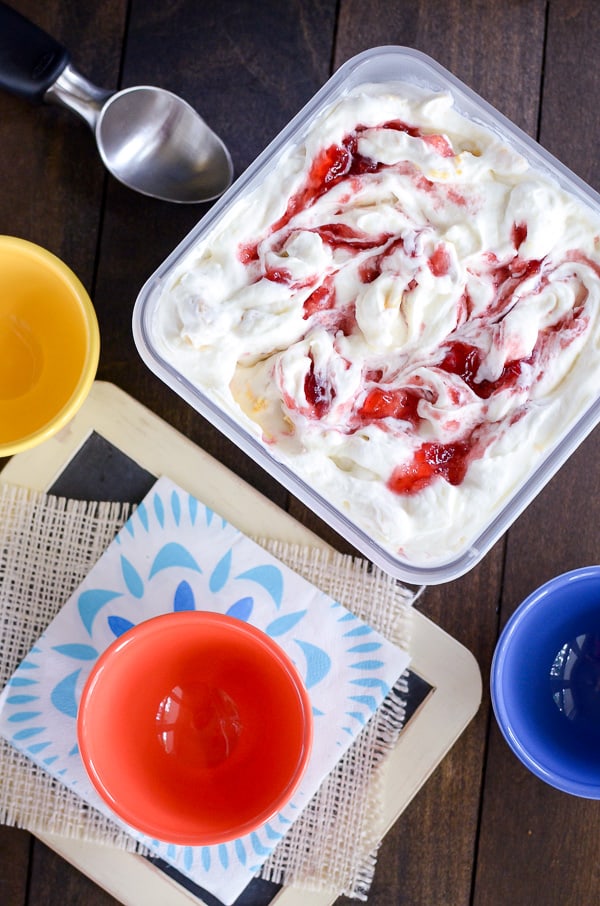 Even though a carton of ice cream is so easy to buy, I like creating fun unique flavors in our kitchen every once in a while. I mean, can you buy Reese's Fluffernutter Ice Cream anywhere?
Did you know you can make ice cream without an ice cream machine? It's actually quite easy.Whipping cream and sweetened condensed milk is all you need for the base of no churn ice cream. That's right. Two ingredients and you can have a creamy homemade ice cream in your freezer. I always add cream cheese, so mine is actually three ingredient ice cream.
Of course, I like to have fun with things I find in my cupboard too, so it's usually more like four or five ingredient ice cream.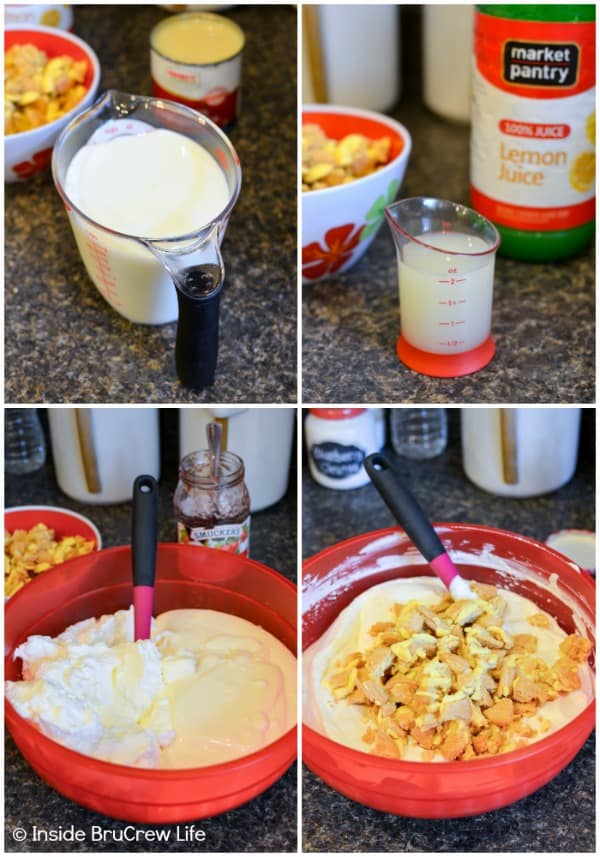 Since July is National Ice Cream Month, I did what anyone would do and pulled a few things out of the pantry to jazz up some homemade ice cream. I mean we have to celebrate these fun food holidays, right? A whole month of ice cream of celebrating sounds great.
Just don't tell my shorts and swim suits that we are going to celebrate all month. I have a feeling they won't like me much after this.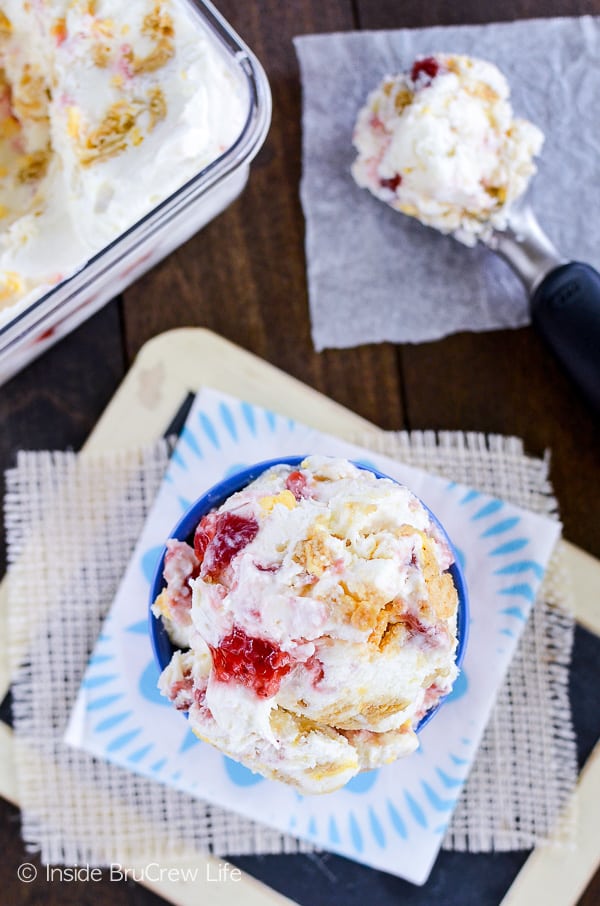 How to Make Lemon Oreo Strawberry Swirl Ice Cream:
Start by putting your metal mixing bowl and whisk beater in the freezer for about 30 minutes before you start. This will get the bowl nice and cold so the heavy cream will whip up faster. Beat the whipping cream until light and fluffy. Set that aside.
Adding a package of cream cheese to the sweetened condensed milk gives the ice cream a little bit more of a creamier cheesecake texture. So beat together the cream cheese and sweetened condensed milk until creamy.
Stir in some lemon juice. Adding the lemon juice will give the ice cream a slightly icier texture. Just let the ice cream sit out for a few minutes to soften up before you start scooping.
Now fold the fluffy whipped cream into the cream cheese mixture. At this point you can freeze the mixture and have a delicious and easy lemon ice cream.
But let's add some more fun. Chunks of lemon Oreo cookies and swirls of strawberry preserves kind of fun. Stir the cookies into the ice cream gently. It's ok if the cream filling comes out of the cookies as you stir. This just adds more color to the swirls when you scoop it out.
Spoon about a third of the mixture into a bowl. Swirl a few small spoonfuls of strawberry preserves into it. A little goes a long way, so do not over due it on the spoonfuls. Repeat this two more times ending with fun red swirls on top. Be careful as you do each swirl. Do not let your knife go down all the way to the layer under it. Too much swirling and it will become strawberry ice cream. Swirl gently so it stays lemon ice cream with strawberry swirls. Got it?
Now for the hardest part of the entire recipe. Put the bowl in the freezer and walk away for hours. I know. That's a hard thing to do when you want homemade ice cream right now. I suggest making this right before going to bed. That way visions of strawberry lemon swirls will float through your head as you sleep. Plus, waking up to ready to go ice cream is so sweet. Literally.
What are you waiting for? Let's celebrate the rest of the month with a bowl of Lemon Oreo Strawberry Swirl Ice Cream every day. I'm game if you are.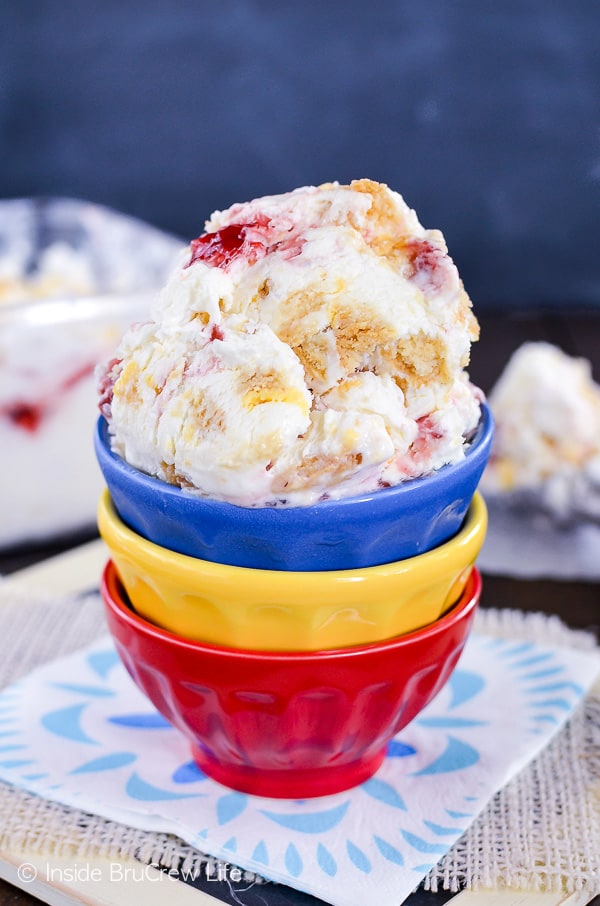 More easy No Churn Ice Cream recipes to try: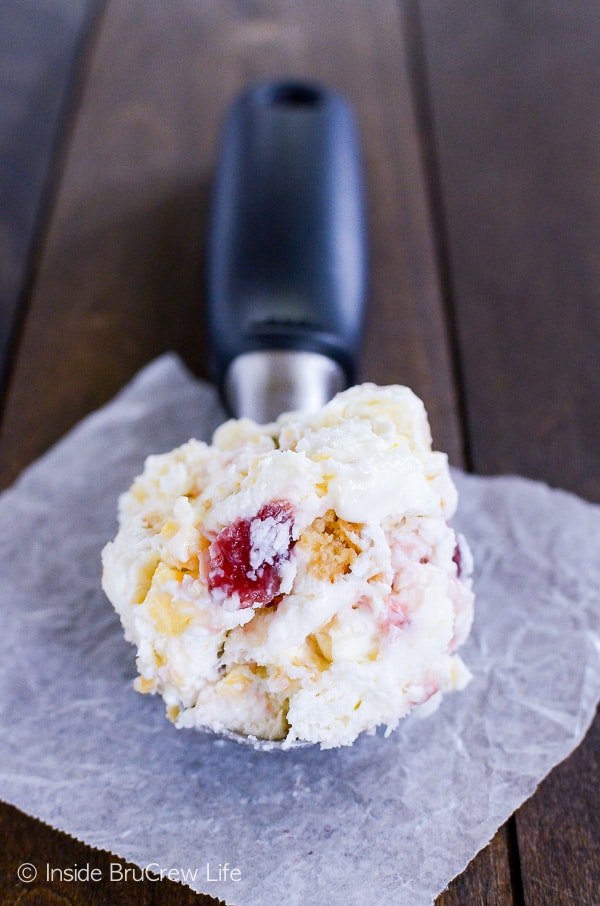 Lemon Oreo Strawberry Swirl Ice Cream recipe: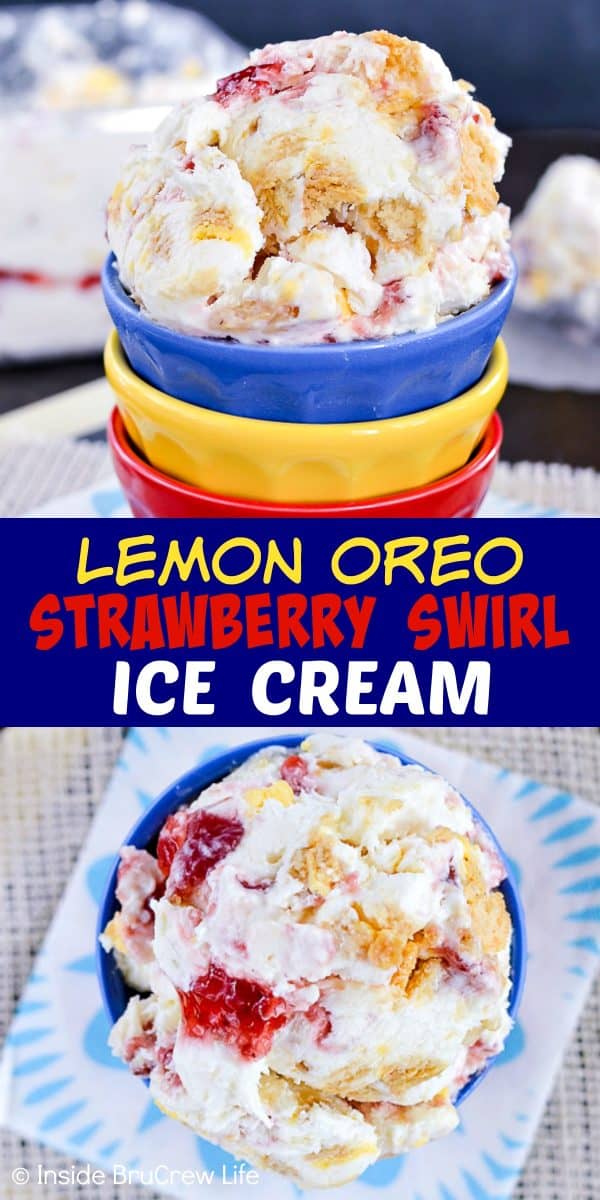 (This recipe and post was first published in July 2014)