Cookies and chocolate chips add an intense chocolate taste to these Red Velvet Oreo Fudge Bars. This chocolate cookie bar recipe is a great treat to make for Valentine's Day.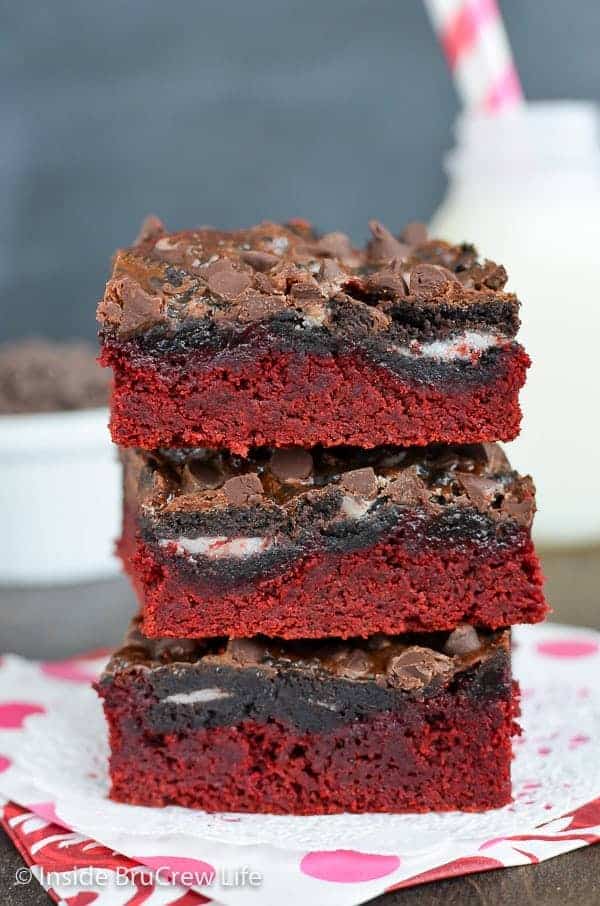 There are some food trends that I wait a long time to jump on. How do you feel about red velvet? I have to admit that I have never been a fan of red velvet. It's a beautiful dessert, but there is just not enough chocolate in it for my taste.
But lately I have been seeing different red velvet desserts popping up all over the place, so I decided it was time to jump on board the red velvet train.
Plus, the other night at the grocery store I had picked up a red velvet cake mix. But then I started to question my choice of cake flavor, so it has been sitting there for a while.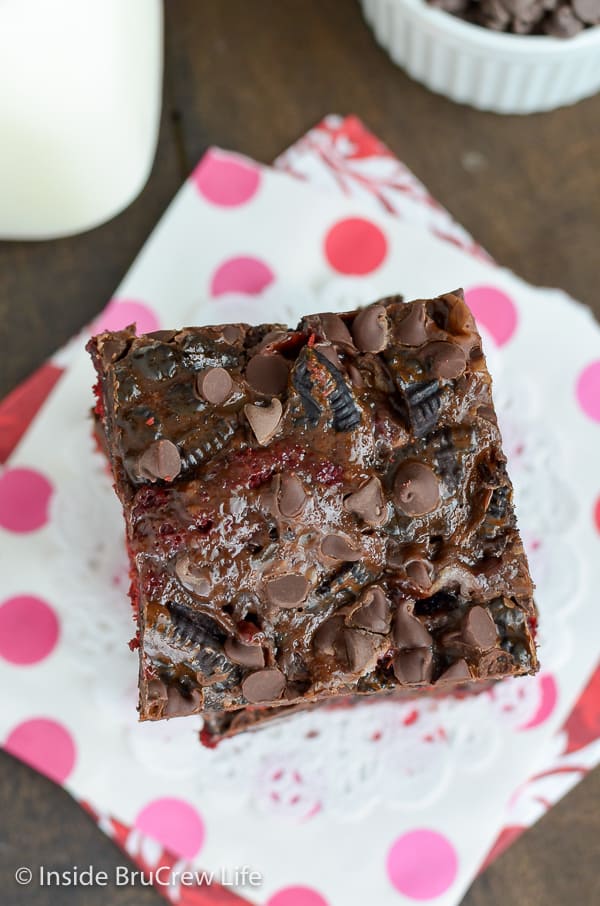 I decided to make some easy cake bars with the cake mix. You knew that I couldn't just make plain red velvet bars, right? Hi, my name is Jocelyn, and I cannot bake plain things. Now that I have that off my chest, let's make a pan of red velvet Oreo bars.
There were some extra Oreo cookies in the cupboard after making this blonde brownie recipe, and since I'm really not a big fan of red velvet by itself, more chocolate was definitely the right answer.
The layers of Oreos, hot fudge, and chocolate chips made these red velvet gooey bars so amazing and delicious!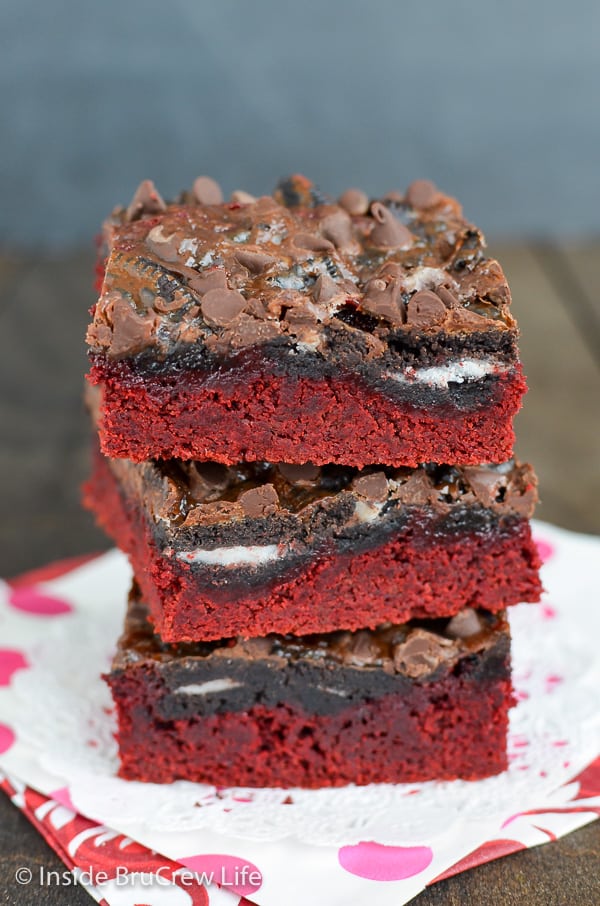 This extreme chocolate goodness in these Valentine bars has turned me into a fan of red velvet. I have been converted!
How to make Red Velvet Bars
Mix together the cake mix, butter, egg, and vanilla in a mixing bowl until a soft dough forms.
Spray a 9x13 pan and your hands with nonstick baking spray; press the sticky dough into the bottom of the pan.
Crumble the Oreo cookies on top of the dough.
Stir the sweetened condensed milk and hot fudge together and drizzle it evenly over the top.
Sprinkle the top with mini chocolate chips and bake.
Let the fudge bars cool completely before you cut into them.
All this chocolate has me totally and completely on board with the red velvet phase. Anyone else want to join me on this red velvet train? My train is full of cookies and chocolate. Wink, wink.
CLICK HERE TO PIN THIS RECIPE FOR LATER!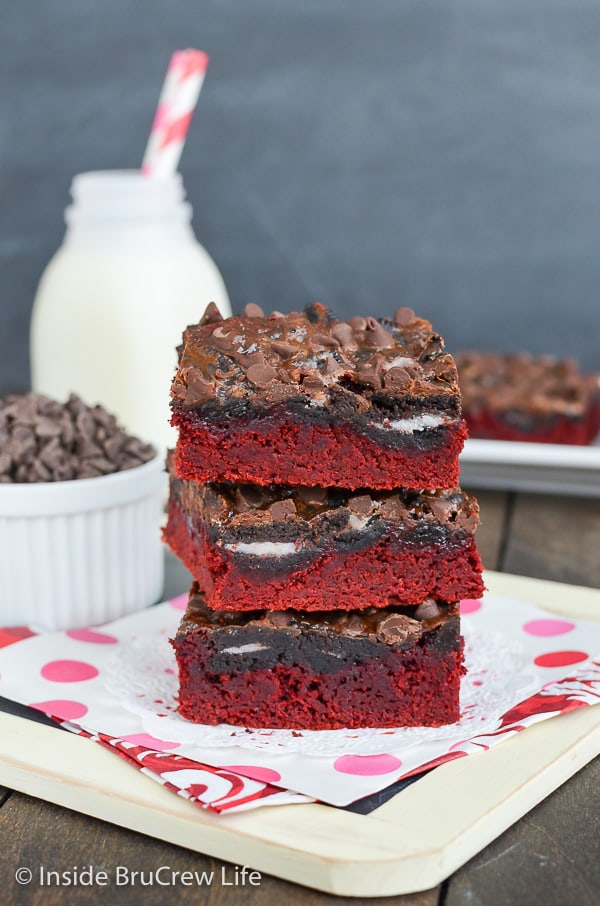 More easy Valentine's Day Desserts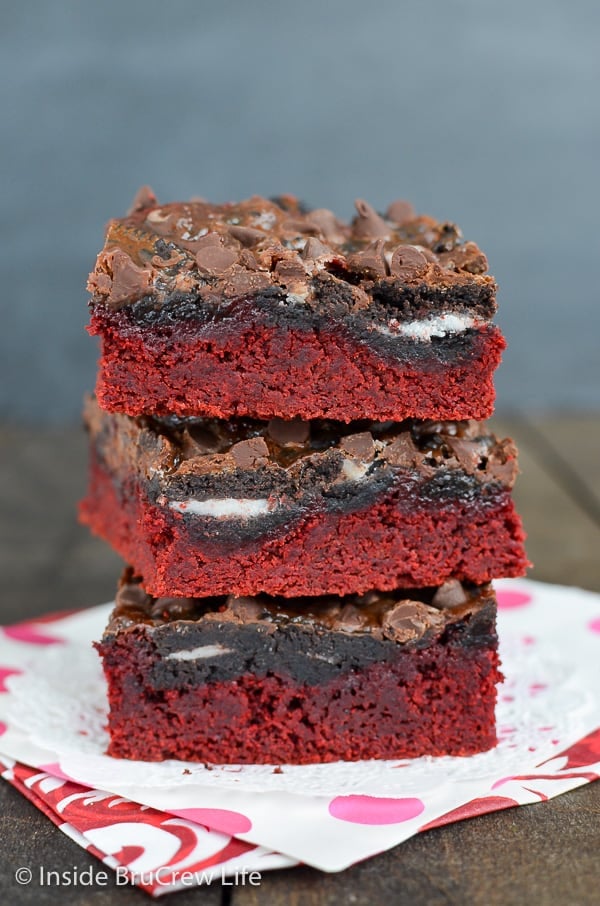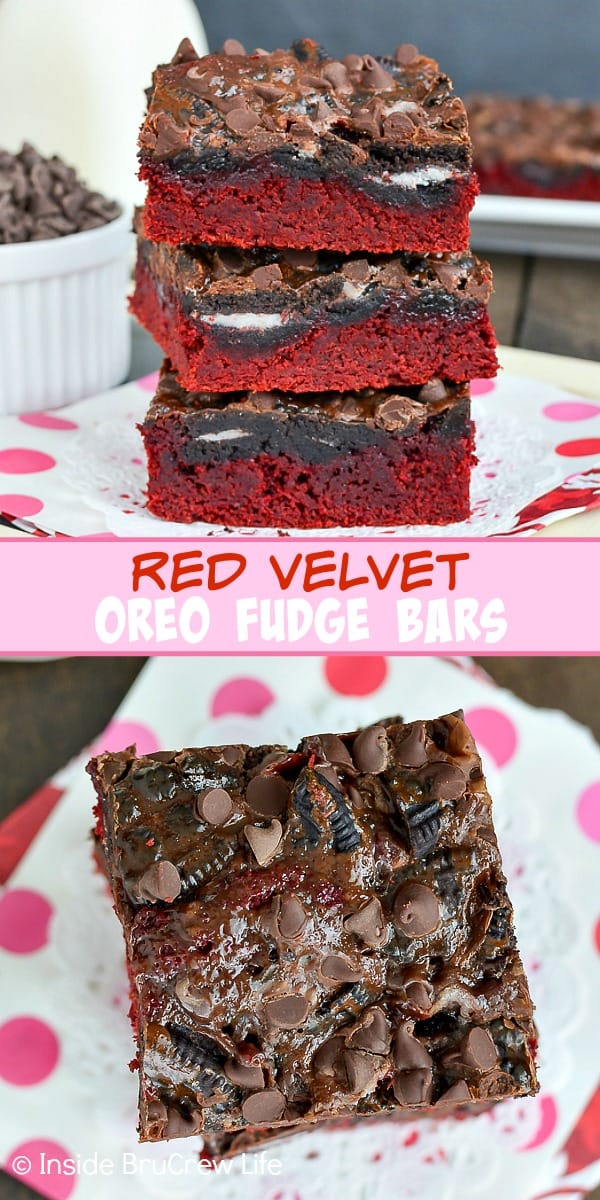 *The post for Red Velvet Oreo Fudge Bars was first published on January 26, 2014. The photos and post were updated on February 5, 2020.