Cookies and chocolate chips add an intense chocolate taste to these Red Velvet Oreo Fudge Bars.  They are the perfect treat for snacking on this Valentine's Day.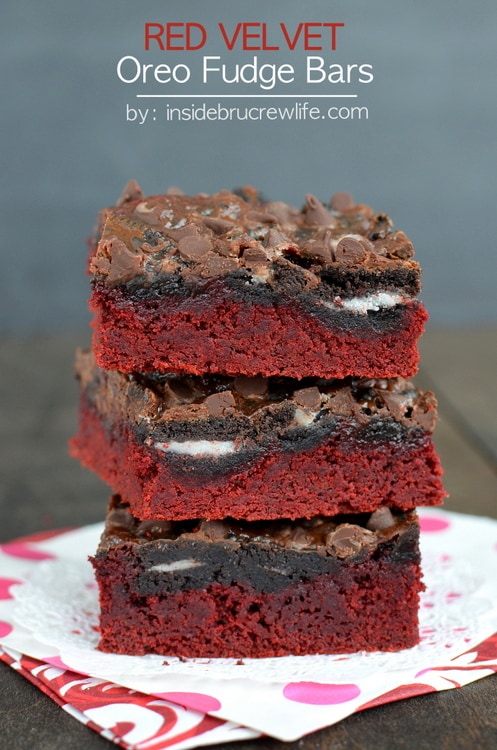 There are some food trends that I just never get on board with very often.  How do you feel about red velvet?  I have been seeing different red velvet  treats popping up all over the place, so I decided to jump on board for a short while.
Recently I asked my Facebook fans if anyone loved or hated red velvet…it was pretty evenly split on the responses.  So, I decided that the red velvet cake mix on my counter was getting used.  I had picked it up on a whim one night, then I had started to question my choice of cake flavor.    Red Velvet here we come!
Now you knew that I couldn't just make plain red velvet bars now, didn't you?  This is me!  Hi, my name is Jocelyn, and I can't just bake plain things.  Now that I have that off my chest, let's get started.
My stocked cupboards just beg me to pull out goodness and try new things in my kitchen.  Plus, I'm really not a big fan of red velvet by itself, sooooo…to the cupboards I went.  These bars need an overwhelming amount of chocolate for me to be on board.  What should we add?
Oreos, hot fudge, and chocolate chips should do it.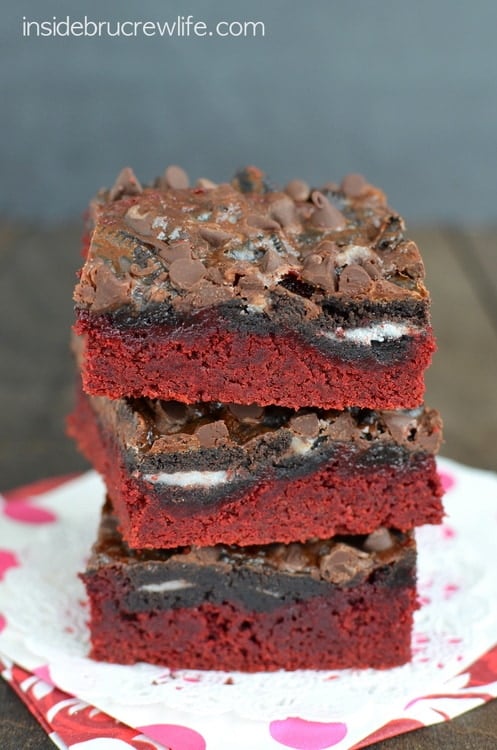 This combination of chocolate extreme has me loving red velvet.  I have been converted!
These easy bars start with a cake mix.  You know how I feel about cake mix by now.  We are BFF's.  A few simple ingredients turn a cake mix into a delicious soft cookie bar that I just can't resist.
Now for the topping…Oreo chunks drizzled with a hot fudge sweetened condensed milk.  Anyone else guilty of eating a spoonful of sweetened condensed milk when they open the can?  Mmmkay…me neither.  Moving on.
Let's stir hot fudge into that sweetened condensed milk and then try resisting it.  Nope!  Not even going to lie.  I totally had a spoonful of that.  Clean eating what?!?!
Then to top it all off, a layer of mini chocolate chips went on top of these bars.  I told you it was chocolate extreme!   All this chocolate has me totally and completely on board with the red velvet phase.  Who else wants to join me on this red velvet train?
My train is full of cookies and chocolate 🙂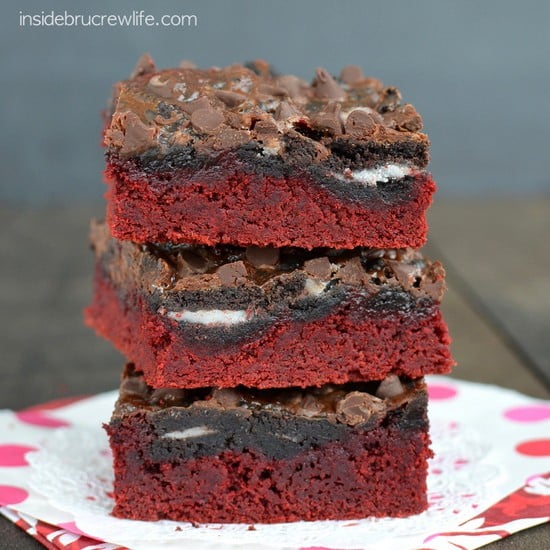 Stay up to date on all the BruCrew baking here:
FACEBOOK | PINTEREST | GOOGLE+ | TWITTER | INSTAGRAM | BLOGLOVIN
Yield: 24 bars
Red Velvet Oreo Fudge Bars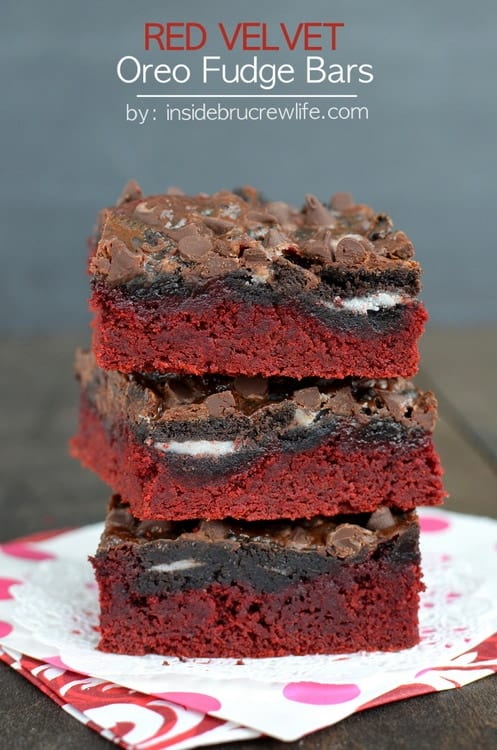 Red Velvet Oreo Fudge Bars: these easy bars get a chocolate twist from Oreo cookies, hot fudge, and chocolate chips.
Ingredients
1 red velvet cake mix
8 Tablespoons butter, softened
1 egg
1 teaspoon vanilla
18 Oreo cookies, broken in chunks
1 cup sweetened condensed milk
1/4 hot fudge topping
1/2 cup miniature chocolate chips
Instructions
Preheat oven to 350 degrees. Spray a 9x13 pan with nonstick baking spray.
In a mixing bowl, beat the cake mix, butter, egg, and vanilla until a soft dough forms.
Press the dough into prepared pan. The dough will be sticky, so it will help to spray your hands with nonstick baking spray too.
Sprinkle the Oreo cookie chunks on top of the dough.
Stir together the sweetened condensed milk and hot fudge until it is completely mixed.
Drizzle slowly over the dough and cookie chunks. Sprinkle with the chocolate chips.
Bake for 30-35 minutes. Let cool completely before trying to cut into bars. Store in a sealed container.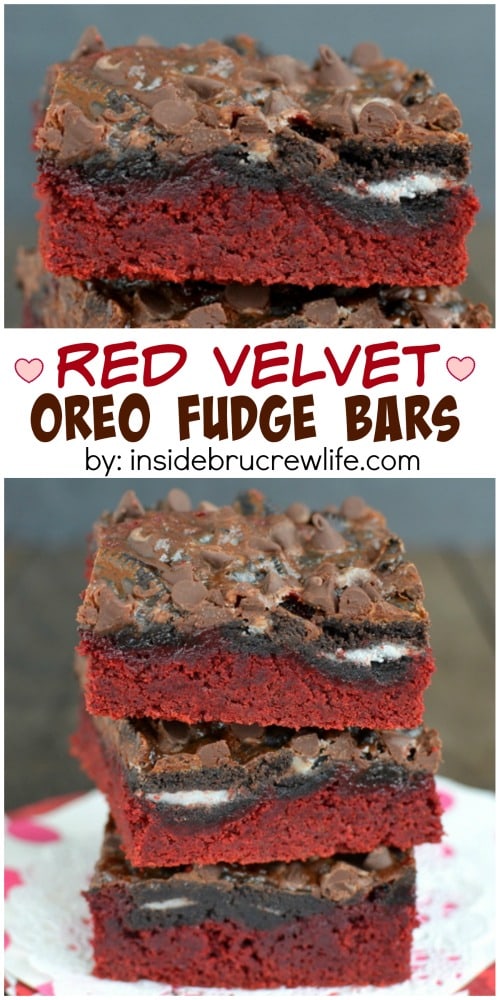 Some more fun and delicious desserts to make your loved ones: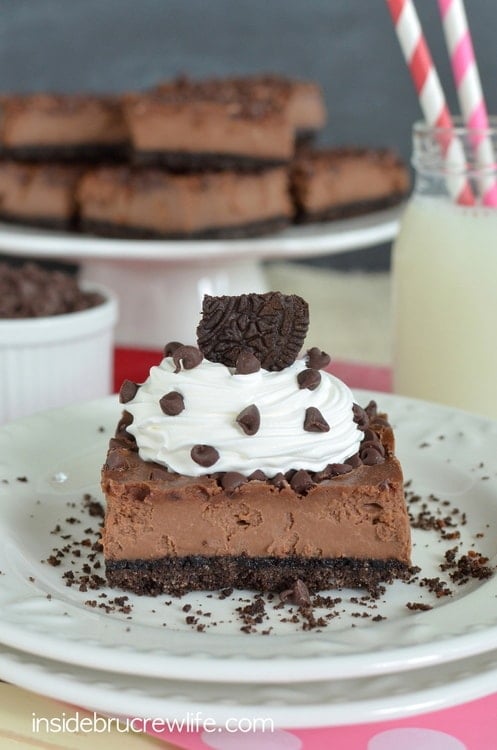 Triple Chocolate Cheesecake Bars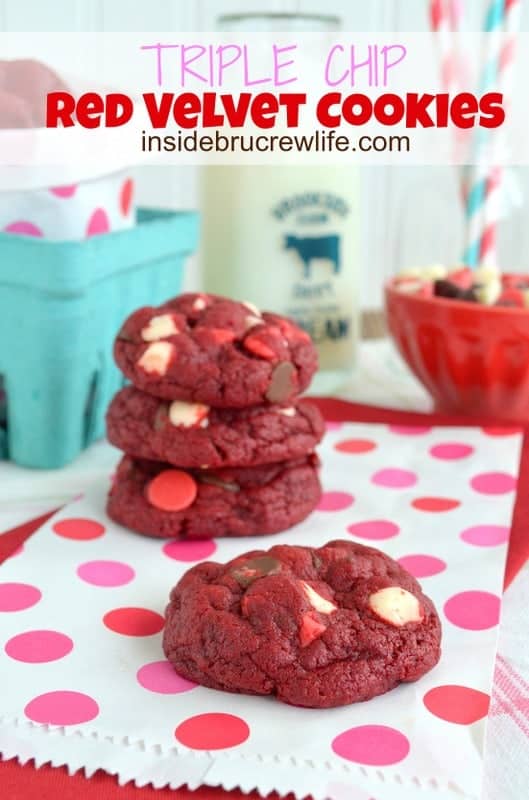 Triple Chip Red Velvet Cookies