This Rustic Fruit Tart is an easy dessert that makes a big impact at the table. It is perfect for those end of the season picnics and potlucks.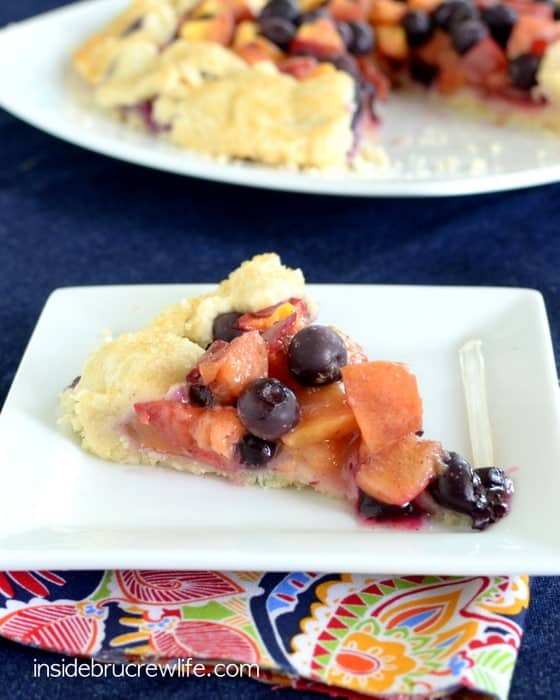 Let's talk about the weather for a minute. I love summer and everything about it. The beach, the sun, the tan lines, the fruit. But I really love fall. It is my absolute favorite season of the year. If I could find a place that was fall ¾th of the year and spring/summer for the other ¼th of the year, I would seriously pack our bags and move there.
There is something about this time of year that just gets me. I love the chilly days when I have to wear jeans and sweatshirts.. The smell of crispy leaves in the air coming in my open windows makes me so happy. Then there are the colors. Red, orange, and yellow leaves with the sun coming through. Best. Thing. Ever.
As much as I have enjoyed our summer, I am so glad to see it on it's way out. Labor Day is kind of the mark for the end of the season. I think almost every school has started by now, and we are all back into that a routine. The weather here hasn't changed yet. In fact it has been over 90* all week. I am going to enjoy these last few hot days, because before you know it the snow will be falling. And snow and I are not the best of friends. The cold is just something I like to ignore. So let's eat fresh fruit in a pie and think sunny, warm thoughts.
Most of the time, I will always choose a refrigerated pie crust when I make a pie. My motto is work smarter, not harder. If someone has a product that I can use to save some time, why not? But today I am sharing a really easy pie crust. Seriously, this is so easy. You got this. It doesn't take much work at all. Use a fork to cut the cold butter into your flour. Then get your hands into the mixture and create a ball. I like to refrigerate it after this, so it rolls better. Then to keep the mess off your counter, roll the dough ball between two sheets of wax paper. This also makes it so much easier to move to your baking sheet or dish. And if it tears, don't sweat it. There is a reason it is called a rustic fruit tart. Just press it together and keep going.
For this fruit pie, I chose blueberries (because I had picked way too many this summer) and nectarines. I don't usually buy nectarines, but the vibrant colors of the fruit were calling my name at the grocery store. These two fruits together paired so nicely with the rustic crust edges.
A scoop of ice cream on top of this pie, and you are all set to enjoy the last hot days before the best season gets here.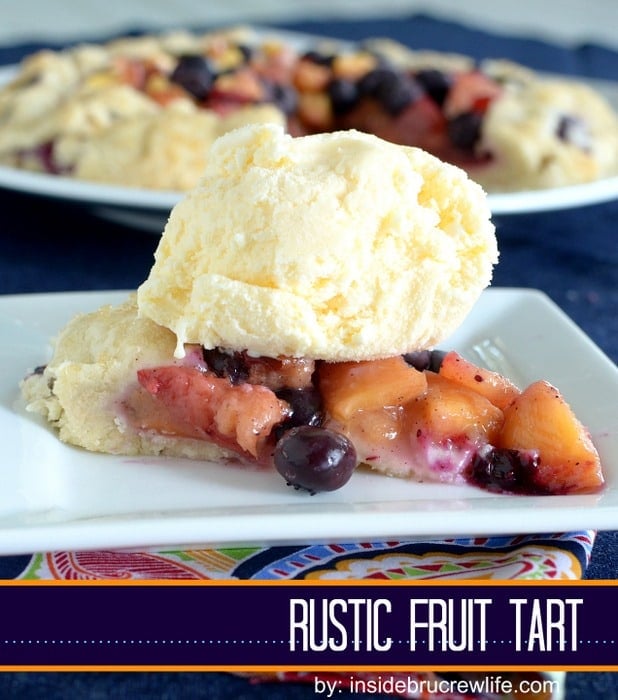 Stay up to date on the BruCrew baking:
FACEBOOK | PINTEREST | GOOGLE+ | TWITTER | INSTAGRAM | BLOGLOVIN