Summer time means eating as many fresh fruits as possible. Try mixing those berries and making this Berry Coconut Crisp the next time you need a dessert. A scoop of ice cream takes it over the top.
Warm berries, crunchy crisp, and melty ice cream...oh, yeah!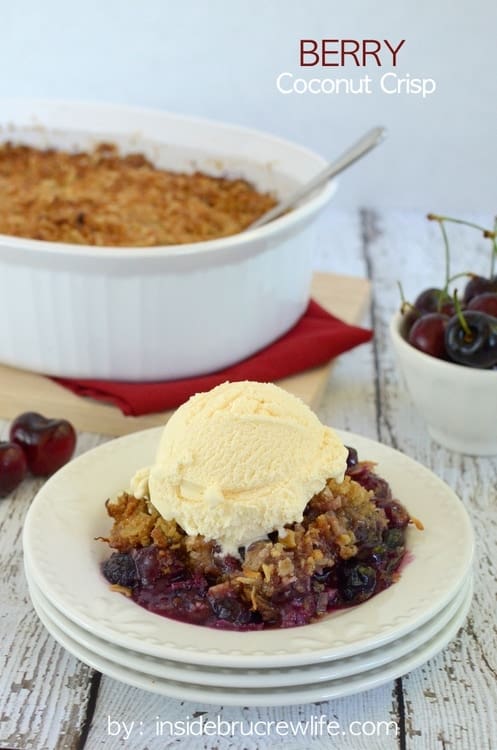 Do you have monsters that live in your house?
Ha! We have fruit monsters, candy monsters, cheese monsters, and of course we can't forget about the Oreo monsters. I try hiding the candy and Oreos in different places each time to throw the monsters off, but the cheese and fruit has to stay in the fridge. I have tried putting it in the very back with boxes of salad in front of it. Either it gets found or I totally forget that it's in there.
By the time I remember and want to make something, the monsters have either eaten it, or it has fuzzy green stuff growing on it. I have started to just leave the fruit out in the open on the top shelf, because really who wants to waste money on fruit that goes bad.
I do that enough with veggies in the bottom drawer.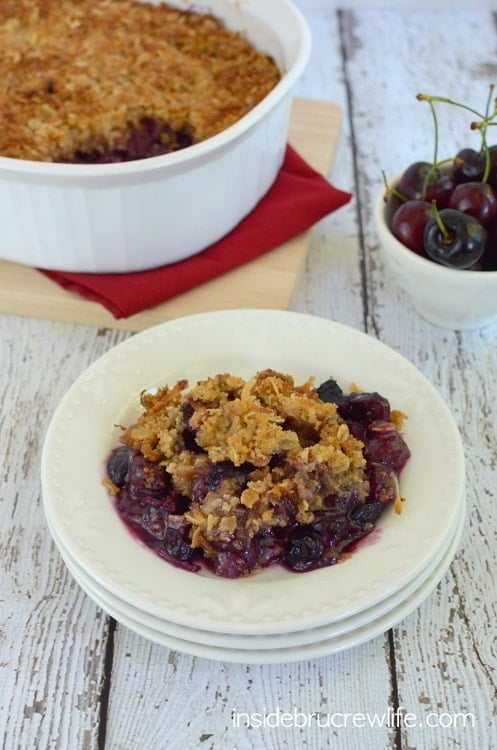 My daughter and husband love fresh cherries. Something about eating a fruit that allows you to "spit" a seed or something like that makes it more fun.
The first bag of cherries disappeared before I had a chance to make up this Berry Coconut Crisp idea that was swirling about in my head. Ggggrrrr to opening the fridge and not seeing those berries anywhere...I had to tell myself that at least they got eaten.
Back to the store to get more berries to bake with. This time I was smart and bought extra for snacking and for enjoying this Berry Coffee Cake for breakfast one morning. Of course a few "extras" always end up in the cart when I go shopping for just one thing. I can't resist that baking aisle ever.
Oh, and a few cartons of ice cream might have made their way into the cart. I mean it is summer, so we have to eat it. It's one of those rules that I do not argue with.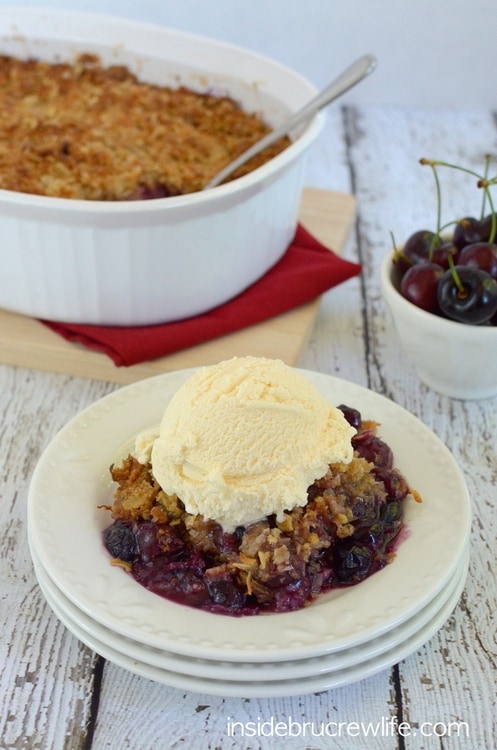 Prep the berries by washing them and pitting the cherries. You can also cut the cherries in half like I did, or you can leave them whole. It really doesn't matter much in this yummy crisp.
Mix the berries and some coconut with a little bit of flour and cinnamon right in your baking dish. There is no reason to dirty too many dishes today. Then mix the rest of the dry ingredients in a bowl and cut the cold butter in until it looks like crumbs. You can use two knives or a fork to do this.
Or buy a pastry blender to save some muscle work....I have decided that a pastry blender is definitely going on my shopping list next. Cutting cold butter into flour and oats will give your arm muscles a work out.
Or maybe I'm just weak and need to do more time at the gym. That's also very possible. Summer time has me skipping days there.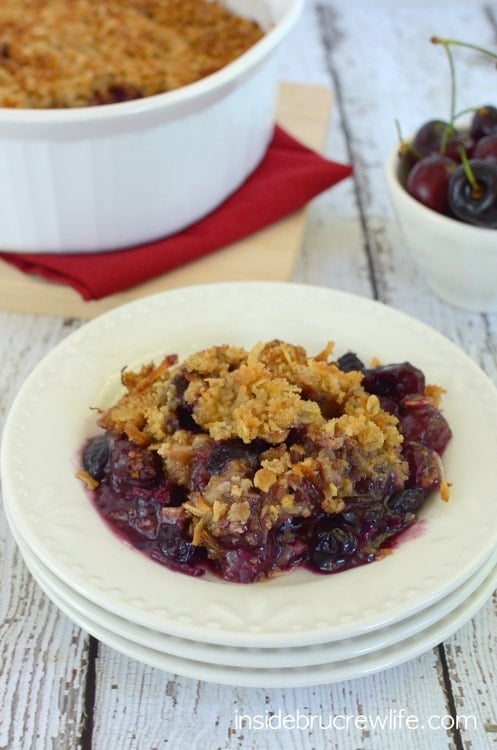 After you have the topping ready, spoon it evenly over the fruit. Throw it in the oven for 40 minutes for the berries to bake down and the topping to get all crispy. Ok, fine don't throw it, just place it nice and gently in the hot oven and wait for the crispy magic to happen.
This is one dessert that you can enjoy right out of the oven. I love a warm berry crisp with ice cream melting over the top of it. There are others (like my husband) who prefer it cold with the ice cream not melting on top. Either way works...but honestly try it warm at least once. It's so good.
I may have enjoyed a bowl of this for breakfast one morning. It is fruit and oats after all with a scoop of dairy on top. Wink, wink!
Eating dessert for breakfast and skipping the gym are probably not two of my best ideas...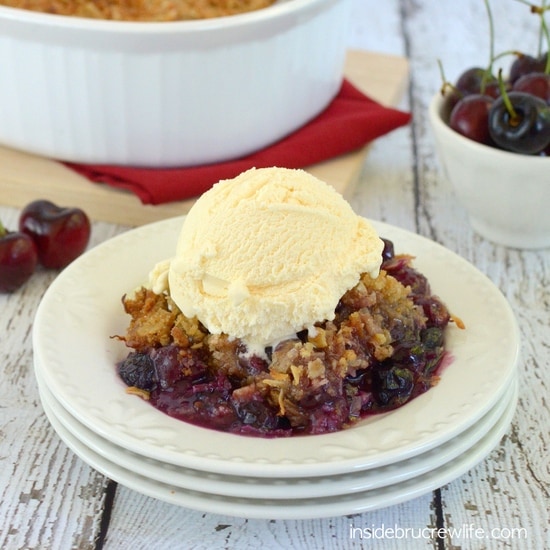 More delicious and fun ways to enjoy BERRY treats: