This Apple Turtle Cheesecake Tart is an easy, but impressive dessert to share with friends and family. The hidden layers of cheesecake and apple under the nuts and caramel topping will make the tart disappear in a hurry.
*I am partnering with Lucky Leaf® as a blog ambassador bringing you delicious recipes using their pie filling.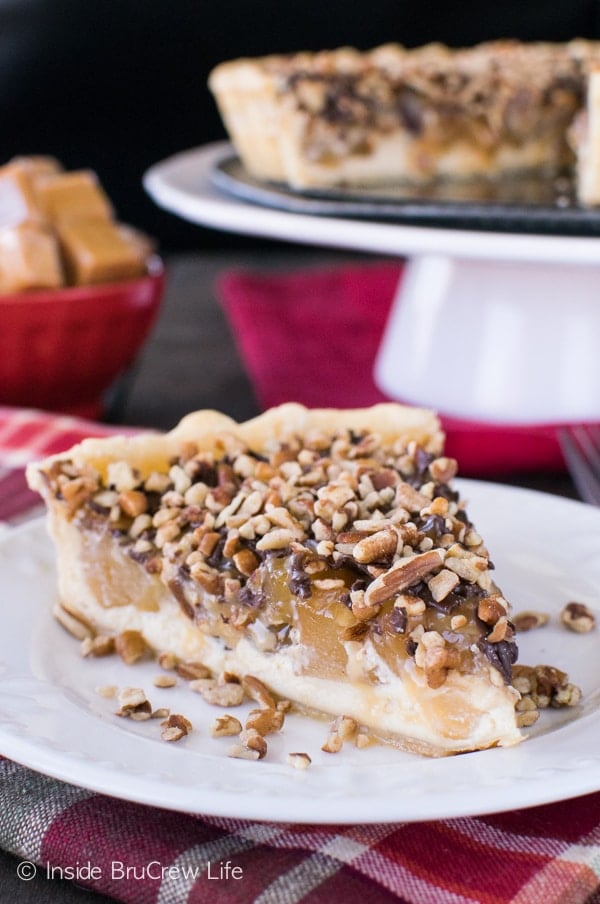 This time of year tends to get so busy as we start preparing for the holiday season. Parties, events with friends and family, dinners, decorating, and shopping all take so much of our time and energy.
During this busy season it is such a great time to remember all the things we have to be thankful for in our lives. Although this is really something we need to be doing year round. I do like to stop and pause and just think through the things in our life that I am so thankful for when life seems to get crazy.
We have healthy kids, a warm home to live in, and food on our table for every meal. Not to mention all the extra things we have and do each day. Be thankful for these things your life because there are so many hurting people who do not have these luxurious in their lives right now. My desire is to be open and have the opportunities to help those who come into my path with the extras I have been blessed with.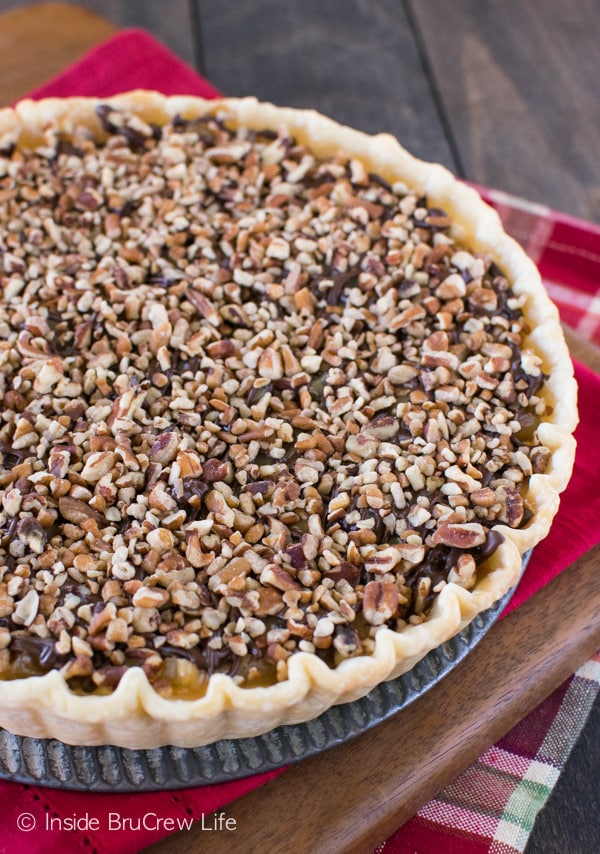 Another thing I am so thankful for is a job that I can do from the comfort of my home. I'm thankful that it is a job that I can stay in my pajamas or work out clothes all day if that's what I want to do. Sadly that does happen quite often. And I'm thankful that it is a job that is flexible with my time, so I can be there for my family any time I want.
The other thing that I'm thankful for with my job is the opportunity to partner with brands and companies that I believe in. This year I am partnering with Lucky Leaf® as a blog ambassador.
Each can of pie filling I open leaves me amazed. They do not use any high fructose corn syrup in their fillings, and each can is full of amazing fruit. The fillings are so versatile and can be used in a variety of ways…or eaten with a spoon if I'm being completely honest with you.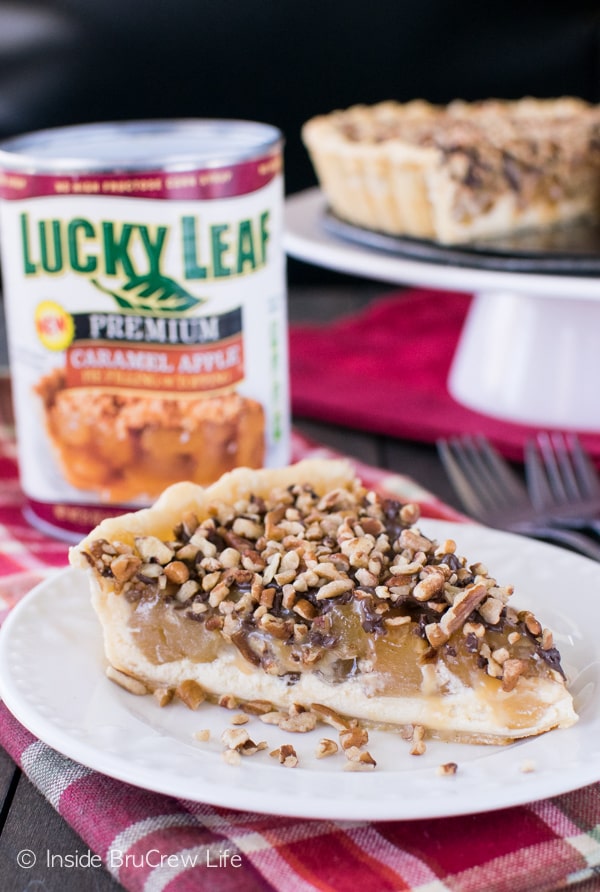 Each week I'm in my kitchen baking up a storm. It's my happy place. Most weeks those baking sessions end in amazing treats that I share with you here. But then there are those weeks were nothing goes right. Last week I had so many recipe fails that I threw away more food than I want to admit. It was not a good week in the BruCrew kitchen.
I have to admit that I laid down on the living room floor and had a slight pity party for myself. But then my awesome husband came home and gave me a great pep talk about getting back after it. He is definitely my sanity saver most days. I am so thankful for a husband that loves me no matter what mood I'm in.
I'm also thankful that he gets this crazy job that I do. The next day he sent me a message saying I should make an upside down apple turtle cake using the canned pie filling in our cupboard. That was the exact motivation and inspiration I needed to get in the kitchen again. As you can see I took his flavor idea, but instead of a cake, I revamped this cheesecake apple pie into a turtle treat with my tart pan .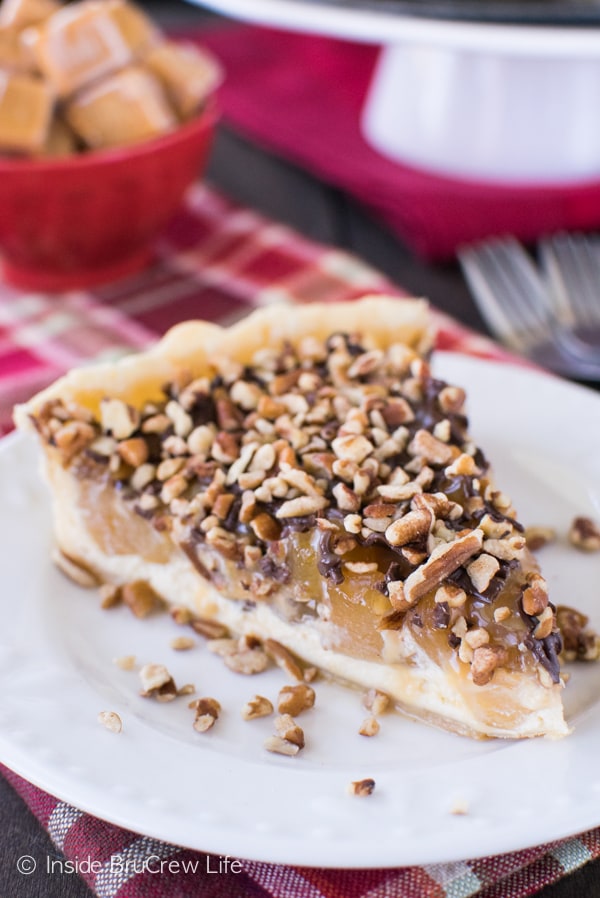 You could top the caramel cheesecake layer with the whole apples straight from the can, but I like to dice them into bite sized pieces first because it makes it easier to cut the tart later. With all the caramel, chocolate, and nuts on top you won't see a difference in the way it bakes at all.
Each bite of this tart is loaded with chocolate, nuts, and caramel. You know you want to add this fun dessert to your holiday baking list right away!!! It's totally worth it!!!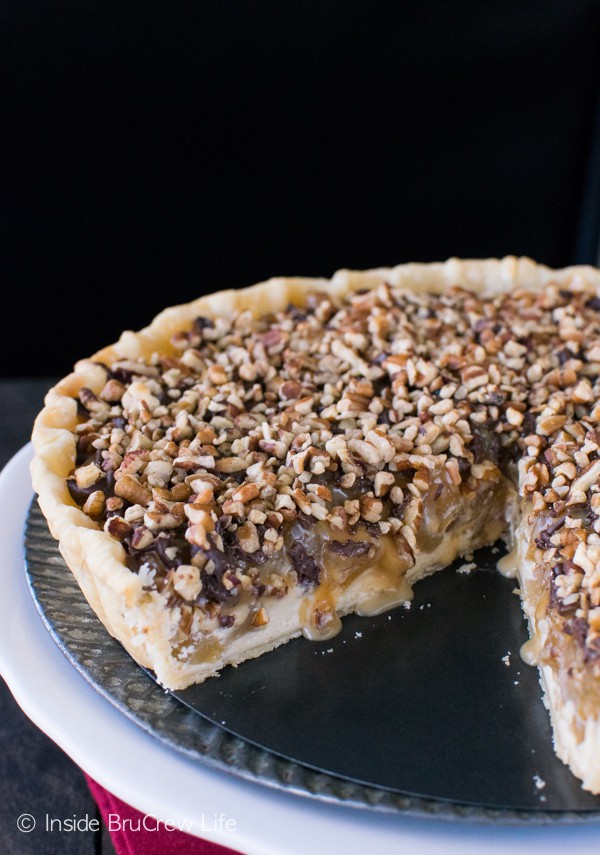 Connect more with Lucky Leaf:
Facebook | Pinterest | Twitter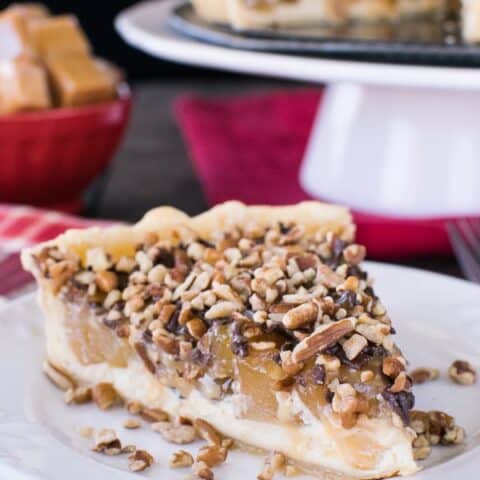 Apple Turtle Cheesecake Tart
Total Time:
1 hour
5 minutes
This easy apple tart has a hidden layer of caramel cheesecake and is loaded with caramel, chocolate, and nuts. It is a delicious pie to add to your holiday tables.
Ingredients
1 - refrigerated pie crust
1 - 8 ounce cream cheese, softened
1/4 cup caramel ice cream topping
1 egg
1 - 26 ounce can Lucky Leaf® Caramel Apple Pie Filling
12 caramel squares
3 Tablespoons whipping cream
1/4 cup chocolate chips
1/2 teaspoon shortening
1/2 cup pecan chips
Instructions
Open the can of pie filling and dice the apples into chunks. Set aside.
Prepare the pie crust according to the package directions. Place in a 9-inch tart pan and crimp the edges.
Beat the cream cheese until creamy. Add the caramel topping and beat again.
Add the egg and beat until creamy. Spread in the bottom of the pie crust.
Spoon the pie filling gently onto the cheesecake batter.
Cover the edges of the crust with foil or pie crust shields. Bake at 375 degrees for 40 minutes. Remove the foil and bake an additional 5 minutes.
Cool on a wire rack for an hour, then place in the refrigerator until completely cooled.
Place the unwrapped caramels and whipping cream in a small sauce pan. Stir over medium heat until melted and creamy. Let cool for 10 minutes, then drizzle over the top of the cooled tart.
Place the chocolate chips and shortening in a microwave safe bowl. Heat 30 seconds at a time. Stir and continue to heat until melted and creamy. Drizzle over the tart.
Sprinkle the pecan chips on top. Let set. Keep refrigerated until serving.
Recommended Products
As an Amazon Associate and member of other affiliate programs, I earn from qualifying purchases.
Nutrition Information:
Yield:

10
Serving Size:

1
Amount Per Serving:
Calories:

554
Total Fat:

37g
Saturated Fat:

18g
Trans Fat:

1g
Unsaturated Fat:

16g
Cholesterol:

79mg
Sodium:

329mg
Carbohydrates:

54g
Fiber:

3g
Sugar:

33g
Protein:

7g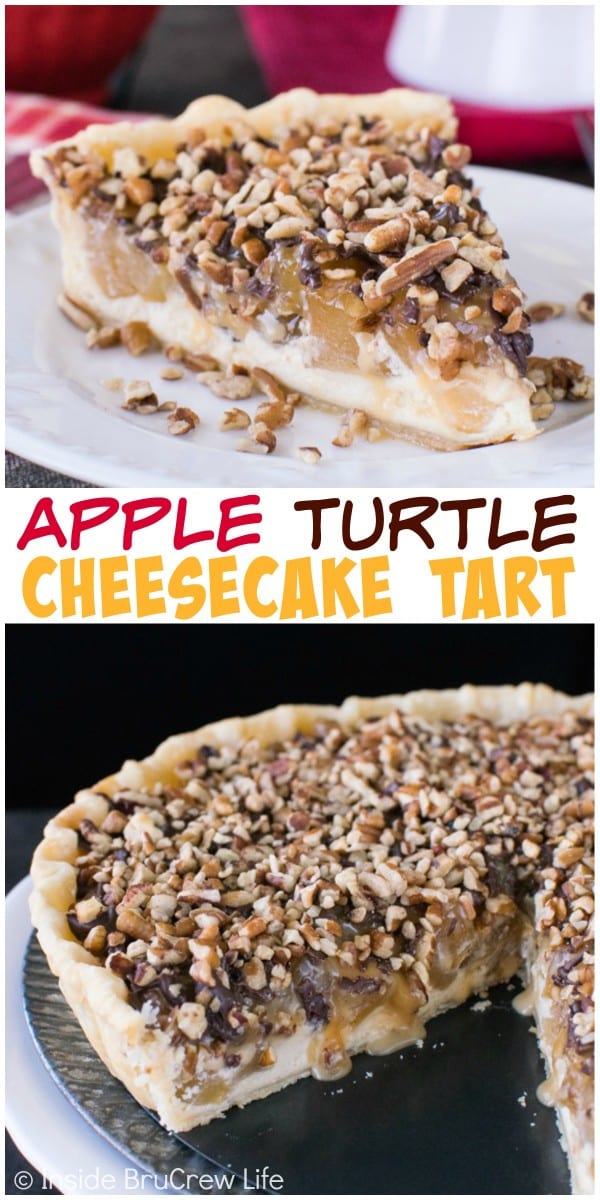 More delicious recipes to try using Lucky Leaf® pie filling: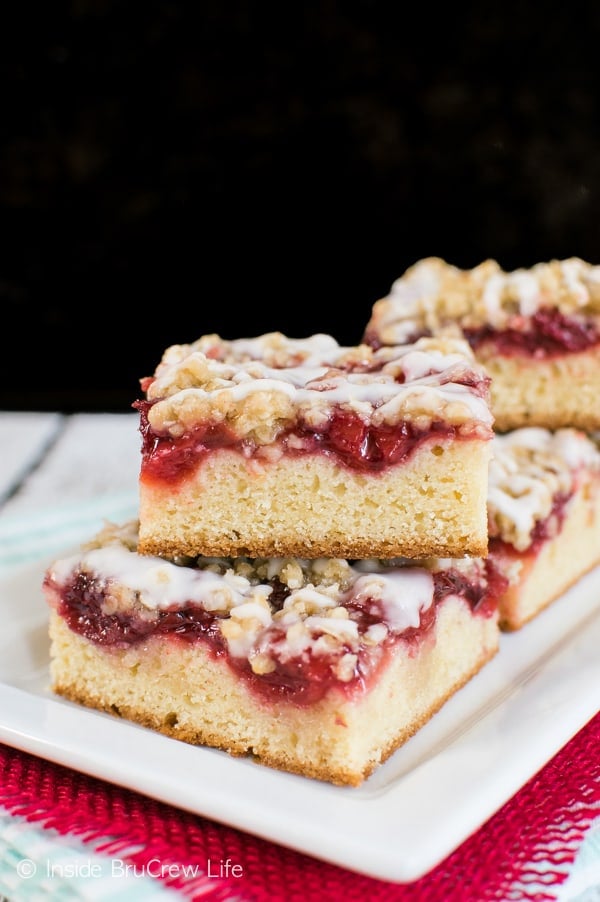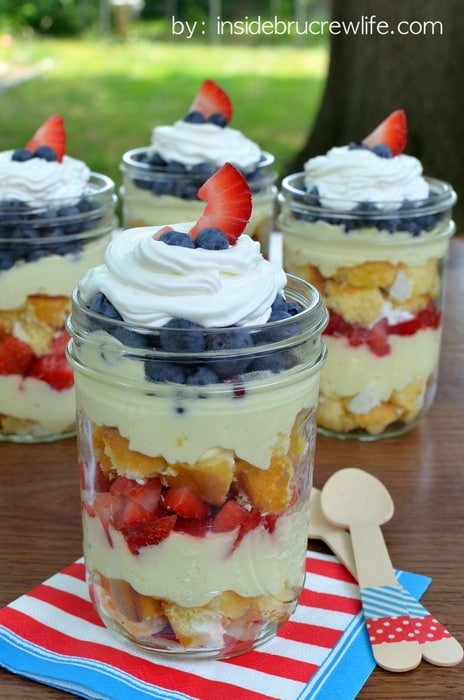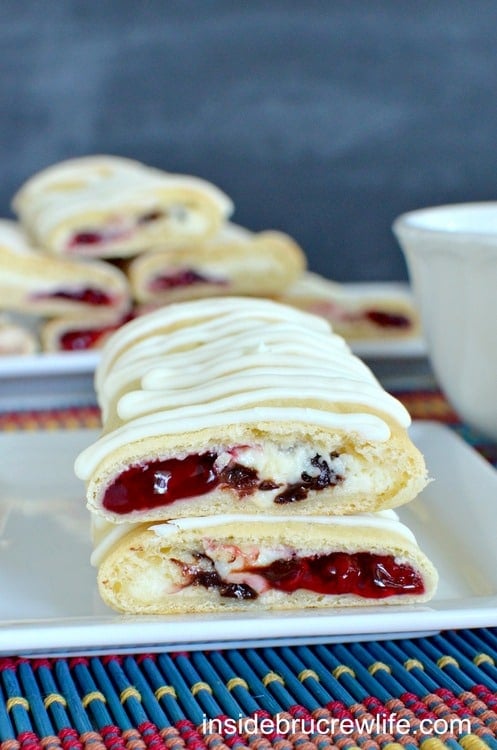 Raspberry Chocolate Chip Cheesecake Rolls
*This recipe was sponsored by Lucky Leaf. All opinions expressed are 100% my own. Thank you for letting me share products and brands I use and love. See my disclosure policy for more information.*