These Salted Caramel Chocolate Chip Macaroons are loaded with chocolate chip and caramel flavor. The sprinkle of sea salt on top gives it just the right amount of sweet and salty.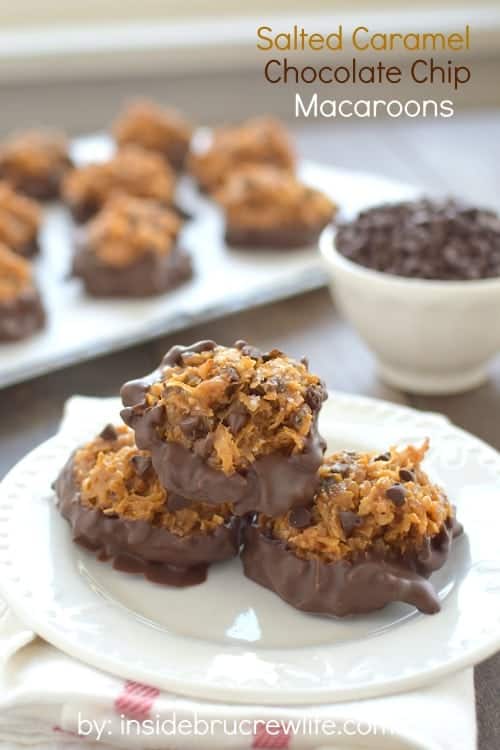 *Today I am joining forces with some of my blog friends to bring you lots of cookie love. Make sure you scroll down to the bottom of the post for more details.
I got the decorating itch again last night. You see we already decorated our house the day after Thanksgiving, but I didn't finish putting everything up. So yesterday I looked through the boxes and pulled a few more lights, garland, another tree, and some glass ornaments out of storage.
The kitchen still needs a few decorations, but I'm not sure anything that is left in the boxes is going to work. Although I will probably end up putting the garland around the top of the shelves like I always do because I shouldn't be spending money on more decorations.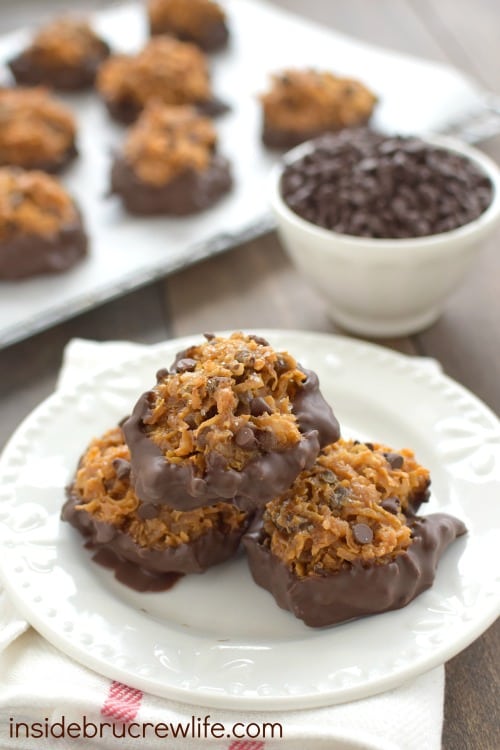 Along with this sudden burst of decorating came the urge to finish my Christmas cookie list. I cannot believe I have waited this long to finalize it. Usually by the first day or two into December I have a huge running list that has to be narrowed down.
About a month ago I made and shared these White Chocolate Funfetti Macaroons. The sprinkles and dipped bottoms inspired me to create another fun macaroon with a caramel twist.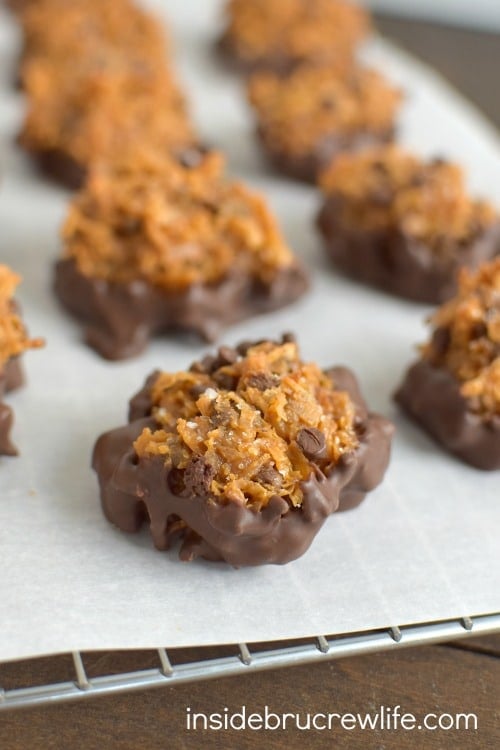 There is just something about that sweet and salty combo that I cannot get over. Thank goodness salted caramel is an acceptable flavor all year long.
I mixed together a can of Dulce de Leche and a bag of coconut. Coconut is another one of those flavors that I kind of go coo coo for! Yay for two of my favorites getting together in one yummy cookie.
A little bit of flour gets added to the macaroons to help give the cookie a little more texture. And of course mini chocolate chips and sea salt just gave the macaroon something a little extra.
Now I originally had no intention of dipping these cookies in chocolate, but while they were cooling I started thinking how nice it is to see a chocolate on the bottom of cookies.
Yes, chocolate is the way to my heart.
So out came the chocolate, and I am so glad I listened to the little chocolate angel that sits on my shoulder. That little angel knows that I can't resist adding chocolate to just about everything.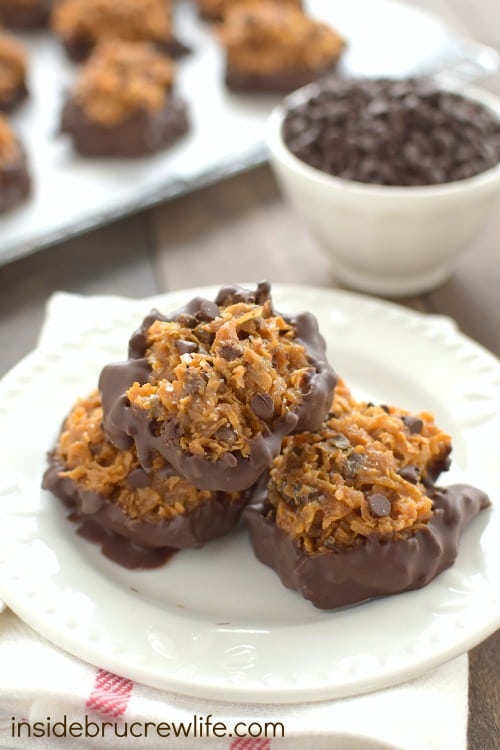 Are you still looking for a few new cookie ideas for all those cookie trays you still need to fill?
Today I am partnering with 11 other bloggers to bring you 12 delicious cookies worthy of making a few times this season. I hope you are ready for this!!!
Fruit Filled Pecan Thumbprint Cookies from Chef in Training
Gingersnap Biscotti from Completely Delicious
Eggnog Snickerdoodles from Cooking Classy
True Love Cookies from Creme de la Crumb
Salted Caramel Chocolate Chip Macaroons from Inside BruCrew Life
Candy Cane Kiss Cookies from Our Best Bites
Pumpkin Spice White Chocolate Cookies from Sweet Basil
Chocolate Cherry Sandwich Cookies from Taste and Tell
Chocolate Mallow Drops from The Recipe Critic
Peppermint Chocolate Chip Shortbread Cookies from The Girl Who Ate Everything
Rudolph Cookies from Your Cup of Cake