White Chocolate Funfetti Macaroons: Sprinkles and white chocolate make these easy coconut cookies look so fancy.
*Be sure to sign up for the BruCrew email, so you can enjoy these recipes in your inbox each day.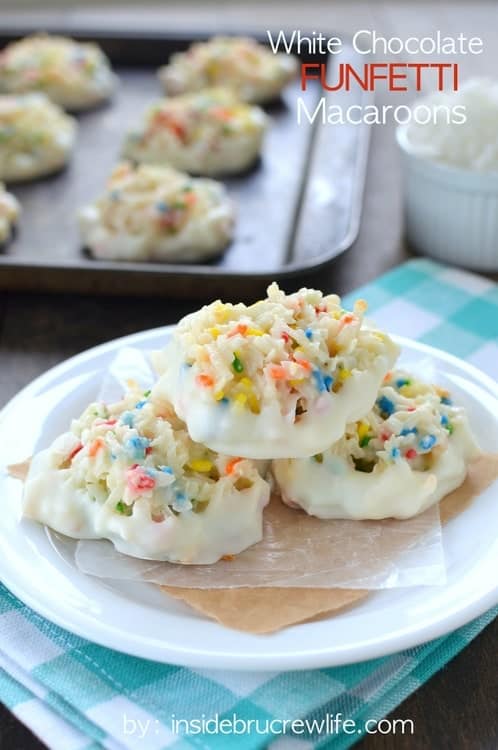 Since everything around here is still coated in a light coat of snow, I figured why not embrace it and have my baking be coated too. Of course this kind of "snow" coating results in a warm toasty house and sugar. That's my kind of snow coating for sure.
I saw on the weather channel that New York is getting hammered with snow in certain parts. When I heard that, I realized how silly I must sound complaining about one inch of snow here. #firstworldproblems
They also said more snow is headed my way. As long as it stays around 1 inch and not the 6 feet from NY, I'll be ok with it. Well, as long as I'm snug as a bug in my house wrapped in a blanket and sipping on a coconut Nutella latte.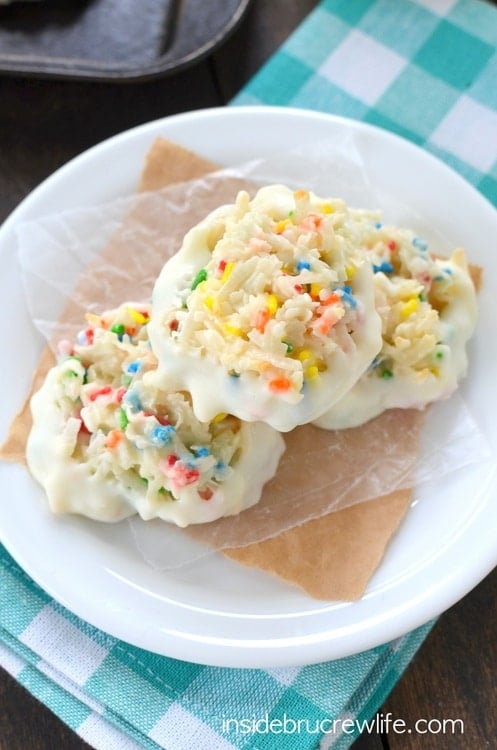 Usually I start to go coconut crazy in January after all the holiday hoopla is over. Chocolate coconut cake anyone? But having snow early this year has me thinking about coconut a little bit earlier. I thought adding sprinkles and white chocolate would be a fun way to make them holiday worthy!
Just think how pretty these would be with red and green sprinkles and a fun Christmas color chocolate on the bottom.
I had good intentions of showing you the holiday version, but my red chocolate was old and didn't look so good after I melted it. So you will have to use your imagination and think about how pretty they could be dressed in holiday colors.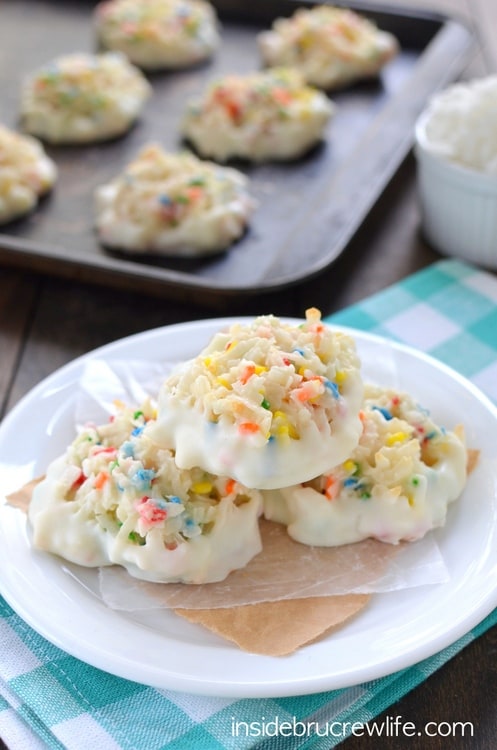 Really these would be so fun for any party or holiday. Just match the sprinkles and chocolate color to your party theme!
1 bag of coconut, 1 can of sweetened condensed milk, and some flour is all you need to make these white chocolate funfetti macaroons. You are just three ingredients away from having cookie goodness in your life.
Sprinkles and chocolate are optional, but seriously? Why would you leave them out? Fun colored is always the way to go!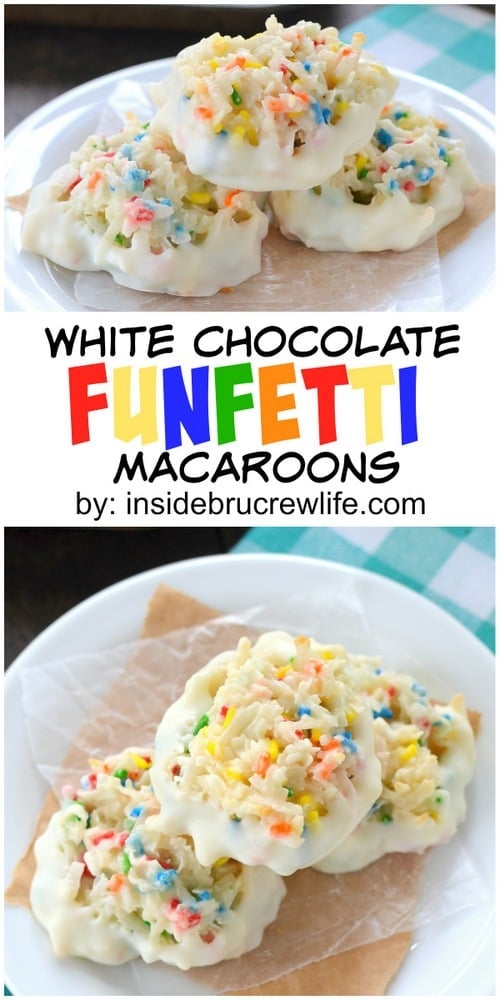 Stay up to date on all the BruCrew baking here:
FACEBOOK | PINTEREST | GOOGLE+ | TWITTER | INSTAGRAM | BLOGLOVIN
Sign up to receive an email in your inbox for each new recipe:
EMAIL SUBSCRIPTION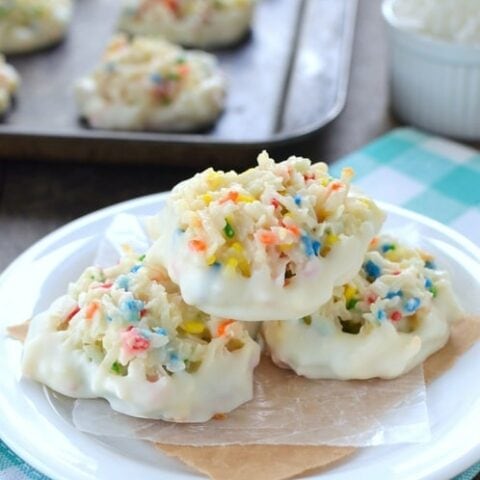 White Chocolate Funfetti Macaroons
Sprinkles and white chocolate add a fun twist to these easy White Chocolate Funfetti Macaroon.
Ingredients
5 cups shredded coconut
1 - 14 ounce sweetened condensed milk
½ cup flour
1 cup sprinkles (jimmies)
1 cup white chocolate melts
Instructions
Preheat the oven to 350 degrees.
Mix together the coconut, sweetened condensed milk, and flour. Stir in the sprinkles.
Drop 24 even spoonfuls onto a baking sheet. Bake for 8-10 minutes. Let cool.
Place the white chocolate melts in a microwave safe bowl. Heat for 30 seconds. Stir. Heat for another 15-20 seconds, if needed.
Once the chocolate is creamy, dip the bottoms of the cooled cookies in the chocolate. Let set. Store in a sealed container on the counter.
More fun and delicious ways to enjoy coconut and chocolate: