Small Batch Cherry Preserves will harness all the summer flavor you love in one little jar. What are you waiting for? It only takes half an hour!
CLICK HERE TO PIN THIS RECIPE FOR LATER!
At the moment I can't stop buying fresh berries. Blueberries, blackberries, and strawberries have been making their way right into my cart every time I go grocery shopping.
It's not a bad problem to have. I guess there could be worse things that could jump into my cart.
Oh, wait. I have a seriously large sweet tooth so there are always cookies and candies jumping into the cart too. I should probably try to stick to the sugar in the fruit instead. Thank goodness all three of our kids love fruit.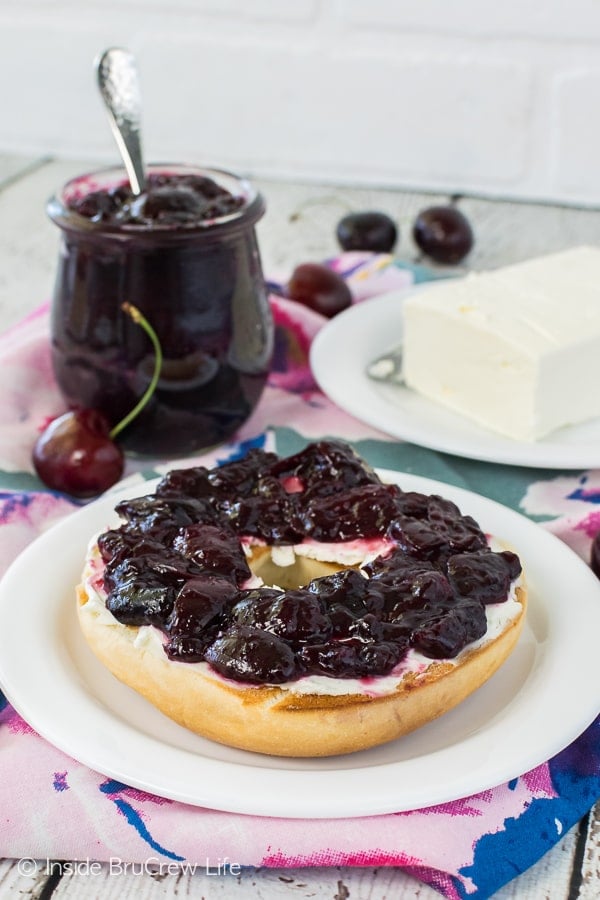 Berries don't stand a chance in our house. Either the kids devour them, or I use them on top of things like this lemon strawberry poke cake.
At least berries don't have time to turn moldy in our fridge like some of the veggies at the bottom of the crisper do.
Since cherries are in season right now I have come home with a few bags of those lately. Our daughter took one look at the latest bag and announced that she would take care of all of them for me.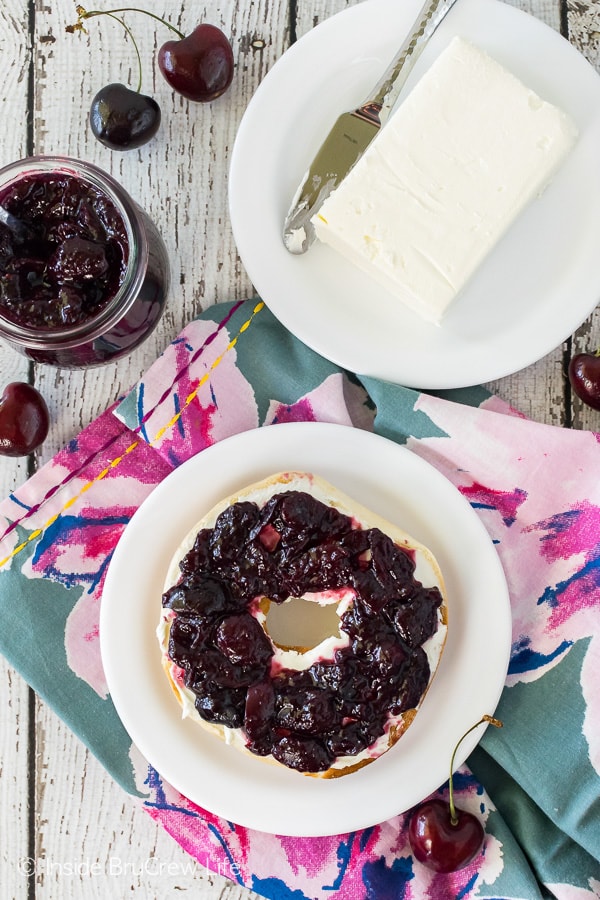 She sure does love cherries. Since I was planning on making one jar of this small batch cherry preserves, I told her I could definitely share with her.
She then proceeded to tell me she was just joking about eating them all. How was I supposed to know that? I've seen how fast fruit disappears around here.
She and I sat at the table each pitting our pile of cherries. She used the usual method of chewing and spitting out the pits while I went with the easy and slightly messier version with a cherry pitter. It is one of my favorite summer kitchen tools, even if it did spit cherry juice on my shirt this time.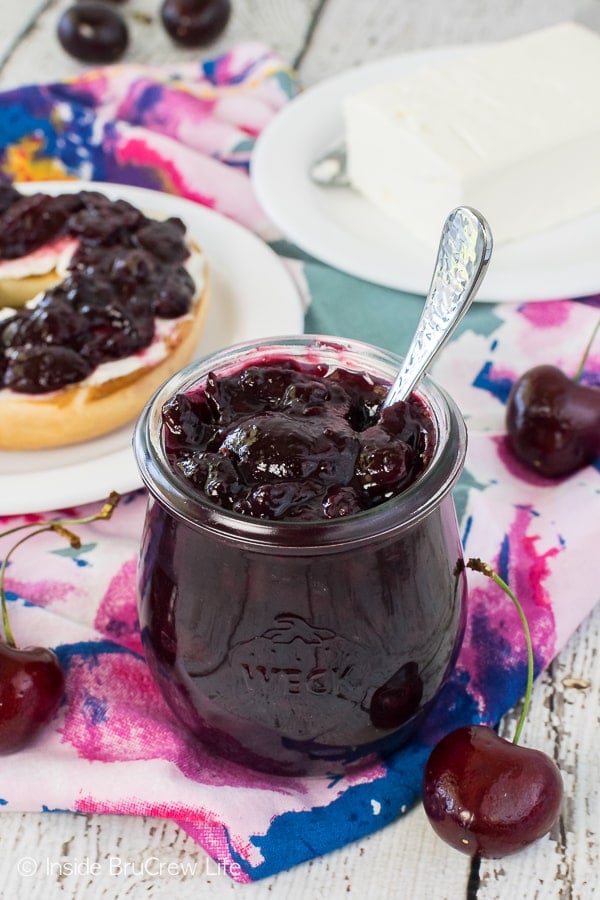 I love how easy it pushes the cherry pits out. Of course, a plastic drinking straw and a plastic pop bottle works just as well if you don't have the pitter.
Usually when I make homemade pie filling or preserves from fresh fruit, I only use two ingredients. This honey blueberry sauce is one of my favorite ways to use up extra berries. Well, whenever we have any that is.
To make these preserves a little thicker, I stirred some cornstarch into the water before adding the chopped berries. Let the cherries simmer on medium heat for about 10 minutes. That will give the berries time to release some of their juices.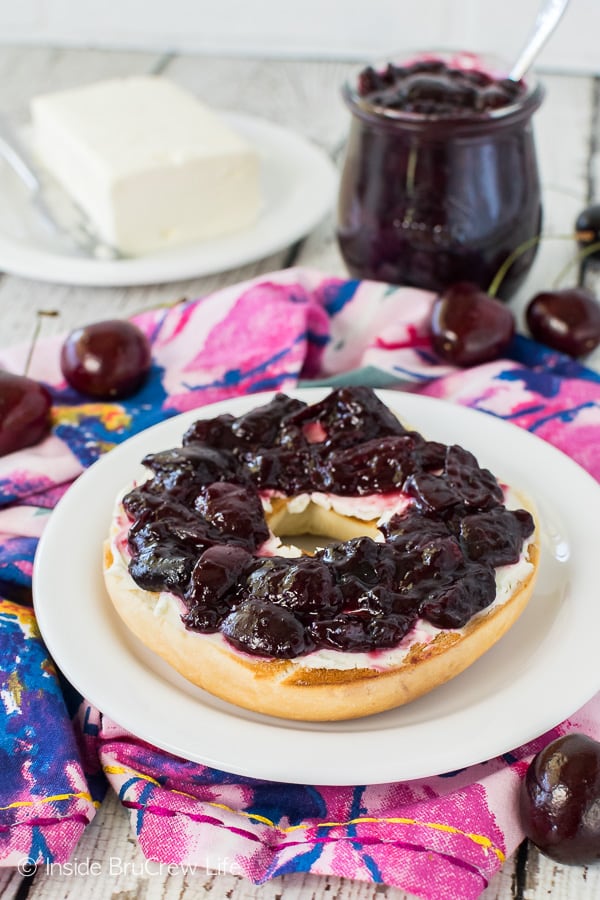 Once they start to get a little juicy, you can stir in the honey and increase the heat to high and let it come to a full boil. Go ahead and let it boil for 5 more minutes while you stir it every minute. You don't want the berries to burn and stick to the bottom.
Once the timer has gone off, remove the pan from the heat and let it cool for about an hour, then refrigerate until completely chilled and thickened. If your mixture is a little too thick for your liking, go ahead and stir in a little more honey.
This sweet preserve is perfect for spreading on cream cheese bagels or toast. It also works great in different desserts like fruit bars or sweet rolls. Or you could do what I did and go to town with a spoon.
Make sure you head over to Food Fanatic to print this the small batch cherry preserves recipe.
Looking for more ways to use up those cherries? Here are some delicious recipes I think you might like.

*This post does contain an affiliate link. Inside BruCrew Life may receive a small percentage from sales made through these free links. As always, these do not cost you any extra. Thank you for letting us share products we use and love.