This easy Lemon Strawberry Poke Cake is a refreshing and light dessert for hot summer days. The creamy lemon frosting pockets and fluffy strawberry mousse make this a favorite with everyone.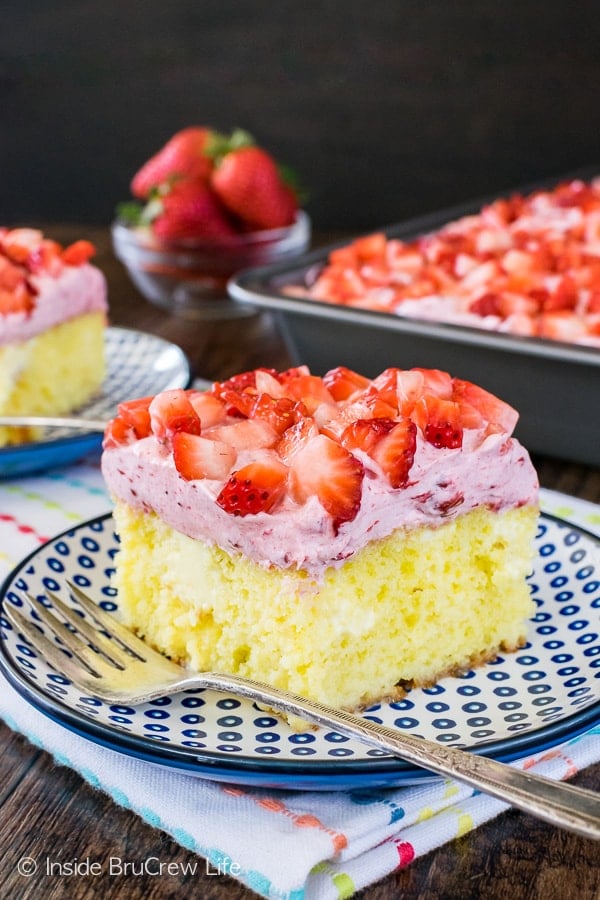 CLICK HERE TO PIN THIS RECIPE FOR LATER!
The weather here in west Texas cannot make up it's mind.  One day it is hot and sunny and the next day it is cool and windy.  Don't get me wrong. I'm not complaining at all.  I would gladly take these type of days over chilly and snowy days because I have definitely become accustomed to warmer weather.  Fingers crossed we never move back to the frozen tundra that is the north.  Ha!
On those sunny days we have been doing a little bit of spring cleaning outside the house.  We have planted flowers, watered the grass, and pulled weeds so far.  My husband has been trying to get our pressure washer working again.  This area gets a lot of dust blowing around in the wind, and it coats the houses and windows.  I know ours could use a good power clean to bright up the exterior.
Another thing I did the other day was to cut down a big bush in the front of the house.  It was one of the bushes that probably started out small, but grew really quickly and kind of was taking over the front window.  I had mentioned to my husband that we should remove it, but then we never did anything.  One day after I got back from my morning run, I grabbed the gardening shears and went to town on the bush.  An hour later, it was gone, and there was a huge mess of branches in the front yard.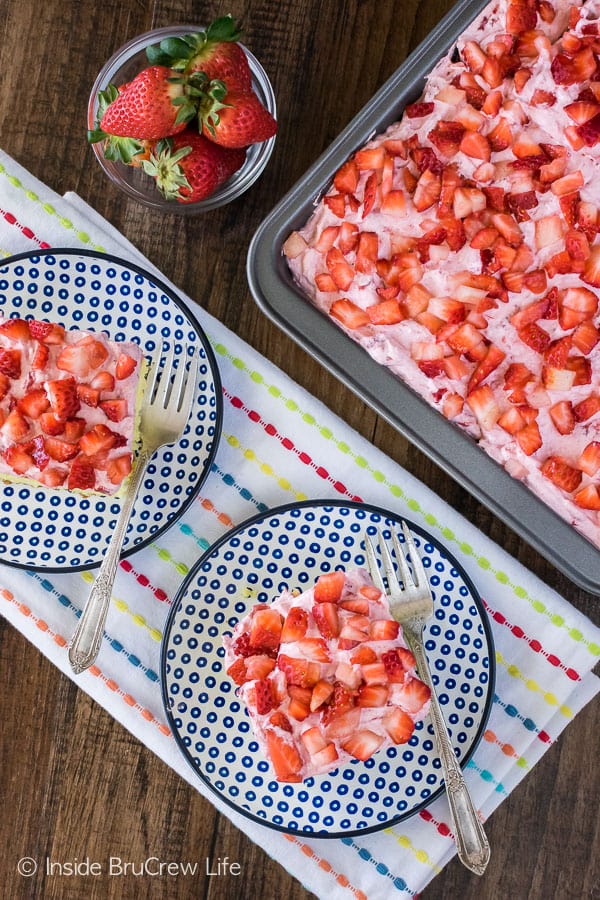 With all these warm summer like days, my brain has gone into coming up with fruity desserts nonstop. Earlier this month I made these cute mini lemon cheesecake pies, and now I can't stop thinking about how to include more lemon into my baking.
Our church youth group had a family activity a few weeks ago, and of course, my job was to bring dessert.  They know by now that I have my own "store" in my pantry, so making desserts is never a problem.
I pulled a lemon cake mix and a can of strawberry pie filling from the pantry and got to work.  Last year I made this raspberry lemon cake, but this time I wanted to give it a strawberry twist.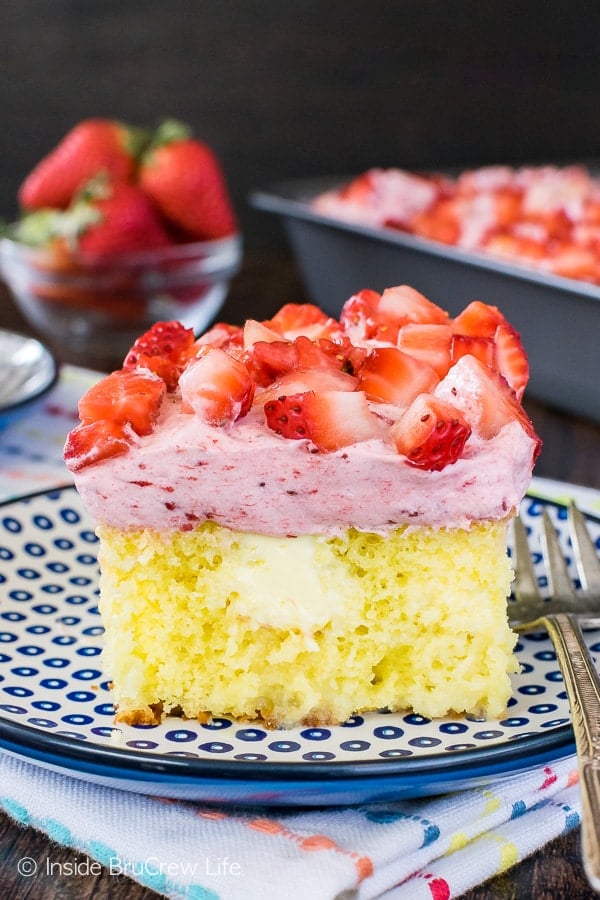 One of my absolutely favorite ways to use pie filling is not to make a pie.  Shocking, I know.  Adding it to cream cheese or Cool Whip creates this light fluffy mousse that I just cannot get enough of. It is perfect for using in parfaits, fillings, or as a quick and easy frosting.
After baking the cake, I poked it with a wooden spoon handle to create bigger holes.  An entire can of sweetened condensed milk goes on top first.  The milk will soak into the cake creating a creamy and decadent chilly cake.  We could stop there, but I melted a can of lemon frosting and poured that on top too.  The frosting settles into the holes and creates these creamy little pockets of frosting that just goes so well with all the strawberries. So yum!
Time to finish it off with the strawberry mousse frosting and some fresh berries.  This cake disappeared in no time at all.  You should have seen the adults jumping up to go grab another piece before someone else could beat them to it.  It was quite comical.  But also quite satisfying because that just confirmed to me that this lemon strawberry poke cake was a definitely winner!
If you are looking to add more lemon to your life, you need to check out these easy Lemon Hand Pies.  So easy and cute!  I can't wait to make a batch of these Lemon Meltaways! Cookies that melt in your mouth sound so good!  And this Lemon Angel Pie looks so fluffy and delicious!  Perfect for summer dinners!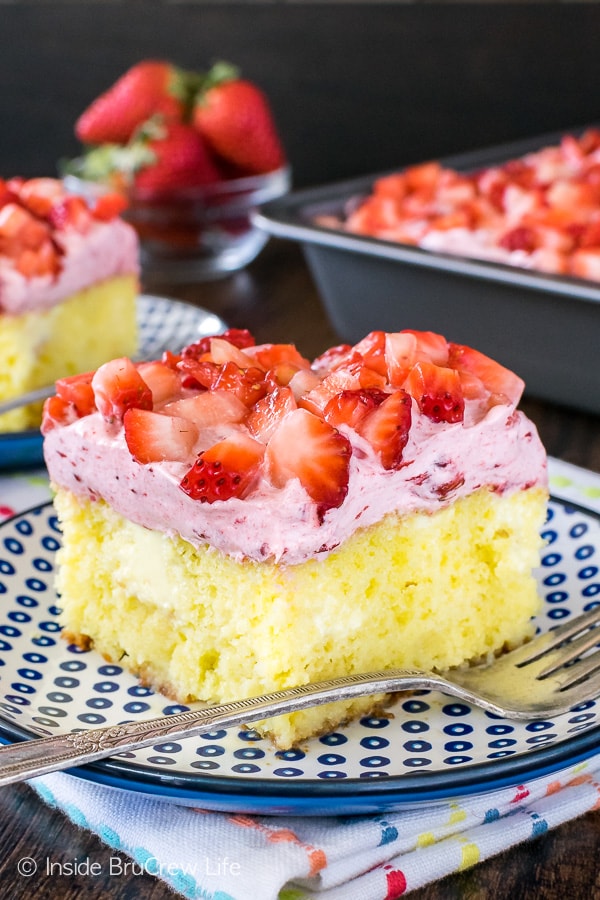 Stay up to date on all the BruCrew baking here:
FACEBOOK | PINTEREST | GOOGLE+ | TWITTER | INSTAGRAM | BLOGLOVIN
 Sign up to receive an email in your inbox for each new recipe:
EMAIL SUBSCRIPTION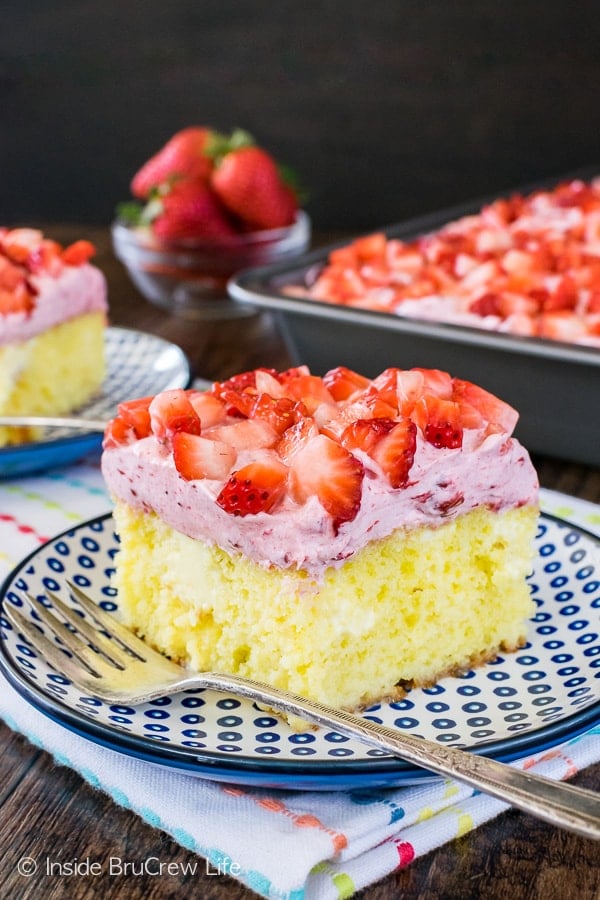 This easy Lemon Strawberry Poke Cake is a refreshing and light dessert for hot summer days. The creamy lemon frosting pockets and fluffy strawberry mousse make this a favorite with everyone.
Ingredients
1 lemon cake mix
1 - 14 ounce can sweetened condensed milk
1 - 16 ounce container lemon frosting
1 - 21 ounce can strawberry pie filling
1 - 8 ounce container Cool Whip, thawed
1 1/2 cup diced strawberries
Instructions
Preheat the oven to 350 degrees. Spray a 9x13 pan with nonstick spray.
Make and bake the lemon cake mix according to the package directions.
Let the cake cool for 5 minutes, then use the handle of a wooden spoon to poke holes all over the warm cake.
Pour the sweetened condensed milk over the top of the cake, letting it soak into the holes.
Remove the foil liner from the can of frosting. Microwave the frosting for 30 seconds. Stir and pour over the top of the cake. Spread it out with a spatula. Let it cool for an hour, then refrigerate until completely cooled.
Pour the pie filling in a bowl and use a fork to smash the berries. Fold the container of Cool Whip into the pie filling. Spread on top of the cooled cake. Sprinkle the diced strawberries on top.
https://insidebrucrewlife.com/lemon-strawberry-poke-cake/
Copyright Inside BruCrew Life