Cherry Almond Brie Bites: Flakey crescent rolls filled with melted Brie cheese and a homemade cherry filling is the perfect appetizer for any party.  Do I have your attention yet?
*Be sure to sign up for the BruCrew email to get these delicious recipes delivered to your inbox each day.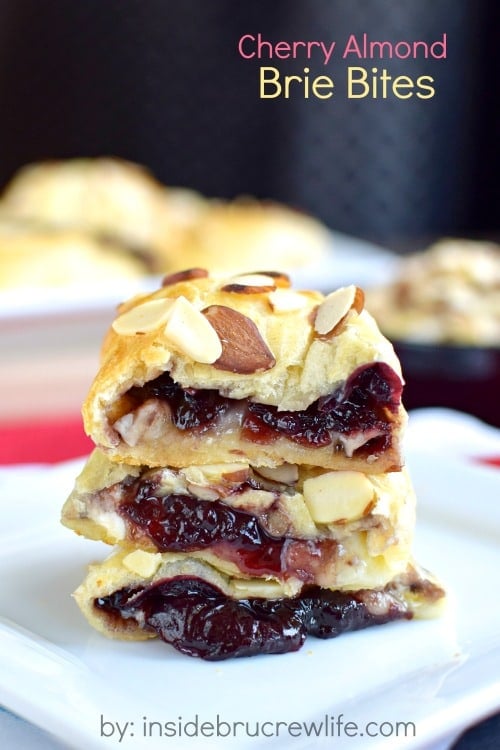 A few years ago I saw so many of my friends posting different Brie recipes, but I just had no desire to jump on that band wagon.  Oh, boy!  Was I ever wrong to wait so long to try it.  It is now one of my favorite cheeses.
Last year I made these Blackberry Brie Bites and was instantly hooked on the fruit and melty cheese combo.  My husband wasn't so impressed.  That's ok with me…more for me to enjoy and devour 🙂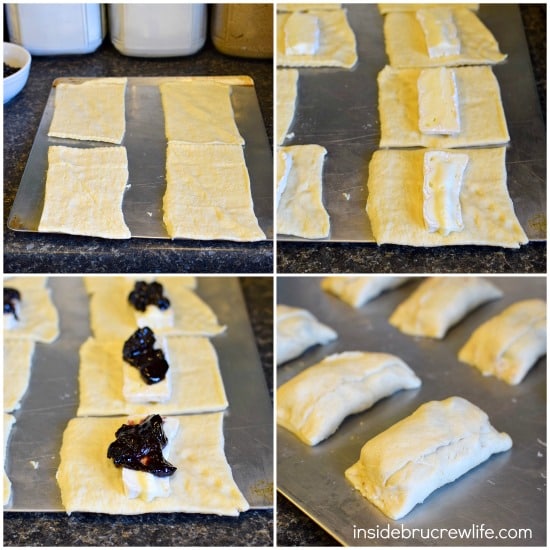 I bought another round of Brie cheese to make something fun with over the holidays.  No way was I letting that goodness sit as long as it did last time though.  I knew right away that it was getting paired with some sort of fruit and crescent rolls. I tend to always have a few cans of crescent rolls in my fridge for easy recipes like this BLT Chicken Braid or these Cheesecake Nutella Twists. I'm a fan of having ingredients on hand for meals in minutes.
But I didn't want to do the same little cups with the Brie this time.  Enter in the crescent roll pockets.
Roll out the crescent rolls and press the seams together, then cut each rectangle into a square.  You will be able to get 8 appetizer pockets from each can of crescent rolls. Then lay a slice of Brie and some filling on each square and fold up. Sprinkle on some almonds, and hello, Cherry Almond Brie Bites.
 But I'm getting ahead of myself because first you need to make this amazing fruit spread.  Yes, you could use a can of pie filling.  There is no shame in that.  I have been there, done that.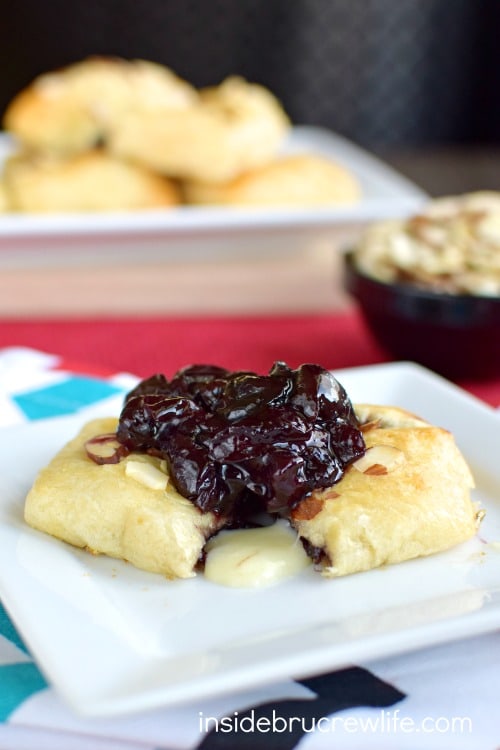 A bag of sweet dark cherries have been sitting in our freezer for some time waiting for me to use them in things like these Skinny Cherry Banana Smoothies.  But for some reason holidays and smoothies don't go together in my mind.  They really should because then maybe I wouldn't overeat on fudge and cookies.  But that's besides the point.
Anyway…back to the frozen cherries.  You need to cut enough cherries in half to measure 2 cups.  Then place them in a pan with some honey over medium heat until the juice from the berries starts to come out.  Bring it to a boil and cook for 5 minutes.  You will be amazed at the delicious, thick filling that happens in the pan in minutes.
The filling can be used in a variety of ways like in pie, on toast, or eaten with a spoon.  But seriously, pair it with Brie.  You just might fall in love like I did!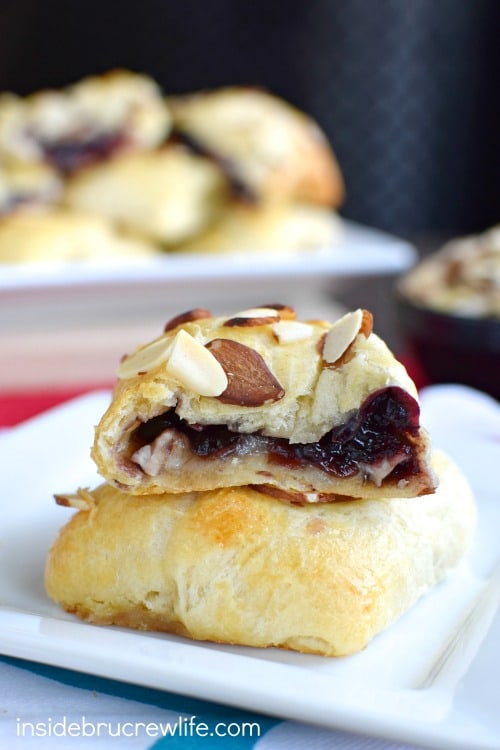 Stay up to date on all the BruCrew baking here:
FACEBOOK | PINTEREST | GOOGLE+ | TWITTER | INSTAGRAM | BLOGLOVIN
 Sign up to receive an email in your inbox for each new recipe:
EMAIL SUBSCRIPTION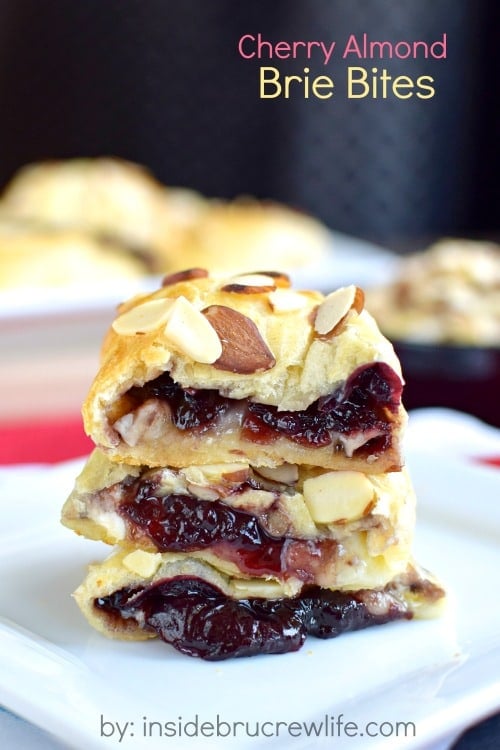 Brie cheese and a homemade cherry filling makes an easy appetizer that only takes minutes to prepare. Perfect for any party or game day.
Ingredients
2 cups frozen dark, sweet cherry halves
2 Tablespoons honey
1 - 8 ounce can refrigerated crescent rolls
4 ounces Brie cheese
1 egg
1 Tablespoon water
2 Tablespoons sliced almonds
Instructions
Stir together the cherries and honey in a sauce pan over medium heat until the juices come out of the fruit. Bring the mixture to a boil, and boil for 5 minutes or until it thickens. Remove from the heat and set aside.
Open the can of crescent rolls. Separate the dough into 4 rectangles and press the seams together. Cut each rectangle into 2 squares.
Slice the Brie into 8 even slices. Place one slice on each crescent roll rectangle. Top with a spoonful of cherry filling. Make sure to reserve half the filling. Fold the sides of the dough over the filling and press the seams together.
Whisk together the egg and water. Brush over the dough pockets. Sprinkle with sliced almonds.
Bake at 375 degrees for 12-14 minutes. Serve immediately with the reserved filling. Makes 8 pockets. Refrigerate any remaining bites in a sealed container or bag. Reheat in the microwave for 30 seconds.
https://insidebrucrewlife.com/cherry-almond-brie-bites/
Copyright Inside BruCrew Life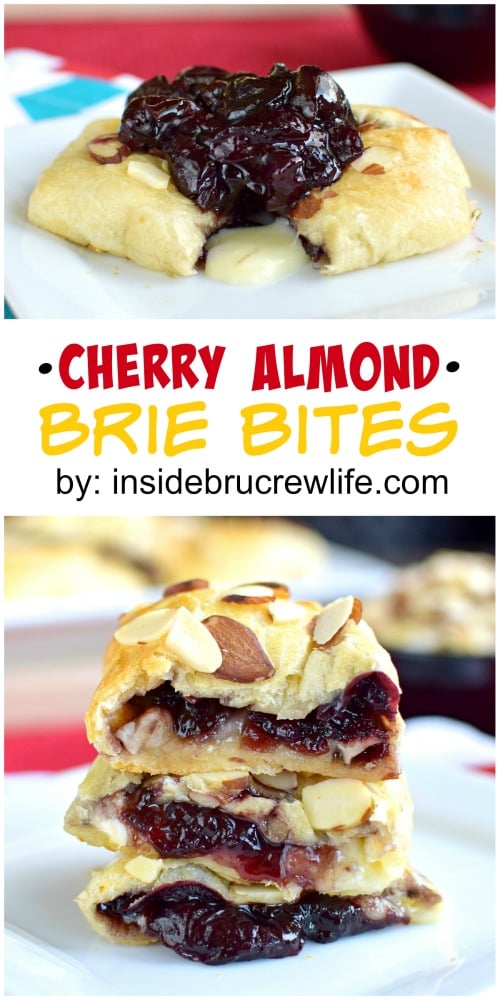 More easy to make appetizers: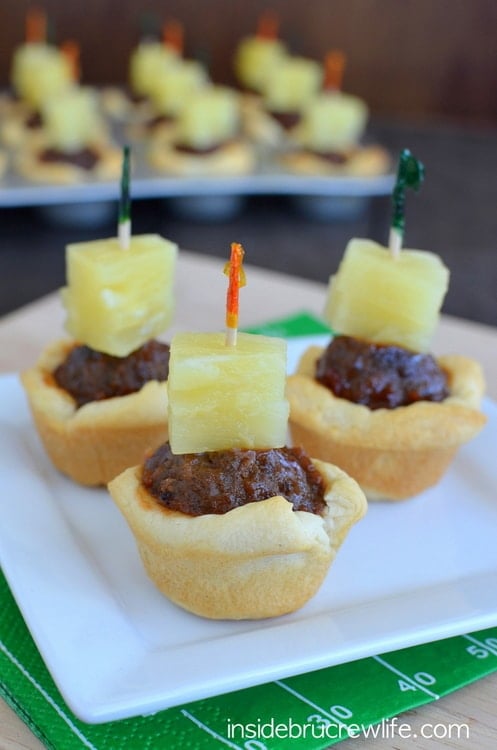 Tropical Meatball Crescent Cups