A tray of these Cherry Almond Brie Bites will get everyone's attention at your holiday parties. Flakey crescent rolls filled with melted Brie cheese and a homemade cherry filling is the perfect appetizer for any party.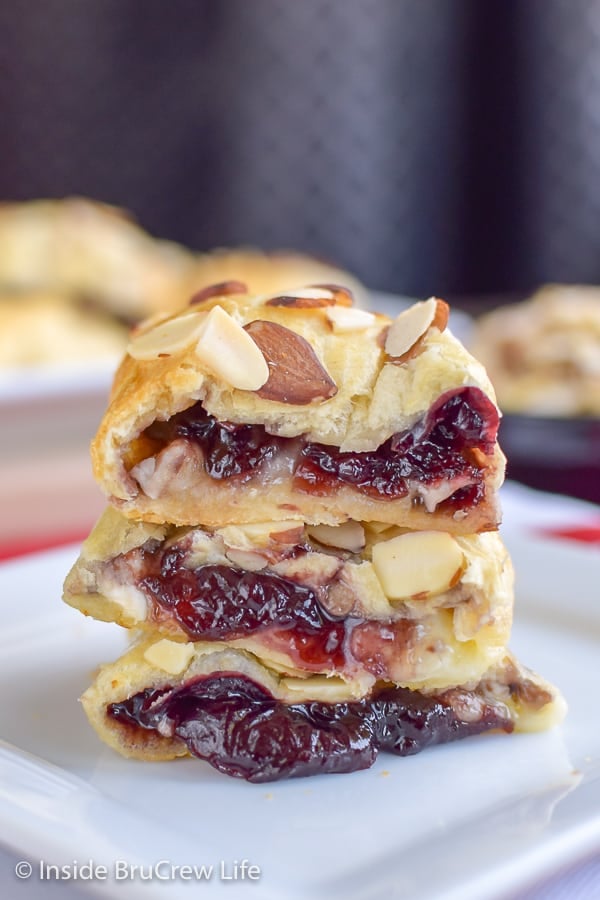 A few years ago I kept seeing so many different Brie recipes, but I just had no desire to jump on that band wagon. So I waited to try Brie cheese. Oh, boy! Was I ever wrong to wait so long to try it. It is now one of my all time favorite cheeses.
A few years ago I made these Blackberry Brie Bites and was instantly hooked on the fruit and melty cheese combo. My husband wasn't so impressed. That's ok with me because that means more for me to enjoy and devour.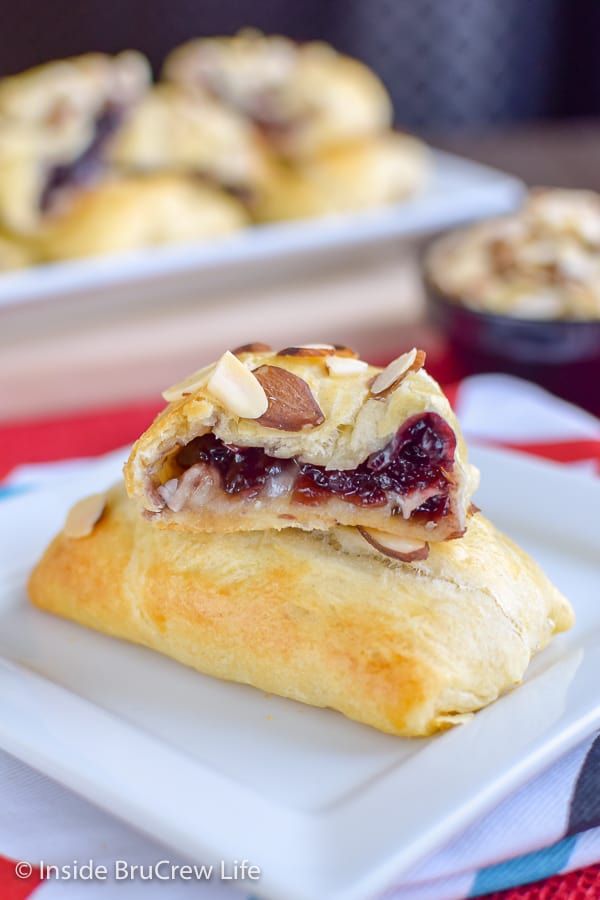 I bought another round of Brie cheese to make something fun with over the holidays. No way was I letting that goodness sit as long as it did last time though.
I knew right away that it was getting paired with some sort of fruit and crescent rolls. I tend to always have a few cans of crescent rolls in our fridge for easy recipes like this BLT Chicken Braid or these Cheesecake Nutella Twists. I'm a fan of having ingredients on hand for meals in minutes.
But I didn't want to do the same little cups with the Brie this time. Enter in the crescent roll pockets.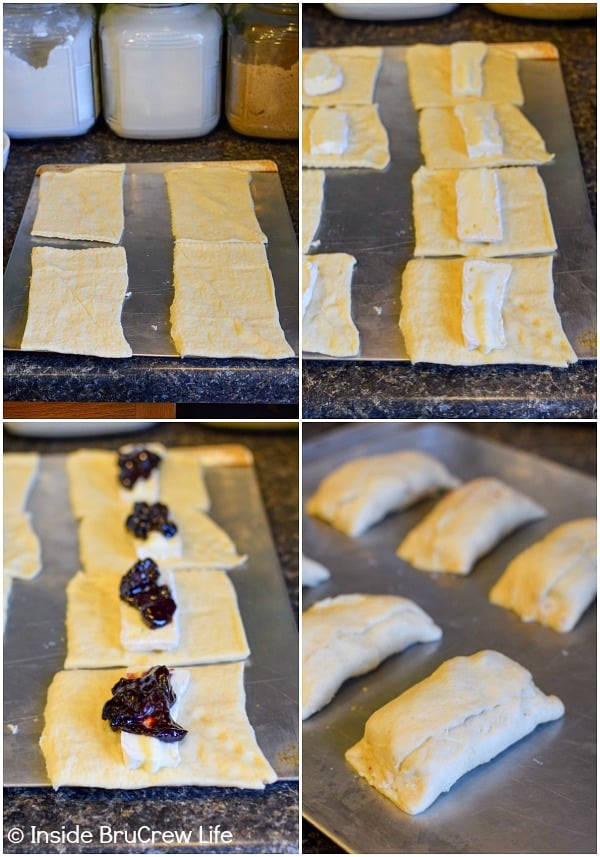 Before you can make these baked brie appetizers, you will need to make a batch of this Small Batch Cherry Preserves. Yes, you could use a can of pie filling. There is no shame in that. I have been there, done that. Trust me though, the homemade cherry filling is better.
A bag of sweet dark cherries have been sitting in our freezer for some time waiting for me to use them in more of these Skinny Cherry Banana Smoothies. But for some reason I just don't crave smoothies during the holidays. Fudge and cookies tend to get all my attention this month instead.
Trust me and use the frozen cherries in a homemade filling. You will be amazed at the delicious, thick cherry filling that happens when you boil frozen cherries with honey.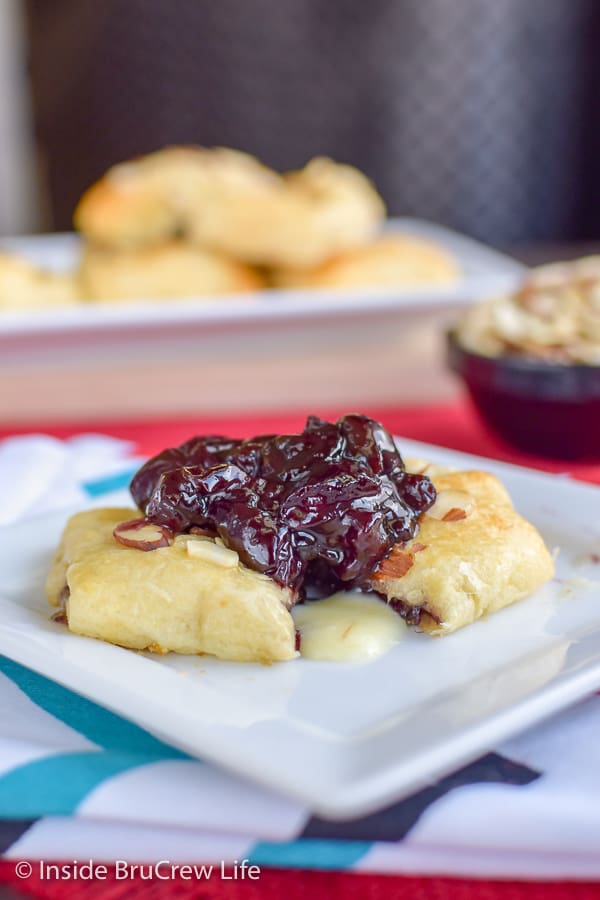 The cherry filling can be used in a variety of ways like in pie, on toast, or eaten with a spoon. But seriously, pair it with Brie. You just might fall in love like I did!
How to make Cherry Almond Brie Bites:
Unroll the crescent rolls and press the seams together. Cut each rectangle into a square. You will be able to get 8 appetizer from each can of crescent rolls.
Place a small slice of Brie cheese and a spoonful of cherry filling on each square and fold it up. Make sure all the seams are pressed closed.
Sprinkle some sliced almonds on top and bake.
Serve the Cherry Almond Brie Bites fresh out of the oven.
Do you remove the rind from Brie before baking?
No you do not need to cut the rind off. It is completely edible, and you will not notice it once it is baked with the fruit. You can cut the rind off though if you prefer it better that way.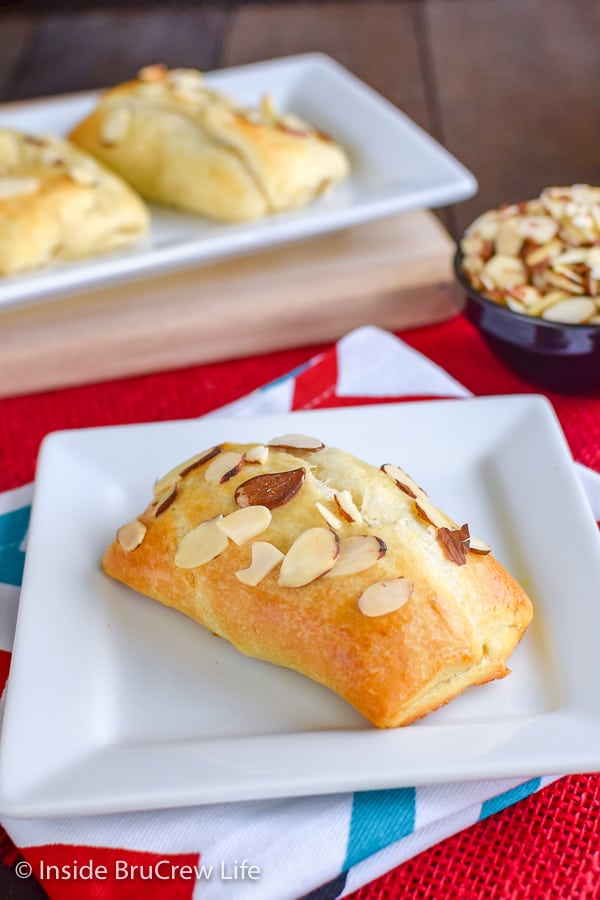 More easy appetizers you may like: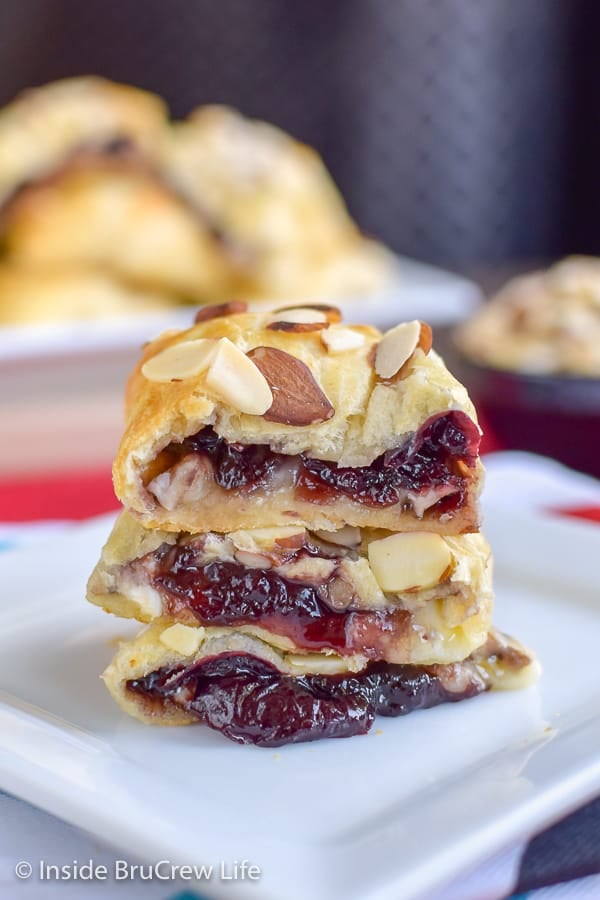 CLICK HERE TO PIN THIS RECIPE FOR LATER!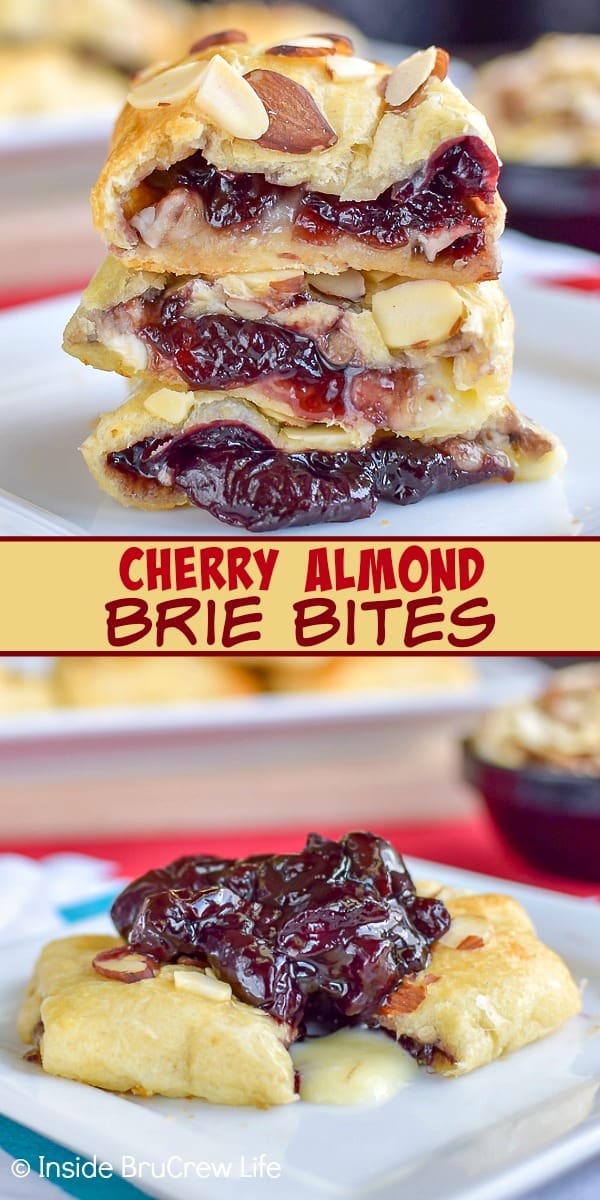 *The post for Cherry Almond Brie Bites was first published on December 30, 2014. The photos and post have been updated and republished on December 28, 2019.