Easy egg muffins with a taco twist are an easy and delicious breakfast or brunch meal. Thank you Ohio Poultry Association for inspiring me to make these delicious taco egg muffin cups.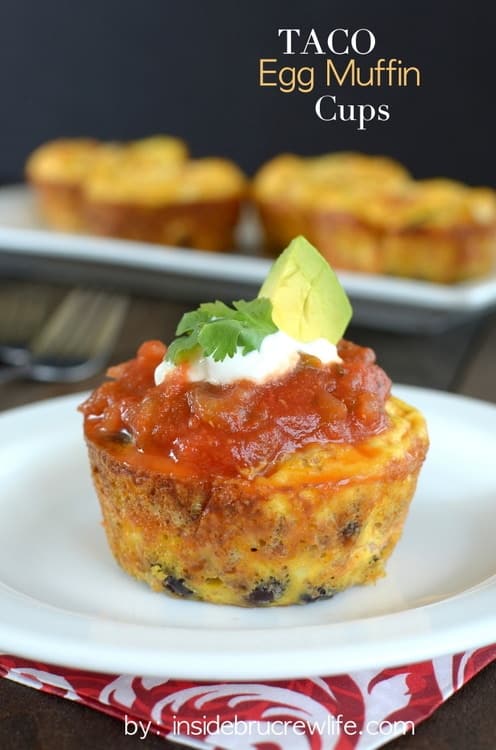 We go through quite a few eggs here in our kitchen. Most of the things I bake call for eggs, and we like to have eggs for breakfast. There is nothing like a protein packed breakfast to get you going in the morning. Egg casseroles, scrambled eggs, or an omelette are a few ways we enjoy our breakfasts. That is my hubby and I...the kids prefer their eggs in muffins and pancakes.
I have to admit I have the best job ever. Most days I spend hours in my kitchen baking fun new recipes, photographing these creations in my living room, or sharing them here on the blog for you to enjoy.
My husband chuckles every time he comes home from lunch because I am usually still in my work out clothes or pajamas. Coming up with delicious treats and dinners takes time and energy, so I need to be as comfortable as possible when doing that.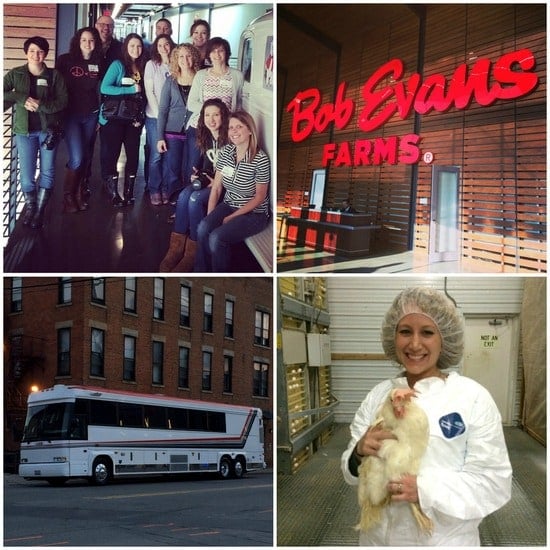 Some times this job brings fun new opportunities my way. A few weeks ago I was invited by the Ohio Poultry Association to join them and some amazing bloggers for an egg-cellent adventure in Columbus, Ohio. We drove about in our rock star bus and learned so much about eggs and how they go from the farm to your kitchen. One interesting fact I learned was that Ohio is the 2nd largest egg producing state in the US. That's a lot of eggs.
We started at the Bob Evans Headquarters where we had a sneak peak at their kitchens and offices. Breakfast was made in front of us by the head executive chef. We also go to meet Tom, the owner of a large chicken farm in Ohio that provides Bob Evans with all the shell eggs they use in their restaurants.
Our next stop was Weavers Brothers Farm where we donned our fabulous new outfits. Aren't we just the sexiest things ever? The reason for this outfit was to protect the chickens we were about to meet. Turns out that chickens can catch colds and viruses just like humans can. Little tidbit of info that I did not know about chickens. And in order to not cross contaminate farms, we were only able to visit this one farm while we were in Columbus.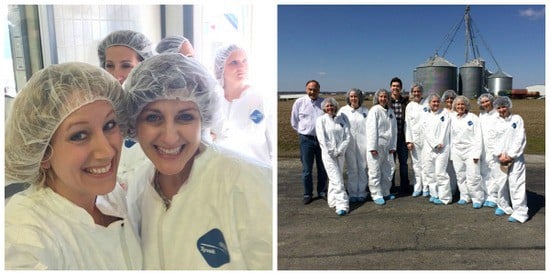 I went into the farm with some preconceived ideas. My thinking was that these are animals and it is a farm, so how clean can it really be? Can I just tell you it was amazingly clean and sanitized. The floors, the machines, and the hen houses were immaculate. These farmers love their chickens and know that a happy hen lays better eggs. You could see the love they have for their animals while they shared their job with us.
We watched the eggs as they made their way from the hen house onto conveyor belts that sent them through machines that washed, inspected, rewashed, and disinfected with UV rays. Every egg is carefully inspected by these amazing machines. They can track where every egg is as it makes its way through. Even the cracked eggs get sent on to be used for egg products or feed. Nothing is wasted.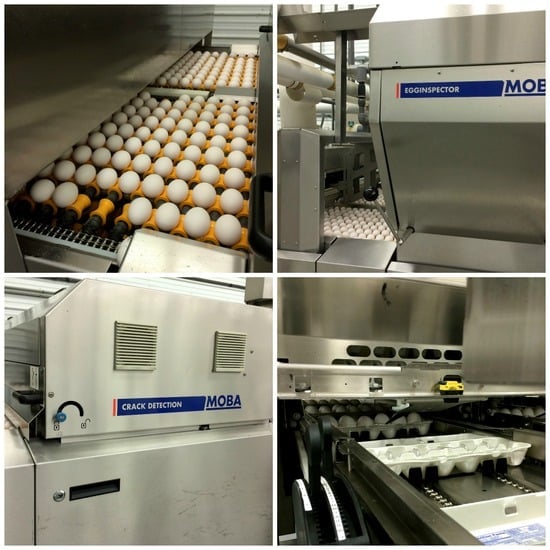 I even got to hold a chicken while we were there. Definitely something to mark off the bucket list...well, if it was on that list that is. We learned that by holding the legs and holding them close, it calms them down.
While we were at the farm, I spotted some familiar egg cartons. Weaver's provides eggs to the Aldi stores in Ohio and Indiana. I can now say I know where my eggs come from. I also learned what the numbers are on the end of the boxes. If you look at the numbers, they stand for the lunar calendar day the egg was laid, the plant #, the line it was packed on, and the expiration day. By knowing this, you can track down where your eggs have come from.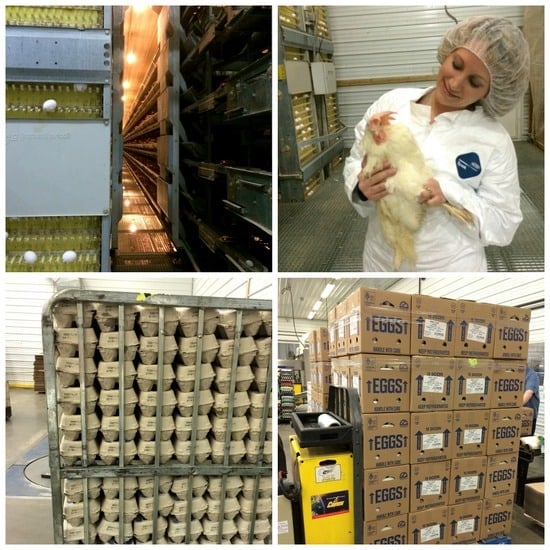 And of course this trip was so much fun to share with new and old blog friends.
We ate, we chatted, we ate, we talked eggs and blogs, we ate some more, and we learned so many egg-citing facts. Did I mention we ate?
The OPA treated us like rock stars. From the bus, the surprise Easter basket in our rooms, the delicious food, and the amazing egg gifts at the end, they just made us feel so special. They also made sure we were very well fed. In the span of 3 days, I ate Japanese with Mead, ice cream, garlic knots, pizza, chicken, muffins, coffee, cheesecake, and every kind of egg you can imagine. I definitely left Columbus a few pounds heavier, but very satisfied.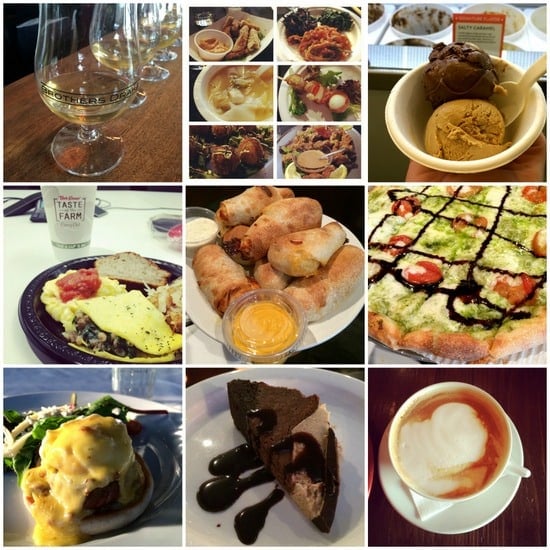 One final stop before we headed home was the North Market. We were each given $10 for a chopped challenge. We had to buy one ingredient that could be used to make something. That is all the information we were given. So we wandered around and each found something unique and interesting. I bought a wheel of brie. Love that stuff.
Next we watched some egg demonstrations from Jim, the vice president of the OPA. He showed us the correct way to make a french omelette, faux eggs benedict, and how to scramble eggs in the microwave. He also took those fun ingredients that we purchased and made gourmet deviled eggs. The fig and prosciutto with balsamic was amazing!!! He even created a chocolate truffle egg that I have to admit was very tasty!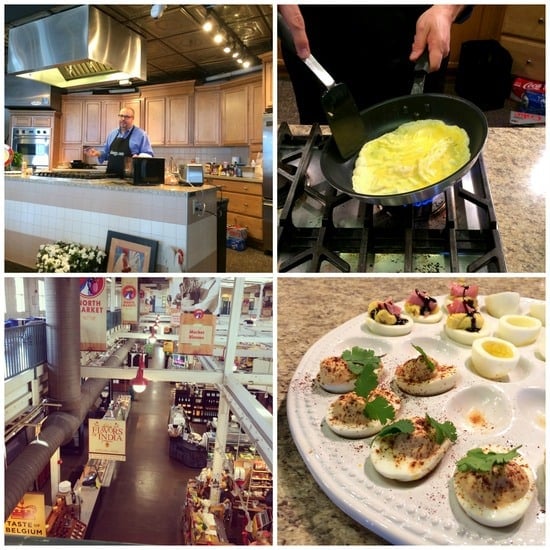 I came home with eggs on the brain and couldn't wait to get in the kitchen to create a fun egg dish. Since we eat so many eggs for breakfast, I decided to take our favorite meal of tacos and incorporate it into egg muffins.
The great thing about these little muffins is that you can freeze them in individual portions and reheat them on the day you want them.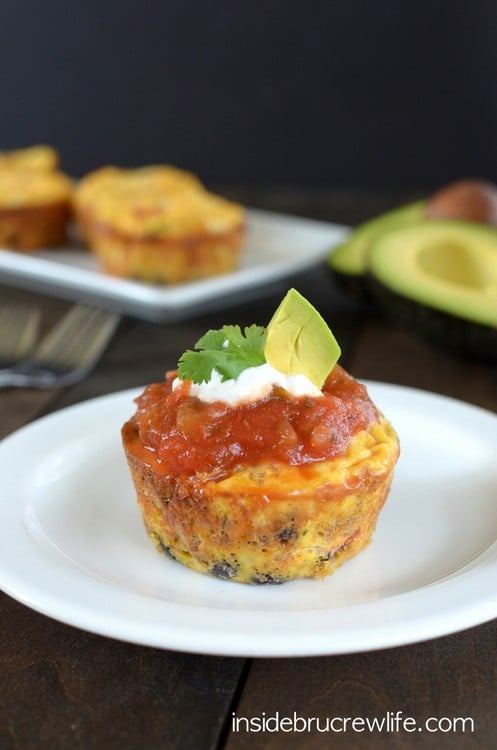 Taco meat, beans, and tomatoes get stirred into the whisked eggs. Spray a muffin tin with non stick spray and fill with the egg mixture. After baking, only let them cool a few minutes in the pan. I ran a knife around the edges of each egg muffin to loosen them. After they cool completely, bag them up in servings and place in the refrigerator or freezer.
When you want to enjoy an egg breakfast, reheat 2 of the frozen muffins in the microwave for about 1 ½ minutes. Top with salsa, greek yogurt, and avocado, and you can enjoy a delicious taco breakfast.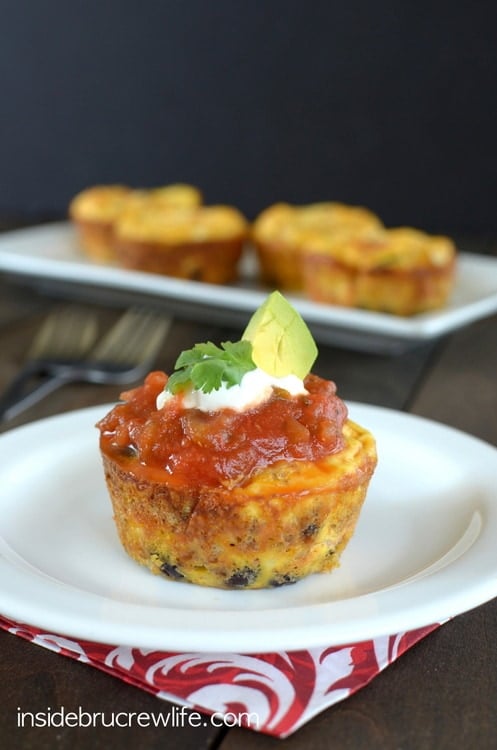 *I was invited by the Ohio Poultry Association to attend this event, and all fees for the trip were paid for by the OPA. Every opinion in this post is 100% my own.