Keep a batch of these Loaded Egg Burritos in your freezer for a quick and easy hot breakfast on busy mornings. Pop one in the microwave and be ready to head out the door in minutes.
*Be sure to sign up for the BruCrew email subscription to get these recipes in your inbox each day.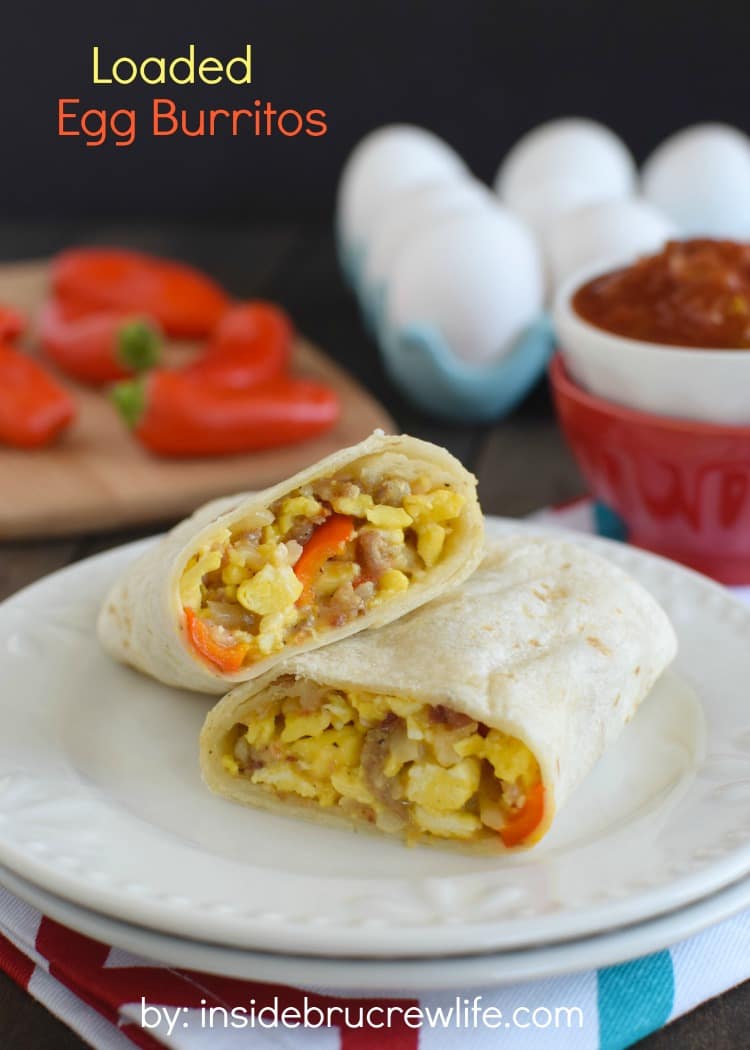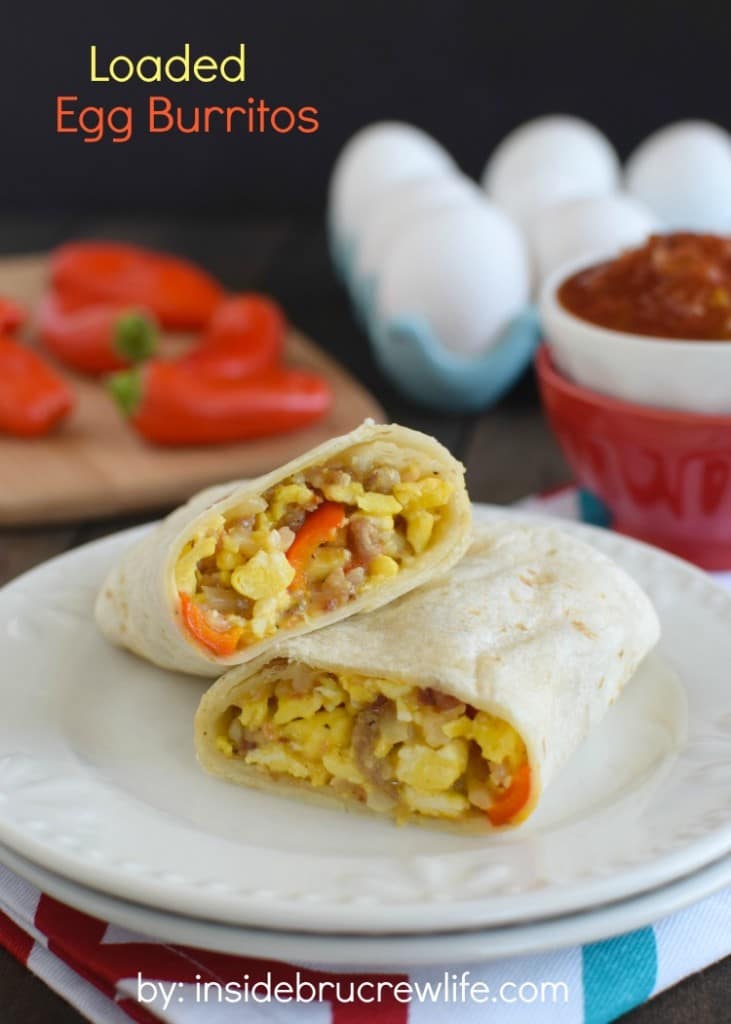 *This post has been sponsored by the Ohio Poultry Association.
By now it isn't a secret that I do not like to make breakfast.  Well, first thing in the morning that is.
I am all for making a batch of Skinny Banana Oatmeal Pancakes or these Green Chile Egg Taquitos in the AFTERNOON and freezing them for the following day or week.  My brain just does not wake up early enough to be cooking on a hot stove or cutting things with a sharp knife.
Although, with our kids getting older, I am realizing that I need to start doubling the batches of food that I am freezing.  I make these Banana Pancakes and freeze them for the week.  Then the kids eat pancakes for breakfast, and in two days the pancakes are gone.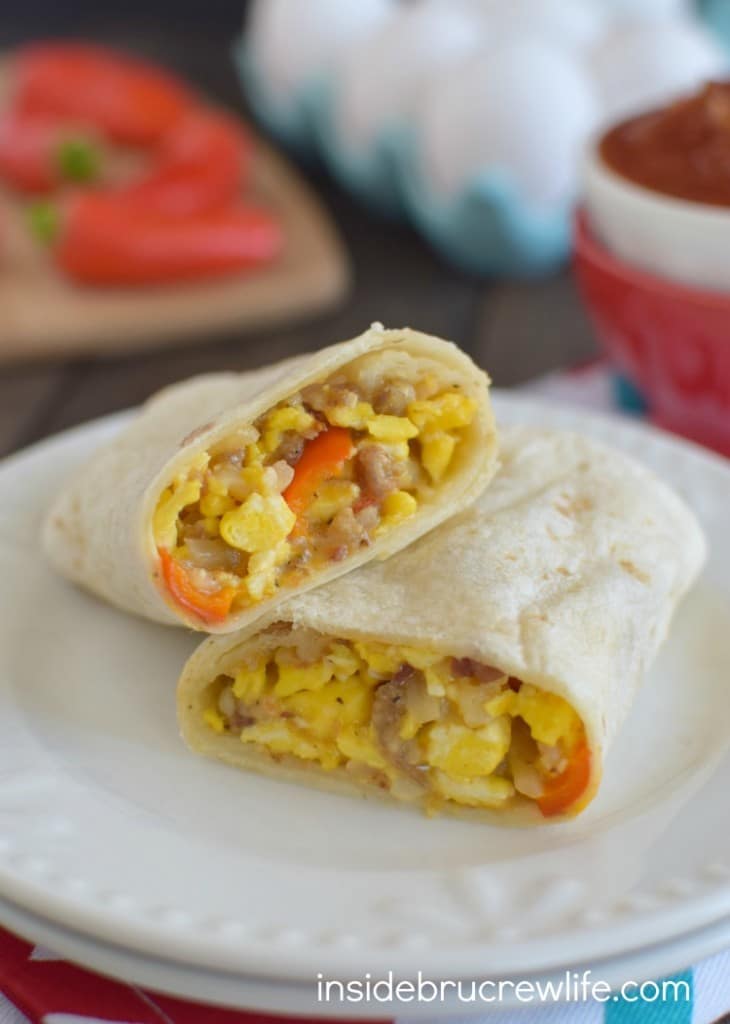 We had some sausage to use up last week, so I used that along with some scrambled eggs, peppers, hash browns, bacon, and cheese to make a batch of easy breakfast burritos.
Each of these burritos is a full meal.  I stuffed each tortilla with a healthy portion of loaded eggs.  Eggs have a high-quality protein that helps keep you fuller longer.  This also means more energy longer into the day.  My kids need this energy and protein to keep them from being hungry while they are in school.
Did you also know that eggs can help form muscle tissue, build muscle strength, and repair muscles after working out?  Sounds to me like I should be preparing more egg breakfasts for my hungry kiddos to start their mornings with. Add filling the fridge with more freezer breakfast burritos to my list.
During the holidays, eggs are one of the most important and most used ingredient in baking.  Just think of all those cookies and cakes that you make for family and friends. How many eggs does each recipe use?
There is a very good chance that you are using Ohio eggs.  Ohio is the second largest state for egg production in the entire country.  That's a lot of eggs.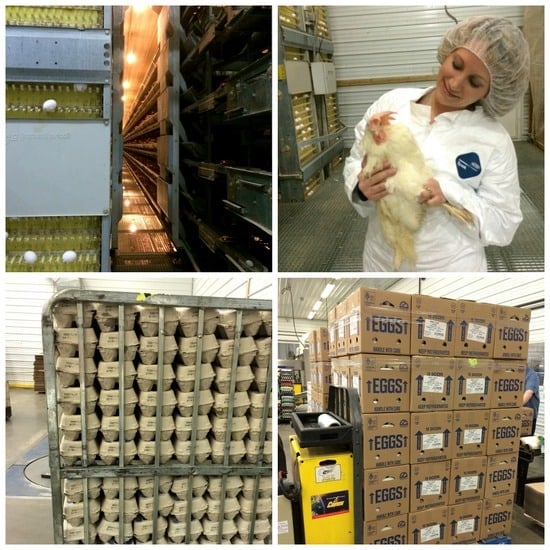 This past spring I was able to visit an egg farm with the Ohio Poultry Association.  There I watched firsthand the chicken and farmer relationship.  They really do love their hens and try to keep them as happy as possible.  A happy chicken lays more eggs.
More eggs means this girl can bake more Chocolate Chip Cookies and Cream Cookies.  I mean, more egg burritos and casseroles.  Wink, wink.
I really did enjoy watching the path of the egg as it went from the henhouse through all the cleaning and inspection stations. These eggs get thoroughly washed and disinfected before being packed and shipped out to your grocery stores.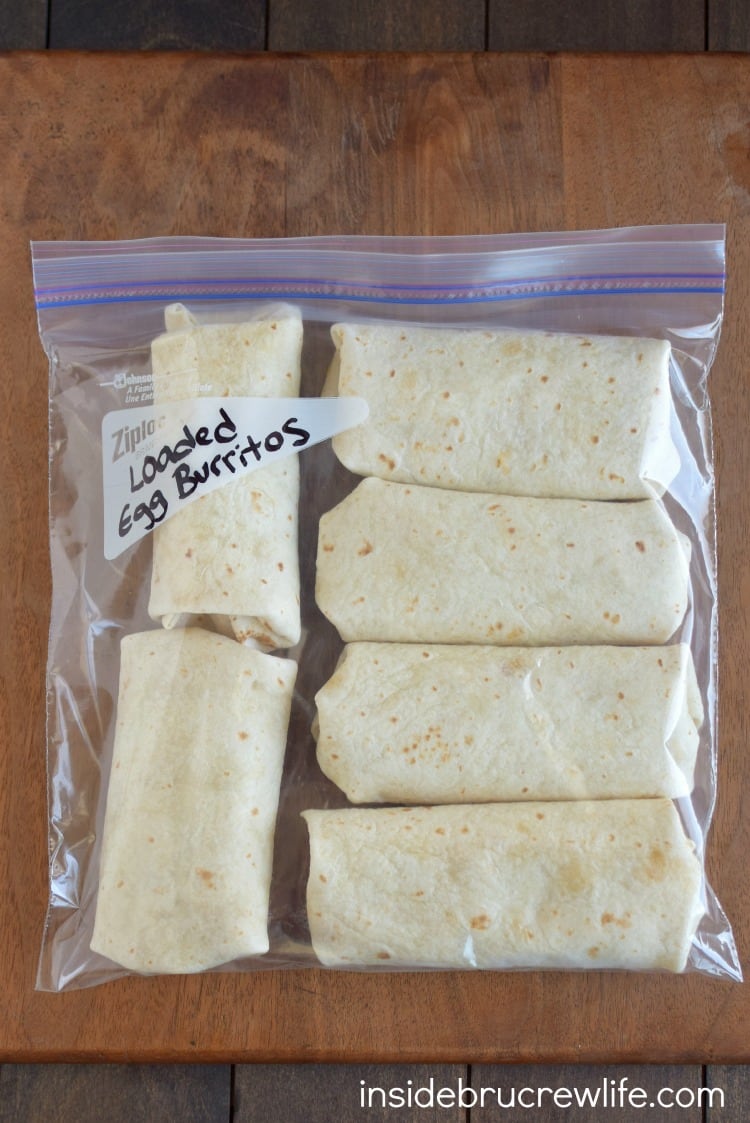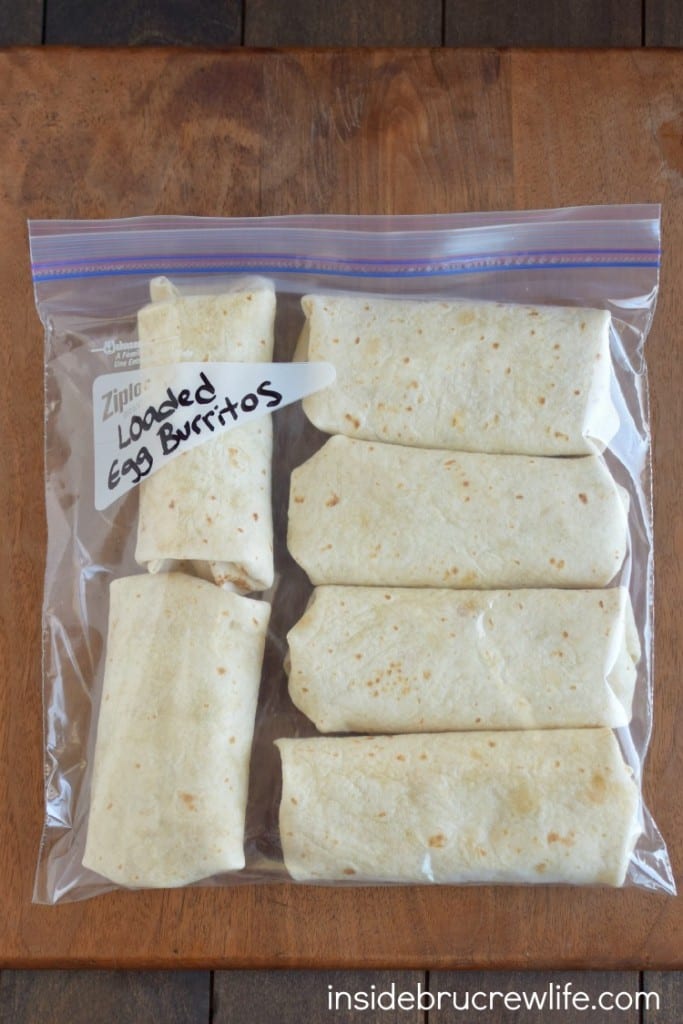 How to make Loaded Egg Burritos:
Ok, so about these make ahead breakfast burritos.  You can get away with using one pan.  Scramble the eggs first, then transfer them to a bowl and cover them to keep them warm.
Sauté the onion, peppers, and hash browns in a little bit of oil.  Then stir in some cooked sausage, bacon, and the scrambled eggs.
Of course, you cannot forget the cheese!  It melts and holds everything together in the tortilla.  I divided the egg mixture into 12 tortillas.  Like I said, this is a very hearty burrito.  Just think of how much protein you are feeding your muscles.
After rolling the tortillas up around the eggs, you can lay them flat on a baking sheet and freeze for 30 minutes to an hour.  Then package them in a freezer safe gallon Ziplock bag.  You should be able to fit 6 in each bag.
These frozen breakfast burritos can be wrapped in a paper towel and microwaved for 1-2 minutes when you need a hot breakfast in a hurry.  Easy breakfast for busy mornings.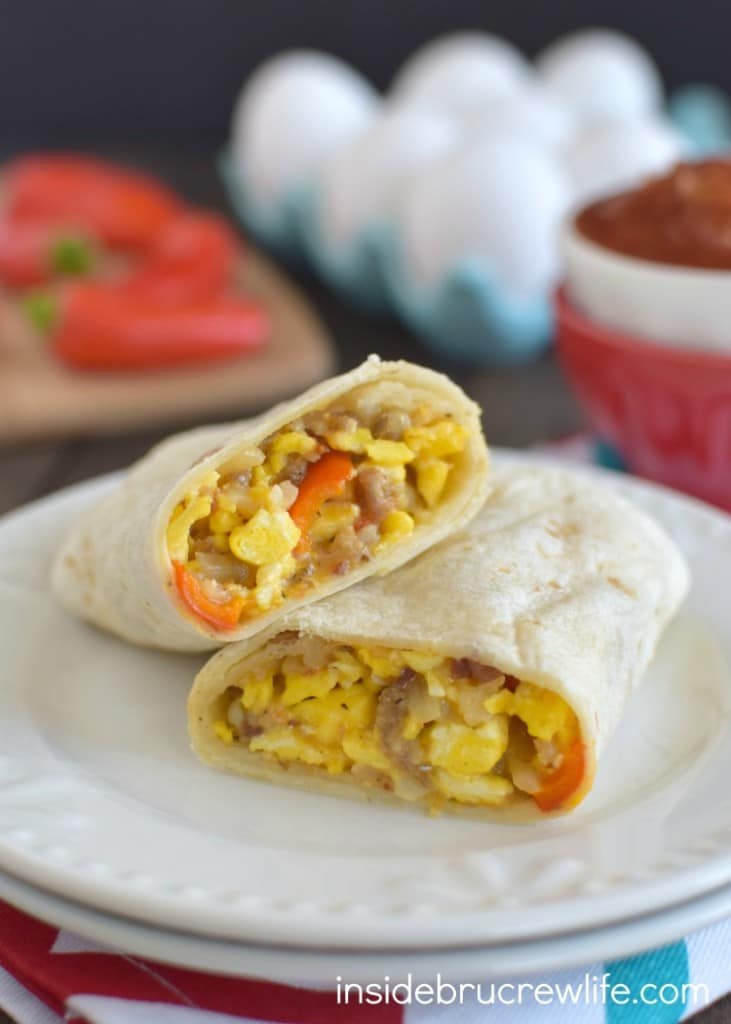 Stay up to date on all the BruCrew baking here:
FACEBOOK | PINTEREST | GOOGLE+ | TWITTER | INSTAGRAM | BLOGLOVIN
 Sign up to receive an email in your inbox for each new recipe:
EMAIL SUBSCRIPTION
Loaded Egg Burritos recipe:
Yield: 12 burritos
Loaded Egg Burritos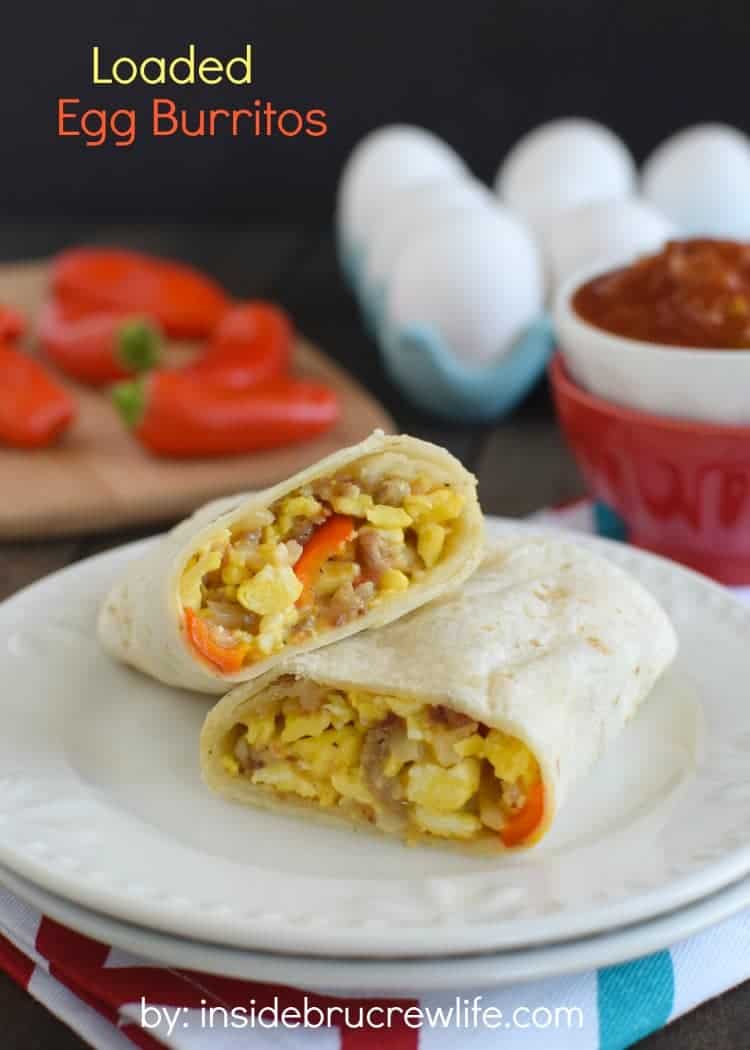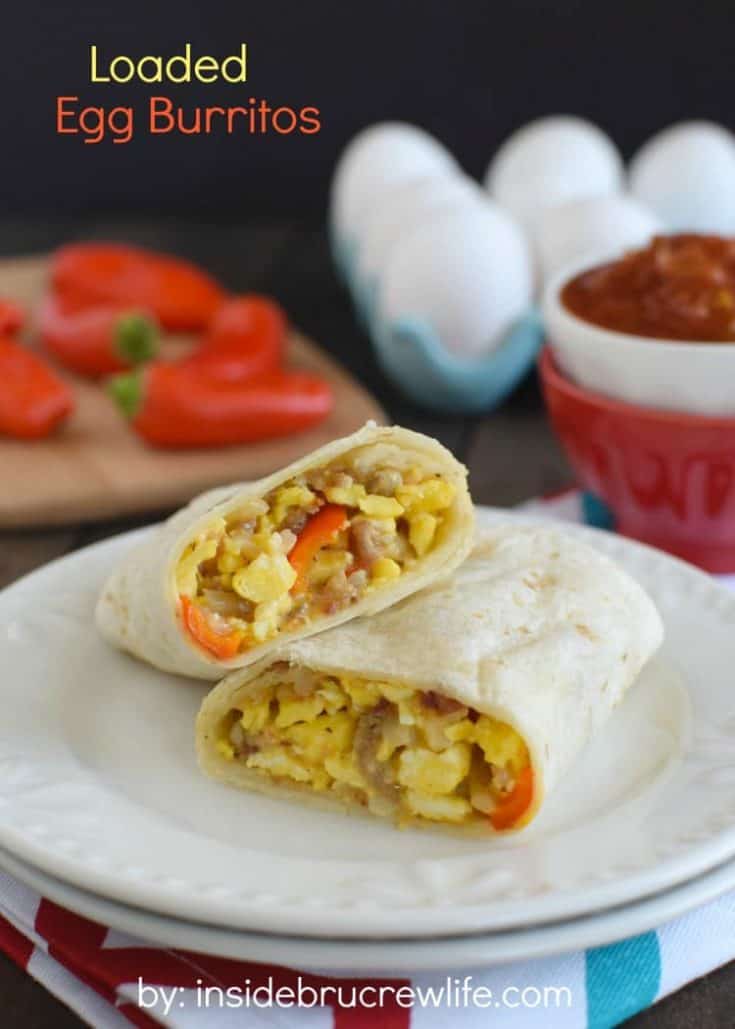 Loaded Egg Burritos are a quick and easy meal that can be frozen for breakfast later in the week. Eggs, cheese, meat, and veggies make a delicious and filling mixture for the tortilla shells.
Ingredients
12 eggs
1 Tablespoon olive oil
1/2 cup diced onion
1 1/2 cups shredded hash brown pototoes
1 cup diced red pepper
1Tablespoon minced garlic
1 cup cooked ground sausage
1/2 cup cooked crumbled bacon
1 1/2 cups shredded cheddar cheese
salt and pepper
12 - 8 inch tortilla shells
Instructions
Scramble the eggs in a large skillet. When they are done, remove from the stove and place in a covered bowl.
Saute the onion, hash brown potatoes, and red peppers in the olive oil for 2-3 minutes or until the potatoes are cooked.
Stir in the garlic, sausage, bacon, scrambled eggs, and cheese. Season to taste with the salt and pepper.
Divide the mixture onto the 12 tortilla shells. Roll each one up, folding the ends in as you roll.
Place seam side down on a parchment lined baking sheet and freeze for 1 hour.
Place the burritos into gallon sized freezer safe Ziplock bags and return to the freezer.
To reheat the burritos, wrap one in a paper towel. Heat for 1-2 minutes. Makes 12 burritos.
Nutrition Information:
Yield:
12
Serving Size:
1
Amount Per Serving:
Calories:

485
Total Fat:

33g
Saturated Fat:

11g
Trans Fat:

1g
Unsaturated Fat:

19g
Cholesterol:

245mg
Sodium:

936mg
Carbohydrates:

25g
Fiber:

4g
Sugar:

2g
Protein:

23g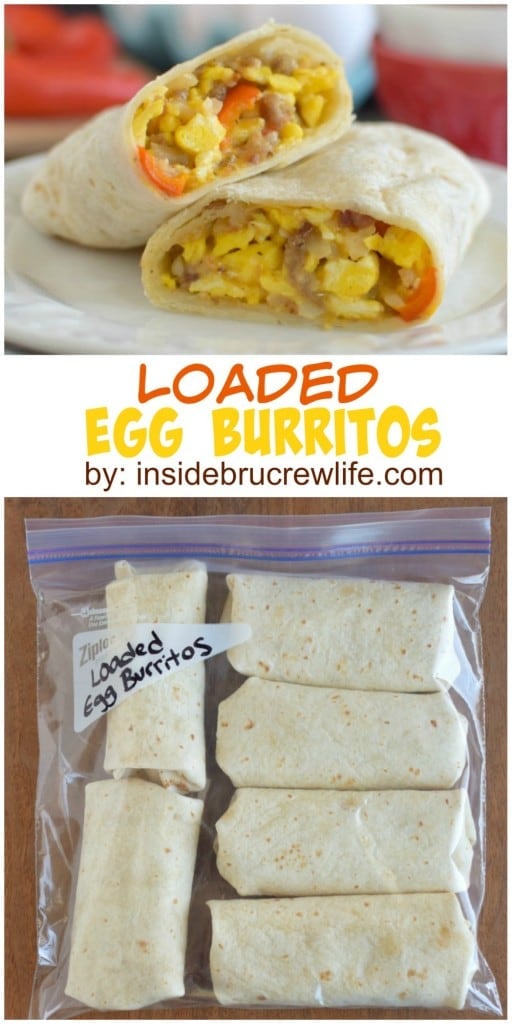 *I was compensated by the Ohio Poultry Association for this recipe and post.  But every opinion expressed is 100% my own. Thank you for letting me share the brands and companies that I use and believe in.