Whatchamacallit Blonde Brownies have caramel, peanuts, and rice krispie cereal in every bite. The ultimate candy bar taste in a delicious blonde brownie.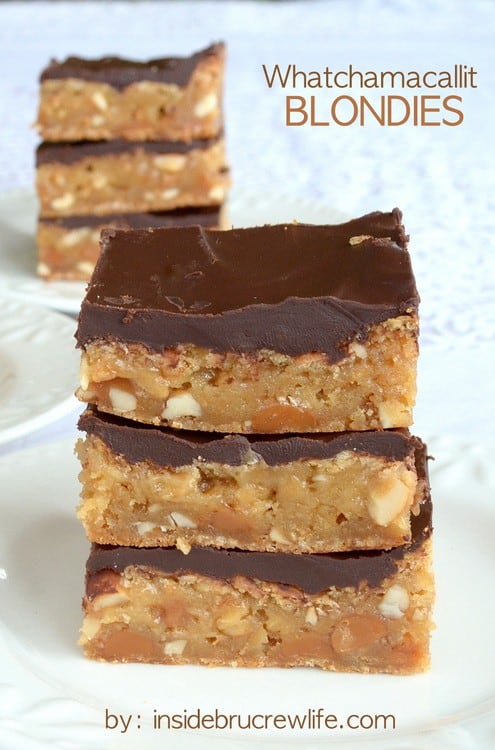 I know what you are thinking. Do we really need another blonde brownie recipe?

The answer to that is a very loud YES!!!
But I knew you would need more than a picture to convince you, so...I came prepared with some excellent reasons on why you need to bake them. (like today)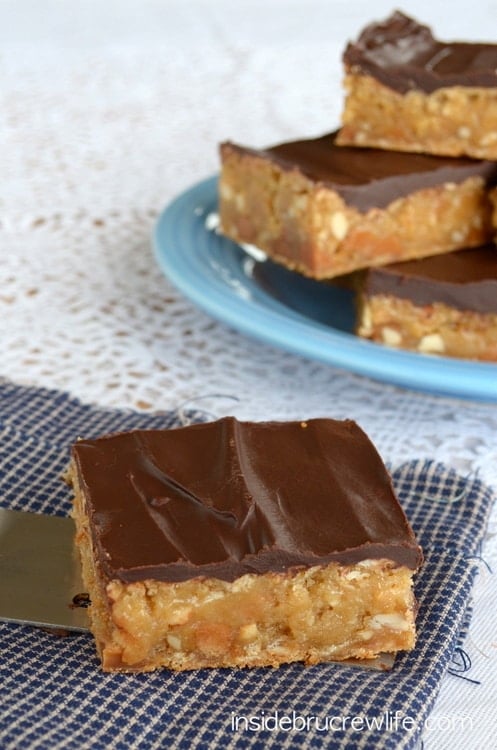 1. They are filled with two kinds of caramel.
2. Their crunch comes from rice krispies and peanuts.
3. A brownie topped with rich chocolate is a no brainer.
4. Brownies copying candy bars...always a good idea.
5. It is a ooey gooey blonde brownie. Nuff said!

I did come up with one reason NOT to make them...
They won't last the night once you taste them!!!!
Now you might think, "That is a good enough reason NOT to bake them for me."
But trust me...you want these blondies in your life ASAP. AND I do mean WANT them for sure!
It is possible that your thighs will hate you in the morning, but it will be oh, so worth it when you take that first bite!
Slightly under baked, full of crunchy krispies and loaded with gooey caramel...totally drool worthy!
Yup! I have you convinced to bake today, right?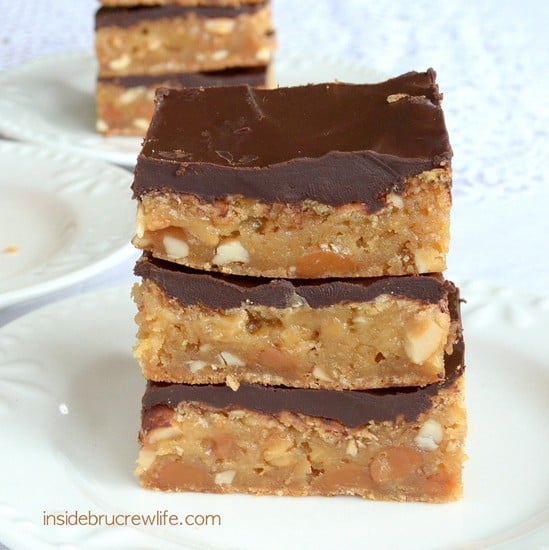 What are you still doing here??? Go set out the butter so you can bake these before the kids get home from school.
See, you won't have to eat the whole pan...unless you really want to.
I'm pretty sure your family will help you devour them!! I know mine did.
Stay up to date on all the BruCrew recipes here:
FACEBOOK | PINTEREST | GOOGLE+ | TWITTER | INSTAGRAM | BLOGLOVIN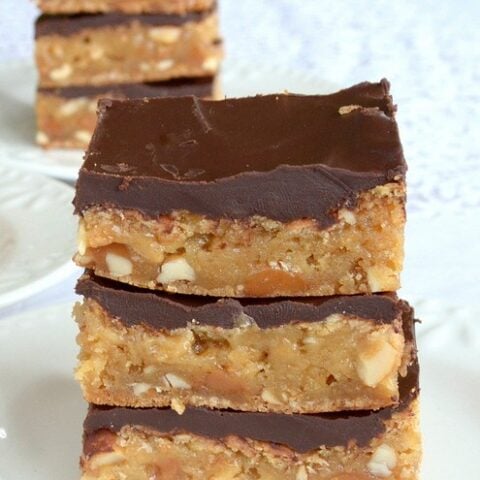 Whatchamacallit Blonde Brownies
Yield:
24 blonde brownies
Caramel, peanuts, and rice krispies give these blonde brownies a fun candy bar taste.
Ingredients
2 cups brown sugar
½ cup butter, softened
2 eggs
1 teaspoon vanilla extract
¼ cup caramel ice cream topping
1 teaspoon salt
2 teaspoons baking powder
2 cups flour
¾ cup caramel baking bits
¾ cup chopped peanuts
1 ½ cups rice krispies cereal
1 cup chocolate chips
¼ cup heavy whipping cream
Instructions
Cream the butter and sugar until creamy. Add the eggs, vanilla, caramel topping and salt and beat on low until fluffy.
Sift the baking powder and flour and slowly add to the butter mixture. Stir in the caramel bits, peanuts and rice krispies by hand. Spread in a greased 9×13 pan and bake at 350 degrees for 28-30 minutes. Cool on a wire rack.
Bring the heavy whipping cream to a low boil in a small saucepan. Remove from the heat and pour in the chips. Stir until melted and creamy. Let cool slightly. Spread on top of the cooled blondies and let set. Cut into 24 bars.